Category:
---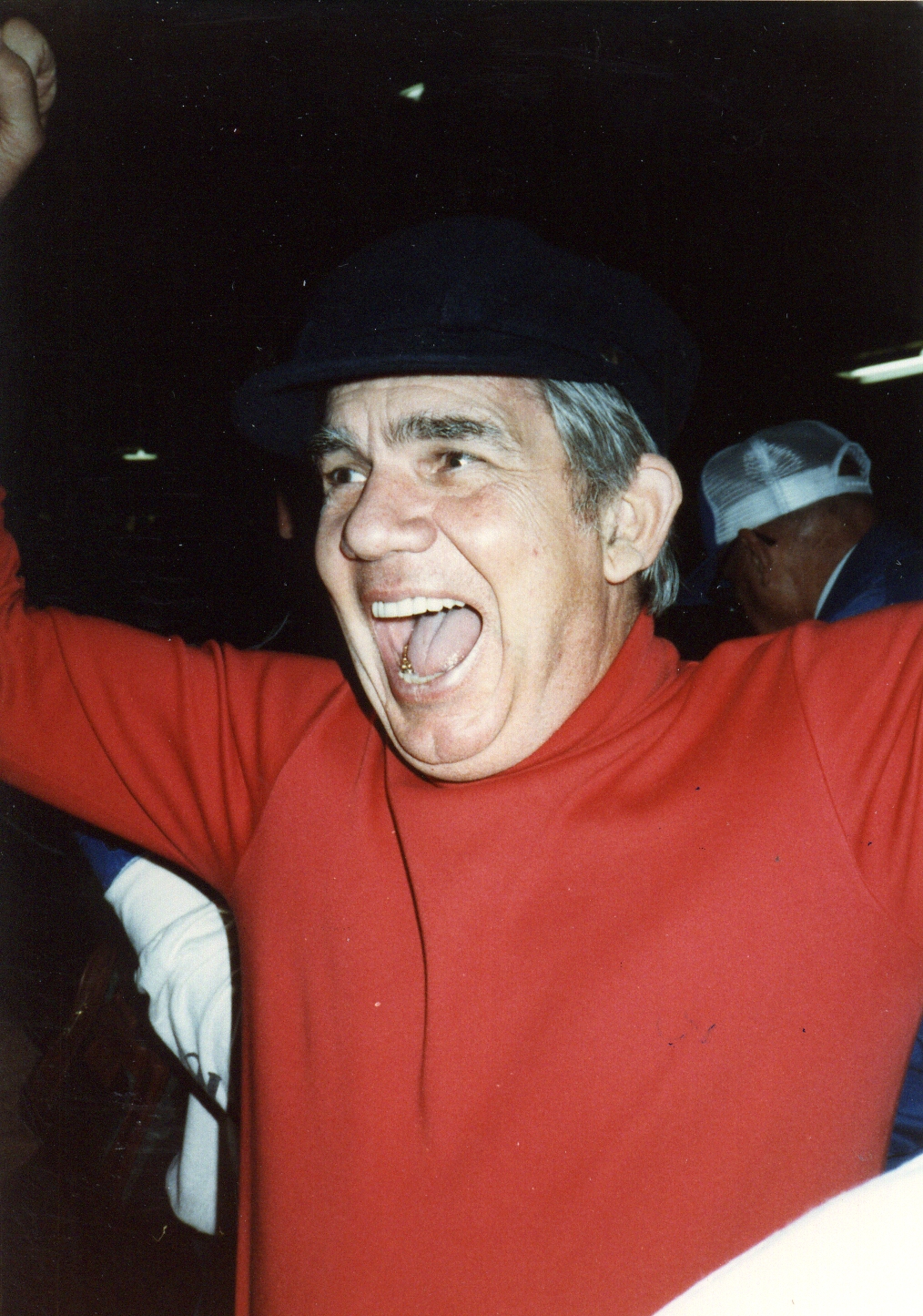 What would you like to hear just before you hit the back door and head home from a powerful two or three day conference on safety? I always figure that the closing speaker has the job of convincing attendees that they have just attended the best conference of their lives.
I can recall back when I was doing a lot of national conventions and when I arrived at a fancy hotel where several thousand people were gathered, the conference chairperson would run up and grab me like I was a lifesaver and say simply, "Oh Art, everything up to now has gone wrong. The other speakers were awful. The sound systems have been failing. The food and service has been terrible. All of the attendees and exhibitors are ready to kill me. All I want you to do in this final session, Art, is to convince them that this has been the best convention they have ever attended and that I am their hero. And I'd appreciate it if you would also sell them on coming back next year." Most of the time I was successful. Anyway I had fun, often meeting that challenge.
I guess really, all of us are called upon now and then to pull a calamity out of the burning embers and create a positive result. So often we are required to take a botched up mess and turn it into the stepping stone for a bright new future. A positive attitude toward such a situation will go a long way; add a smile and a kind word and a challenge and just maybe you might save the day and at the same time save your job too. Good luck.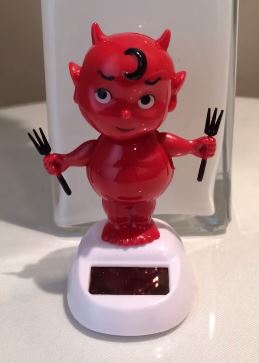 I bought a little solar red devil. It swings its arms with a fork in each hand and moves its head side to side as if that devil is saying "No." to me. Whenever the sun shines into my office it works. It was manufactured and then shipped here to North Carolina from China. That little red, Chinese devil has horns and it isn't such a stretch to believe that red devil is saying, " I'm going to eat your lunch!" I bought that little red devil for just $1 plus tax. I would guess the store that sold it to me made a tidy profit on it. The little devil has it's own Youtube site.
I bought that little red devil to remind me that if America is to survive and thrive in this competitive world then it will take commitment and the best efforts of all of us Americans, every day.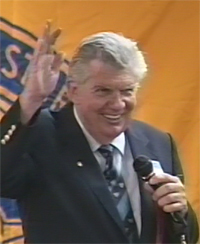 So many times I have been asked how I could walk out in front of so many different sorts of audiences for so many years and win their favor. My answer generally is "I just tell them stories." Of course, you have to pick the right stories and you have to tell them well. I used to have hundreds of different stories ready in my mind for when I called on them. Some were funny, some were enlightening and some were sad. Some stirred folks up for action, like selling better, teaching wiser, putting their hearts into some effort. Some stories were for celebration of particular callings, like being a great plumber, or doctor, or realtor or even a good lawyer.
Another thing that is necessary is that you really care about the people in that audience. They will know if you do or don't. And all you have to do is stray from the truth when they know the truth and lose your integrity and you might as well chuck the whole thing over and go home a loser.
After nearly fifty years I am still trying to get better at what I do and I'm searching for new stories and just the right stories. I guess that is what keeps me living on. That eternal quest for something better.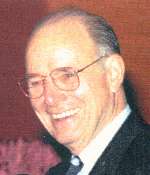 Where do those career breakthroughs come from? As I examine my past I discover that many of my life changing opportunities came disguised as referrals that appeared way out of my line. For instance the day my sometimes Mentor, Herb True Ph.D. Notre Dame professor and awesome professional speaker called me and said, "Art, I recommended you to a client to create an Audio-Visual Presentation to be shown to his prospects." I had never created an Audio-Visual Slide Show. (This was before the days of Video.) Herb said, "I think you could do a great job, Art. You're a writer, a photographer and you know how to communicate with audiences. Why not call him and talk with him about it. He's a great guy."
At that time I was in a dead end job with 24 years at the railroad, unhappy, frustrated, and moonlighting, doing some writing for Herb. I wanted to become a full time writer and a professional speaker and couldn't immediately see how doing an A-V show would help my career. I told Herb I would follow up and thanked him.
It was a real stretch for me but I created the show, the client had great success with it and in no time I was asked by another client to do the same and it was successful.
Shortly after that a locomotive fireman at our railroad got on the ground to throw a switch in the dark and was run over by some boxcars. He lost two legs and an arm and I had to investigate the incident. I called a Vice President and asked if he would like to join me in visiting the victim at the hospital. He agreed to meet me and on the ride over to the hospital I sold him on the idea that we had to do something about safety and attitudes on the railroad and I proposed an Audio Visual Presentation I had in mind. That meeting changed my life. I was promoted to Employee Communications Officer and later Corporate Communications Officer. I made 60 AV Shows in the following nine years.Our railroad went from major continuing losses to continuing profits and from the worst railroad safety records to one of the best. I also had the freedom to moonlight and did hundreds of paid speeches for major corporations and associations during this period and I wrote a number of articles and books that were published. I managed to retire from the railroad at age 53 with pensions and I have been writing and speaking full time since 1983.
Until yesterday I had always considered the day that horrid tragedy occurred when I called that Vice President of the railroad to be the turning point in my life.
Maybe instead it was the day I took the leap to produce that Audio-Visual Presentation that I first felt unqualified to do? What do you suppose you could do with your talents if you stretched and caught that pass that looked impossible....?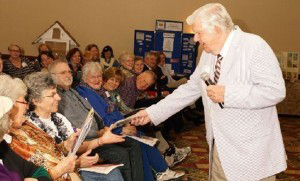 Meetings with North Korea. In the fall of 1951 when I was in combat in Korea there were rumors that peace talks would soon be going on and then there were many delays, supposedly because the North Koreans would not agree on where to hold the talks. Of course, we were praying that the firing would cease. When we learned about this problem about where to hold the meetings one fellow G.I. said, "Hell, they could hold the meetings in an outhouse if they were really serious," and someone responded, "But where would they find an outhouse in Korea?"
In my four plus decades as a professional speaker I have given performances in about every location you might imagine and yes I once gave a safety talk in a locker room adjacent to the men's room at an Exxon
Plant in Baytown, Texas. I've worked in Casino's in Las Vegas, Rhode Island and Atlantic City; at a Opera House in Spokane, Washington, the Coliseum in Charlotte, North Carolina, a Hockey Rink in Kalamazoo, Michigan, the Silverdome in Pontiac, Michigan and on the deck of a Troop Ship. Off the back of a truck, on a Greyhound bus, in a sorting room for Federal Express in Memphis and in a tent in the middle of hundreds of operating oil wells in Midland Texas. And I have traveled to the Artic Sea at Prudhoe Bay in Alaska, to sites in Newfoundland and Nova Scotia and British Columbia and Bermuda and Malaysia...and all 50 of these United States and most of Canada. So what have I learned in all of this? What have I learned? What have I learned? I learned that my next presentation should be the best one ever.
A Wonderful Place To Explore -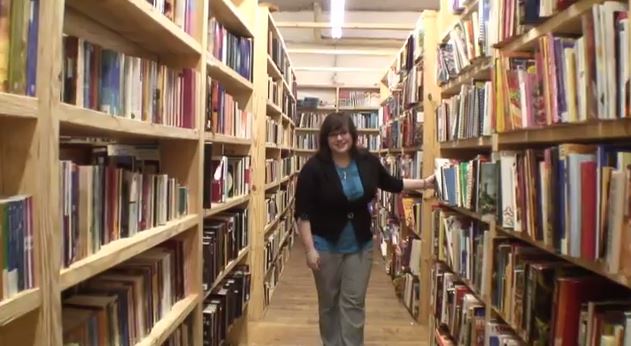 We'd just had a wonderful fish dinner in Mebane, North Carolina and were driving through town on our way West when I saw the small sign in front of this huge warehouse. "5th Street Books." at 202 N. 5th Street .Just 2 miles from Interstate 40.
My wife Jean was driving and I called out, "Turn around. Let's take a look at that bookstore. Somebody told me about a year ago I should visit it." Jean was eager to get to the big mall down the road but she patiently turned around. We parked near the door and she said, "I'll just wait for you in the car." I figured I'd just run in, take a quick look and if it was interesting I could return at my leisure. I read a sign that said, "All books 99 cents." Fifteen minutes later I was back to our car and I had purchased just one book. They had a sign up that listed some dates for each month. For instance, February 19th, 20th and 21st. All books 25 cents. And another "Every Wednesday, Senior Citizens, 5 free books." They had thousands and thousands and more thousands of books, over 25,000 and growing daily. Paperbacks. Hard Covers. Shelf after shelf of cookbooks. A huge children's section. I wrote February 19th on my calendar. Take a five minute online tour.
Oh yes, Free coffee. Maybe I will see you there.
No News Is Good News -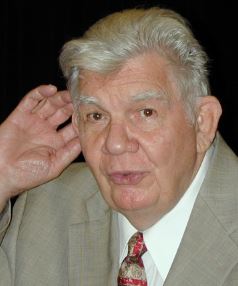 There is a saying in the news business that good news is not news. It won't sell. That just might explain the barrage of bad news stories that have dominated our newscasts these days. Some days it seems the whole world is out of tune. And then I put on a CD of George Gershwin music and his Rhapsody in Blue chases my blues away and then after days of rain and heavy clouds the sunshine comes pouring into my office and once more for a while all seems right with the world. My wife, Jean and I feel so blessed. We are so fortunate to live here in America. Our home is so comfortable. We feel so blessed to have one another. A nap is such an added blessing. When my work on a book progresses the way I hoped it would, I consider it a gift. There is the possibility to discover joy in everything we do but we must seek it out and sometimes that is such a challenge. Counting my blessings is a habit I am working on daily. Tomorrow will be another wonderful day.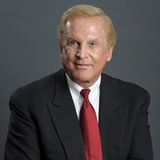 "Happiness cannot be traveled to, owned, earned, worn or consumed. Happiness is the spiritual experience of living every minute with love, grace, and gratitude." - Dennis Waitley.
"Happy New Year" Just think, a million New Yorker's gathered together at Times Square this year just to wish one another a "Happy New Year" and that message went out on TV to many, many millions more. I opened this column with a quote by Denis Waitley that I recently discovered and as I reread it again and again I came to the conclusion that Denis had hit the nail right on the head this time. Many of the happiest moments of my life were those times where I caught myself acting as a loving person. When I found I was truly giving for the sheer joy of giving and with no ulterior motive present. Too often, our Give to Get philosophy is based on giving with the hope of getting something better back and as that wonderful speaker, philosopher Charlie "Tremendous" Jones once taught me, "Giving to get is not giving at all. That is trading. But when we learn to give for the sheer joy of giving then we are often blessed as a result." I figure this, that whatever part of this coming year I am still around or any future years here on earth for me are purely a gift. At 85 I have absolutely exceeded my life expectancy and so from here on my life is truly a gift. A very precious gift at that and I must be grateful for every second, every moment and every hour. I want to fill those hours or days with as much happiness as I possibly can and that means happiness for not just me but all those I encounter in my remaining lifetime. Reading that quote of Denis' helps me to realize that I cannot travel to that happiness nor own it, earn it, wear it or consume it. As the quote says, "Happiness is the spiritual experience of living every minute with love, grace and gratitude." That will take some real doing for me. "...every minute with love, grace and gratitude." Whew!
Definitely I will have to change some of my attitudes and absolutely watch my big mouth. There is an old, old song I remember that goes this way:
I want to be happy. But I won't be happy. Till I make you happy too.
Life's really worth living, When we are mirth giving. Why can't I give some to you?
When skies are gray and you say you are blue, I'll send the sun smiling through. I want to be happy, but I won't be happy Till I make you happy too.
I hope we all have a happy, "HAPPY NEW YEAR!"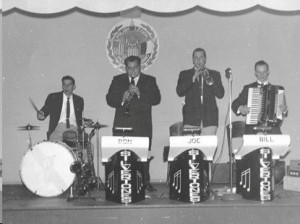 I had been listening to the New York Philharmonic Orchestra New Year's Eve and their final number was Auld Lang Syne and as I sang along it popped into my head that this was a special anniversary that evening. Sixty years ago I was in the Polish American Club in Hamtramck, Michigan playing drums with our quartet we called The Silvertones. I took the cigarette from my mouth, threw it on the floor and stomped it out with my foot, began my drum roll, crashed a cymbal and we started playing Auld Lang Syne. At that time I had a three pack a day cigarette habit and I have not smoked a cigarette or anything else for (drum roll) sixty years now. I just went cold turkey. Yes, it was hell. And today as I watch so many of our friends and relatives trying to quit smoking and failing I feel their pain. How did I do it? One day at a time of course, or one hour or sometimes for five minutes at a time. I did one more thing that I have never heard anyone talk about. I figured that the nicotine in my system was creating the craving I had for more nicotine and so I set out to get all of the nicotine out of my system. Remember that song in South Pacific..."I'm gonna wash that man right out of my hair.?" Well I figured correctly that my entire being was inundated with nicotine. I had it caked on my fingers where I held a cigarette. My teeth were stained from it. I reeked with the smell of cigarettes and when I would arrive home I would go to kiss my sweet but pregnant wife Ruthie and she would get sick from the smell. And that was my motivation to quit. I took a shower and used a brush to clean my skin all over and I scrubbed my hair with shampoo. I poured glass after glass of water through my system, that is ten and more big glasses a day. I brushed my teeth and rinsed my mouth with mouth wash a number of times each day. I wouldn't even get near anyone that was smoking and when I got a kiss from my wife when I returned home from work a couple of weeks later I knew I was on the right track.
Happy New Year, Everybody. And I hope you get a dozen things on your Bucket List.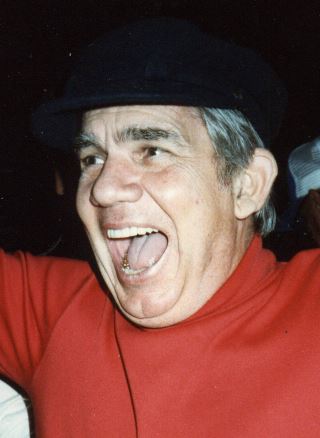 This is it. The last issue of our Memo for 2014. If anyone ever told me back in 1948 when I got into Safety work that I would be writing a newsletter for all you wonderful folks some 67 years later I would have said you were out of your cotton pickin' mind.Why would anyone have to work at anything that long? I guess the answer is that when you truly love what you are doing then at some point it ceases being work and becomes fun. There is joy in being of service to others if you are one of the fortunate ones who found that special niche, that magic spot where people would pay you for doing what you would gladly do for free then you might understand this unique behavior. I have refused pay for most of what I do these days but I am well rewarded for my efforts. When you write me and say that something I wrote made your job easier or somehow lightened the heavy load you were carrying then that is my pay. When someone in the audience smiles or laughs or gives me a hug, that is my reward. I want to thank you all for still sticking around and giving me the opportunity to send out this memo. I wish you all the very best year of your lives so far, coming up. God bless.
Talking Christmas Tree -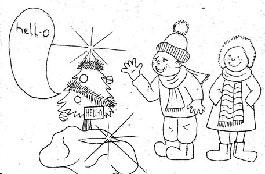 I know Joyce Kilmer's wonderful poem ends with, "Poems are made by fools like me, but only God can make a tree," but this morning I was remembering how one day I made what might have been the world's first talking Christmas tree. In 1973 our Santa Train was a huge success for Grand Trunk Western Railroad and so I was fishing for an idea that would add some special fun for children visiting the train. I looked around my cluttered office for inspiration and saw a speaker I wasn't using. I put on my jacket and headed for the Salvation Army Retail Store where I picked up a small used artificial Christmas tree with a stand. Then I stopped at the drug store and bought a roll of cotton. I rushed back to my office and put the speaker on the floor, covered it with a bed of cotton and then found a lavaliere mike I wasn't using and clipped it to the tree. I hooked it all up with an amp. When we set it up on the first coach of the Santa Train tree we ran lines to a small room at the back of the gutted coach not far from the tree. We had a two way speaker system and Mrs. Burdakin and the other ladies would take turns being the voice of the tree. Thousands visited our Santa Train each year and kids loved that talking tree. I was amply rewarded with all those smiles and the laughter.
The Santa Train by Art Fettig [Kindle] -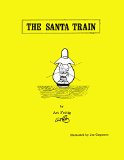 Once upon a time, there was a worn out locomotive that nobody seemed to care about. Except maybe Charlie Weller, who was an old retired railroad engineer. And maybe nobody cared about old Charlie anymore either. At least it often seemed that way to Charlie. He had little to do but sit around and remember the good old days when he would run that ancient train up and down the tracks hauling freight.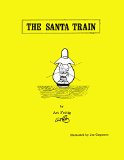 I believe it was back around 1972 that I first came up with the idea for a Santa Train for the Grand Trunk Western Railroad. I was their employee communications officer and we were looking for ways to bring top management and the workers closer together and eliminate the awful feeling they all had about each other.
After talking with Paul Dessinger at the DT&I about a few of the folks trimming up a caboose and taking some orphans on a train ride my mind took a hitchhike on something much more elaborate, a Santa Train on Grand Trunk and I submitted the idea to John H. Burdakin who was then Vice President of Operations. My idea was to put a special train together and take it from city to city on the Grand Trunk. Have several coaches the employees and their whole families could walk through meeting the top executives of our railroad together with their families. Our goal was for every employee to have the opportunity to shake hands with the top boss and for the top boss to meet every employee and their families. Of course everyone would meet Santa Claus too and get presents.
A while later I got a call from John Burdakin inviting me to attend a meeting at headquarters. They were calling in everyone that might make the Santa Train idea come true. I believe that was 1972 and recently I googled Santa Train and discovered that the Santa Train is still running. Grand Trunk has become CN/IC, that is Canadian National/Illinois Central and the Santa Train is making stops at both railroads with several on the old Detroit Toledo and Ironton too. There is nothing as powerful as an idea who's time has come.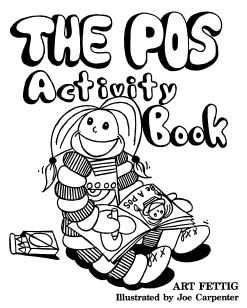 Gosh it is difficult not to address the turmoil in America today. I was formerly The Wizard of Pos (positive thinking.), Mr. Lucky of the American Platform and The Art of Safety, and looking at what is happening today in America makes me feel helpless. Where might I begin addressing the seemingly impossible challenges we face in America today? We are toying with a war nobody could ever win. Our Justice system seems in ruin. China just overtook us in Gross National Products. Our educational system is failing our youth and hell... I could rant on and on but what's the use?
We've messed this Nation up so that our value system is in the pits. We have managed to separate God from State so that we seem to be becoming a Godless nation.
But forget all that. How do you like Miley's new state of undress? Or what about Kim Kardashian's backside? And what else is new. These seem to be considered the really important things here in America, not the preservation of our freedom. Whatever happened to honor thy mother and thy father? To Thou Shalt Not Kill? To Thou Shalt Not Bear False Witness Against Thy Neighbor? And what are the others? There used to be ten of them, as I recall. Perhaps it is time that America as a Nation and Americans as individuals dust off and examine those ten rules for a better life and a better Nation and if we dare, let us call for Divine Providence to help us get this Nation back on track.
I have been so blessed in my speaking and writing career that when I sit down and examine it I feel like one of the luckiest guys in the world. Freedom is a precious word and the more I look at these past forty plus years I am amazed at the freedom that I demanded for myself and the abundant freedom I was granted. When you are in business sometimes you might get the idea that everyone is your boss but with my career if I didn't like how a client behaved I would simply move on to a new client. There seemed to be an inexhaustible source of them just waiting for a call.
I have four thick books of testimonial letters from clients and as I read many of them I realize that there was something other than me going on out there in those performances. I say this with humility. I was just not as good as some said. There were times when people in an audience heard a different message than the one I delivered. There were moments where there was a sort of healing going on with members of the audience that was way far above my possibilities. I eventually learned that if I could get my big fat ego out of the way and let good things happen they really did. Often the audience reactions were far above the quality of what was being delivered. I wasn't that smart, or funny, or inspiring, or skilled or handsome or whatever. God knew that, and I think He intervened many times just out of pity or mercy or perhaps He just figured the people and the occasion demanded something special. Or maybe it was just because I had asked for help.
Perhaps we should ask for God's help more often. And in my case after I ask for help I should learn how to listen; really listen because as I look back on things there probably were a great number of answers I did not hear because I was talking too much.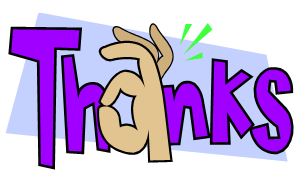 I had an exciting teaching experience this week and I do believe that I learned a whole lot more than anyone attending that session. When we are sharing we seem to bring more home with us that we left with. That is just the way it is though these days. I was reminded how blessed we are and how I should give some special thanks this Thanksgiving. When I get out into the world and mingle among younger folks I can see that things are not easy for them these days. People are often working two jobs or unbelievable overtime and they don't have much time for hobbies or new relationships and everything has to be done in a hurry on the way to doing something else. I am so blessed to have my health and many of my marbles and so I give thanks to God and to all of you good people that I have encountered along the way. I wish you prosperity, happiness and sufficient funds to buy a friend a Dairy Queen Dilly Bar or such.
Traveling Abroad With A Camera -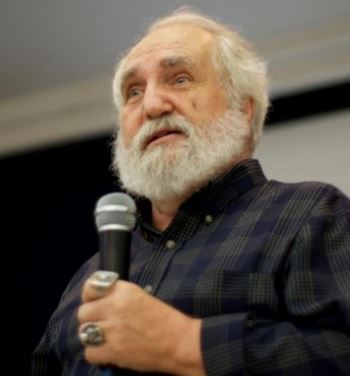 Here is a story that our speaking group circulated the other day. Evidently Dr. Black shot a photo of a sign that read "No photography" A stupid act? Maybe, but it is something I might have done because, being overly creative like Dr. Black, it would seem like a funny thing to do. That little kid in my mind might say, "Shoot a picture of a sign saying don't shoot a picture." That's funny! What could be less harmless. And now Dr. Black has been in jail for several weeks trying to find a way out of this dilemma and possibly facing five years in prison.
EXCLUSIVE: American grandfather, 70, facing five years in jail in Arab Emirates for taking picture of 'no photography' sign pleads, 'Just get me out of here, I want to go home'
Architect Dr Robert Alan Black was lecturing at a conference in Abu Dhabi when he innocently took a picture of sign banning photography
70-year-old from Athens, GA, was held by police in United Arab Emirates' capital for seven days before a translator alerted his family
He has finally been able to speak to his son, Scott, and ask for help to be released to see his family
This is one of those happenings where you sit there thinking, "There but for the grace of God go I." I'm sure glad I am here safe at home enjoying life and no longer chasing around this world making presentations. Ah, but would I accept such an assignment today if the enticements were right and it sounded right? Probably I well might and so my concern is great for a fellow speaker who I had contact with just a few months before because of our shared interest in creativity. This is a dangerous world we live in and in many, many ways. Efforts are being made through The State Department and other channels to free Dr. Black, apparently with no positive results so far. This just came in, CPSI has set up a legal defense fund to help in this effort. GoFundMe.com for information.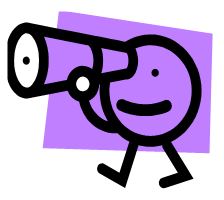 Did you ever get the feeling that you were raising the kind of kids you didn't want your kids to play with? Well, I think that a lot of safety trainers have a similar feeling. They would be happy to see some of the people they trained quit and go to work for the competition. I'm a great one for studying my own behavior and frankly, in many ways I am really disappointed at the way I am turning out. Yesterday I was making up a few copies of a book that I co-wrote with a fellow names Myers Barnes. It is titled How To Follow Up For Greater Success In Sales.
As I made the copies I started reading some of the stuff I had written. It was fantastic. What wonderful ideas and I know for a fact, having tested them myself, that they work. Once in a while I actually do what I suggest and when I do I am always pleased with the results. But, for some reason that I cannot understand, most of the time I just do what I feel like doing at the time and nothing more. That old bromide, "Ideas without action are useless," is so true that it makes me shudder.
What is my point? Just that instructing somebody on how to do something is not enough. They have to try it out and do it again and again and again and if they aren't encouraged to continue doing it for their own benefit then don't be surprised if they fall back into the old way of doing things, no matter how unsafe they might turn out to be.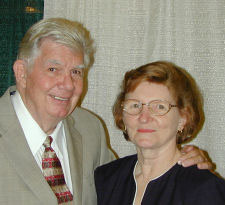 When you start out attempting to write a Memoir or call it an Pictorial Autobiography, well all sorts of stuff starts a cropping up in your mind. First it trickles from your mind onto the computer page and then all of a sudden it starts gushing out and there is just no way you can keep up with the constant flow. Well, I turned this sucker on just about a month ago now and in no time I was up to five hundred pages and it keeps on flowing. Some of the stuff is good and some of it is bad and some of it makes me downright uncomfortable. That's life, good times, bad times and some times when you just don't think you can get through it.
I've opened up so many boxes of photos and matched many of them up with memories and put them down on the screen and sometimes they bounce around like they have a mind of their own. Still I try to be patient and carry on. It seems to be taking some shape. I'm eighty five and so I figured that is eight and a half decades. In those first ten years of my life there were darn few photos. I remember during the depression a man used to come into our neighborhood with a fine looking pony and he would try to persuade our moms to pay his price for a photo of your kids on the pony. I guess we were too poor then because I haven't found one pony picture yet. There were four of us children, my three sisters and me and my brother Joe came along later. There are so many stories yet to be told and it seems that every time I capture one on paper another comes flying out of my memory and into my imagination.
I've already discovered that I have been so blessed to have so many wonderful people come into my life. It makes a fella grateful just to still be alive and to have a memory that is still functioning reasonably well. I'm blessed.
Because You Care -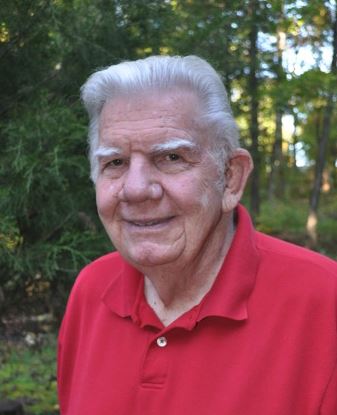 If you have ever felt fear when you stood up to give a speech then I have good news for you. The news is that you are in good company. I've discovered after associating with speakers of all kinds for over fifty years, that if they ever get to the point when they do not feel some anxiety or nervousness then it is a good indicator that they should sit down and shut up. Often lack of nervousness and anxiety is a good indication that the speaker just no longer cares about the audience they will be facing or the topic involved. Or it might mean they are totally stoned. "What audience?" they might ask. I have found though that the better prepared I am the less stress I encounter. When I used to talk about stress I would say that without stress buildings would collapse. That stress is a good indicator that we are alive and doing something worth caring about. So the next time you feel that you just might drop dead with fear and excess stress just smile and say to yourself, "I am in great company. I still care."
Our news coverage, TV and Press is a Mess -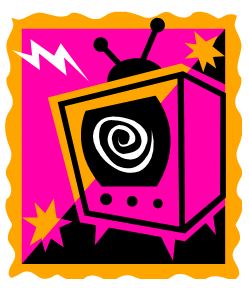 Sometimes I get the feeling that the media itself is the cause of many of America's biggest and most frustrating problems. Instead of news reporters we seem to have titillators and agitators and instigators and an army of broadcasters hell bent on keeping a story alive for yet another day. Once a network bleeds every drop of blood out of a tragedy they rush on to another. Once they have turned us all into a nation filled with fear they find another weak spot in our psychological armor and chip away at that.They move about like a band of famished wolves hungry for the taste of blood. Why is a network never held accountable for their blatant errors, their exaggerations, their outright lies, their rush to judgement and condemnation. Why is "OOPS!" an explanation for outright irresponsible damning and incorrect reporting? If you point a finger at somebody and take a look at your hand you will discover that you have three fingers pointing back at yourself. Maybe it is up to you and to me to demand something better than the shabby treatment they are giving us.
Art Fettig - Frank Sinatra Sweats -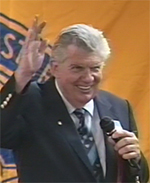 Art Fettig during a week long assignment in Newfoundland, Canada, made several presentations to management and the employees of a major paper mill. Amazing group of people.
This particular segments is where Art talks about Frank Sinatra sweating... yes, Frank Sinatra sweating.
Focus is the Theme Art Fettig Talks About to the Group of Employees in Newfoundland -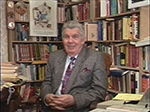 Art Fettig, a certified public speakers, has traveled the world speaking to major business. During a trip to Newfoundland, Canada, these paper-mill workers hear some dynamic stories about "Focus".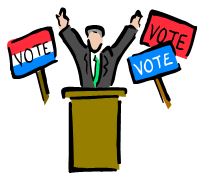 Yesterday I heard a story that my friend told me had been around for a long time. Maybe you've heard it. It makes an important point.
In Africa, when trappers wish to get a shipment of monkeys for the zoos they would simply take a lot of long-necked bottles out and set them in a clearing. In those bottles they put nuts which the monkeys could not resist. Then the trappers would go back to their campsites and play poker.
Later when they returned, they would find a monkey attached to each jar. The monkeys had smelled those sweet, succulent nuts and reached into those jars with their little paws. The monkeys each grabbed a fistful of nuts and then, when they tried to pull their arm out, the neck of the bottle was too small for them with their fist full of nuts. All the monkeys had to do to recapture their freedom was let go of the nuts, but they were all captured.
I have been listening to a lot of the candidates for office here in North Carolina and reviewing just what has been happening in Washington, D.C. for far too long. With no stretch of my imagination at all I can picture our representatives in both the Senate and the House and in the oval office too. It just seems like everyone in Washington has their fists stuck in some sort of a long necked bottle and no one can escape.
Maybe we should march on Washington with sledge hammers and break up all of those bottles, give everyone a free ticket home and start out all over again. Free those political prisoners in Washington...the senators, the members of the house, the whole bunch of them. Vote!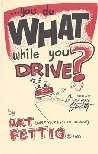 For two weeks now I have been working on an illustrated autobiography and one testimonial letter I found triggered a memory of when, in October 1990, I spoke to Conoco's most prestigious group of transport drivers at their Million Mile Driver Award Weekend in Orlando at Disney World. That day before my talk I sat down with perhaps a dozen or so drivers individually who had driven at least a million miles without an accident charged against their record. A few drivers had two million and one had three. I was probing for their secrets and when I summed up everything they said it amounted to this one fact. "Just drive." Oh a few of them brought in other stuff that most safe drivers do but the one constant was this one phrase, "I just drive." They thought only about their driving, they would not allow a diversion like smoking or eating or a million other diversions to come in the way of their just driving.
From that meeting I created a little booklet titled "You Do What While You Drive?" We published thousands of those for major corporations. I wrote a song that we recorded titled "Just Drive!" and one day we made a video at a safety meeting of a dozen workers dancing the Lindy to our song.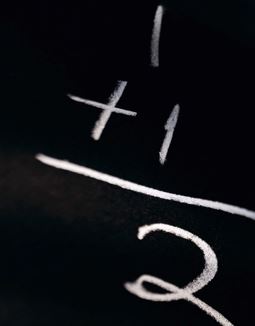 I have been asked that all my life it seems and I still don't have a good answer. I went to the University of Detroit when I was fifteen years old. I had a job there carrying the mail around the campus that summer. I went to Indiana University and earned a Certificate of Recognition in Audio Visual Production. I went to Purdue University twice and the second time I received a plaque from the Pest Control Association. When I went to Michigan State University I marched in with all the faculty and dignitaries and some of them wore funny hats and tassels. I addressed the Governor and his wife, and the House of Representatives and the farm lobbyists. At Buffalo University I spoke at the Creative Problem Solving Institute on Humor and Creativity. They inducted me into some sort of group with a Latin name. I went back to Notre Dame University about a dozen semesters to speak for a Psychology class. There professor thought it was a good idea. And I went to University of Michigan and spoke for one of their Alumni groups.
Oh, there was Ames University in Iowa, Ball State in Indiana, Bryant State in Rhode Island, Hong Kong Polytechnic University, Kalamazoo College, Kellogg Community College, Nazareth College, Northern Michigan University, Western Michigan University, Oakland University, Olivet College, and at St. Mary's College in South Bend.
And what did I learn, kind Sir or Madam? I learned that there are a lot of interesting people around those places and when you get them into a meeting room or a classroom or whatever and give them a good presentation that they all turn out to be wonderful audiences.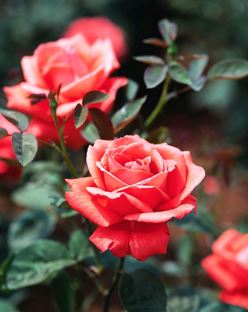 When you read this, no doubt, the fall season will be arriving and so far here in Hillsborough the weather is delightful. Sure I love football and winters here in North Carolina are generally a piece of cake. It is just that Spring is so fresh and full of new starts. It has been a rough week and I have been working long hours for a couple of days trying to combine half a dozen different files on my computer and hoping to turn the combination into a strawberry pie or maybe it is a telephone directory I am seeking. My brain is mush right now and I am down on myself for waiting 'til past deadline to write this little item. I promise to start right in on this newsletter early Monday morning and I'm sure I will start out standing on my office chair and singing four choruses of "Everything's coming up roses."
For many years, as a professional speaker often making a hundred presentations a year in the fields of education, sales, safety or positive living I would include my Credo in the close of my talks.
Often we would arrange to give away copies of this verse together with my Growth verse. It has appeared in many publications, one with over a million readers. I've received positive feedback on it from around the world reporting some wonderful results when it is read daily. With all the turmoil in this world today I figured this might help others refocus on something more pleasant than world news.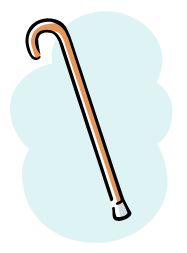 I was walking to my car in the parking lot at the Sportsplex where I'd had a good workout and I noticed a woman up ahead of me was carrying a cane but she wasn't really leaning on it at all. I said to her, "That cane is just for insurance, isn't it? And she said, "Yes. Since I had my knee replacements a while ago I seem to fall down at least once a year." I nodded and she continued. "One time I fell down right at the entrance to Cup A Joe's place. This farmer I didn't know came out and picked me up and carried me over to a chair at a table and said to me, "I guess this means we won't be goin' dancin' this afternoon."
I learned a lot in that simple encounter. She wasn't too proud to take a simple precaution and she'd learned to laugh on the way to gettin' older.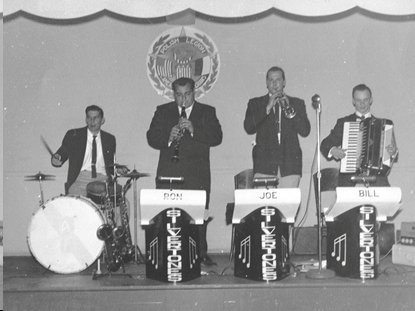 When I was a young man I wanted to change the world. Now that I am young no longer I want the world to change. When I was just back from serving in Korea I played with a dance band called The Silvertones. One of our most requested numbers from people of the "older generation" was a song called September Song. The old couples would come out on the dance floor and snuggle close. Here is the lyric.
"Oh, it's a long, long time from May to December
But the days grow short when you reach September
When the autumn weather turns the leaves to flame
One hasn't got time for the waiting game
Oh, the days dwindle down to a precious few
September, November
And these few precious days, I'll spend with you
These precious days, I'll spend with you,"
In this busy, troubled world it just might help if we'd all take a time out and snuggle and think about that lyric.
Helping and Getting Help -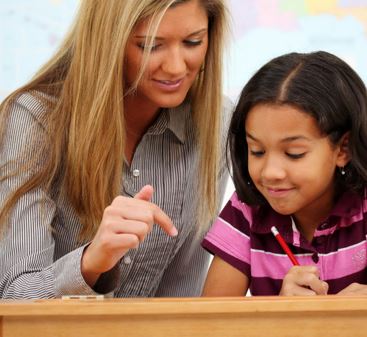 Some folks give us a helping hand along the way, others give us a giant push upward and sometimes we get to stand on the shoulders of giants. It might be as simple as a kind word when you need one or a pat on a shoulder that lets us know we are following the right path. I have never met a truly self-made man. I have met several who took all the credit though. For these past few weeks I have been examining the work I have done in these past years and I am truly amazed at what I have discovered. That is, that there were an awful lot of unselfish, kind hearted, generous, loving people who have helped me in some way with almost every important step I have taken in my career. Another thing I am learning too is that in many instances I have been able to have a strong impact on the lives of those who have helped me. I don't recall ever setting out to pay back or get even or show appreciation though. Life just turned out that way. What is that expression..."What goes around comes around." Yes, well is sure does. My research has made me feel pretty good about the way people have treated me and how I have treated them, although there are some that I could never really repay. Anyway, I would like to thank all of you who have helped me along the way. And I will keep on trying to help others too on their journey.
Coughin' Like Doc Holiday Did -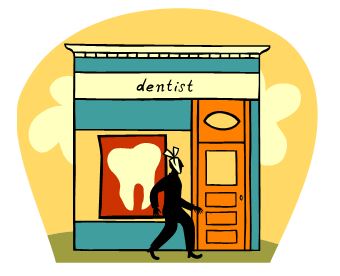 I had a root canal done last week and something like that starts a guy to thinking. As I sat in the dentist chair it sort of reminded me of the time I had this really bad cough and it wouldn't go away. Finally, in desperation I went to a doctor's office and sat in a big room with a load of suffering people waiting to see the doctor. We all had an appointment for 9 A.M. By the time I got home from that doctor's office I had written a song titled I'm Coughin' Like Doc Holiday Did Just Before He Died." One of the lines goes, "The things a fella thinks about when he doesn't know what's wrong could fill a book and still have plenty left to write a song." So as I sat in that dentist's chair I was thinking about a lot of things and one of them was about a sister-in-law who died recently from soft tissue cancer. They discovered she had cancer when she had a tooth pulled and the gum did not heal. The instance that popped into my mind I popped it right out again and would not let it hang around. I instantly went back to the thought of that Doc Holiday song of mine and the fact that the doctor had me well in a week and I lived happily ever after. No pain at the dentist's office at all and I feel like a new man. Oh...the things a fella thinks of when he doesn't know what's wrong...I guess we have all done a lot of that in our business and personal lives...
Genius? -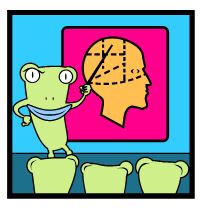 "What is genius?" That is a question that came into my mind recently and here are some responses I discovered.
"Genius? It is the power to be a boy again at will." J. M. Barrie
"Genius is no more than childhood recaptured at will, childhood equipped now with man's physical means to express itself, and with the analytical mind that enables it to bring order into the sum of experience, involuntarily amassed." Charles Baudelaire
"Some of Shakespeare's fellow playwrights, like Christopher Marlowe, did have university degrees, but the fact is that many of the greatest authors in history never set foot in college. Geniuses are geniuses precisely because they do not play by the ordinary rules." Paul Cantor
"Genius is the ability to reduce the complicated to the simple." C. W. Ceran
In my search for something else, I came upon this site www.megafoundation.org
I selected just a few of the quotes on genius that reached out and grabbed me by the neck and rubbed my nose in them..
So often researchmight be a Ho Hum experience but this experience really fired up my imagination. That is why I thought I'd share it.
Are you a genius? Here is a little bit from one of my songs that might get you started. "Let that little kid come out in me. Let me chase a butterfly, let me climb a tree. Let me mess my hair and giggle out in glee, let that little kid come out in me."
If you are reading this would you do me a favor. I'm curious. Who would you classify as a genius living today? Sent your reply to me at artfettig@aol.com. Thank you.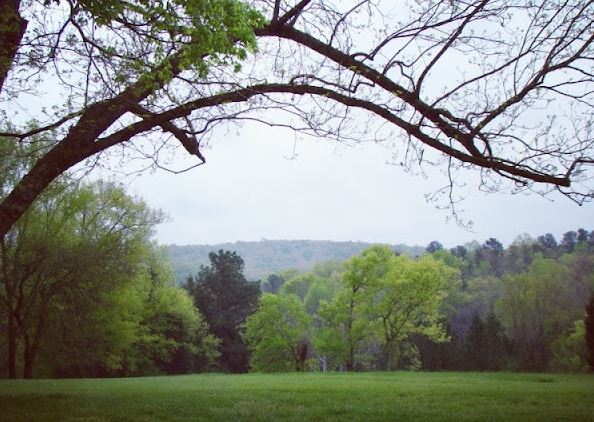 Equidistant from the ocean and the mountains, here in Hillsborough, North Carolina I truly feel blessed. No snow to speak of and almost every form of music you could think of is available. The other afternoon I was driving up this long, long hill on Orange Grove Road to our home I climbed higher and higher and then on up my driveway I tried to get a true prospective as to altitude and, by golly, I am living near the top of a sort of mountain. It has taken me just fifteen years to make that observation. What is that expression, "He couldn't see the forest for the trees." Well, I guess you might say I overlooked the fact that I was on this mountain because of the trees. At the end of our little road you can observe a glorious sunset and driving towards town there is this awesome view where you can see downhill for miles and miles. I guess that is why our town is called Hillsborough. Maybe with a bit of a stretch they might have called it Mountain View. Whatever. I do love it so.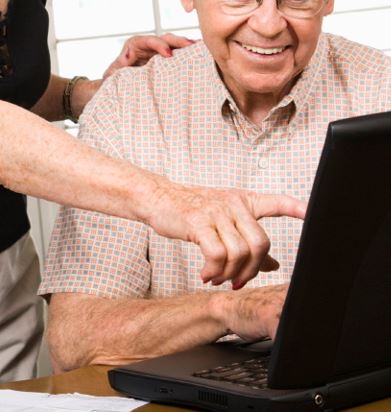 I was having a little problem with my computer figuring out how I could attach a book file to an e-mail and feeling dumb that the answer didn't just pop into this head of mine when I looked online at some of the news. The different government agencies in Washington seem to be having problems with their computers too. The V. A. records seem to be in chaos. The IRS claims problems with computers holding vital information have been crashing. The State Department's global database for issuing travel documents is experiencing problems, resulting in major delays for potentially millions of people around the world waiting for U.S. passports and visas, officials said Wednesday. The folks running Social Security Disability programshave spent many millions of dollars and apparently are now admitting that it hasn't accomplished much if anything and I don't want to talk about computers and Obamacare. I wouldn't know where to start.
So, all in all I figure I am in pretty good shape. I can recall when computers were first introduced at the railroad where I was employed. At first, none of the department heads wanted to have anything to do with them. About a decade later they had found some acceptance but nobody trusted them. The problem was they had a tendency to crash when you needed the information they contained. Decades later they have become reasonably dependable.
Now here we are well into the 21st Century and billions of dollars later and Washington still hasn't figured out how to handle information and hang onto it competently. Sure makes my little problems seem insignificant.
Gallery of Memories -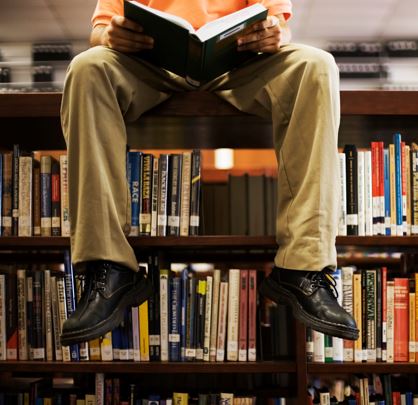 I recently dedicated the inside wall of my office to hanging photos of those who have most influenced my life. It started out with one photo and then two and right now it holds about twenty-five. I have started putting this collection together and organizing a book titled Touching Lives. My life has been so blessed with wonderful friends and mentors, teachers and associates throughout my career. This has been a real eye-opening experience for me. Names keep popping up that I have overlooked. Names I'd forgotten or what they have done for me that truly influenced my career for the better. I've made a number of efforts to paste my past together such as a chronological list of the events in my past. Many of my books include material about different times in my speaking and writing career and some of my fiction books include instances of things that happened, or that I wished had happened. It is strange how many kind deeds from others you might encounter as you walk down memory lane.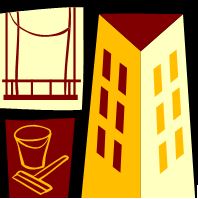 I was sitting on the bed watching TV in that hundred room motel and there was a soft knock on the door. I opened it and it was the cleaning lady and she smiled and said, "Maybe later?" I said, "O.K. now." and welcomed her in and she entered, followed by her husband and their two teenage boys. They all took their assigned positions and smiled at me and I asked, "Family?" and they all laughed and nodded. They were from India and in all my life I had never seen such teamwork in action. They all knew their assignments and worked with such passion and precision that they almost immediately had that room in perfect order. When the vacuum was turned on they all stepped out of the way and continued working. It was as if a time study expert had coached them and in no time they were on their way. I stood outside the room as they were about to leave and gave each of them applause and the #1 sign and then when #2 son departed I patted him on the back and thanked them all and their faces radiated with joy.
I went back in the room and thought about them... New Americans working together as a family with such joy and I just knew that those boys would go on to college and work hard to make this a better nation for us all.Isn't that how America is supposed to work?
So many Funerals -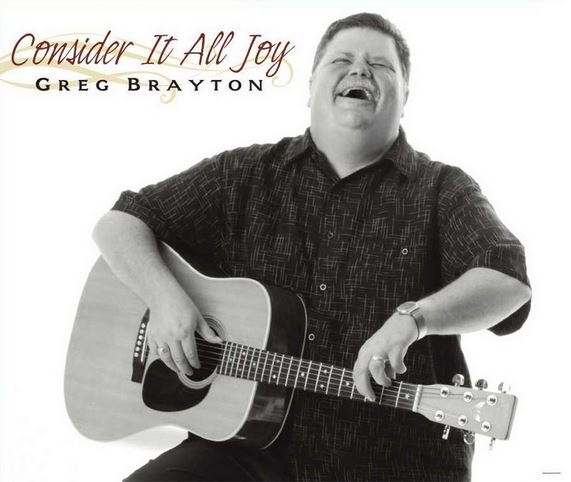 Three funerals in just two weeks. It certainly reminds me of the fact that all of us are here just for a while and our daily challenge is to make the very best of it. I have heard some wonderful eulogies in the past year but none was ever as moving asthose for my musical friend Greg Brayton. There was a sign on a store as we pulled into Coldwater, Michigan that read, "Closed for Greg Brayton's funeral." The church was overflowing with those whose lives Greg had touched in some special way. Three ministers told of how Greg had been so special for them in their ministry, and for the whole congregation. Then they brought microphones down the aisles and many people from all places and walks of life gave moving reports on the special ways Greg had touched them. I found myself joining in and sharing a memory of my own. There was the music... such wonderful music from a swelling choir from Greg's high school days when Greg sang in this school chorus and traveled to Europe to perform with them. The final song, "Gratitude", written by Greg and accompanied by piano and two flutes was precious. I could picture Greg back in his studio surrounded by his string instruments, his guitars, and a banjo and his console with so many wonderful synthesizers and I could hear him making those wonderful sounds of the flutes and the piano and the huge chorus and I knew that we would all take the words of Greg's song home with us. Gratitude. We were all overcome with Gratitude that Greg Brayton had come into our lives. The service ended with the Minister saying that if Greg could have witnessed this Celebration of Life he would have said "COOL", followed by the choir quietly singing Greg's arrangement of "Be Still" as the recessional.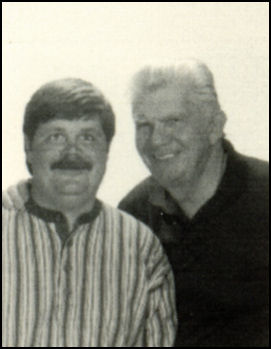 It must have been very early in 1997 that I first met Greg Brayton. I had written a song and had a melody hanging in my mind and, since I could not read or write music, and since I could not carry a tune all that well, I was having a problem capturing the music inside me. I took my challenge to a meeting of the Nashville Songwriters Assn. in Battle Creekwhere a man named Jim Oliver was in charge. When I read my lyric to the group many of the members suggested I see Greg Brayton. I called Greg, made an appointment and it changed my life. During a period from early 1997 thru 2001 we recorded a total of 62 songs. From that first session where we recorded my love song titled "You're The Most Pathetic Person That I Have Ever Met," I remained in complete awe of Greg's musical talents. I can remember sitting in Greg's studio driveway and envisioning hundreds of vocalists and musicians inside just ready to record a session. Together they could put together and perform just about any type of music you might conjure up. Of course Greg was all of those people in one. Greg was a musical genius and no matter what style of musical background I might request he could create an instant arrangement for my song and in a time frame of about 3 hours I would go home from the session with a cassette of my song and I was floating on a cloud over our accomplishment. If I said to him, "I hear strings right there," he would reply, "How many do you want?" He could produce a single violinist or a full string section of violins, violas, cellos and basses. If I wanted, he could instantly work in something akin to the Mormon Tabernacle Choir.
I might say, "Greg, we are in this really smokey bar and it is about 1 AM. There is an old man sitting at an out of tune piano. He has a cigarette hanging out of his mouth and I would read the lyric to him a few times and then he would Braille it. I'd try to sing it out the way I heard it in my head and maybe a minute later he was at his console feeding rhythmic piano chords onto a track on his recorder Then perhaps some rhythm instruments, bass, drums, cymbals. All this with synthesizers. Then he might go over to his guitar rack and add a couple of guitar tracks, maybe live bass. He might even put in a guitar or a banjo or some other solo and then when he had some wonderful background tracks put down he would go into his little section of the studio where he would do the vocals. He might do it with one voice or maybe two or three. It might call for a male or a female voice. He left me stunned the way he built up some of those songs with harmonies on vocals and a constant parade of innovations. The first time we recorded he did a female voice and Greg came up with a voice like Archie Bunker's wife, Edith, and he hit one of those screeching high notes. He tried the high note and didn't quite make it. He was using a reel to reel tape recorder back then and he backed the tape up and sang the high note again but as he did he reached over to the tape that was spinning on the reel and for that instant he slowed it down just a bit. As soon as he hit the note he released it to normal. He backed it up and played it and sure enough he hit that note right on. I looked at that and said to myself, "This man is truly a genius."
He proved that genius so many times in those precious sessions that followed.
We are packing to return to Coldwater, Michigan for his memorial service. Oh God, I will miss him.
Art Fettig talks about The Old Mill Stream -
The beautiful song, The Old Mill Stream, written by Tell Taylor, in Findlay, Ohio, is remembered by Art Fettig. Listen to a short segment from the Brunswick Quartette.
Art Fettig shares a story about John Ralson -
A great little story by professional speaker, Art Fettig, about John Ralson.
When people don't do what you tell them to do, perhaps you need to look at yourself.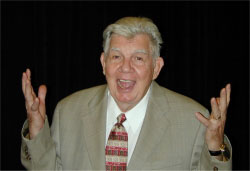 This morning I awoke, walked past my smiling wife, made some irritating remark, walked into the bathroom and saw that sour look on my face and I thought of the lyrics of the wonderful song "Put On A Happy Face" with lyrics by Lee Adams and music by Charles Strouse.
Gray skies are gonna clear up,
Put on a happy face;
Brush off the clouds and cheer up,
Put on a happy face.
Take off the gloomy mask of tragedy,
It's not your style;
You'll look so good that you'll be glad
Ya' decided to smile!
Pick out a pleasant outlook,
Stick out that noble chin;
Wipe off that "full of doubt" look,
Slap on a happy grin!
And spread sunshine all over the place,
Just put on a happy face!
Put on a happy face
Put on a happy face
I went to YouTube and pulled up the video of Dick VanDyke singing the song and in no time I was smiling. I went back and looked in the mirror and sure enough there was a smile. I cleaned the smile up a bit with the rest of my face, went back and found my sunny honey and said, "Let me try again." I smiled and hugged her and we were off again with a lovely day.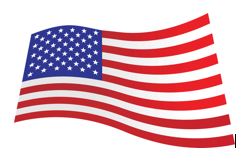 I'm a Yankee Doodle Dandy, I'm a Yankee Doodle do or die, A real live nephew of my Uncle Sam, born on the fourth of July. Almost. Actually I was born on the fifth of July and I might not always be quite that infatuated with Uncle Sam but I wouldn't like to live in any other nation. Those above lyrics came from a showman, songwriter George M. Cohan and most of his Broadway Shows had some flag waving in them but I believe more in flag waving than flag burning. My song lyrics for America go like this...
I been South, I been North
Celebrated on July the fourth
I been East, I been West
It's so hard to pinpoint just the spot that's best
Because all America is so beau ti ful
It's a glorious, a loving land that's free
Yes, all America is so won der ful
It's the land God blessed for you and for me
I believe these words and I hope that you can find it in your heart to love America too and do just one thing today to make America better.
Codenamed Operation Neptune, were the landing operations on 6 June 1944 (termed D-Day) of the Allied invasion of Normandy in Operation Overlord during World War II. The largest seaborne invasion in history, the operation began the invasion of German-occupied western Europe, led to the restoration of the French Republic, and contributed to an Allied victory in the war. On D-Day those American troops carried with them the hopes and prayers and total support of all America. American casualities for D-Day included 2,500 deaths and 6,000 wounded.
Did the above invasion sound exciting to you? Would you like to be among those men charging the beaches that day?
When I tell people that I was involved in an "almost"invasion of North Korea in 1952 they generally say, "I didn't know there was an "almost" invasion of North Korea in 1952. Many say, "What's Korea?"
In 1944 at Normandy they were heroes. They were "The last great generation." Perhaps we were the first degenerate generation. In 1952 we were bums. "It wasn't really a war," they said. "it was a Police Action." There were no cameras on the beaches and when we discovered that there were no cameras we just said "Ta hell with it." We packed up and went back to South Korea. So those in charge named it "Operation Feint" and that's why we're here today, alive. Check it out .It was the smallest seaborne invasion in history and since then we have been involved in far too many half vast, half committed wars and "police actions". Remember, you read it here first, May God bless our troops forever.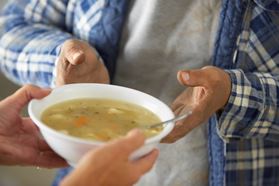 At one point in my speaking career I was enchanted with the word "reciprocity". I had read the statement, "You can only get out of life what you put into it." You can string this on and on, "You've got to love to be loved." You can only get out of a job what you put into it." You can apply it to marriage, faith, religion, belonging to a society, an association; just about anything in your life and still we find people all around us every day who are trying to get around that law of reciprocity. They are known by many names, many of which I cannot mention in this newsletter. Let's just call them "takers." There are givers and takers. And there are also winners and losers in this world and the biggest losers are generally just the takers it seems to me. Some of the kindest and most generous people I have ever met are winners in the field of finances. And some will look at others' generosity and say, "If I had his money then I could afford to be generous too." What about saying, "If I were as generous as he is then I would have his money too." If you understand the secret of giving to get and not giving to get then this message probably makes a lot of sense to you but to many it will seem like hogwash. A man we called Tremendous Jones once finally explained it to me until I caught it. He used to say, "Give to get. Give to get. But don't give just to get, learn to give for the pure joy of giving and when you do then you will discover that the more you give the more you get. Giving to get is just trading but giving for the joy of giving and then getting in return is what that law of reciprocity is all about. Get it? No? Then try it and give for the joy of giving expecting nothing in return.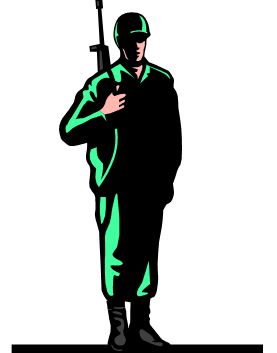 When I watched the Memorial Day parade at Battle Creek, Michigan in the early sixties the VFW had a float that showed a grave marker and there was a rifle with its bayonet stuck in the ground with an army helmet on top of the rifle butt. And every time I watched that float go by tears ran down my cheeks as I remembered the dead. Seems like every Memorial Day I get that same picture in my mind. Now as I look at the statistics of the American dead from Korea and Vietnam and the wars on terror and I match that up with the result of those wars I get sick to my stomach. Just think of the insanity in the fact that America is still in the state of war in Afghanistan. Lately America seems to be drawing lines in too many troubled places almost as if it is shopping for the right location to start another war. Will we never learn from our mistakes?
While our country spends 40 cents of every income tax dollar we pay on the military and war, it spends only 2 cents per dollar on diplomacy, development and war prevention. Does that sound right to you? Let us learn to remember our dead and the total uselessness of war as we move forward as a nation. I've been there and done that and I can tell you first hand that war is folly. May God bless America and bring us world peace.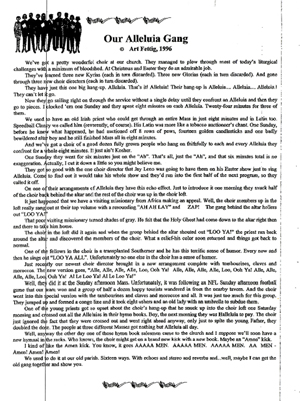 We've got a pretty wonderful choir at our church. They managed to plow through most of today's liturgical challenges with a minimum of bloodshed. At Christmas and Easter they do an admirable job.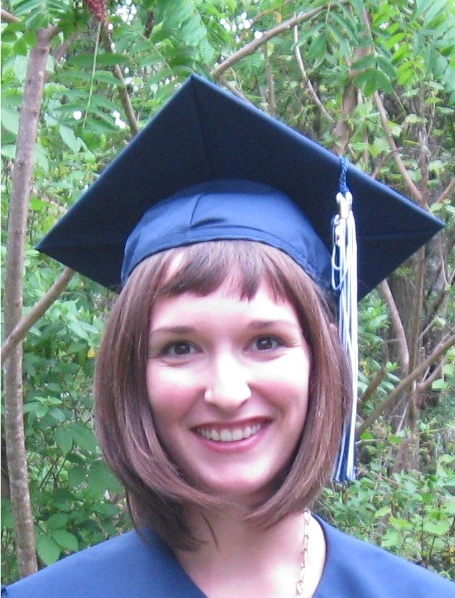 As I sat watching over two hundred candidates walk forward to receive their diplomas at the recent UNC-Asheville commencement I just couldn't help but wonder about that word "commencement" and what it might mean in their lives. Ladies and gentlemen start your engines. Commence firing! Begin production.
Take one step forward. Take a seat and we will call you.
OK, you've got that diploma thatthe world said you must have to succeed. Now what? I tried to imagine myself in Anna's shoes. Anna is our granddaughter and Jean and I are proud grandparents.
I can remember some years ago when corporate head hunters lined up at the universities actually bidding on some of the talentbut the times they are a changing and have been for some time. As the honorable speaker said, "This is a global world today and there is global competition everywhere." I know one thing for certain -I wouldn't trade places with Anna for anything. She has several immediate plans and I am certain that she will find her specific niche where her wonderful talents will be used but for me the thought of setting out on such a challenging adventure sort of knocks the wind out of me.
As I looked into the future I saw in this class the potential to make this a better world.
A Morning At The Drop Off Center -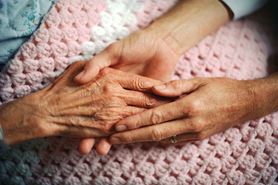 Recently I made a presentation at a Day Care Center for Seniors. I spent about an hour with the group and when I finished they headed in to get ready for lunch. I noticed a few folks who were not in the session. The patients special needs are taken care of constantly and before I departed I made sure I had spent a bit of time with those other folks too. One man was ninety three and very, very sharp. We talked about a 60 Minute TV Show that had a couple of segments on aging over 90. He was really fun to visit with. Next I visited with a gentlemen who had been a cook in the U.S. Navy for seven years. I shared with him the days I spent aboard an LST (Landing Ship Troops) going from Japan to Korea on a mock invasion of North Korea and how nothing very exciting happened but the food was fantastic. He said to me, "You know, that was probably the happiest period of my entire life. "Finally I visited with a former school Superintendent. He said he was sorry he missed my presentation but they had him busy with a heavy exercise session. Most members of this group have different reasons for attending. Some have dementia and other early stages of Alzheimer. Somehow I make an effort to connect with everyone including the caregivers in some special way. Music got to some of them. I had a doo-wop song I had written and that we had on CD and that really got to three ladies in the group and they were contributing by joining in the doo-wop background. Different strokes for different folks but as I climbed in my Ford Escape for my journey home I had a genuine smile on my face that was so wide I think it went all the way down to my toes. May God Bless America and bring the whole world a lasting peace.
Triangle Tuba Quartet + 1 - Here in Hillsborough, North Carolina we have what we call "Last Friday's" events and recently I attended a performance of the wonderful Triangle Tuba Quartet on the walkway in front of the Hillsborough Presbyterian Church. I had a collapsible stool-cane but found a comfortable chair right up front. The narrator was introducing the next number titled "Cruisin" and made the remark "We really need a trap set for this number." BUZZ! something went off in my head and I looked around and all I had was that collapsible stool but I started drumming on it with my fingers and I must admit I really got into that song and got a little fancier as each second passed. Later I confessed to the quartet members that I was going to put that on my resume that I had once played with the Triangle Tuba Quartet +1. I truly felt honored.
No Hats -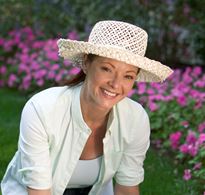 Easter Sunday at our church and there wasn't a hat of any sort in sight. Why I can remember going to church in Michigan some fifty years plus ago and the women of this church acted like they were having a hat competition with the elegant hats they would wear on Easter Sunday. It was all in vain, of course, because this one lady, I guess I could identify her as a sort of snob, the talk was that she would go to New York each year and come back with the largest, most wonderful hat you could ever imagine and she would deck herself out in an awesome dress and weight down her body with jewelry and her husband would come in with a thousand dollar suit and the two of them just sort of lorded it over the whole congregation without a single "Hello," or a "Happy Easter," or any such greeting.
And then one day shortly before Easter the front page of The Battle Creek Enquirer broke the story that this particular lawyer whose wife wore those award winning hats and who wore those thousand dollar suits had embezzled many thousands of dollars from his clients' estates. He was arrested and on Easter Sunday I do believe that everyone in our congregation was waiting for that lady to make her grand entrance but being that her husband was being held in jail for trial, sadly she did not make an appearance. And since then women's hats sort of went out of style everywhere and, would you believe it, there were no hats at all this Easter at our church in Hillsborough!
The pretty little girls wore very pretty dresses but no hats. But oh the great things our women have accomplished to make this a better world!
Whatever happened to the Gold Watch? -
I was watching the old movie Gypsy and there is a scene where Gypsy's mother is talking with her dad and he shows her the plaque the railroad had given him for his long career. He told her it was made of gold and very valuable. It started me thinking and so I went in search of what they gave me after 35 years with the Grand Trunk. It was a coin about the size of a dime and it showed a railroad engine and they had glued a little brass 35 on the engine. It was a really sloppy job. You just can't get much these days for thirty five years. Members of Congress do not pay into Social Security and after serving just one term when they retire they receive a pension equal to their congressional salary for the rest of their life? I think I got in the wrong line.
Some time ago a friend of mine, John Gross, a fantastic speaker and TV sports reporter interviewed the National Champion for 400 meters, a major upset winner and asked him how he did it. The reply was "Self talk." And then the athlete explained that his coach told him to run 405 meters, not just 400, so he didn't slow down at the finish line. Wow! What a great concept. I guess we all have a tendency to slow down near the finish line in any project and the real key to victory is to play all out right through the finish line.
How often have you watched an auto race (especially in the movies) where the lead car is passed just as it approaches the finish line?
My advice to new speakers is to start their speech like they are already ten minutes into it and they will never have stage fright. Walk out there friendly and confident as if they have already accepted you and your message. And now I suppose I will add to that advice, "And finish as if there was a lot more brilliant stuff you wish you could add but will hold back in the interest of their valuable time."
I was over at our Post Office the other day and walkin' up and down the steps is becoming quite a challenge for me. Oh, I can remember when I used to take two steps at a time, going up or going down. Now I go up a half a step at a time. You know, raising one leg and then liftin' up the other to that step and so on. It is a real chore when you get a mess of steps to deal with. I take just one step at a time instead of contemplating the whole mess at once. That seems to be the way life becomes over eighty. One step at a time and, you know, it works. Given the time and the incentive there are a whole lot of things I can still accomplish. The other day a fellow named Jerry Passmore came over to our home with a really sharp cameraman and we did an interview. The way he laid it on to start with as my introduction made me sure he was talkin' about somebody else. The show is on UNC's Public Access TV, The People's Channel, on Time-Warner Cable in three nearby towns...still it felt good way down deep inside to be interviewed that way. The program is called In Praise of Age. Jerry's wife watched it and said it was "inspiring." If the show inspires or motivates one older person to get up and take one step at a time and bring a little joy into someone else's life then that would really make the effort worthwhile.
The Birth of Joe No No, Safety Crusader -
Some thirty-five years ago when I had the title Employee Communications Officer for a railroad in Michigan I discovered that Safety Rules were B-O-R-I-N-G. I was asked to create audio visual presentations that would present each of the safety rules in an interesting manner. I figured that if I could inject a bit of humor often enough that it just might keep people awake and if I could do it in a manner that illustrated a specific rule all the better. After many days and nights of struggling with this problem in my head, I came up with a character I called Joe No No. I felt we might hire a local actor to play the role and we could shoot reams of photos of him breaking the rules and then suffering the painful consequences. When I checked my budget I decided I had no money to hire an actor for the role. Instead I bought a wig and a false mustache, a red and white hat and my wife cut out round circles with diagonal lines such as the signs that say "Do Not Enter" and other Do Not warnings and she sewed them on one of my old sweat shirts and on the new hat. I went down to my office in my new outfit and thus Joe No No was born.
My fantastic associate, Roger Thurgaland and I wasted no time getting Joe out into the railroad yard going through his paces. We started out with the rule covering stepping over rails. Joe No No first started out breaking the rule and then he came very close to breaking something else.
The only talking Joe No No did in our productions was to let out a loud line of undecipherable cuss words whenever things went wrong and they were usually followed by a lot of crying out and screaming in pain. We would often put in sound effects of arriving ambulances and some scenes of Joe No No being carried over to the waiting ambulance.
We made up a series of posters stating "Don't be a Joe No No!" and on special occasions Joe No No would appear at various locations with his arm in a sling or his body covered with bandages.
Sure it was low comedy, corn-ball stuff. Sure we brought on a lot of groans and yet, for the first time ever people started paying attention to the safety rules. We managed to get rid of some of those antiquated rules which made no sense at all and the company started enforcing the rules. We got the backing of top management and managers were made responsible for their department's injury records. What was the result?
In the ten years that Joe No No was around, our railroad won three Harriman Awards for our safety results. The number of employee on-duty injuries dropped dramatically and we even won an Abbey for one of our audio visual presentations. Of course there were a dozen other things that made this improvement possible but I like to think that Joe No No was the first one out there with a safety message.
How far do you have to go to get that safety message out there to the troops? "Whatever it takes." was our motto, and if I had to do a few pratfalls and get a little mud on my boots and sometimes on my face too, well, so be it.
It is strange the way our memorie work. Just this past few weeks I have been thinking about the important role some people have played in my life. One of the first things I learned in the Army was "Never volunteer for anything." As I was exploring that recent idea my mind flashed back to early September 1951. I was on a troop ship headed for Korea. Somehow I learned that "Special Services" was looking for entertainers to perform onboard in some sort of show. I don't know what obsessed me but I rushed to the reported location to volunteer as a drummer in the band. I was just about as qualified for that job as I was to take over as Captain of the ship but it turned out that I was the only volunteer to play drums and I got the job.
We had some great talent in our show. A hypnotist, a fire eater, a singer, and a wonderful black tap dancer. He was great. He had no special music so we worked with the piano man on some special stops in a song so he could really make something special out of his dance. I worked on drums with him and he was very patient with me and it turned into quite a number. I think we did five shows. I didn't see him again until mid November. He had been assigned as a medic to Taegu General Hospital and I went into combat as a rifleman and had been wounded and evacuated to that hospital. I had a superficial wound to my butt and I felt sick and I could hardly walk and I was lying on my cot when he walked up to me and grabbed my hand and said, "What's happening man?" What a joy to see him again. He looked at my chart and said that I was scheduled to be released and sent to the front again the next morning. I explained my problem and he said, "I will have a doctor examine you." We went into the doctors office and he had me bend over and when he examined me he said, "Oh, my God, we missed that." He had me lie face down on a litter and they carried me onto a waiting evacuation plane, I was flown to Kobe Japan and I had surgery. I was sick and they tell me I nearly died from some complications. When I recuperated I was sent to Hokkaido, Japan where our outfit had been reassigned. I figure that guy saved my life. So you might say I volunteered for something, had a great time on that ship with that show and later that tap dancer saved my life. Now that is a pretty good reason for you and me to volunteer for something again, right? Let's do it!
What Was My Goal As A Speaker? -
In the 70's and 80's and 90's when I was out there speaking all the time people used to ask me, "Art, what is your goal when you come in to do a speech?" I would explain that it depended on what I was hired to accomplish. Most of the time I was hired as a "MOTIVATIONAL HUMORIST" and that meant that I was hired to entertain but I was also expected to improve the performance of those in the audience. If a sales audience, to sell more; for managers to manage better; safety, to work safer and inspire others to do the same. For teachers, to teach better and so on. In regard to my own performance I wanted to take complete charge of an audience in the first 30 seconds or so and hold them in the hollow of my hand for an hour or whatever time frame I was allowed. My goal was to take everyone in that audience on a sort of emotional roller coaster ride making them laugh and cry and learn something really important that would help them do their job better.
We've been without electric power for almost 48 hours. It just kicked on and it sure is welcome. It was cold in our home last night. We bundled up in blankets and I found my long johns, pulled my heavy nightshirt out of my dresser drawer; put on two pairs of socks and added a quilt on the pile for good measure. Kevin, our son, came to the rescue and started our gas fireplace log, brought us a propane stove and a couple of boxes of BoJangles Fried Chicken to boot. Our yard looks like a disaster area after a major battle, with tree limbs fallen everywhere, especially on our decks. In the midst of all the trials, we took time to be thankful that though we are surrounded by all those trees dropping ice laden limbs, we had only 2 dents in the house gutters and NO damage to either car!
What did we learn? That we have an electric stove, electric furnace, electric hot water heater, electric computer, electric TV. When I went upstairs to my music room to play my drums and relieve some frustration, guess what? The music on our CD runs on electricity. When I tried to read in my favorite chair...no light. It might sound crazy but I'm actually happy that this happens every few years. It reminds me how blessed we are to live here in a home with so many conveniences. We have an old telephone that does not require electricity and we received calls about emergency shelters available and so many friends called with offers of aid if we needed it. And now the TV is blasting out the news. I'm able to forward my newsletter and very soon all will be right with the world.
Empathy -
A lot of speakers have been trained to maintain eye contact with an audience by looking around an audience, that is left front, left rear, right rear then right front. Often they never really look anyone in the eye or make a personal contact. I have learned that if I really get intense with one person that through the process of empathy, everyone in the audience sits in the chair of that person I am focusing on.

The same force works when you single someone out for criticism or poke an ugly joke at someone. The whole audience sits in the seat of that person you embarrass. Really talk to somebody in the audience, then really talk to somebody else. You can do a one on one with several thousand people through the power of empathy.
Almost eleven years ago we bought an Aeron Chair made by Herman Miller for my office. I first saw it at the Arizona Safety Congress and it had a high price but it felt really comfortable when I sat in it for a while. It has a lumbar support feature and I'd set my chair aside because it just wasn't comfortable to me any longer. I didn't even look at it, I just put it away and pulled out one of the other chairs I have. We went into a store for a back pillow the other day and they had a lot of expensive chairs including the Aeron and I thought about mine and mentioned it to the salesman. He advised me that my chair probably had a great guarantee with it perhaps for even twelve years. I didn't remember when we had bought it but when I found the bill it was over ten years old and I was disappointed. Then I read the information on the chair and it has a twelve year guarantee on all parts and labor. It is a simple guarantee in English and there is no fine print. It just says that if anything goes wrong with the chair they will fix it or replace it. I went up and examined the chair and, sure enough, that lumbar support had a cracked base. I made a few calls and soon I will have it back, repaired.
As I get older I seem to be encountering more and more fine print and the print gets smaller and smaller and the exceptions on a guarantee seem to get longer and longer. I feel really good now about that chair. I'll feel even better when it is back in place in my office. What kind of guarantee do you offer on the work you do each day?
The sun was shining off the pristine snow in our woods behind our cottage and bouncing up through my big office window. The rays caught the tip of the wing of my prized pounded brass eagle I'd found in a window at a little store in sort of a little mall in Kuala Lumpur, Malaysia where I was a speaker at their High Performance Leadership Conference, June 22 and 23, 1981. When I went inside and talked with the shop owner I soon discovered that I had met my match when it came to bargaining. He said the price was $100 U.S. and it was not negotiable. That is what they all say, but crafty Old Art, world traveler and master shopper, knew otherwise. At least he thought he did. I offered seventy and the man did not blink. He explained that in his store prices were fixed. He showed me the tag with the prices listed and the one with a dollar sign showed $100. I said to him that I collected eagles and I wasn't even certain this was an eagle at all. Then I offered seventy-five and then eighty and he suddenly became busy with something in the back of his store and he did not come back to me. I did what every good negotiator must do. I left the store. A few hours later I returned and before I could even get fully inside the store he came up and smiled at me and gave me one finger (a nice one) and then two zeroes with his thumb and forefinger. "One hundred U.S. Dollars," he said.
Early the next morning I returned to the shop. That same gentleman smiled and gave me the hundred dollar signal. I smiled and paid him. Fortunately this brass sculpture had been built for travel. The bird parted from it's globe like stand and both wings came off. I carried it on my flight to Singapore and then a few days later from plane to plane on the trip back home. When I moved here to North Carolina from Michigan all of my eagles survived the move and I set them all around my office and my music room and the ladies who come in every two weeks keep them dusted. It wasn't until we had this snow and the welcome sunshine that bounced their rays into my office shining as a spotlight on that eagle that I gave it much thought. I carefully brought it down from over the bookcase and cleaned it up some and my loving wife Jean took some photos for me as a Valentine gift and now I treasure it even more.
I'm beginning to feel like a 100 watt incandescent light bulb lately. I have been getting calls from taxidermists who want to stuff me and hang me on a wall. In a way though, that is nothing new. There are those who would have liked to hang me out to dry as long as thirty years ago.
When I was a boy, growing up in the city of Detroit, Michigan, my mother would sometimes take me on a bus with her and in a big paper bag she carried several burned out Edison electric light bulbs. All you had to do was bring your old bulbs to the Edison office and they would happily replace your old bulbs with new ones free of charge. They were especially happy if they were 100 watt bulbs.
The times are certainly changing. In some States they are making marijuana legal and nationally the 100 watt incandescent light bulb has been put on the endangered list. No longer is it legal to import or to manufacture such bulbs. I figure that the law people who have done such an awesome job of keeping marijuana out of America will now be transferred to the noble cause of striking out 100 watt bulbs in America. Soon we will be able to buy such bulbs on street corners of every major city. Just one more sign of your tax dollars in action and a tribute to the American spirit of not letting anyone try to tell us what we can do.
I have walls of books in my office and upstairs in my music room and some days I just pull out a book at random and open it up and start reading. Today I read about Carlos P. Romulo, who was a soldier, statesman and Philippine patriot. He served with General Douglas Mac Arthur during World War II and helped in the creation of the United Nations. Then he was Philippine Ambassador to this country and a former president of the U.N. General Assembly. When he left America for the last time he said this."I am going home, America ---Farewell. For seventeen years, I have enjoyed your hospitality, visited every one of your fifty states. I can say I know you well. I admire and love America. It is my second home. What I have to say now in parting is both a tribute and a warning. Never forget, Americans, that yours is a spiritual country. Yes, I know that you are a practical people. Like others, I have marveled at your factories, your skyscrapers and your arsenals. But underlying everything else is the fact that America began as a God loving, God fearing, God worshiping people, knowing that there is a spark of the Divine in each one of us. It is this respect for the dignity of human spirit which makes America invincible. May it always endure.
And so I say again in parting, thank you, America and farewell. May God keep you always---and may you always keep God."
Following his return to his home he enjoyed an outstanding literary and business career and he died in 1985.
I wonder if he could return to the United States today just how he would feel about how we had done, keeping God in our way of doing things.
Sally Brayton is the fantastic wife of Greg Brayton, my musical partner in Coldwater, Michigan and she works at the Woman's State Prison there in town.
Through Sally, I made arrangements to visit the prison and do a general assembly for the women inmates.
In the past I had done a half a dozen talks at prisons and I always felt that I learned something on such visits.
The prison had a nice big assembly room and every seat in the auditorium was filled. After my introduction I began my speech and it was going just fine. Of course, there were guards standing right up front and at all of the exits and it all seemed rather intimidating.
Somehow I reached for my glasses which I had sitting on a little table on the stage and I dropped them. One of the lenses just popped right out and when I picked them up I noticed that one of the screws that helps hold the lens was also gone.
I simply looked out at the audience and asked, "Who will try to fix my glasses for me?"
One of the older women who was sitting in the front row raised her hand and I walked to the front of the stage and signaled for her to come forward and take the glasses.
Three guards came rushing forward to protect me from that sweet old lady.
I negotiated with them and managed to hand her the parts.
She sat down and examined the glasses and said, "A screw is missing."
One of the other prisoners sitting in the front row said, "I see it on the floor." And she stood up and tried to approach the stage but those three guards appeared again and stopped her.
Either those guards were not paying any attention to what was going on or else they were over trained in field combat. Anyway, again we negotiated. The girl retrieved the screw, handed it to the other prisoner who was working on my glasses and went back and sat down.
I went back to my speech and a couple of minutes later the lady signaled me that she had my glasses fixed.
We negotiated again with those three guards and she gave me my glasses. I thanked her and asked her name.
"Bonnie," she said, "Like in Bonnie and Clyde."
The audience laughed.
"Yeah, I've read about you I said," playfully. They laughed again.
"Thank you Bonnie. Without those glasses I would not have been able to read my notes. And I wouldn't be able to read a poem I had planned. In fact, you just saved me a real mess because without you I could not have gone on. Let's give Bonnie a nice round of applause...No, hold it. I want you all to join me in giving Bonnie a standing ovation. Everybody up." They all stood up and I led the applause.
Bonnie just stood there looking out at that audience with the darndest look on her face. She was absolutely dumbfounded.
Later I found out that Bonnie was one of their most uncooperative prisoners and she was serving a life term for murder.
Later I gave Sally a book autographed to Bonnie and she told me that Bonnie had really changed for the better following that meeting.
How many people go through their entire life without ever receiving a standing ovation? Far too many, I bet.
K&W Cafeteria in Chapel Hill. Jean and I were looking for some really down home great southern cookin' so we headed straight to the K&W in Chapel Hill - where Andy Griffith got his education. A few years back we ate there and I had on my Matlock Seersucker jacket for a photo shoot and a woman we call Lady Mary called out "It's Andy Griffith, Matlock!" and the report went right on down that food line among the servers, "Andy! Andy, Matlock, It's Andy Griffith, and as we walked down the line being served we had a dozen smiling faces sort of grinnin' at us. As we ate and were bombarded with staff and diners trying to determine if it really was Andy, Lady Mary spread her arms and announced "Don't you worry, Andy. I will keep them paparazzi off you." Well, when we returned the other day (in regular church clothes) she recognized us and when we were seated she came right up and held her arms out to protect us again and said, "I will still keep them paparazzi off you Andy." We had a fantastic dinner and then a lot of fun with photos. As we finally went to leave the restaurant I was stopped by two tables asking if I was Andy's twin brother or something. Almost every time we go out in public someone comes up and asks, "Did anybody ever tell you that you look exactly like Andy Griffith?" And I jest that most folks take me to be Aunt Bee.
Here it is 2014 and what am I learning this year? I have learned that by pulling up a new presentation on TED.com each morning instead of pulling up the daily news, my mind experiences a WOW! experience instead of a trip to the pits. I also discovered that each program I watched on TED.com also provided a text and so as breathtaking concepts go whizzing by me each morning instead of attempting to make notes, I can make a transcript first, print it out if I like and then make notes in the margins of the notes. I can also watch and listen to an awesome presentation again and again just the way I listened to cassette tapes so many years ago for a daily learning experience. Often when I watch a mind bending speaker I have my own thoughts pop into my mind and I try to capture them. Yesterday I relearned how wonderfully alive the right audience can be. I'm looking forward to the rest of this year with excitement.
The Greatest Living American -
Just a few years ago I was involved in a film school production on comedy. A wonderful guy Mickey Schroeder and I were headed out to lunch and I had been telling Mickey how many people mistook me for Andy Griffith. He didn't seem to be convinced and as we walked out on the sidewalk in front of the school a thirtyish couple approached us and the man took hold of my hand and started gushing about how thrilled he was to shake hands with Andy Griffith. I interrupted him and explained that I was not Andy Griffith but he was having no part of that. He kept on telling me that I (Andy) was probably the greatest living American and how thrilled he was to meet me. Again I said I wasn't Andy but that just prompted the lady with him to tell me how she loved my TV Shows and such. I just shrugged to Mickey, we thanked them and took off.
The other day I was working on a speech segment and I was convinced that Andy Griffith was not our greatest American at that time, but then I asked myself who is our greatest living American today? I have just begun asking people that question. If you have a minute would you please visit our blog and tell us who you think is our greatest living American at the present time? It might be a president, a sports figure, a politician, a scientist, a movie star... that is up to you. All I want is your personal opinion. Maybe it's my age and the fact that so many of my heroes have passed on but offhand, I can't think of a whole lot of people I would put into that category. Do me a favor, will you? Give me some feedback on this.
Exciting Start - When I first started out as a professional speaker it was somewhat seasonal. Summer was a very poor season for professional speakers. There were several blank spots on a speakers calendar and one of those was from about December 15th to January 15th. With those long layoffs a speaker could get pretty antsy. I recall one time when Du Pont called and booked me for an early January safety kickoff and I was thrilled. What a way to start the year with three full days at my full fee. I was in speaker's heaven. Well I feel that same thrill this year with a booking on January 11th speaking for East Carolina University at Greenville, North Carolina as the kickoff speaker for their 2014 Lifelong Learning Program. The title of my talk is "Making Every Day A Learning Adventure." They offer an outstanding learning program, still what thrills me most is the opportunity to not only present as my Almost Andy (Griffith) character for a bit but then to get back into my role as a motivational humorist and endeavor to have an impact on the lives of attendees. If my message is the right one and strong enough I might really touch people's lives in a meaningful way. That is my job, my calling, my reason for being, to touch people's lives. There is so much untapped greatness in people that they fail to recognize or employ that I'm thrilled with this opportunity to explore it with them.
When it rains sometimes I look out my big window and I think, "Gee, I'm glad I don't have to be out there working in that stuff." Then comes the idea of Gene Kelly on a rainy day in Paris and the rain came and he danced in the streets and kicked the rain and sang a song I will never forget named Singing in the Rain.
Ben Franklin then came to mind and his discovering the electricity in lightening and using a key on a kite. I bet he stood out in the rain many a time working on that project but he came up with the Lightening Rod and wrote his name in the books of wisdom. And then I barely recalled a poem I had written one night when I went for a walk in the rain and with the miracle of my computer and a little item named Search I found the poem I wrote after that experience. Here it is.
A Purification
(c) Art Fettig
It was raining and I was running.
You know, trying to get out of it
Into the cool dry...
When suddenly, I stopped and I let it happen.
And the rain came down by the cloudfulls all over me
And somehow, it seemed to wash away my years.
I was twelve years old and I wanted an Al Kaline bat
And a Beachboy's towel and a new record by the Blue Magoos.
I didn't care about the price of gas or about Syria or Afganastan
Or about my aching knees or anything.
I hope it rains again tonight.
Sharing -
Many years ago General Electric hired me to speak at a sales conference at the Terra Verde Resort in Florida. In the fifties it was a balmy getaway for guests such as Frank Sinatra, Phyllis Diller and Liberace. Guy Lombardo was a frequent entertainer. My arrival was years late,r still of my favorite singer at the time I visited was Mel Torme and when I arrived I noted that Mr. Torme was performing at the club that weekend. When I awoke I called the phone operator there and identified myself and asked if there was some way I might talk with Mel Torme. I told her I would be in the restaurant for breakfast.
I had just finished eating and was about to leave when a waitress made this announcement. "Does one of you have a call in for Mr. Torme?" I jumped up excitedly and identified myself and another gentlemen did the same thing. Since I got there first the other gent nodded for me to go ahead and I picked up the phone and identified myself and Mel said, "Are you the gun collector?" I said "No," and asked the other man if he was a gun collector and he said "Yes." Well I stood there while they talked a while and evidently the man invited Mel to visit his home and look at his gun collection. Then he said to Mel, "What about this other fellow?" And Mel evidently said, "Bring him along if you want to."
I remained quiet most of the time while they talked guns. When I got back from Korea in 1953 I had lost my interest guns. Later I noticed that Mel was wearing a heavy I.D. bracelet on his left wrist and I asked him about it. "Oh," he said, that belonged to my friend Buddy Rich, the drummer. A few of us guys have a crazy practice that whenever we see one another wearing something we like we can claim it is ours and if asked we have to turn it over. Buddy's left hand is a little weaker than his right and so for balance he wears this bracelet when he plays drums. I figured he had a half a dozen of them so I claimed it as mine and now I treasure it."
It sounded like a great idea to me. Sometimes, I guess, some of us get too attached to our "stuff" and while I have never tried this idea out with friends I like the concept. Besides, about the only thing I ever wear is my wedding ring and nobody is ever going to claim that off my finger... no way!
Editing -
I've been working on a book of memoirs on a brief span of years in my past. It is a private thing not for publication and I wanted to send it to a friend for Christmas and so last night, as they say in the printing business, we put the book to bed. For a couple of weeks now I have been trying to get the bugs out of the manuscript and out of my new computer and the book will be mailed today. This effort resembles getting a baby ready to go out into the world. I've tried cleaning it up, straightening up some of the grammar, doing a spell check and getting the margins and such in line. My wife Jean has helped me with the birth. We had a ring binding put on it and out she goes. I know that if I messed with it another two months that there would still be some flaws that I overlooked. Little boo boos that are cunning and elusive. You have probably noticed that they keep slipping into this newsletter. (Sometimes I tell folks I put them in there to bring joy to nit pickers but it is a lie.) Some folks I know never send anything out because they don't want to be caught making a boo boo. With every creative creation some time you just have to let go. A number of fine writers had editors that would simply come to their homes and literally rip the manuscript from the screaming, protesting authors hands. James Michener was one of these.When I was in audio-video production I used to have to wrestle the finished audio tracks out of the hands of our sound man. Such is life. Some times you must do the very best you can in the time provided and then let go.
Memories -
I've been messing around with my memory these past few months and I am really encouraged. I"m talking about my long term memory. I made an all out effort to zero in on what happened to me in my life some thirty to forty years ago. I was working on the railroad as a claim agent for some twenty four years and had just been promoted to Employee Communications Officer reporting directly to the then Vice President and soon to be President. My career as both an author and as a professional speaker was just beginning to show real signs of life at this same time.
I was zeroing in on the railroad aspects. There is an old saying that Bennett Cerf first coined; "When pouring from a ketchup bottle none'll come and then a lot'll."
Remembering was a slow process to begin with but once it started working the memories just started pouring out of my mind onto my manuscript. Some of the memories were stubborn and slowly came out with details I had not thought about for so many years. I keep believing I am done with the project but then something else pops out, sometimes in the middle of the night or upon waking in the morning. You might want to check it out yourself. Zone in on any period in your past. Write down what you remember and then keep at it. Maybe they really were "those good old days."
Yes, The Good Die Young -
Scott Epperson was always just Barn to me. He sometimes made audiences go into spasms of laughter. He worked longer and harder than any other man I knew and his wife Mel worked just as hard sometimes beside him. Barney died recently at the age of just 57. Maybe you knew him as Detective Scott Epperson of the Dunn, North Carolina Police Department. He retired from police work just a few years ago. You might have met him as Lee Michael, who worked in radio around Benson and Dunn and for years earlier around the Winston-Salem area. Barn's health gave out on him suddenly last week and I lost a guide, a mentor and a friend. He introduced me to my first role as Andy in the play, "Remembering Mayberry" in Benson. We did the show in 2012 and 2013 and were planning to do six shows in January, February 2014 but "Remembering Mayberry" without Barn would not be a show at all. He was the main man, the glue that held the whole thing together. Barn would hit the road when it got warm enough for a State Fair and bring happiness and laughter to thousands of people all over the United States. He must have written out a zillion bogus parking tickets and he nailed every mayor along the route. We'll miss him a lot.
Art Fettig at his Best! Eating! -
Art Fettig, our beloved friend and client who continues to entertain thousands of people through his humor and story telling, is seen here enjoying one of his favorite hobbies.... eating!
Bringing Out Even More Of That Greatness In You -
When would you say is a good time to think about your future? I'd say "Yesterday and if you can't do it yesterday then do it today at the latest." Huh? What if you were born with a unique and powerful talent that you have not yet discovered, one that just might have a positive impact on thousands of lives? What if that is what gives you that frustrated, sort of unsatisfied feeling that creeps up on you when you look at what you have accomplished at the end of a day? What are you currently doing to discover and utilize that special undeveloped talent? May I suggest that you just take a different look at the world around you. What unique skills have you discovered that you have? What do you love doing? I've heard people tell me "When I retire I'm not going to do anything. Nothing at all." And I figure they either change their thinking or they won't be around very long. When locomotive engineers with railroads used to retire at around sixty five or seventy their life expectancy was six months. I just hope I can keep on learning new things until that day I die.
Korean Veterans Saluted - What a thrill the Fayetteville, NC and Ft. Bragg folks gave a hundred or so of us Korean War Veterans on Veterans Day week end, ending with a bus tour of Fort Bragg on Sunday with three members of the TV Classic, MASH. Klinger - Jamie Farr, Hot Lips Houlihan - Loretta Swit, and Father Mulcahy - William Christopher shook hands and posed for hundreds of photos, and toured the 82nd Airborne Museum with us. Lots of war stories shared and new friends made.
Kinston, NC -
I stopped to buy gas in Kinston, NC and the price was $3.129 for regular. I check my Tom Tom and sure enough it said that I was in Kinston, North Carolina and just then my memory kicked in. Kinston...Kinston, yes, Du Pont. How many years ago was it? Ten, twenty, twenty-five and probably more than that. It was for three days of speeches to kick off the New Year. What a way to start out the year and even though I had lost my voice and it was far from right yet I had accepted the job eagerly. I'd always wanted to work for Du Pont because they were reputed to be the #1 American corporation when it came to safety and, as it turned out, this particular Du Pont plant held the bragging rights as the safest plant in America. About ten years before I arrived there they had gone an amazing 66,645,000 consecutive work hours without a single injury. That was a force of 3,000 workers going 12 years and 11 months without a lost time injury. And then it happened. A woman, wearing high heels tripped on the carpet and sprained her ankle. It was a fatal injury. She really just sprained her ankle but when the safety committee discovered that she would be losing time from work they strangled her. Everything in the above is true except the fatality and the strangling. I just threw that in and now you can throw that out. Actually they just bruised here up a bit. So many years have passed now. Last time I checked the work staff was down to about 300 employees now. Just the same, it was a thrill to get gasoline so cheap and even better to recall what wonderful audiences they were there in Kinston.
So many times, over the years, people have asked me, "How did you get started in the speaking and writing business." Many of the younger folks expect me to say something about taking my graduate studies at some famous college, then moving on to a yet more glorious university for my masters and then possibly studying abroad for a few years and returning home to get my doctorate degree at one of the top universities in the world. (Obviously they haven't read any of my work or heard me speak.) The fact is that I received my high school diplomat from the University of Detroit High and it was conditional. I claim that they gave me the diplomat on the condition that not tell anyone where I got it. I was 31 years old when I finally got serious about writing. I had just completed a comprehensive fourteen year study on the consumption of alcohol and finally decided that I had had my fill. I needed something to do with my hands instead of opening beer bottles and so I bought a ream of paper and an old Underwood upright typewriter. Ten years later I met a fantastic professional speaker and Notre Dame University professor named Herb True. I had enjoyed a tiny bit of success as a part time author and Herb gave me a part time job writing humor for him. Within two years I started doing paid speeches on my own. So I guess the answer about how did I get started is this. I just began writing and seeing myself as an author. I did what I believed authors did and it worked. Same with speaking. I gave some speeches and I was invited to do some more. So my advice for aspiring authors and professional speakers is this. Just Do It!
Remembering -
How is your memory? I figured that with years, my short time memory is waning and that my long term memory is in pretty good shape. Then I started a project that goes back thirty and forty years. I really worked on it and discovered that I can remember a whole lot more than I thought possible. Then I worked on it some more and things began to fill in even more. What I am learning in this endeavor is that one should not just say, "I can't remember." My memory is working a bit like I'm working on a picture puzzle. I get one piece in place and then another. What seemed like an impossible pile of pieces just might begin to develop into something like an outside border and with a lot of patient effort pretty soon you may not have a complete picture but you do have one heck of a lot more than you ever believed possible.
Wouldn't it be nice if each of us could just go back in time and redo all of the times that we did not perform at our very best? Us parents could go back and say all of the right things to our children at the right times and we could even take a good look at those critical times in our careers where we said the wrong thing or took the wrong action. I can think of two or three or four times where I've done really stupid things that possibly hurt my career because I was too proud or too loud or maybe just plain stupid.
Wouldn't it be nice if we could have been somewhere and we had been able to say a proper goodbye to someone or maybe forgive me. Wouldn't it be nice if we could go back and manage our savings better, move our money around before a crash or just listened to a friend who suggested investing in real estate or such?
Well, my friends, we live in a world where there just aren't any of those nice situations where we can move time backwards. All we have is today and tomorrow and none of us are sure how many of those critters we have left to work with either. So I guess the secret is to do the best that we can, love one another as strongly as we can, and today, right now patch up some of those bad situations and get on with more good ones. Now that would really be nice.
I was walking down a hallway outside the Pier 49 Seafood and Spirits toward the entrance to the Newport Harbor Hotel and Marina and as I approached a doorway into a room with a private party I heard the coolest live jazz music that I have heard in years. I stuck my head into the room and I didn't see anything and so I figured it must be a DJ with tapes but as I started to leave a young lady approached me and I asked her if it was live music. She said it was and as I entered the room I saw a lone musician playing a fantastic alto saxophone solo with great tracks as accompaniment and the song was Get Your Kicks On Route 66. My heart beat increased about five points and I suddenly felt as if I had travelled by some strange time machine back to the late 1940's and I was young and this band I had discovered was playing the absolutely coolest music ever. Wow! That alto man turned out to be Clyde Wheatley http://clydesmusic.com/
There is some miraculous power that some music has on me. My legs stopped aching, my back didn't hurt, I was no longer exhausted from all those many days of bus touring, I felt fifty or sixty years younger and all was right with the world. Thank you Clyde for that magic moment.
I woke up this morning feeling that in my sleep I had discovered a great truth. American's no longer believe one another.
Democrats do not believe anything that Republicans say and visa versa.
The Tea Party Members do not believe anything either party says.
The American Public does not believe anything that is said in Washington.
TV Viewers do not believe anything they see or hear today on TV.
I find myself listening to President Obama when he gives a speech or makes an announcement and I listen and then I holler out "Bull Sh-t!" That is all, just "Bull Sh-t!"
I holler out the same thing when I listen to the Republicans and I did he same with President Bush.
In other words I do not believe anyone in politics nor do I believe much of anything I hear today.
So what do I believe? Well, in 1953 Ervin Drake, Irvin Graham, Jimmy Shirl and Al Stillman wrote a song and it was made introduced by Jane Froman. Frankie Laine also made it a hit song.
Math and Politics -
Maybe this will help you to conceptualize just what is the figure "a trillion' really means. If it were time, a million seconds would be about eleven and a half days. A billion--that's over thirty-one years; a trillion--thirty one thousand years." Now if you were running a business and discovered that you were spending a trillion dollars a year more than you could possibly take in, don't you think it might be time to tighten your belt? Or you might prefer just going out of business all together.
100 Precious Words -
Oh ye 100 precious words that might go into the readers eyes and mind and heart and touch his soul. I have been working with words, written words and spoken words and once in a while they just seem to jump into line and appear in front of me all organized so neatly. Sometimes they come as paragraphs or whole pages and those whole pages turn into books. My words seem to have become stubborn lately. What might I write to put a smile on the reader's face or even possibly bring a tear and a remembrance of the wonderful days that are no more. I know. I need stare at the blank page no longer. I will rely on my old friends who have served me so many times and they work wonders when I say or write them from my heart. To all humankind...I Love You.
T-Shirts -
I've got drawers and drawers full of old T-Shirts. Some are golf shirts, some real fancy and most of them have the names of the clients that gave them to me when I went in and did a safety presentation for them. A lot of the T-Shirts have names of places we visited. Today I wore a shirt with the Great Wall of China on it. I bought it in the open market when I walked up a mess of steps and walked along the wall. Yesterday I wore a Duke Basketball shirt and a fellow at Subway said he didn't like it. I said I didn't like it much either but somebody gave it to me and, what the hey, waste not, want not .I have a Carolina shirt I like better. I have a shirt from Prudhoe Bay on the Arctic Sea that a contractor gave me for doing an extra program for his group when BP Amacom hired me. I've worked in all fifty United States and all of the Canadian Provinces. For me most of those shirts are wonderful memories. I no longer wear those that are not extra large. Somewhere there are Army and Navy and Marine Corp and Air Force shirts. Those are really fond memories. It is funny a guy brings home from being on the road for so long. Medals and plaques and photos and testimonial letter and I have a framed notice with a seal that proclaims I am a genuine Arkansas Traveler and it was signed by Governor Bill Clinton many years ago. There is a little brass gas pump from the Michigan Petroleum Association as a memoir of the night I substituted for then President Gerald Ford at their conference banquet in 1988. Oh that is some memory. A guy accumulates so much stuff when he's on the road speaking. And then I look around the room and I ask myself, "But what are you doing today, Art?" And I reply, "I'm getting out a newsletter like I have since 1988. As you all can see, I still haven't got it right.
The Legends of Beach -
My sweetheart Jean and I returned to Mt. Airy on Saturday of Labor Day weekend and I was one happy dude walkin down the main street in Mt. Airy. First we just barely made it into Snappy Lunch for a genuine Pork Chop sandwich and a visit with Mary Howell and her crew. They close at 1 PM. We posed for lots of pictures for a lot of customers with stunned looks on their faces. I just hollered out "I'm back!" and Almost Andy Griffith was back in business. We visited the Andy Griffith Museum and also the Mta. Airy Museum and ran into a lot of old friends and made some new ones. My major goal on this trip was to watch the drummer Tony Davis and the Legends of Beach in action that evening. Tony has become a hero of mine when we appear each year in a play called Remembering Mayberry. Tony plays a really hilarious Ernest T. Bass and I believe he is the funniest person I have ever appeared with onstage. Tony is truly an awesome drummer. The Legends of Beach was a humongous bonus. The stage was crowded with true legends of Beach Music.
"The great majority of men are bundles of beginnings." Ralph Waldo Emerson
How many things have you finished lately? How many half finished projects do you have in your life labeled "For when I have time."
Right now I am making a Herculean effort to clean out the fifteen huge file cabinets in my office. Some of the materials are forty years old and have not been touched for decades. Most of it could be just dumped and no doubt the world would be a better place without it but whenever I go into those files I get caught up in that pleasurable practice of walking down memory lane. In the past two weeks I have managed to empty seven drawers. Yes, I have weeded it down to eight drawers and I just bet you that if I could weed out all of the duplication I could cut it down to six files but that weeding process could take days and possibly weeks. Always I find roadblocks with material I just must read and enjoy and remember. There are some heartbreaks too. Some dreams that never materialized. Some memories of friends who are gone now.
I plan to stick with this weeding job though. I know I will never just find the time, still I must make the time and thank goodness there is much joy to be found in these efforts.
It all began with a very strange phone call from a fellow from a small town just north of Grand Rapids. I can't recall the fellow's name or the little town involved but he invited me to a small, private party to give a little speech. He was willing to pay my full fee plus travel.
I don't speak at a lot of small private parties. It is unusual for folks to be willing to pay a fat fee for after dinner conversation, at least in the circles in which I have traveled most of my life.
Anyway, this fellow offered a definite date and I had it open and so I agreed. He sent me an advance on my fee and I was all set. He said he'd like me to talk about my book Selling Lucky.
When I arrived at the party all of the guests treated me like I was at the very least the President of the United States or else The Pope or maybe a Guru, depending on your preference.
We had a terrific meal with the giant shrimp cocktail and the finest steaks and there was wine and cocktails, I had a diet coke.
As my host stood up to make a few remarks before my introduction I still had no idea what the meeting was all about. I figured it was a celebration of some sorts but my host had been rather elusive about the whole thing.
Finally after desert he stood up and thanked everyone for coming to the little gathering and then he proceeded to tell us about the celebration. It seems like the stock market had gone sour on our host about six months before, as it had on most of us gathered there.
Unfortunately at that same time his business had gone sour too and so had his personal life. His wife had announced that she had found a new lover and wanted a divorce.
Then our host confessed to all of us that he had decided to commit suicide one evening and he had a pistol loaded and was about to get on with it when he noticed a copy of my book Selling Lucky sitting on his coffee table.
A friend had given him a copy that he had purchased for him at a meeting where I had given a talk.
Well, the title intrigued him and the subtitle really enticed him. A Dynamic Guide To Greater Success And Happiness.
For some reason he could not explain he decided to look at the book before blowing his brains out. He read one chapter and then another.
Before he knew it he had read the whole book and by then he had decided that he was going to get up early the next morning and get on with the job of saving his business and improving his life.
Within six months his business was back in the black, he had recouped all of the money he had lost in the market and his wife had returned and begged his forgiveness. His life was better than ever. That is why he had the special gathering and he invited me to give a little talk because he felt that I had saved his life.
I was reading an old book I pulled off a dusty shelf and it was about the life of Johnny Cash and as I thought about life on a farm in a tiny swamp town in Mississippi the thought came to me that life just ain't fair. Some of us have had it so easy in our lives and some have had it so hard. It appears almost that some folks just get a free ride in this world and others of us seem to be pulling the cart all the time. And then one day some of us notice that the guy pulling the cart has a smile on his face and a song in his heart and the guy riding in the cart has a sour look on his face and is complaining.
Now many would not consider the work I have done in my life hard work and it in the longest period of my life I was talking or writing or thinking what I would say or write but there were times that I worked myself to a point of near exhaustion out there on the platform on a hot day under hot lights giving an audience everything that I had in me.
On Monday I was sitting on a bench in Walmart waiting for my lady love and an old gent passed by pushing a mop and he was humming and I noticed that he was taking special care to do the job just right. I smiled up at him and said to him, "I've done that." And gave me a big smile back and then I told him that I could see he knew what he was doing and he was doing the job right. He grinned and said, "There is only one way to do it and that is the best I can. Sure wish I could teach the young folks that."
That old gent said more than I could with those few words than I could if I wrote all day. Yes, there is dignity in any job that is well done and there is pride and joy available too and so maybe those who are pulling the cart or mopping that floor are the lucky ones after all.
I have often heard instructors say that they learn a whole lot more by teaching a subject than the students learn. I gave a three hour presentation in Buffalo a decade ago and as I was speaking I suddenly discovered that I wasn't in the safety field at all. In fact, I guess I never was in the safety field, I just thought I was. I have always been in the people business. For over six decades now I have been trying to figure out what makes people tick.
Disturbed by our railroads horrendous safety record I set out to find ways to change behavior and to improve attitudes. I also worked at helping people communicate with one another better. Does any of this sound like safety to you?
What I discovered again and again working with thousands of safety leaders, with major corporations nationwide and worldwide and with our military was that if you can help people improve their behavior, their attitudes and their communication skills then you will suddenly wake up one morning and discover that you have made breakthroughs when it comes to safety and in a lot of other areas too.
Now I discovered that about half way through a sentence as I was giving a speech. I had wandered quite a distance from what people generally consider a safety speech. I had nothing on the 5 or 6 or 7 E's of safety. Education, Engineering, Equipment, Enforcement of rules, Ergonomics, Environment, E Gads, you know, the stuff that most folks work on in safety. I found myself talking about Mary Poppins and the fact that in any job that's to be done has an element of fun, find it and Zap, the jobs a breeze... That is, finding enjoyment in our work. I worked a lot safer when I was enjoying what I was doing.
And I talked about Bloody Mary from the stage play South Pacific. She sang, "You've got to have a dream, if you don't have a dream, how you going to make that dream come true?" And, of course, my dream was always was Zero Injuries. Nobody gets hurt on the job.
I didn't talk about Processes and Audits and I didn't even mention OSHA. So there, and when I shook hands with the audience as they were leaving the hall they all thanked me. They didn't tell me what a great speaker I was or how much they had learned but they said "Thank you," and I knew that they got the message...Work harder because it is required today. Take responsibility for your own safety and that of your fellow worker. You are somebody special.
Everybody but a few of the many engineers in the back row caught on. (Sorry about that.)
Some time ago I began the challenging project of writing down the dates of events in my life. I know that some people record most of their families dates of birth, death, marriages and such. I have captured a lot of that stuff in my list. Then I added my work history. It goes on and on. Memorable event. Today I ran into some stuff on Operation Feint. That was the day we made that mock invasion of North Korea. It was October 15, 1952 and I was aboard LST Bellatrix. We moved to Kojo, North Korea, 39 miles North of the 38th parallel and...and...and well, we almost landed at Kojo but this was Operation Feint. It was just something to confuse the enemy and the most confused of all were the troops aboard that LST. They down loaded a couple of landing craft and one MIG Korean fighter plane swooped down on us and fired but there was no damage. Then we reloaded our little craft and departed from that coastal area. The operation ended and we moves south and spent about a month before returning Japan. Not a big entry in my Chronology but if you enter enough of them then in a while you can draw up an awful lot of your past in a hurry, some good, some bad but all a tiny speck in life's big adventure.
Change -
Many years ago I did a number of talks for top corporations for the National Management Association. One of the little items in my talks was that everything you learn in college will be obsolete in ten years. Then some years later I gave some talks to students at Notre Dame and suggested that just maybe most of the stuff they were learning that day could be obsolete when they graduated. We just installed a new computer and I have come to the conclusion that I am finally and totally obsolete. It is a sad discovery I've taken the leap from Windows 3 to Windows 7 and landed flat on my ....(You guessed it, my arse.) Everyone warned me away fro Windows 8. I'm having just little problems, like I can't find anything and wonder if it transferred and what I do find I can't edit or print or make work ,and my ability to learn new things was always questionable but now there are no questions about. I have reached a new level of denseness. I'm tempted to put on a Dunce Cap and a sign that says, "Obsolete" and just sit in the corner of the room on my stool and sulk.
Will I learn? Will I survive? Give me a month I will get the sound on and the printer doing its job if kills me.
Finding The Passion -
Did anyone ever accuse you of being passionate about your job? I began working at the age of twelve and I must have been over forty before anybody ever made such an accusation about me. Mind you, I always worked hard and tried to do my best but it is a big jump to the class of being passionate about your job. It wasn't until I started using my unique talents on my new job that work became a passion. I believe that we are all given unique talents but unfortunately most of us never get to use those talents for their full time work. Like me, I think that most people somehow get in the wrong line when it comes to job placement. This came to mind just the other evening at the Texas Steak House. Our waitress explained to my wife and I that there was a difference between her job and her vocation. She was studying to become a registered nurse and was just about to take her final year of study. She was working at her job and doing the best she could at that job but it was still just a job. She did not seek promotion. Driving home from dinner it sort of hit me, "Gee, why didn't I figure that out when I was twenty years old instead of when I was forty three. What a lot of suffering I went through. What is your special talent? Have you figured that out yet? What are you doing about turning it into a means of employment? Or what are you doing about using that talent part time for the good of others?
Switch -
I was listening to a sermon at church and I suddenly thought of what it might be if whenever we are in the position of feeling sympathy for another human being that God might just say "Switch!" and we would be forced to change roles with the other party. We might instantly change from the role of superior to pathetic in an instant. And the rest is that we never know when God is watching us and when he might just say "Switch!" I wonder if we would suddenly have a lot more empathy, a lot more understanding and I might make a lot more effort to change things for the better for that other party. When I hear about how a friend has undergone a real change in their lives for better or for worse I must confess I might ask myself, "What if that happened to me?" After all, in the world today fortune or disaster might strike at any moment. I just had a birthday and on that day the mailman delivered a letter from my old high school. The current principal wrote with a message that three of my former class mates had died since his last letter, which, as I recall was not that long ago.
Now the other thought that might enter my head is that, who knows, a friend we are feeling sorry for just might be happier and maybe a much better person than I. I guess that old saying that we really don't know how things are going unless we walk for a while in the other parties moccasins is really a real bit of wisdom. This sort of thinking can lead one to a goal and that is to strive to have more of the characteristics of those I truly admire and far fewer of those traits of those I feel sorry for
I've been spending many hours looking at old video tapes of my performances in a wide variety of areas. There are tapes of my working with teachers, with children, in schools and with parents. A parade of tapes with safety people and corporate employees, with sales people, an audience involving my book Love Is The Target and the prayer of St. Francis of Assisi. I have tapes from International Toastmaster meetings where I spoke to large audiences, tapes where I took time in the rain forest of Hawaii talking about speaking, and I did a session with a great audience of seniors where we did a series of shorter tapes. I traveled to fifty of the United States and most of the Canadian Provinces. From coast to coast all the way up to the Arctic Sea in Alaska. I spent over an hour yesterday watching my performance in front of an awesome church congregation in Detroit Some tapes are over forty years old and there is some deterioration and lets face it, some were not of very good quality with bad lighting and even bad photography. I watched one that PBS did and was really happy with the quality. The United States Air Force did some great work in Wyoming. Some of the Power companies had their own video departments and some of there work is excellent.
Terry Pochert the gent who helps me distribute this newsletter and had worked with me for several decades has traveled with me to Hawaii and Newfoundland and the State of Washington and many other locations is the best photographer I have ever met. The best editor too. When he shoots the reactions of audiences and then works them into the tapes I feel he is working miracles. He retired from a top job in TV production in Detroit several years ago and his background in TV is evident in his wonderful work. We've made a lot of videos for corporate clients over the years and we went over to Pearl Harbor and did some videos for the U.S. Navy together. My goal is to find the best stuff we have and create a sort of "Classics" series covering the various topics. My mass of audio tapes is staggering. At one time I recorded every talk and then forced myself to listen to them to find some way to make it better the next time. This is the stuff that I figured I'd look at when I got the time.
Well, I will have celebrated my 84th birthday when this issue is distributed so I guess I finally found the time to begin this chore.
What have I discovered after hours of watching? I'm convinced that I am the luckiest many in the world to have experienced the joy of sharing my meager knowledge and experience with so many thousands of people all over this world. My goal for every performance was to touch just one life in that audience. Now as I look back and remember the faces in those many, many audiences, with a lot of help and luck too I figure I just might have succeeded.
Al Hirt -
In the late nineties I visited New Orleans and heard the late Al Hirt in one of his final appearances in a small club on Bourbon Street. When he finished playing I had the chance to meet him and talk with him for a bit and I asked him if he ever had a #1 song on the charts. He laughed and said, "Once." Then he explained that it was not that it was his greatest song or anything. "It became so popular because it was just a minute and fifty eight seconds long. Nationally, the disc jockeys loved it because they could use it to fill a two minute time slot in a schedule and there just wasn't anything else that length.
To me, Al Hirt was one of the greatest trumpet men of all time and many of his records just blow me away but, just imagine, he only got the #1 spot on the charts once in his lifetime and that was because he cut it short. Maybe we could all benefit from that lesson. Know what you are going to play. Play it and then cut.
Oh so many years ago I was a banquet speaker for an educational association at the then Pantland Hotel in Grand Rapids, Michigan. Later it was called The Amway Grand. I drove there OK and it was snowing so I tossed a snow shovel in the trunk of my car. I was scheduled to stay overnight and leave the following morning for a flight to Chicago but it snowed all that day and we were informed that we would not be allowed to leave the hotel because the roads were all closed.The presentation went just fine and the Circus was on that evening and I remember walking about a hundred yards to the hall and there were just 40 of us in the audience and it was the P.T. Barnum Circus with a cast of over a hundred and they did their whole show for just the few of us who made it there. Next morning we were snowed in but I went outside and saw that they were working on a road where my parking lot was located and by making phone calls and asking around I learned that there was a road open out to the airport but the airport was closed. I took my shovel and dug my car out and headed for the airport. Let me say here that I had a reputation for never missing a booking. Somehow I had compiled a record of over a thousand engagements without missing one because of transportation or health. I drove to the airport and parked right across from the terminal. I went inside and learned that there was a flight leaving for Chicago. Not a regular flight but somehow I talked my way onto that flight and when we got to Chicago I hired a limo to take me to the hotel there. There was plenty of snow there in Chicago but it was functioning OK. I got to the hotel and my host advised me that a number of the attendees were having travel difficulties and he asked if I could speak early in the morning the next day because they were headed out to the airport for a trip overseas. That was fine with me and the next morning I gave my talk and hitched a ride with them to O'Hare. When I arrived there I learned that the Grand Rapids airport had not yet open but they had a flight, without any passengers going there and again I talked my way onto that flight. When I arrived in Grand Rapids my car was sitting there where I had parked it and it was fine; no ticket, no problem. I pulled onto highway 131 which I learned was partially opened. As I traveled down 131 it opened up all the way in to I 94 and it the Interstate opened just before I arrived there. I was able to drive all the way home to Battle Creek and park on the road just a few hundred feet from my home. I called the hotel and those convention attendees were still not allowed to leave the hotel.
Things were a bit different many years ago. Can you even imagine my making it to Chicago and back again that way? No way. Those were fun days for me. My intense positive thinking made a lot of miracles come true.
Back in 1926 when Charles A. Lindbergh flew U.S. mail runs between St. Louis and Chicago, he often became bored on calm days when the weather was no challenge. To kill time and to keep alert he often played a mind game he called "Suppose."
Suppose they could refine a new kind of gasoline, a lighter fuel with less weight so they could carry more. Suppose he could buy one of those new type Wright-Bellanca planes just coming into production. Maybe he could fly St. Louis to New York.
Supposing he could fly all night like the moon. He could break the existing records across the country. He could span continents. Supposing he could even fly from New York to Paris.
I've played that same game of Suppose for about fifty years now and the most wonderful things have happened. Supposing I could get a decent job using my talents. Supposing I could write a book. Supposing I could learn how to speak. Supposing I could book the early bird spot at the 1978 National Safety Council?
And so it went, one supposing after another until one day in 2002 I walked on stage with ten other safety people and we received the highest honor given to individuals in the safety field, The Distinguished Service To Safety Award. And now, supposing I could somehow inspire others to dedicate their lives to some worthy endeavor and play this mind game called SUPPOSE? I wonder what awesome things might happen in this world.
"Impartiality." by Art Fettig - copyright (c) 1987 Art Fettig