Terry Pochert while Working at the 1984 Olympics -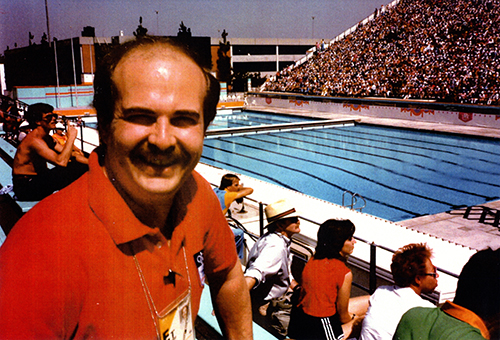 A few great shots while working at the 1984 Summer Olympics in Los Angeles, California.
The Claussen Gang Makes the News -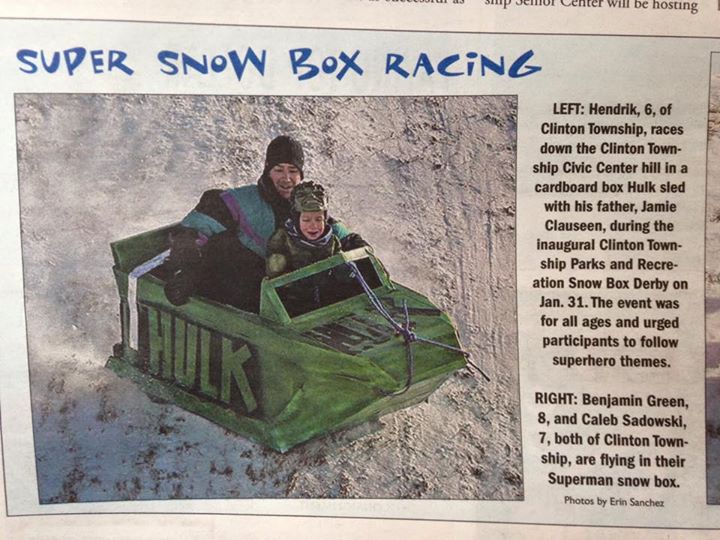 The Snow Box Racing Team.
Dog Patch, Kentucky -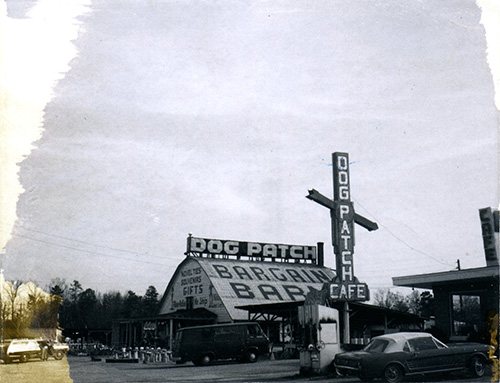 A little tourist stop by the side of the road named for the fictional town in the Al Capp comic strip, Li'l Abner. This photo was taken by Mina Belle Pochert on their travels to several of their vacations from Michigan to Florida.
Terry Pochert at Lackland Air Force Base, 1967 -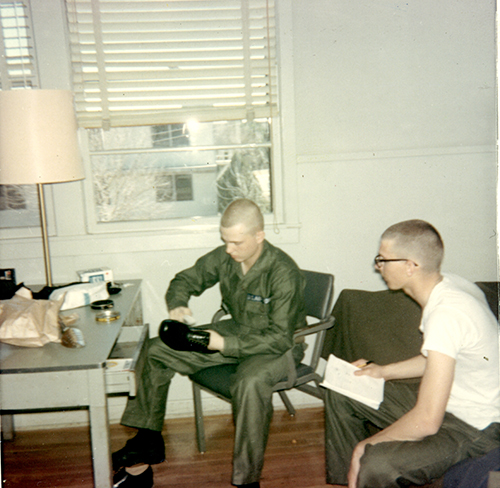 Amazing part of a person's life. Within the first few weeks of basic training we took to doing all the things expected. Of course we ask ourselves, what did we sign up for? Shining shoes? Isn't there a war going?
After the first few days of marching, cleaning, making beds, running obstacle courses and a never ending realm of calisthenics we found ourselves making steadfast friends, working together, helping each with team building exercises, etc. It started all making sense. These few weeks of basic training turned us into a team for our years in the military. It also turned us into a team in our careers as we made our way through life.
And sad to say, many folks of our guys gave their lives during the Vietnam War era. Now it became real serious.
Port Hope, Michigan - Filling the Silos at the Lawrence Pochert Farm -
A little snapshot of farming in the 1960s near Port Hope, Michigan, at the Lawrence Pochert farm. Yes, that's Lawrence Pochert leveling out the siliage on top of the silo while the neighbors are helping unload the truck while "earthbound".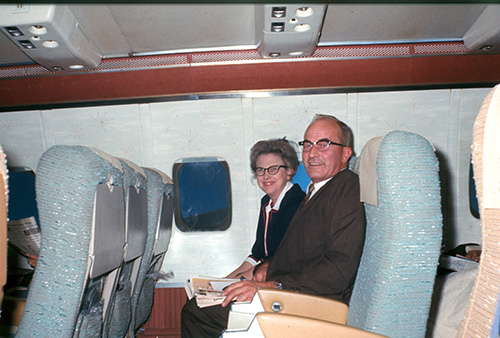 Twenty-fifth Wedding Anniversary for Mina Bell and Lawrence Pochert. On a trip from Michigan to California to celebrate. Just image if we had that type of leg room today.
Lee Pochert Talks About Street Planning -
East China Township resident Lee Pochert preferred a physical boulevard, fearing that drivers would use a striped boulevard for passing cars trying to park or turn left. A key element of a road diet could be reverse angle parking instead of the current parallel parking arrangement downtown, which Struck said is the wave of the future. It is easier than parallel parking and involves one fewer step. It increases the driver's field of vision when pulling out and thus reduces collisions.
When They Stopped Waiting - Article in The Arizona Republic -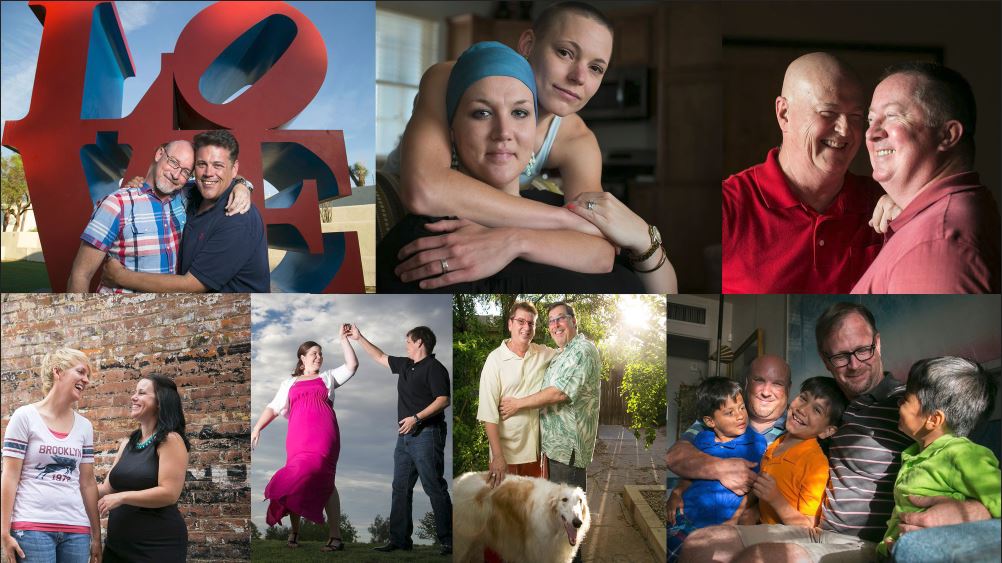 Shaun McKinnon and his print/video colleague, Patrick Shannahan, from the The Arizona Republic and AZCentral.com tell the story of why we are fighting the ban on same sex marriage her in AZ and how it came together. The lawsuit is Connolly v Roche.
Ben and Martha Pochert - 1953 -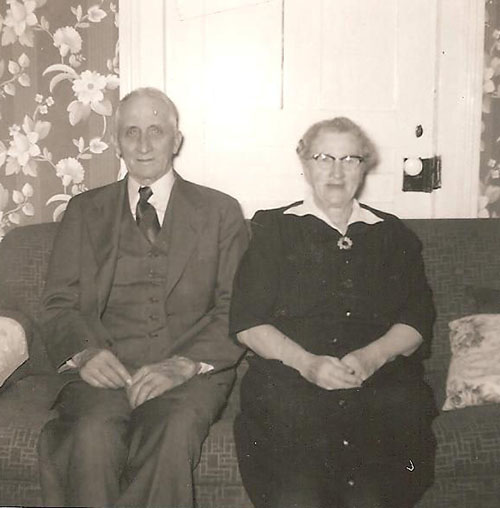 At their home and farm in Port Hope, Michigan.
Hendrik is the one jumping on the bed in the background.
George Takei with Joe Connolly and Terry Pochert -
My hero growing up. Of all the characters on Star Trek, the person I admired most was George Takei.
Born: august 23, 1923; Died: March 11, 2014
Ernest J. Pochert, 90, passed away on Tuesday, March 11, 2014. He was born in Milwaukee on August 23, 1923 to Ernst and Rose (nee Mor) Pochert and graduated from Custer High School. After high school, he entered the Army Air Corps serving during WWII. He then married Loretta (nee Beal) on February 23, 1946 and they raised their family in Milwaukee. Ernest retired from Wisconsin Telephone Company as an engineer.
Alessandra reverts back to her maiden name of Meyer-Wölden - Alessandra's new life.
The William and Ottilla Siltz-Pochert Family -
Taken approximately in 1904, this photo shows the William and Otitilla Siltz-Pochert household in approximately 1904 in Port Hope, Michigan. Note that Albert Pochert is missing.
Climbing to the Top of the Mackinac Bridge -
Afraid of heights? Claustrophobic? This is not the trip for you. Take a trip to the top of one of the two giant towers of the Mackinac Bridge.Afraid of heights? Claustrophobic? This is not the trip for you. Take a trip to the top of one of the two giant towers of the Mackinac Bridge.
Summer time has always been one season that we kick back and really enjoy one of our favorite beverages, Giner Lemonade.
We originally discovered this receipe in a managzine called Vegetarian Times (July, 2001). The magazine reprinted it from a cookbook by Nicole Routhier called Fruit Cookbook (Workman Publishing, 1996).
We've modified the recipe slightly because the original instructions called for way too much sugar for our tastes. Play around with the recipe a bit. I think you'll discover how a hint of ginger can add a brightness to traditional lemonade.
Some in our community remember student Heather Gross. Heather graduated in 2003 and moved to her home area in Salt Lake City, Utah. About five years after graduation Heather was killed by an avalanche while skiing in bounds. Her mother, Alyce wrote a book about Heather and about her own grief journey following Heather's death. Pastor Gary and the church library each have a copy. It is also for sale on Amazon.com. The title is, " The Devil's Fingernail and Heather Aron Gross". Alyce Gross is the author.
Equal Pay for Equal Work - Why Republicans Don't Want This -
It's amazing that that not one Republican Senator voted in favor of the current pay discrimination bill and that includes Arizona Senator Jon Kyl (R). Although the numbers vary depending on the source of the statistics, women are usually paid much less then men for the same work. In one report it's 77 cents on the dollar(1); another report figures it to be 91 cents on the dollar(2); another 76 cents (3). Those that justify this disparaging difference cite the following reasons:
Women hires are riskier because they may eventually alter their career to raise children or take maternity leaves (aka Life Choices).
Women are not as aggressive asking for pay raises.
Women usually gravitate to lowering paying jobs (Job Clustering).
Men usually work in riskier and more dangerous jobs.
All these reasons do make some sense, except when a women does exactly the same work as a man, same hours, same education and same seniority. These women still make less. Generally this is because salaries are generally kept confidential between workers by the employers. Most employers favor male workers, but this information is generally kept very confidential by the management staff. This is where the more aggressive male characteristics advance an edge when asking for pay increases, threatening to leave for other jobs and approaching pay incentives through bonus and other perks. Does the mere fact that the male aggressive characteristics justify a wage difference? Many hard working, industrious women would disagree along with their husbands and partners. Wage transparency would help level the playing field, but wealthy republican business owners and lobbyists disagree and seem to have the Republican Senators in their hip pockets. Money carries incredible power if you are a Republican in Congress.(4) Digging deeper, it shows that these lobbying dollars are directed towards the Republican Congress. No wonder nothing seems to get down
References:
The Bureau of Labor Statistics
Women's Policy Research (IWPR), citing a 2007 study by Francine Blau and Lawrence Kahn
University of Minnesota's Humphrey Institute of Public Affairs and the Women's Foundation of Minnesota
Additional References:
The released copy of Mitt Romeny's birth certificate clearly states that it was a "Certificate of Live Birth". Isn't this the same phrase that some of the birther websites claimed made Barack Obama's invalid? So where is the outcry on this one? Oh dear, Romeny's father was born outside of the United States in Mexico. So where is the outcry on this one? Let's talk morality, Mitt Romney was born in a lineage where his grandfather was a polygamist. So where is the outcry on this one? Mitt Romney's dad tried to run for president of the United States in 1968 even though he was born in Mexico. Sure, he was born of American parents, but the legal language of the US Constitution was fiercely debated about this issue. So where is the outcry on this one? Of course during current times, it is widely agreed that a person who is born to US Citizens outside of the United States is a "natural born citizen". The courts and the Congressional Research Service all now agree. The reason that there is no "outcry" is that this whole thing is just silly. Trump needs to find a life, crawl back into his ivory towers where he can count his millions as he peers out on the 99% from his penthouse.
EDWIN O. POCHERT, age 89 of Harbor Beach, passed away Wednesday, April 11, 2012 at his son's home in Lake Orion. He was born on June 2, 1922 at Verona and Kinde Roads, in Kinde to the late Walter Paul and Bertha (Gaffke) Pochert. Ed graduated from Southeastern High School in June of 1940. He was in World War II, from 1942 til 1945 in Company F 407th Division 102nd Infantry. Ed was wounded in Germany on March 31, 1945 by shrapnel from a shell burst. Edwin married Arley Jean Wacker on June 22, 1946, at Messiah Lutheran Church, Detroit, officiated by Pastor Loeber. Arley preceded him in death on September 12, 2011. Ed retired from the Detroit Post office in 1980 working as a postal clerk, they then moved to Scottsville, Kentucky. After eight years Edwin and Arley moved to Harbor Beach. He was a member of Zion Lutheran Church of Harbor Beach, a life member of the American Legion Post 197 of Harbor Beach, member of the AmVets Post of Port Hope, and the Port Hope Retirees. He is survived by his children: Charles Pochert and his wife Ronnie of lake Orion, Teresa Fritche and her husband Michael of Lakeville, five grandchildren: Tami & David Peel, Brett and Maiko Edwards, Cidney and Chelsea Fritche and Amber Pochert, 3 great grandchildren: Nicholas Ryan and Dakota Marie Peel, and Maya Edwards, brother Elmer Pochert and his wife Audrey of Roseville, and nieces Christine Parks and Debora Barbret. Funeral Services for Edwin will be Saturday, April 14, 2012 at 11 am at Zion Lutheran Church of Harbor Beach, with Rev. David McCloskey officiating. Burial will follow in Marquardt Cemetery. Visitation for Edwin will be Friday, April 13, from 3-9pm in the Ramsey Funeral Home of Harbor Beach. Visitation on Saturday will be at the church beginning at 10 am until time of services at 11 am. A scripture service will take place Friday at 7:30 pm in the funeral home.
Let's Just Throw Away the Sick in our Society -
Why not? It seems that is what the United States Congress wants to do. Insure the healthy and those with money, let's throw away the rest.
Many of the republicans in Congress seem to want to ignore a basic biblical principle that many conservative (and liberal) religious institutions are commanded to do (Matthew 25:31-46).
Is the Lead Acid Battery 'Dead'? -
Although older cars will probably not be upgraded, some of the newer cars to be released in the next few years may contain A123's Nanophosphate® Engine Start Battery (12V).
Komen Flip-Flops Based On Politics and Public Outrage -
We need to find better ways to fund breast cancer research rather than supporting ultra-right wing conservative political organizations such as the Susan G. Komen for the Cure Foundation. See alternative options below. Hundreds of former supports are destroying their pink ribbons and t-shirts and stopping future contributions.
Mitt Romney, ...I'm not concerned about the very poor. ... -
Mitt Romney during a press conference on February 1, 2012, said,"I'm in this race because I care about Americans. I'm not concerned about the very poor. We have a safety net there. If it needs repair, I'll fix it. I'm not concerned about the very rich; they're doing just fine. I'm concerned about the very heart of the America, the 90 percent, 95 percent of Americans who right now are struggling."
Jobs -
Public Corporations DON'T Have A Goal to Create Jobs – Large public corporations have an obligation to their shareholders to generate profits. These corporations do this by streamlining all sorts of process including making the workforce as efficient as possible. Congressional members that constantly say that public corporations do otherwise are lying and misleading their constituents. In an article in the Wall Street Journal, William Frezza, a Boston-based venture capitalist and fellow at the Competitive Enterprise Institute, is quoted as saying, "Jobs are an input, not an output; they're a cost of doing business, not a goal of doing business.
I coasted along with no true course set for the first half of my life. I wandered into a job and kept it. I got married and we had a lot of children. I worked and I pretty well suppressed my urges to be truly creative and get on with my life.
Is it true that Mitt Romney Believes that the New Jerusalem is located here in the United States? If so, why does he pretend to support the current State of Israel? -
We have no clue what Mitt Romney's personal beliefs are or how these beliefs could affect the United States relationship with Israel. When visiting with some previous Mormon neighbors, it was shared that it is a common Mormon tenant that Zion (Jerusalem or the new Jerusalem) refers to the entire continent of America and even specific areas such as Salt lake Valley; Kirtland, Ohio; Jackson County, Missouri or Nauvoo, Illinois. (Doctrine and Covenants 57:1-5 and History of the Church 1:189). If this is true, why would Romney even care about the current State of Israel's right to exist except to promote political ambitions.
Smith Electric's Commercial Electric Vehicles -
Yes, energy companies are expanding in the United States. During 2011 Smith Electric Vehicles US has purchased its British based parent company, Smith Electric Vehicles Europe. The US company is now the largest manufacturer and market leader in commercial electric vehicles.
Vaccines and Michele Backmann -
Michele Backmann's remarks regarding vaccines could have serious effects that could continue for years. The American Academy of Pediatrics and the Centers for Disease Control and Prevention all favor the use of these specific vaccines. It's important the Michele Bachmann have her statistics correct. The HRSA (Health Resources and Services Administration) is responsible for claims, data and statistics.
Mitt Romney Expands Beach House -
It's amazing to see a presidential candidate that is "in touch with the common middle class American" expanding his beach house from 3,009-square foot house to 11,062-square foot structure. This according to an article in USA Today.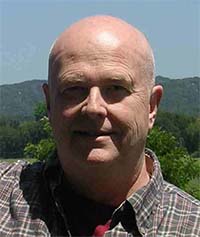 AM/FM/TV Engineering, News editing supervisor.
The Example of Sparky Anderson -
As a long time resident of Michigan while Sparky Anderson managed the Detroit Tiger's, I'll always remember his dedication to the individual team members. One of our Connert Media clients, Ross Reck, also commented, "Baseball Hall of Famer, Sparky Anderson, who won three World Series Titles managing the Cincinnati Reds and the Detroit Tigers, died recently. In spite of all his success, he is most remembered as an unpretentious and gracious human being. He loved and cared about people and treated everyone as an old friend whether they were a celebrity or a janitor. When people asked him for an autograph, he thanked them rather than vice versa. He often quoted something his father told him, ""Being nice to people is the only thing in life that will never cost you a dime. Treat them nice and they will treat you the same."" Sparky lived that quote and for that reason every one of his former players and colleagues whom I saw interviewed the day after he died cried when the talked about him. I think that's the way all of us want to be remembered."
Winning the Safety Commitment -
A wonderful book by a great friend. This complilation of three of Art Fettig's most popular business safety books is now available at an amazing price. Every safety officer in any organization should have this in their library
Here's what Art has to say, "A corporate president once paid me two thousand dollars plus travel to fly in and load his speech with sure fire humor. After visiting with him I sat down and wrote about twenty lines and suggested he learn them. He sat behind his desk and read each line slowly and then said, "No." and he would read another and say "No." And another, "No!" Finally I stopped him and said to him, "What makes you think you are qualified to judge my material like that. From what I hear, every year you go out and tell a dozen jokes and get absolutely no laughs. That is why you are paying me a kings ransom to be here. I suggest you spend this valuable time working with me to make sure you get laughs."