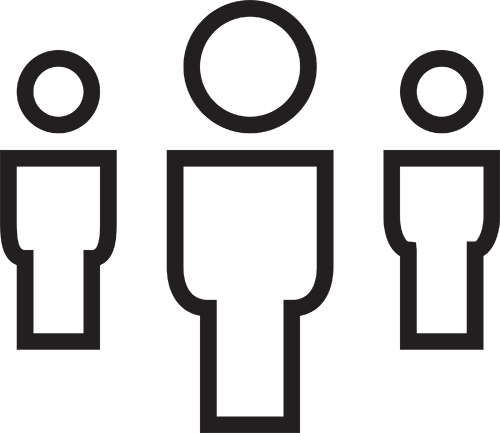 We have an exciting summer of connections planned with several new homes and hosts! So a few questions you may have...
What is Summer Connections? Summer Connections are casual, unstructured gatherings where we can meet new friends and catch up with the old (long time) friends. We share dinner and conversation twice a month during the summer, which is only June, July and August just in case you are not sure! We have a potluck at someone's house or other place, with a variety of food and a variety of people. We go with the flow!
What should I bring? The hosting family usually provides the main dish, which is anything they make. The rest of us bring a side dish or dessert and our own drink if we want anything special. The host family always has water available, they may have something else.
Where should I go? This summer we will be traveling to new locations across the valley. Shawn and Lynn Aiken have often hosted the first connection of the summer but this time we are heading to their new home in Phoenix. Also in Phoenix, Aiko and Brian Mancini will be hosting for the first time at their home. Both of these connections will be on a Saturday evening so we do not get caught in rush hour! We will be in Chandler for the connections hosted by Darren and Marcie Gest and then two in Tempe. Art and Lynn Becker are hosting us at the Campus Center and Dick and Dorothy McCune are hosting at the Friendship Village Rec Center.
Whether you can make all the connections or just one, please put the following dates on your calendar. We never know what we will eat, who will be there or what the weather will be like (OK 100's) but we do know it is a good evening of enjoying fellowship, meeting new people and trying new things. ALL ARE WELCOME!
Saturday, June 17 - Shawn and Lynn Aiken. 3253 E. Glenrosa Ave, Phoenix 85018.
Wednesday, June 28- Darren and Marcie Gest. 1092 N Longmore, Chandler, 85224
Saturday, July 15 - Aiko and Brian Mancini. 7121 N 23rd Dr, Phoenix, 85021
Wednesday, July 26 - Lynn and Art Becker. ULC Campus Center
Wednesday, August 9 - Dorothy and Dick McCune. Friendship Village Recreation Center. 2625 E. Southern, Tempe 85282
Wednesday, August 23 will be held at the Campus Center to welcome back students to the new school year!
If you would like to host or have any questions speak with Beth Wootten. See you there!
Bishop Talmage to Preach at ULC -
Bishop Steve Talmage of the Grand Canyon Synod leaves office July 31 to serve as Senior Pastor of Love of Christ Lutheran Church in Mesa. His last sermon as bishop will be here at University Lutheran Church. Bishop Steve and wife Barbara have been members here during most of his eleven years as bishop. Son Craig had been our Campus Ministry Associate for three years. We are grateful for Bishop Steve's leadership in our synod and for the partnership of he and Barbara in our congregation.
Incoming first year student. We have met her and have been in touch w/ her many times. She comes well recommended from her pastor in Houston, Tx. She needs to arrive early( August 1) and have housing until she can move into her place about August 9. She is looking for a female grad student or someone post college age. If you are interested, contact Pr. Gary using our CONTACT PAGE.
Student of the Mont - Ryan Normand -
Tell us a bit about yourself: I will be a senior at ASU majoring in Civil Engineering with a minor in Sustainability. I am a native of Everett, WA but grew up in Tempe, graduating from Corona del Sol High School. I am on ASU's Cross-Country team.
Approaching your Sr. year, what thoughts do you have about the past 3 years? College has been an opportunity to grow and find both independence and yourself. In the past 3 years I have been feeling more like an adult…that is fun!
Thanks Darren, Layna and Terry! -
Thanks to Darren Gest for his leadership as president for the past 5 years and to Layna Taylor for serving as council secretary. Also to Terry Anderson who was Vice-President and now council secretary. Well done, good and faithful servants!!
To All who Use our Parking Lot -
Monday, June 19 and Tuesday, June 20 there will be NO parking around the perimeter of Peace Park. This means the spots on the far west end of of the parking lot by the park and the grass spots on the south of Peace Park. We will have trees being trimmed those days.
A small are of about 10'x10' of the parking lot asphalt will also be repaired on Wednesday, June 21. You may wish to avoid that area as well on Wednesday only.
Thank you!!
Thanks -
to Dick Shirley and Lori Zurcher for serving as voting members for our synod assembly.
Elected by council
President: Will Salz
Vice President: Dick Shirley
Secretary: Terry Anderson
Beth Wootten is continuing to serve as Treasurer
Although we have many ULC Brochures on the desk at the back of the Church, you might want to try and download a copy to be printed on your own printer... just in case you have a chance to hand one a friend or neighbor.
Young Adults in Global Mission - YAGM -

Berkley Harris, daughter of Scott and Barbara Harris, new members of ULC will be with Young Adults in Global Mission in Senegal.
Berkley leaves in August. LCM alumni Julie Gerrish & Annie Skivington return from their YAGM missions next month. Julie is in Senegal and Annie is serving in Hungary.
Download the June 2017 of the ELCA's Global Link Newsletter (PDF).
We are at that time of year when food pantries become most desperate for food. Demand is higher and fewer are thinking of food needs. In addition many senior snow birds contribute to food pantries and are now back home. We will be collecting non-perishable food items to help offset this need. Toilet paper and water are also great items for donation. Thank you to all who help with this! You may place your items in the food box at the Church entrance or on the pool table in the Campus Center. Thanks!
Yes, there actually is a special Student Food Box (located on top of the pop machine) in the Campus Center.
In addition to all the wonderful food items received in our regular collection of items inside the entrance of the Church, there is this special box exclusively for students who are struggling with meals and how to pay for them. The box is placed so that those indeed can be discrete about their needs.
If you can contribute food items directed towards this special cause, it would be greatly appreciated. Think of non-perishables that can easily be microwaved or read to eat.
Students and Church members are invited to head to Tijuana, Mexico, to build houses July 10-15. Cost including transportation $650. This is through Amor Ministries and organized by Desert Cross Lutheran Church. Interested? Talk to Pastor Gary.
Women's Bible Study will meet these Thursdays at 7 pm.
July 20 at the home of Sarah Salinas
August 17 at the cottage of Carmen Bieber
All women are welcome! Contact Ruth Wootten through our CONTACT PAGE using the GENERAL INQUIRY. The secretary will forward your email to Ruth.
to Pastor Lee Rehrer for preaching and leading worship May 21
to David Cote for preaching and leading worship May 28 and June 4
to Will and Mary Ann Salz for taking bids, looking at samples, selecting and installing new blinds for the Campus Center Library
New Post on Julie Gerrish's Blog -
Julie has just posted new information on her blog.
Summer Worship - 9am
(Wednesday worship resumes at 6:30pm, August 23)
(reverts to 10:30am Sunday, August 20)
The Page Turner's Book Club is taking the summer off. In the fall the Book Club will meet at noon in the Campus Center on the first Thursday of the month. We would love to have some new members; all are welcome. Please plan to join us and recommend a title for 2017/2018. When we reconvene this fall we will begin with the following:
September 7, 2017: "My Family and Other Animals" by Gerald Durrell (Kim)
A bewitching account of a rare and magical childhood on the island of Corfu, this book was the inspiration for the recent PBS Masterpiece series The Durrells in Corfu. When the unconventional Durrell family can no longer endure the damp, gray English climate, they do what any sensible family would do: sell their house and relocate to the sunny Greek isle of Corfu. My Family and Other Animals was intended to embrace the natural history of the island but ended up as a delightful account of Durrell's family's experiences, from the many eccentric hangers-on to the ceaseless procession of puppies, toads, scorpions, geckoes, ladybugs, glowworms, octopuses, bats, and butterflies into their home.
October 5, 2017: "Small Great Things" by Jodi Picoult (Pat)
Ruth Jefferson is a labor and delivery nurse at a Connecticut hospital with more than twenty years' experience. During her shift, Ruth begins a routine checkup on a newborn, only to be told a few minutes later that she's been reassigned to another patient. The parents are white supremacists and don't want Ruth, who is African American, to touch their child. The hospital complies with their request, but the next day, the baby goes into cardiac distress while Ruth is alone in the nursery. Does she obey orders or does she intervene? With incredible empathy, intelligence, and candor, the author tackles race, privilege, prejudice, justice, and compassion—and doesn't offer easy answers.
Student of the Mont - Sophie Lott -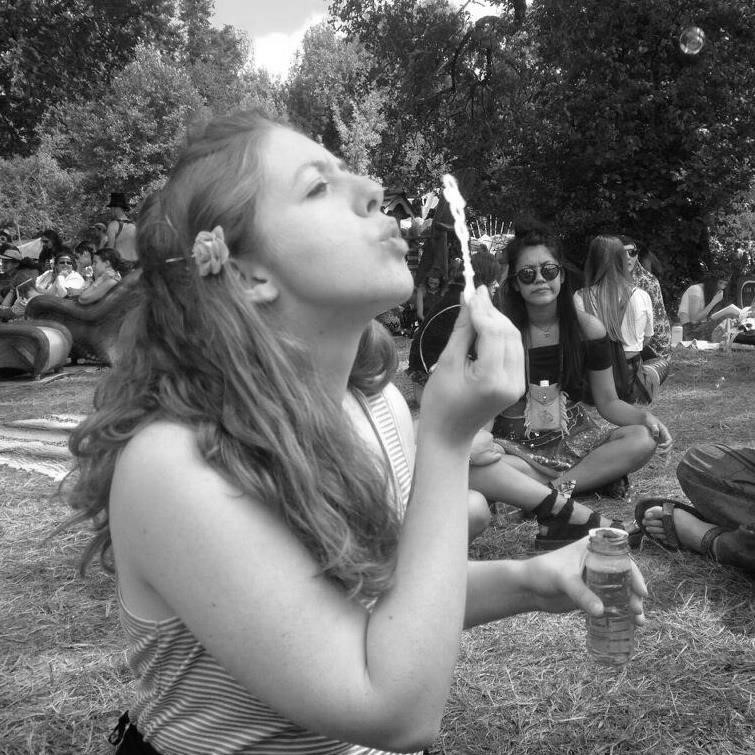 M.M. Music Therapy
Why did you decide on ASU? The sunshine and the lively environment drew me in.
Why did you decide to get a Master's in Music Therapy? I've been passionate about music and helping people for a long time, so this was a perfect combination.
Why did you first come to LCM? It was the first church that popped in my online search that seemed like a good fit for me.
What do you like most about LCM? The small, compassionate community and the choir.
What are some of your hobbies? I make artwork with oil pastels, songwriting, jogging, cuddles with my dog.
What is a random fact about yourself? My favorite colors involve teal and turquoise.
If you had a magic carpet that could take you to any location at any time (past, present, or future), where/when would you go, what would you do, and why? I would go to Eugene, OR, in July to the Oregon Country Fair. I would go camping at the fair and enjoy the live music. I love being in nature and music, so this event is the perfect combination.
Grace Lutheran Church, Phoenix - Heat Respite -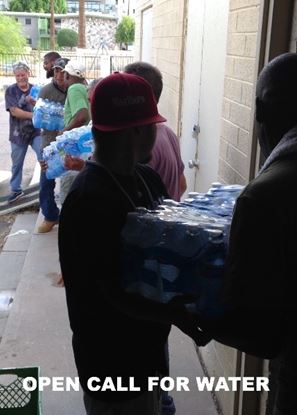 Bring your water to Church and we will deliver it to our sister congregation, Grace Lutheran Church, Phoenix.
Grace In The City Summer 2017 - Heat Respite
For twelve weeks beginning June 12, Grace Lutheran Church will again open its doors to our street community, providing food, water, shelter from the heat and fellowship to our neighbors in need. If you have services to offer, resources to share or time to spare, the Grace community is are interested to hear from you!
The Printed Newsletter will be both the June and July newsletters. Deadline for submission of articles for the August newsletter is July 15. If you have something to be communicated, by sending it to news@ulctempe.org it goes to the newsletter, web site/weekly email and staff. Bulletin deadline is Wednesdays noon. Thank you!
Books bought at Amazon.com through our website give us a donation on each purchase. Actually all Amazon.com purchases made through our website give us a donation. Go to www.ulctempe.org Click on the Amazon.com icon. The first time you should have to let them know it is you. Then in succeeding times as you go through our web site Amazon should recognize you just as before. Friends, relatives...any one can do this. Thank you!!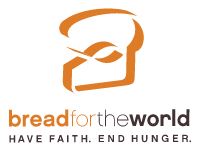 What is the Offering of Letters?
Bread for the World's annual Offering of Letters campaign engages churches, campuses, and other faith communities in writing letters to Congress. Each year, for the focus of the campaign, we choose specific legislation or a legislative emphasis that can make a real difference to people struggling with hunger and poverty.
People write letters, usually as a group, and present them as an offering to God before mailing them to Congress. Hundreds of Offerings of Letters are held each year, resulting in tens of thousands of letters to Congress. Supported with prayer, these letters are a bold witness to God's justice and mercy. They have, and continue to have, a significant impact on the decisions made in Congress.
We will be receiving letters from the congregation by placing them in the offering plate.
Ministry and mission are words freely tossed about in the church. They are part and parcel of why the church exists. Yet defining these words can be tricky. Webster likes precision in definition. These words are not always that precise in meaning.
Building programs are always interesting. People easily become mistaken and think such programs, necessary as they might be, are their congregation's mission and they are doing ministry. Actually buildings are about having good tools for ministry. Buildings don't minister. Neither do advertisements, signs, brochures, or many other very good and helpful things minister. And they are not the church's mission.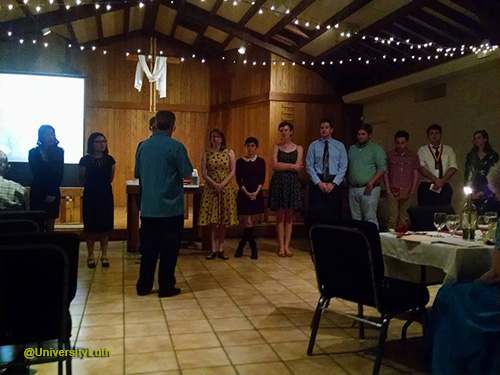 Recognized at our May 10 banquet were the following:
Mariana Carper: Human Communications
Marquise Demaree: Music (Oboe)
Mikayla Dulaney: Mathematics and Music (Piano)
Walter Johnson: M.S. Science & Technology Policy
Jen Jondac: Psychology
Barbara Pardue: Biological Sciences
Maddie Shaner: M.Ed. Higher and Postsecondary Education.
Paul Sion: BioChemistry
Alex Smith: Political Science
Mitchell Weeks: Business Communication, International Business Certificate
Stephanie Wilkins: Psychology
Alex Willoughby: Electrical Engineering
Thanks to all who gave time, money, food, or helped in any way to make the banquet a success! We raised over $2,000 with this banquet. Thank you!!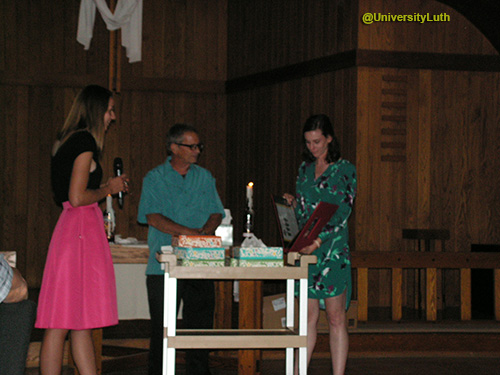 May 10 at the Graduation Banquet we took time to bid Alicia farewell and thank her for her four years of leadership and partnership among us. There were tears and cheers and great celebration. Students put together a scrapbook of notes from students and alumni from Alicia's time here. All of it was to say with heartfelt gratitude:
Thank You!
Photos of the farewell and of the banquet are on the moving bulletin board.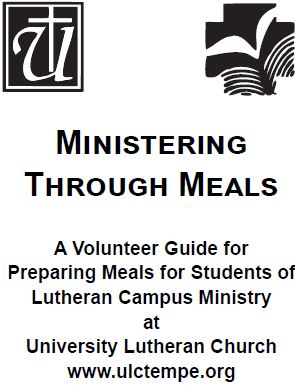 A Volunteer Guide for Preparing Meals for Students of Lutheran Campus Ministry at University Lutheran Church www.ulctempe.org
Food for the body is not enough; There must be food for the soul. -- Dorothy Day
Our beautiful property requires some major tree trimming which will start happening in June. The cost for the entire projects is just over $12,000. We will do one half this year and hopefully the remainder next year. We are so thankful that we have already receive two major donations, but need help to obtain our goal.
Look for the Poster outside the Sanctuary and presented at the Annual Meeting.
Please talk with anybody on the Property Committee: Terry Pochert, Ruth Wootten, Art & Lynn Becker, Terry Anderson and Lori Zurcher, Dick Shirley.
Bishop Eaton's Response to 'Promoting Free Speech and Religious Liberty' Executive Order -

On May 4, President Trump signed an executive order titled "Promoting Free Speech and Religious Liberty." The measure addresses the IRS ban on political campaigning by tax-exempt 501(c)(3) organizations, an important protection for houses of worship. That regulation is codified into law, so it would take an act of Congress to reverse, but President Trump signaled his administration's opposition to the rule by directing the IRS to use maximum discretion to refrain from enforcing it.
to Carl Mangold for being featured on NBC channel 12's focus on domestic abuse. Carl has worked with abusers and victims for several years.
LCM ALUM Annie Skivington serving in Hungary -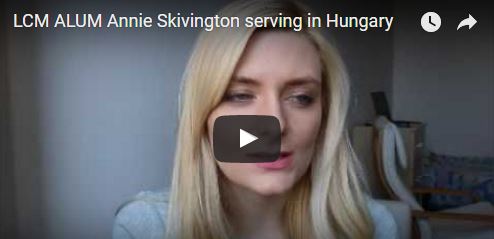 Annie Skivington, a graduate of ASU with a major in landscape architecture, is part of the ELCA's Young Adults in Global Mission program (YAGM). We have had several students selected for YAGM over the years. Julie Gerrish is currently serving in Senegal.
Annie is serving in Hungary in a small town near Budapest. Click on the video to hear Annie describe her time there (she returns home the end of this summer) and see some of the people with whom she lives and works and some of the experiences Annie is having.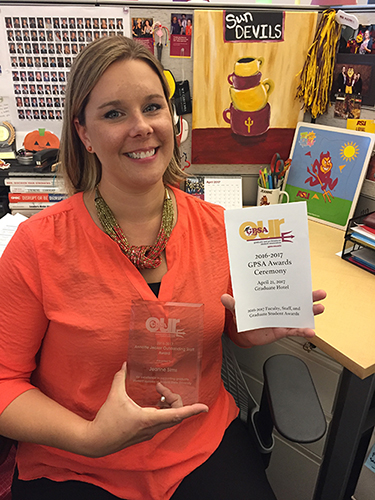 to Jeanne Sims. Jeanne, the Assistant Director of the Full-time MBA program at ASU has received the "GPSA award (Graduate & Professional Student Association).
She received the Annette Jecker Outstanding Staff Award for 2016-17.
It recognizes staff who provide outstanding support to graduate and professional students.
to all who donated items for the garage sale. We grossed nearly $700.00!!
to Terry Anderson, Terry Anderson's truck, Lynn Becker, Christian Bennell, Maddie Johnson, Alex Kirvan, Bob & Lana Neighbors, Blake Bostick Petersen, Will & Mary Ann Salz, Holly & Maddie Shaner, Dick Shirley, Stephanie Wilkins, and Lori Zurcher for helping with the garage sale. Lori Zurcher and Terry Anderson coordinated the sale.
to Terry Pochert and Joe Connolly for getting and setting up a small cupboard for Sunday coffee. It has been placed near the fireplace. It creates a nice place for coffee and eliminates the possibility of tripping over the small hearth step.
Attention! Achtung! !Atencion -
A rose by any other name may still smell as sweet. (Or, if you are allergic to it, still make you sneeze).
What about announcements? Are announcements in any form still announcements? We work hard to get newsletters/emails, etc. out on time and to have proper announcements printed in the bulletins. We encourage people to take bulletins home with pertinent information and recycle them at home later. They can be handy referrals, particularly if your church news comes electronically. (By the way, if you prefer your newsletter electronically, please contact the office by using the CONTACT PAGE.
If you have an announcement for the newsletter deadline is the 15th of each month. For the bulletin announcements are due before noon each Wednesday.
Ideally we introduce events/news via the newsletter/emails and use weekly bulletins and emails as reminders again by using the CONTACT PAGE. Research and experience show that for announcements to be most effective, they need to be heard multiple times. For oral announcements to be most effective they simply need to remind people of those things they already know. If we use oral announcements to convey information, most of the information will be lost or forgotten. Thank you!!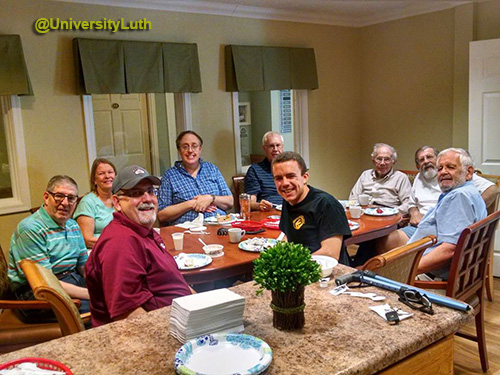 Saturday, May 13, 2017
Brookdale Care Center
1610 E. Guadalupe
Tempe, 85283
This is the residence of Bob Tripp. We shared breakfast with Bob who usually attended the Men's breakfasts. Food will be brought in, but RSVP's are needed by May 6.RSVP to Will Salz or Blake Petersen. Thanks!
to Stephanie Wilkins for receiving ASU's Moeur Award from ASU. The award is granted to a few graduates who have had the highest academic achievement.
to John Barton, former LCM student and soon-to-be senior at Pacific Lutheran Seminary. John was just accepted as in inter in Waltham, MA at First Lutheran Church. As a life-long Red Sox and Patriot's fan, John already has a suitable wardrobe!
to Marcie Gest who earned her BSN (nursing) at Chamberlain College.
to Mike Robers upon being promoted to Chief Resident in Neurology at Barrow Neurological Institute in Phoenix
Thanks -
to Terry Anderson, Joe Connolly, Blake Petersen, Terry Pochert, Layna Taylor, and Lori Zurcher for arriving early to set up for the Easter Sunrise service
to all who brought food for the Easter breakfast and to Layna Taylor for arranging and setting up for the breakfast
to Lynn and Art Becker for decorating the grounds for Easter
to all who helped with workday....Andy Tadlock, Stephanie Wilkins, Ruth Wootten, Lori Zurcher, Terry Anderson, Art Becker, Lynn Becker, Kristin Tollefson, Layna Taylor, Will and Mary Ann Salz, and Dick Shirley.
to Terry Anderson, Kristin Tollefson, Beth Wootten and Lori Zurcher for arranging the flowers for Easter worship...and To Kristin and Beth for purchasing the flowers
to Terry Anderson, Blake Petersen, Dominick Petersen, and Terry Pochert for assembling and hanging the new banners on the solar light poles. Terry Pochert ordered them and made all the arrangements. We hope to add additional banners throughout the church season and for beginning of the academic year. These were made possible by a grant from Hidden Treasures Thrift Store in Chandler, a Lutheran thrift store.
to Lynn Becker for putting lots of hard work, research, and effort into removing graffiti from the church property. We are still working on this!!
to Andy Tadlock for putting oil on the sanctuary doors
to Maddie Shaner and Alicia Danielson for leading all forums in March and one in April.
Thanks to all who returned Lenten Coin Folders! The offerings will help subsidize the students trip to build houses in Mexico this summer. We are still receiving the folders, so you may still return yours to the church office or during the offering on a Sunday morning. Thank you!
Our sound system has been serving us well for several years. With a different worship service Wednesday nights our needs have changed and an expanded system is needed. In addition we have been worrying about safety regarding the long cord (aka "snake") needed to run along the floor to the musicians on Wednesdays. It can easily trip someone. With Missio Dei Community leasing our space Sunday afternoons (4:30-7:30) they too have different needs. Missio Dei is incorporating some of their sound system into ours and purchasing new equipment to use with it. In addition the snake will be put up along the soffet/rafters and will be partially visible as it wraps around the support beams on the north side of the sanctuary. There will be no cost to ULC and should Missio Dei move to another location, we will simply return to our former system. Council has received and approved this report. Specific/technical info is on the moving bulletin board.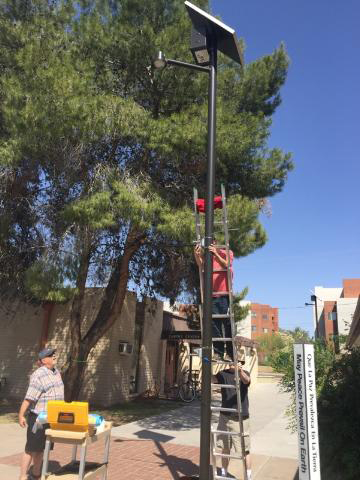 We thank the crew which installed the new banners on the Solar Poles. Take a look next Sunday when you visit the Church. The initial set of banners have a very basic message of "Welcome" to all those that visit.
We are hoping to have folks submit designs for different seasons of the year. Contact the Church office if you think you have some ideas.
Thanks to Blake Petersen and Terry Anderson for their work.
Thanks -
to David and Bobbie Cote for their gift of books to our church library. The books were books of theology and biblical studies.
to Arno and Martha Leskinen for their gift of several bake pans to the church kitchen
LCM - 2017 Spring Newsletter -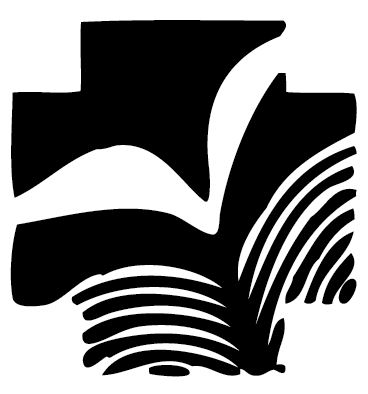 The current LCM Newsletter.
In this Issue:
Sedona
Service Trip To Mexico This Summer
Calendar of Events
Campus Pastor Notes
Alumni Updates
Thoughts from your Campus Ministry Associate
Graduate Students/Young Adults
It's Going to be a WOW Sunday! -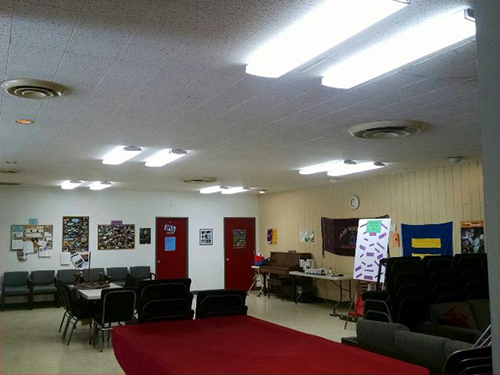 When you arrive at Church this coming Sunday, take a look around and see some amazing things that have happened over the past few weeks.
New LED Lights in the Campus Center. Not only does our Library have new LED lights, but now almost the entire Campus Center. THANKS for your generous donations. If you would still like to donate, each fixture costs $109.00. If you would still like to donate a light fixture, mark LED Lighting in the memo area of your Check or use the Simply Giving icon on the upper right corner of the home page of our website.
New LED Lighting Installed in the Campus Center -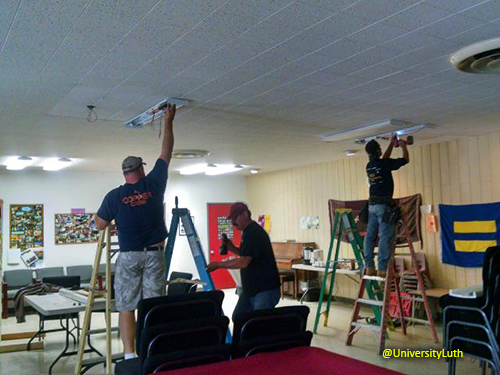 Thanks to all who helped make the new LED Lighting possible in the Campus Center.
To student Paul Sion on his acceptance to University of Arizona Pharmacological school.
to graduate student Walter Johnson on his acceptance for admission to ASU Law School. Upon graduation Walter is planning to receive his juris doctorate in law as well as a certificate in gnomics and bio-technology.
Thanks to all who returned Lenten Coin Folders! We are hoping to have them all returned by Holy Week in April. The offering goes to help underwrite expenses for students traveling to Mexico to build houses this summer. Thanks for your support!!
May 10, 6pm will be our Senior Banquet. All are invited. It is also a time to recognize Alicia Danielson for her four years among us and begin to say our good-byes to her as well as the seniors. RSVP if you plan to attend. We need all reservations in by April 30. Thank you! If you can help in any way, contact Alicia Danielson using our CONTACT PAGE or 480.967.3543
We are hoping to put together a congregational brochure for ULC similar to the one students and Campus Ministry Associates have put together for LCM. If you have interest and skills in this area, please contact church secretary Dottie Ohe using our CONTACT PAGE. Dottie will be happy to work with you on this project.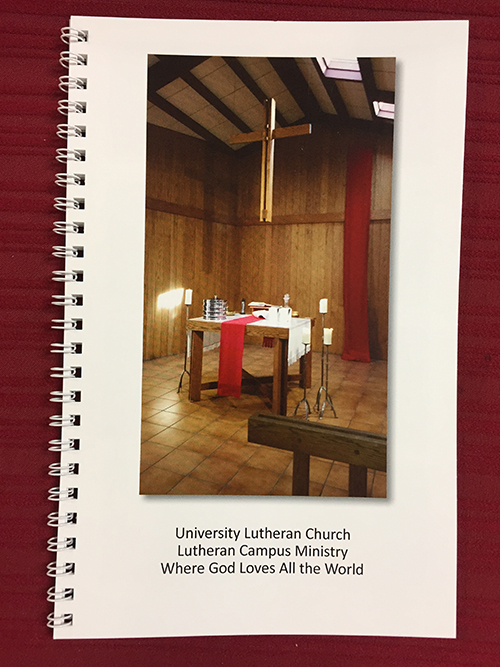 The new pictorial directory is here.
They will be distributed Sunday to all who had their pictures taken.
2017 Lenten Devotional Booklet - Renewed For Life -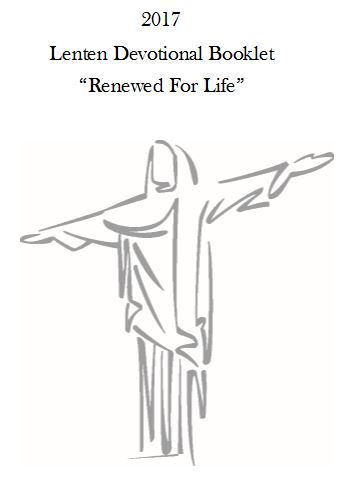 Thank you for your willingness to trek along with us in thought, prayer, and devotion this Lenten season. It is the hope of our community and those who spent time creating these devotions that our writings will add to your experience of Lent. It is also our hope that, as you travel with us along this path, a feeling of partnership in ministry is created and deepened. In fact, we have a request for you: each week in Lent would you please lift up a prayer for our students and ministry involved in Lutheran Campus Ministry? We would greatly appreciate such support.
A Few More Steps to Completing the Fireplace Area Project -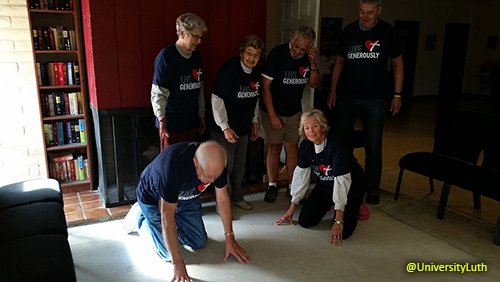 We are thankful to so many that have helped make the Fireplace Area Safety Project a success. Your contributions in the form of donations, lots of long hours and sweat, and especially the coffee and donuts were greatly appreciated. We also received a donation of $250 from Thrivent to help pay for a portion of the flooring.
We are now looking to install a light/fan unit, explore additional furniture to make this an intiment study area and install a cabinet which might become a permanent coffee/ beverage area.
Below is a rewritten text that I sent to students February 9. I thought I would share it with the congregation, alumni, parents, and pastors.
As most of you know our Campus Ministry Associate Alicia Danielson will be finishing her term May 15. She has done a wonderful job with us. We will all miss her! I know the guy whose office is next to her's will miss her!! Alicia also became a part of the fabric of the congregational community singing in choir, and taking part in most all we do at ULC. NO ONE can replace her. She will be called to someplace and something new and we too are being called to someone and something new. Change is hard but can be a good growth experience as well. ..... Read More
Archaeological Damage in Conflict Zones -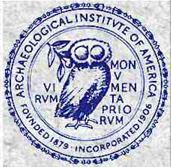 Title: Crowdsourced Monitoring of Damage to Archaeological Sites in Conflict Zones: The TerraWatchers - ASOR Cultural Heritage Initiative Collaboration.
Speaker: Stephen H. Savage, Arizona State University
When and Where: Thursday, March 23, 6pm, ASU Tempe Campus, Coor Hall Room L1-10
The deliberate looting and destruction of archaeological sites and museum objects by ISIS has been widely reported by western media, and widely condemned by political leaders and academics. The world watched in sorrow as the Temple of Bel at Palmyra was blown up two years ago; before that, we witnessed the deliberate destruction of priceless materials from the Mosul Museum. Widespread looting of ancient sites has flooded the illegal antiquities market with objects whose sale helps fund ISIS and other groups.
New Blog Post from Julie Gerrish, Senegal -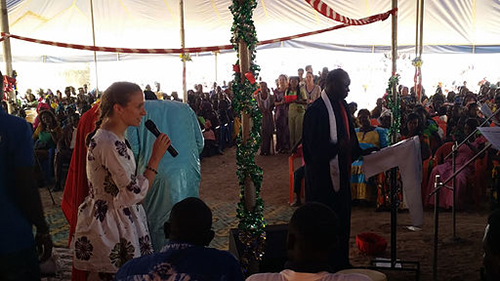 From a recent email from Julie Gerrish:
Hi people,
I am so happy to be able to email with you guys.
Here's a new blog that I wrote, called "Learning to Trust God". It's on the main Senegal YAGM blog page, where there are also links to blogs by other Senegal YAGMs! So if you're curious, take a look.
Letter from Bishop Talmage from the Grand Canyon Synod -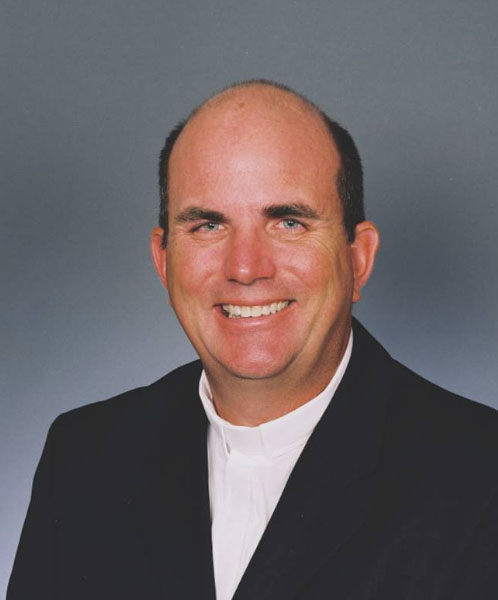 Bishop Talmage, "It was announced to our Synod Council members this past Saturday, and today to the members of Love of Christ Lutheran Church, Mesa, AZ that I am being recommended for call to serve as their next Sr. Pastor. My term is scheduled to end August 31, 2018, and due to term limits, I would not be eligible to consider another term as bishop. Barb and I have been in prayerful discernment over the past nine months about what the next chapter might be for us. The more we prayed, the clearer it became to me that I needed to be open to the possibility of leaving this office earlier than expected."
Read Bishop Talmage's complete letter to the Partners in Ministry of the Grand Canyon Synod. (PDF)
Condolences to the family of Gene Walters who died in Hawaii while vacationing with his entire family. Gene was the step-father of former campus ministry associate Jill Rode.
March Student of the Month - Kaitlin Webber -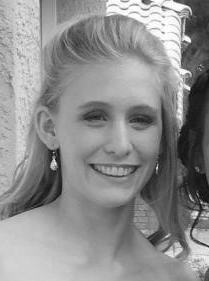 Kaitlin Webber

Freshman, Physics Major
For the next several months we will put an emphasis on stewardship; the use of all our gifts in service of God and one another through our time, our vocations, and our money. The theme is "Signs of Your Gracious Love". The theme comes from an old offertory prayer in a liturgy formerly used by Lutherans. Stewardship is responding to all that God has given us. Stewardship is a recognition that all we have is a gift from God. Stewardship reminds us that we, through our use and sharing of God's gifts ourselves become a sign of God's gracious love.
We will have monthly Temple Talks prior to announcements by various members and students regarding their personal motivation for sharing their gifts in our faith community.
Heroin Addicts Anonymous (HAA) continues to meet in our facility Mondays, 7:45pm. Any in need of such support are welcome to attend. Look for the HAA sign...in nice weather they occasionally meet on the patio. Most meetings are in the Campus Center main room or library.
Thanks -
to Lynn Becker for making the Welcome Bags and to Lori Zurcher for supplying some of the items contained in the bags.
Fireplace Area - Filling in with Concrete for Safety -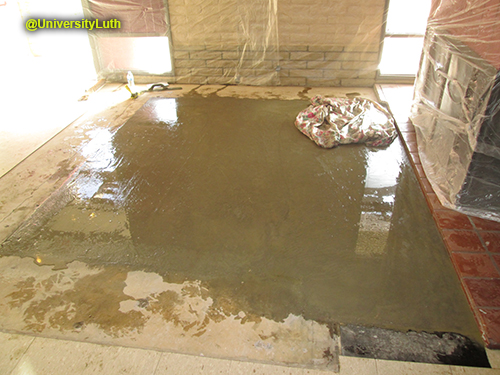 Thanks to Will Salz and Terry Anderson plus the whole Property Committee Team for making this project proceed as planned. It was sad to see a part of our history disappear, but several recent accidents made this become a top priority. After the concrete cures, new flooring will be installed designed to make this area unique for gathering of small groups along with special lighting.
Thanks to all that have donated designated gifts. If you would like to also contribute, simply mark your check Fireplace Area or use the online Simply Giving by Clicking Here and selecting Simply Giving near the upper right corner.
Property Committee Metting - March 4, 2017 -
Notice all the improvements around the Church? That's because the Property Committee is very active making all sorts of improvements like lighting, safety issues, locks and security, tree trimming, parking lot sealing, etc.
Some projects will take place over the summer, but look around and see what your contributions to our mission have done.
The Property Committee will meeting on Saturday, March 4, 9a - 11a. If you have ideas and would like to participate, just show up and join in the discussion.
Free TV -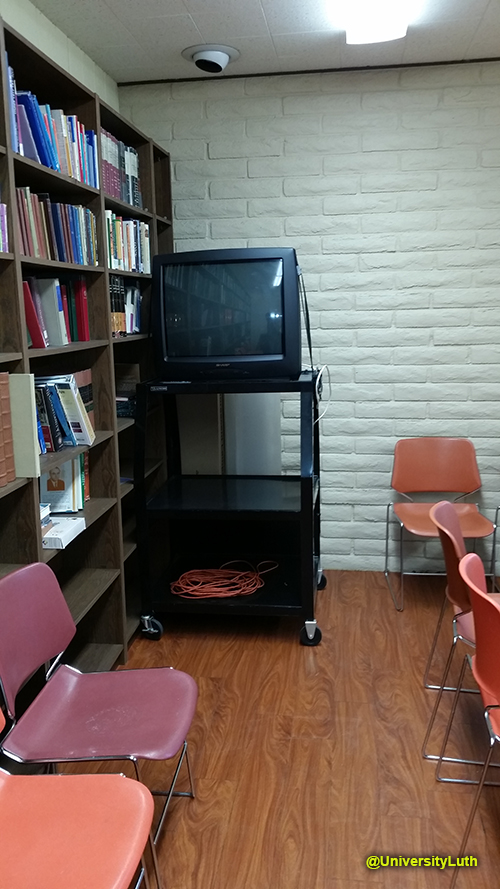 Yup, it works and it is free. It's the old CRT version that has served us well for many, many years. [Cart NOT included.]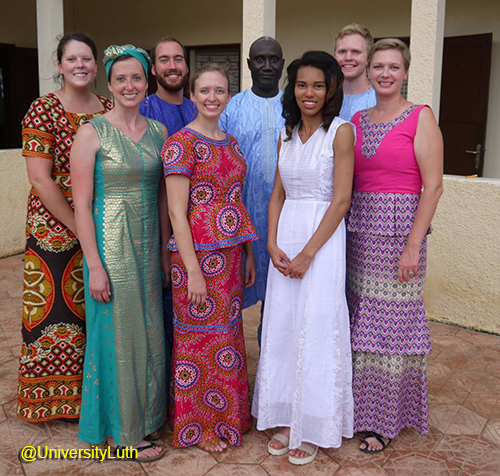 It's always to great to hear from Julie Gerrish regarding YAGM (Young Adults in Global Mission). Here's her latest email:
Thanks for sticking around and reading these! They are fun to write because they help me process my experiences. Also, just keep in mind that these are just my experiences. Lots of different people are having lots of different lives in Senegal just like in the U.S.; this is just through my eyes in my little corner. I realize more each day how there is so much more to learn. Culture in general, the more I think about it, seems like a really tangled ball of yarn. It would take more than 5 months or a year to untangle any knot of culture. Actually, it would take more than a lifetime. But what a privilege I have to get to see a new part of the knot! It is helping me learn new strategies to untangle the part I left back in AZ.
I hope you're all doing well. Please tell me about your lives, that's one of my favorite things to hear about! I love reading your emails and it feels like getting a present each time I see one of your names in my inbox (Even though I am a slow responder). And I'd be happy to receive any questions or prayer requests.
Love,
Julie
LOVE LOVE LOVE!!!!! Sending so much LOVE!!!!!
February. The month of Valentine's Day. The month of President's Day. The shortest month of the year even in Leap Year. The month that mimics exactly (except during Leap Year) it's next month. It is an unusual month, perhaps even a strange month. In Arizona I always think that February means the "cold" weather has now passed or at least will pass. Believe it or not, I thought the same in Colorado in terms of very cold temperatures.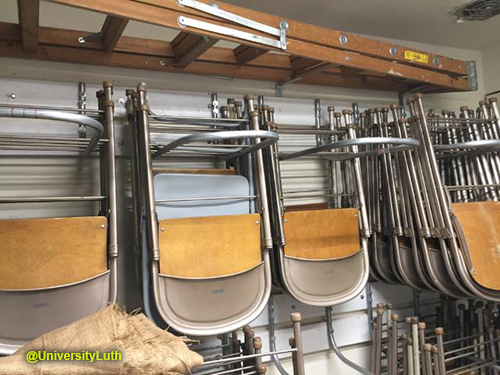 The folding chairs with wooden seats and steel frames currently hanging in the sanctuary kitchen are free for the taking. (We will shortly remove them to the storage shed area). We have been given 90 stackable upholstered black chairs to use in the library, campus center, for Sunrise worship, the banquet, and for any extra seating needed in the sanctuary. You may take as many as you would like. Donations are accepted but not required.
Sorry, no chairs left. Thank you for all those who helped find these chairs a new home.
to Gabriel Johnson and finishing second in the DECA competition at his school
Demolition of Fireplace Area -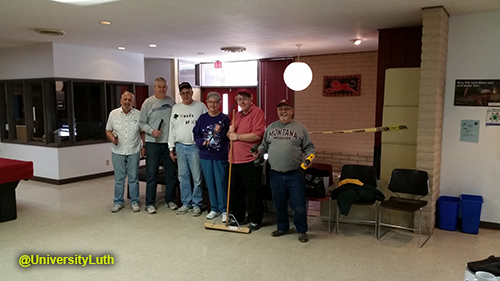 Phase one of the Fireplace area renovation is done. Over the next several weeks two more phases will take place. Filling in the area with concrete, then the flooring, lighting and future coffee area.
Thanks to the team so far.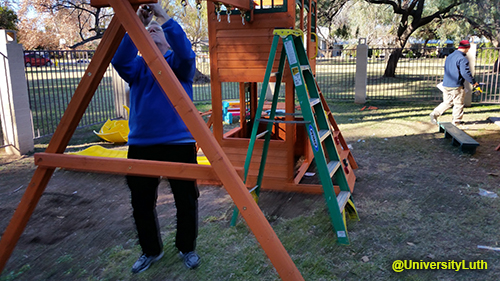 Pastor Chris Gonzolas and members of Missio Dei Communities, the Church which rents our facilities Sunday afternoon, are constructing new, safer and larger playground equipment just outside the Sunday School rooms. They are planning on a safety ground cover to lessen injury during play.
This is a great blessing for their Church and certainly enhances the ULC property. Amazing team that is taking almost 16 hours to construct.
Campus Center Fireplace Area - The Pit -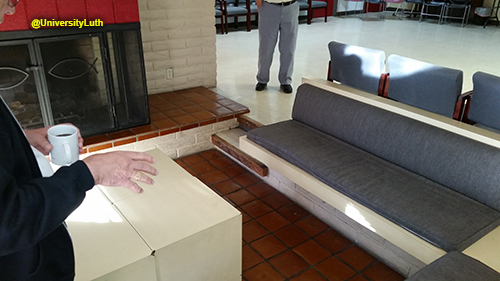 The Campus Center fireplace area in the Campus, sometimes called "The Pit", has become a serious safety issues over the past several years. This came to light especially on Election Day when a Poll Worker fell into the pit and injured himself resulting in first aid and an incident report filed with the County of Maricopa. We have also received two other reports of incidents, one involving an older member of our congregation.
In the last meetings of the Property Committee and the Church Council, variouis proposals were submitted to fix the problem. Railings, ledges, subflooring, filling in the pit. Now that this has become a serious liability issue for the congregation, the Property Committee is proceeding with a contract to fill in the area, making it level with the rest of the Campus Center floor.
The result will even increase the area when events such as potlucks happen. We figured that three additional tables could be put in this area for such events.
The area will still be configured as a fireplace area, with appropriate movable seating, tile, an area rug, etc. to keep the area unique when used for smaller study gatherings.
Because of the urgency of the issue, demolition of the seating will begin this Saturday, January 28. We hopefully will have the project done within the next three weeks. In the meantime, "Pardon Our Dust".
If you have any questions, please contact any member of the Property Committee or contact Terry Pochert.
G3 - Grace, Grub and Grog - A Moment from January 22, 2017 -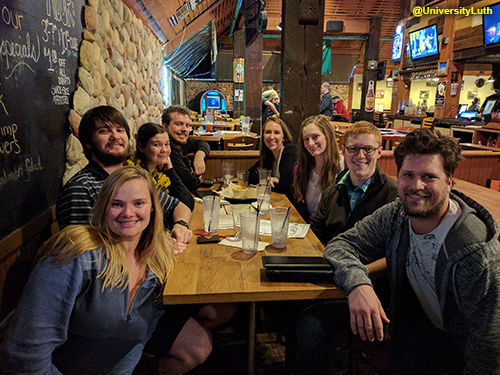 The young adults and graduate students of University Lutheran Church (Grace, Grub, and Grog) went to Boulders on Broadway on January 22nd for team trivia and fellowship. We may not have won trivia, or come even close to doing so, but we had a great time and learned some fun facts!
Were you aware a weasel can be called an 'ermine' when its white winter coat comes in?
Open Forums Create Opportunities to Learn Every Sunday Morning, 9:15am -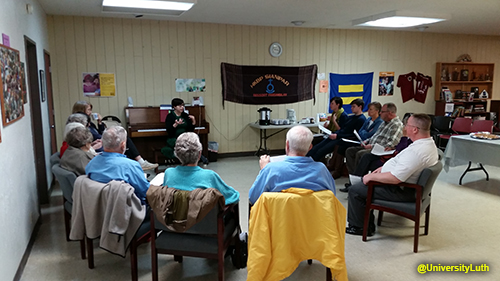 The Open Forums held every Sunday at 9:15am usually in the Campus Center Library create many opportunities to learn about history, ourselves, what we believe, travels of our students, mission topics and a host of other topics.
On January 22, we were delighted to have Pastor McCluskey talk about "Divided We Fall?!" How did we get here? Pastor lead a discussion on the cultural and political divide we are experiencing. Is Christianity part of the divide?
Prior to that on January 15, our Music Director Aiko Mancini taught about our music history during Martin Luther's time. The attendees participated and sang some of the music of the time and the effects on our music today in worship.
Thanks -
to Will Salz for repairing the toilet in the Campus Center restroom.
to Maddie Shaner for her Open Forum presentation December 18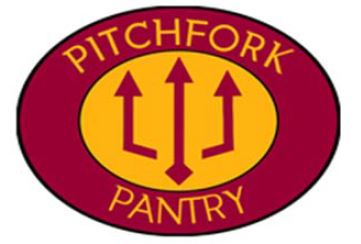 In response to our recent awareness that almost 30% of ASU students struggle weekly with food insecurity, our ministry has been a leader in getting a food pantry established at ASU for students only (it may expand to staff after it becomes more established). The pantry is located in a discreet part of Sonora dorm near our property. You can check the list of recommended food items on our website (www.ulctempe.org). Our last gifts of food from the large box at the sanctuary entrance went to this pantry now called "Pitchfork Pantry". It had its Grand Opening January 11.
Our ministry is also leading the way in trying to promote this pantry both for those who need the food and those who can contribute to it. The group with the highest percentage of food insecurity are freshmen living in dorms. We are working with ASU to see if re-usable grocery bags can be placed on the beds during move-in time in August. The bag would be for students in need to bring it to the pantry for food or for students who can spare some food to put some in the bag and bring it to the pantry to donate.
We have our own small food pantry in the box above the pop machine in the Campus Center. Thanks to all who have contributed to this box. It IS used....and appreciated. We also help by feeding students twice weekly. ASU has now recognized the help many campus ministries give by feeding students in their respective ministries and is now having us all report monthly how many students we have fed. This idea too was generated from our ministry.
Grand Canyon Synod Highlights University Lutheran Church/Lutheran Campus Ministry -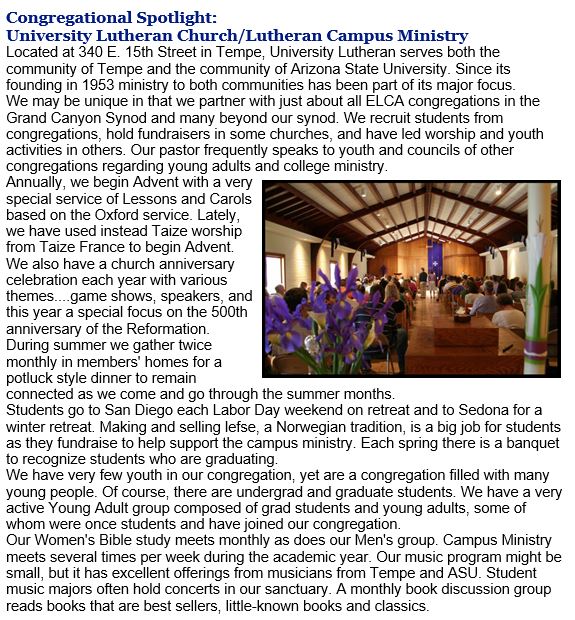 We are delighted to be choosen for January 2017 Congregational Spotlight in the Grand Canyon Synod "Faith in Action" newsletter. We thank the entire Synod and supporting Churches for their faith in our mission to the ASU and surrounding college's students.
Lent -
Lent begins with Ash Wednesday, March 1.Ash Wednesday worship with the Imposition of Ashes will be 6:30pm. Each Wednesday in Lent we will have worship 6:30pm...even during Spring Break. Wednesday worship theme is: "Exploring our Discontent".
There are still a few openings to write a Lenten devotion. Contact the office (CONTACT PAGE or 480.967.3543) if you are interested or talk to Alicia or Pastor Gary.
As we have heard, our current associate, Alicia Danielson will be leaving May 15. We are thrilled that she stayed an extra year with us!
Phone interviews with candidates were held in mid January after students returned. It was decided to bring two candidates here for face-to-face interviews with the CMA Screening Task Force. On the task force are Council President Darren Gest, Council Secretary Layna Taylor, freshmen Jake Roselius and Kaitlin Webber, sophomore Rachel Knoche and junior Rebecca Sherod. Pastor Gary also serves on the task force. Please keep both the task force and Alicia in your prayers.
Wow! What terrific support of our student meals by members of our community! Much of the semester is already subscribed. Thank you!! There are still some openings left. You may sign up on the moving bulletin board. If you are providing a meal through funding rather than cooking, please indicate that on the sign-up. Thank you!!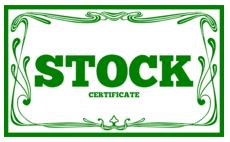 We do, at times, receive gifts of stock as contributions to support our ministry. For some, this is a preferable tax option. We have an account that can be used for ULC/LCM. Contact the church office if you are interested or have questions (CONTACT PAGE or 480.967.3543)
Thanks -
to Art and Lynn Becker for their gift of a 16' extension ladder to compliment our 6' step ladder and our multi-function Giant Ladder.
to the congregation from the staff for their generous Christmas gift. We are grateful for your support
Grace, Grub, and Grog - Young Adults -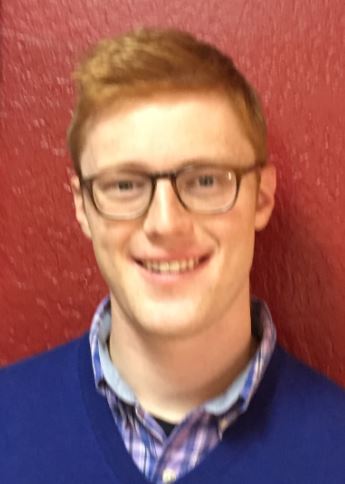 Grace, Grub, and Grog is a fellowship group for graduate students and young adults at University Lutheran Church. To start the year off, we will be going to Boulders on Broadway (530 W Broadway Rd, Tempe, AZ 85282) on Sunday, January 22nd at 6:30pm for team trivia and fellowship! Bring family and friends if you like, everyone is welcome!
Feel free to contact Walter Johnson using your CONTACT PAGE with any questions.
Students - LCM Winter Retreat to Sedona -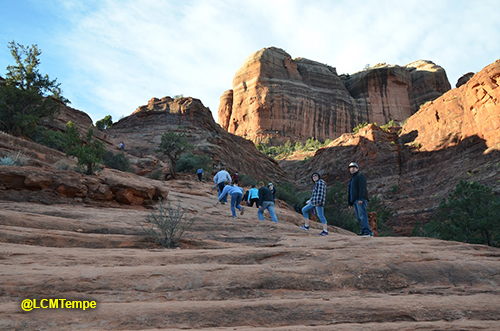 You are invited to LCM's annual winter retreat! This year's retreat is in Sedona, AZ. We depart Friday night for Sedona, sleep on a church floor, spend Saturday hiking, skiing, and exploring Sedona/Flagstaff, worship together on Saturday night, and, most importantly, bond with the other LCMs from NAU and U of A. All are welcome and invited! Cost: TBD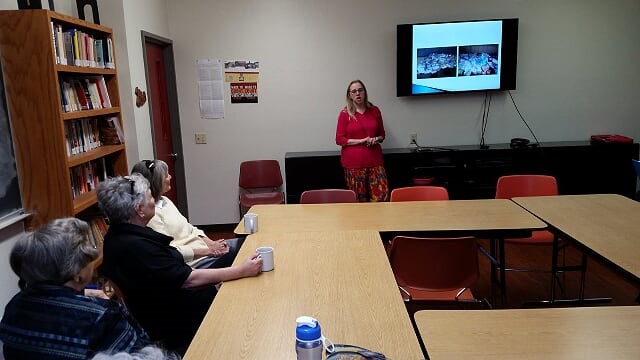 On January 8th, Marcie Gest presented a talk with slides about her trip to India last October to help several Leprosy camps through a project called Hope for Hansens. Hansen's disease is another name for Leprosy.
Many of our congregation members help financially and also helped donate supplies including many medical supplies.
You can click here if you would like to know more about Hope for Hansens. Two years ago, the ELCA also made a special day to remember the work that still needs to be done for people with Leprosy.
PROPERTY COMMITTEE meeting, Saturday, January 7, 9a – 11a. All those interested in reviewing certain property issues are welcome. This is a short and long range planning meeting primarily for brainstorming. This is not a work day, but a "roll up your sleeves" with pencil and paper outlining our future project, how to implement them and how to pay for them. If you can't make it to the meeting, but still are interested, we'd love to hear your ideas. Contact Terry Pochert or Terry Anderson.

Whether here at ASU or one of the great Phoenix Metro Area colleges, you have a great way to invite students to particpate in our ministry (or any number of ministries throughout the United States).
If you are a young adult, or if you know of a young adult who is looking for a community of friends and a way to express faith, consider campus ministry. Young adults experience unique spiritual, intellectual and emotional challenges. Campus Ministry seeks to strengthen and support them as they learn and grow. Visit the LuMin Lutheran Campus Ministry Network website to learn more about Lutheran Campus Ministry.
You can use this referral tool to find a ministry near you. If you are looking for a school that is not listed, we will direct your referral to the nearest ELCA Lutheran church.
Some good, some not good. There will be events and incidents that are predictable, and there will be surprises, even shocks.
Here at ULC/LCM one thing we are planning for 2017 is marking the 500th anniversary of the Reformation. It was October 31, 1517 that an unknown priest in a backwoods college town is said to have posted 95 theses on a church door. The rest, as it is often said, is history. And what a history it has been! When the twenty-first century was arriving, many lists of the most influential people during the past 1,000 years were assembled. On all those I saw, Martin Luther finished no lower than 10th most influential!
Piano Donated to the Thrift Store -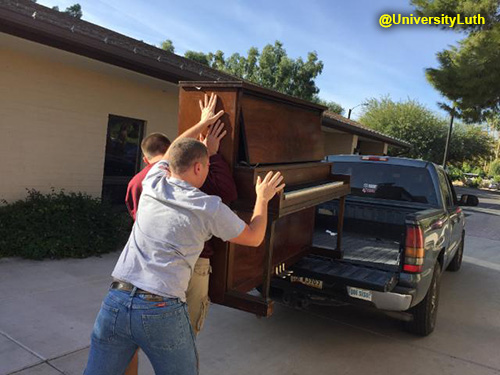 Thanks to Stephen Gerrish and Andy Tadlock for taking the old Campus Center piano to the thrift store.
Mariana Carper in LSS of the Southwest Newsletter -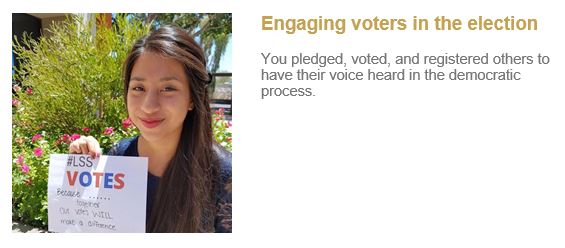 It's always fun to see one of our students in other organization's newsletter. In this case, it's the End of Year 2016 newsletter from Lutheran Social Services of the Southwest (LSS-SW).
Mariana Carper supported LSS-SW by getting pledges, encouraging voting and registering others to have their voice heard in the democratic process.
Christmas Family - Gifts Delivered -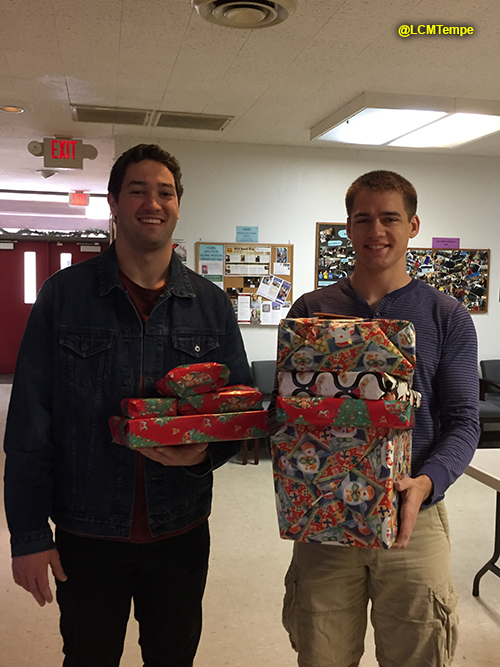 Troy Wagner & Stephen Gerrish get set to deliver Christmas presents to the family LCM students adopted.
Grace, Grub and Grog - A Ministry of and to Young Adults -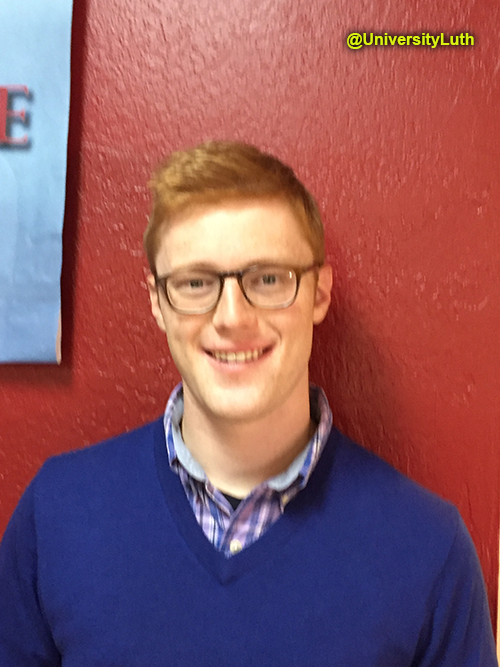 Maddie Shaner has served so well as coordinator of this energetic group! Thank you, Maddie!!
Maddie has graduated from ASU with a Master's degree. Now graduate student Walter Johnson (LCM undergrad alum...you may know him as the young man with red hair in the choir) will coordinate the group. Thanks, Walter! Young adults whether grad students or not are welcome to take part in all their activities!!
Thanks -
to Jeanne Sims, Kristin Tollefson, & Beth Wootten for purchasing & setting up poinsettias for Christmas
THANKS to Everyone at ULC for their Support of Bread for the World -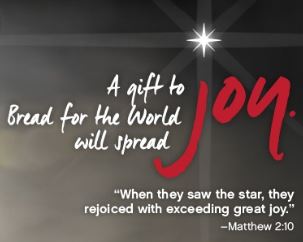 Thanks to all who throughout the year exercised their voices and votes on behalf of the Matthew 25 people (you know, the " least of these"). You were among more than 640,000 people who told presidential and congressional candidates they would vote to end hunger, and we thank you! But Congress adjourned without acting to reauthorize the Child Nutrition Act or increase funding for global maternal and child nutrition. So, don't plan on putting away your pens or computers or phones yet!
Update from Julie Gerrish in Senegal -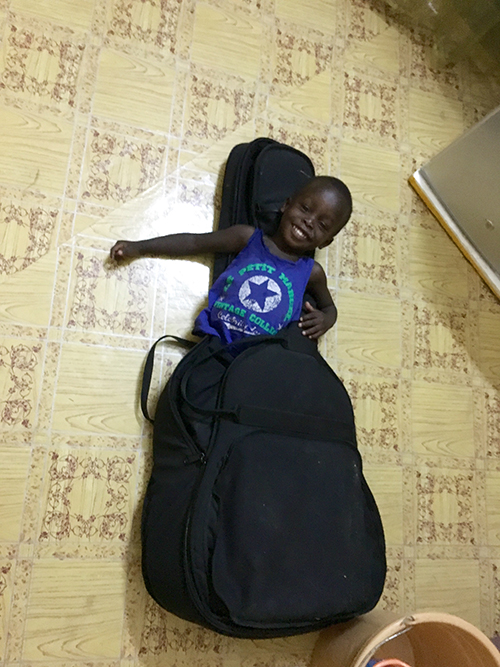 What's up? It has been a little while since I've sent something your way. How are things with you?
I just wrote a new blog post called, "Some Gift Ideas for Christmas" if you would like to read it.
Also, I'm wondering: Do you have any questions about my life here in Fatick/Senegal? If you do, send it my way and maybe I can include it in the next newsletter or blog post. You can do this by writting something in the comment area of my blog listed above.
Also, I included a picture to make you smile. It is quite the miracle, my guitar turned into a little person who I love!
As many of you know, our current associate, Alicia Danielson will be leaving May 15. Originally she was planning on leaving last year, so we are delighted to have received a "bonus year" of her outstanding work.
We currently have three candidates for the position beginning in August. A task force has been put in place to screen candidates and make a recommendation. On the task force are council member Layna Taylor, Council President Darren Gest, Pastor Gary and students Jake Roselius, Kaitlin Webber, and Rebecca Sherod. Phone interviews will begin once students return. A recommendation will be made to bring one of the candidates here for a face-to-face interview and an opportunity to spend some time with students. Please keep Alicia and our search process in your prayers.
Reformation 500 Retreat! - What's Great About Being Lutheran? -
January 13-14, 2017
Desert Cross Lutheran Church
8600 South McClintock Dr.
Tempe
Guest Speaker: Bishop Emeritus Mark Hanson
Retreat fee: $15.00
Registration deadline January 6
www.desertcross.org
Contact Denise McClellan at Desert Cross for further information, 480-730-8600
Thanks -
to Alicia Danielson, Maddie Shaner, and Deb Hull for filling in for church secretary Dottie Ohe during her absence
to Will Salz for repairing the piano bench and the piano stool.
to Terry Anderson for picking up and delivering the four Christmas trees for the church.
to Deb Hull, Kristin Tollefson, and Beth Wootten for creating and hanging the wreath in the church sanctuary
to all who participated in the Taize worship service December 1...especially to Aiko, our choir, and all the musicians.
to Lynn and Art Becker for decorating the exterior of the sanctuary and Campus Center for Christmas
to all who set up our Christmas trees
You may have heard about these recently. We have subscribed to a service that sends new home owners a postcard of welcome with and invitation to worship with us and some information on our ministry. Upon attending worship guests are given a "Welcome bag". Main items included in the reusable bag are brochures on ULC and LCM, a $5.00 Starbucks gift card, a booklet on Lutheranism, and a letter of welcome from Pastor Gary. Three members have stepped forward to pay for the post card subscription service for 3 months. Further subscriptions are welcome! Contact Terry Anderson or Lori Zurcher through the Church Office by using our CONTACT PAGE if you would like to know more.
Pitchfork Food Pantry Update -
Our food drive for November was a great success! Thank you to all who provided food! As always, the drive is on-going and you can place your non-perishable food items in the box at the church entrance. You can also check our list of recommended food items, etc. on our web site by Clicking Here.
Our recent contributions of food went to the new student food pantry at ASU:Pitchfork Food Pantry. LCM has been instrumental it getting this up and running. It opens in Sonora dorm January 15. This was in response to the wellness survey conducted by ASU that discovered almost 30% of students say that weekly they experience food insecurity; that is they are not sure where they will get food by week's end. This is actually a trend at universities around the US.
Our own small food pantry (above the pop machine in the Campus Center) receives regular use. Just last night a student on break with no food resource for break took advantage of the food in the bin. Thank you to all who help to supply that food box for our students!!
Lent -
Ash Wednesday is March 1 this year. We are looking once more to putting together a Lenten devotional booklet for our community. We also share it electronically with congregations in our synod.
You can sign up to do a Lenten devotion.....or 1, 2, 3 devotions....on the sheet at the church entrance. Thank you! We would like this sheet filled by January 30 so we can print and assemble the booklets.
Students will gather with LCM students from U of A and NAU in Sedona January 27-29. This is our annual winter retreat. Students will return to Tempe in time for dinner after our Sunday worship.
If you are interested contact Pr. Gary or Alicia Danielson using our CONTACT PAGE.