Thanksgiving Eve Worship
Wednesday, November 23
6:30pm
An enormous shout out to all of the people that contributed stuff, time, muscle, humor, and money to the most recent "Patio Sale" fundraiser. We made $369.77, yes we had people digging in the bottom of their bags for loose change to make it happen! Thanks so much and the students will benefit from the generosity of all of you to put toward their mission project this year.
We had a lot of curiousity about the church and the LCM this time. Pastor Gary had brochures for us and people took them, hopefully we'll see them soon. There was a tremendous "spirit" of goodwill and helpfulness. We offered pick up and delivery service this time, too! We're really learning a lot about event planning, timing, and advertising."
Ann Rispoli died Saturday, November 18 at 12:30pm in hospice care.
Memorial service will be December 1 at ULC, 11am.
Hunger Emphasis During Month of November -
Annually we receive gifts of non-perishable food items. In November there is a special emphasis on hunger. We will have envelopes in the chair racks for Lutheran World Hunger.
Offerings may be made online www.ulctempe.org. We will receive gifts on nonperishable food items as well as bottled water and toilet paper. During each Sunday worship in November we will invite you to bring your gifts of non-perishable food items forward to place before the altar ( or you can hand yours to someone else to bring forward).
This hunger emphasis is year long .... we always collect gifts of food and will always receive money offerings to World Hunger, ..... but this emphasis is for the month of November.
Gifts of money go to Lutheran World Hunger, one of the world's best hunger efforts (93% of gifts go to food or production of food). Thank you!
CONCERT SCHEDULE from LCM student Stephen Gerrish. He plays tuba! All concerts will be held at the Tempe Center for the Arts.
Wednesday, January 10, 2018 @7:30 p.m. It's Time to Shine
Thursday, March 1, 2018 @7:30 p.m. March On
Thursday, April 12, 2018 @7:30 p.m. Bandancing
Friday, April 27, 2018 @7:30 p.m. Music Under the Stars
Looking Ahead....Open Forums -
November 26: no forum, Thanksgiving weekend
December 3: "Kim Savage" ULC/LCM: Welcoming, Letting Go, and Living Like It Matters
December 10: "Annie Skivington's Year in Hungary" Annie was a student with Young Adults in Global Mission
We will begin Sunday, November 12 receiving gifts of money to decorate our church for Christmas. Gifts of any amount are welcome. Use the "flowers" envelope that will be in the chair racks and mark the check memo "decorations". Trees to honor or memorialize a loved one cost $70.00 each. We will have four trees. To honor or memorialize someone with a tree or poinsettia, you must fill out the form included in the bulletin and turn it in to the church office. Thank you!!
You can also download a PDF copy of the form by Clicking Here.
Bible Study will be meeting on:
December 14 at the home of Julie Hamaide
Books are in!
Pick yours up in the Campus Center. Make checks payable to University Lutheran Church.
Hi everyone! We have been busy in our Young Adult Group! Young Adult Group is for anyone age 22-39ish that is looking for some community, faith-building, fun, and service.
In October we had a Reformation celebration party where we wrote down what we would reform in the church, ate delicious potluck goods and raised $58 for Lutheran World Relief.
So far in November we hiked the First Water Trail in the Superstition Mountains with our other Young Adult friends, the Young Catholic singles, woo woo! ;)
We are also packing food for Refugees at Lutheran Social Services on Thursday, the 16th of November.
On December 3rd we will be packing food for Feed My Starving Children's "Hope Filled Holiday" packing event from 3-5pm at the Phoenix Convention Center.
If you have any questions, or would like to join us, email us using the CONTACT PAGE.
To Mariana Carper on her new job with Lutheran Social Services of the Southwest. Mariana will begin as an HR assistant and will transfer to be a Foster Home Licensing Specialist.
November 2017 Print Newsletter Download -
You can download a PDF copy of our printed/mailed Newsletter for November 2017 by Clicking Here (PDF).
DECEMBER COUNCIL MEETING
Tuesday, Dec. 12 7:15pm
Property Committee Meeting Highlights - October 21, 2017 -
We had another productive and positive PC meeting yesterday morning. We covered the topic of painting for the buildings; it was unanimous that we move forward with the bid and get the buildings freshened up and protected before the end of the year (including the pergola over the campus center will be repaired).
Young Adults - Food Packing at Lutheran Social Services -
There is another opportunity to pack food for refugees at Lutheran Social Services next Thursday, November 16, at 5pm. Lutheran Social Services is in Downtown Phoenix, and I'm sure it's ok if you're a little late. We will stay there and work till 6:30, when the employees have to get outta there.
Specific location for meeting to be announced.
It would be a great opportunity to get ourselves some dinner together afterwards, too!
Let me know asap if you are interested. I will set you up with the first-time volunteer paperwork (Just one page).
Questions? You can email me by using our Contact Page.
Thanks & Love,
Julie Gerrish
​Advent Taizé Worship - December 6, 6:30pm -
You are invited to the Advent Taizé Worship at University Lutheran Church on Wednesday, December 6, 2017, 6:30pm.
Join with your neighbors and friends by sharing scripture, song and meditation as we prepare for the Christmas season.
Download a PDF of the Flyer to share with your friends and neighbors by Clicking Here.
Shop for your Christmas Gifts and Help Others at the Same Time! -
November brings our annual shopping opportunities to ULC/LCM!
We will have our Fair Trade Fair from SERRV as well as Good Gifts from ELCA and gifts supporting the Lutheran Social Services of the Southwest available in the Campus Center.
This is not a fundraiser. In the SERRV Fair Trade Fair, many countries are represented and the money goes directly back to the artisans and their families. The money goes to help develop schools, jobs and health programs in the various impoverished communities.
Consider supporting others with your Christmas purchases this year. There are plenty of opportunities to obtain unique gifts for those on your list.
This will be the fourteenth year students are twice weekly receiving an offering to support an entire family's Christmas.
They pay for the gifts, shop, wrap, and deliver them including Christmas dinner. If anyone would like to help out, let Amy or Pastor Gary by visiting our CONTACT PAGE.
Painting -
The painting of the pergola has started. Thanks for your donations to help make this Property Committee project successful.
Men's Breakfast - December 9, 2017, 7:30am -
Our next Men's breakfast will be December 9th at 7:30 a.m. at Sunny's. This will give us time to eat breakfast and make it to church for the work day at 9 a.m.
Sunny's is located on the southeast corner of McClintock and University. map
Any questions give me a call.
Will
LCM student Spencer Brand plays trumpet for us several times a year. He also spends many Sundays "on the road" playing for churches around the Valley. Spencer is working for his PhD in trumpet at ASU.
Spencer will have a concert at Church of the Epiphany Episcopal, 2222 S. Price Road, Tempe Sunday, November 26, 7:30pm. He will be playing the cornet. There will be solo music and Stravinsky's "Soldier's Tale".
Join the fun!
Making Lefse is one of the biggest fundraisers LCM conducts. We need every bit of support and work to make this year's baking and selling successful! So, join us for baking on the following days:
Sunday, November 19th - right after lunch- 11:45
Dates will be added as needed! Interested? Contact Amy using our CONTACT PAGE.
Teaching About Martin Luther -
Pastor Gary teaching about Martin Luther & doubt at the Latter Day Saints Campus Ministry.
The Page Turner's Book Club meets at noon in the Campus Center on the first Thursday of each month. New members are welcome, even if you can only attend once in awhile.
Thanks -
to Andy Tadlock for assembling and disassembling our Reformation door.
"Here is a call for the endurance of the saints, those who keep the commandments of God and hold fast to the faith of Jesus".
Do you know from which source I have taken this line? The book of Revelation. (Revelation 14:12) We just looked at this line today in Bible study. I would argue this line in many ways sums up the point of Revelation. Though filled with much imagery mysterious to most, careful study with good Biblical footnotes can allow you to navigate through dragons, beasts, the abyss and Babylon to a message more hopeful than puzzling.
Hosting CORA - November 1, 2017 -
We hosted over 40 pastors, priests, imams, & Rabbis from ASU's Council of Religious Advisers November 1
LCM Monthly Service Projects -
November
November 18th
St. Vincent De Paul's Urban Farm
Meet there at 8:00 am at - 2120 S 3rd Dr, Phoenix, AZ 85003
Please arrive on time
Need a ride? Meet at the church at 7:30 am
Interested? Contact Amy
December
December 9
Feed my Starving Children
Meet there at 7 pm - 1345 S Alma School Rd, Mesa, AZ 85210
Need a ride? Meet at the church at 6:30 pm
Interested? Contact Amy
to Krisitin Tollefson for creating a Reformation banner in celebration of the 500th anniversary of the Reformation.
to Lynn and Art Becker for oscillating fans for the library use
to Lynn Becker for curtains covering the kitchen cupboard
to Aiko Yamada Mancini, Music Director, the choir, and all our musicians for creating and leading the Reformation worship
Sunday, October 29 is Reformation Sunday. It will mark 500 years since Martin Luther nailed the 95 theses on the door of the castle church in Wittenberg, Germany. Worship will be at 10:30 followed by a potluck at noon. After the potluck we will watch a video of travel guru (and Lutheran) Rick Steves on Luther's Germany titled, "Luther and the Reformation". We will do the potluck and video with Missio Dei Community who worships Sunday afternoons in our sanctuary. Bring a main dish and salad or desert. Place settings (Reformation placemats!) will be provided as will beverages.
Lefse Making Has Started for this Christmas Season -
Busy at work!
Condolences to the Roehr Family -
We wish to express our condolences to the Roehr Family. Daryl D. Roehr, father of David Roehr, passed away on September 22, 2017, in Sioux Falls, South Dakota. He was memorialized in a private family service on September 21, 2017, in Britton, South Dakota. Our prayers are with David and Stella.
To the family of Don Walters, father of Barb Harris and grandfather of Berkley. Don died October 20 in Sun City West, AZ
Student of the Month - Kayla Pagel -
What memories do you have from University Lutheran from before college?
University Lutheran was my first church. Pastor Gary baptized me and it is really amazing to be know that I have families at different churches around Arizona; from University Lutheran, to Desert Cross, to Trinity Lutheran Church. Even though I was only a toddler, I can clearly remember going on Easter Egg hunts around campus and watching fish in the canal with my dad while we waited for my mom finish conversing after service.
Living Lutheran: 'Freed in Christ to serve the neighbor' -
As Lutherans around the world reflect on the Reformation this month, the October cover story of Living Lutheran considers how the Reformation's roots of social action continue to guide Lutheran identity and calling today. Through stories of the ELCA's work in advocacy, global mission and domestic ministries, the article explores how the teachings of Jesus and Martin Luther are active in Lutherans' faith lives today.
Thanks! Work Day - October 14, 2017 -
Thanks to everyone who helped!
Will's Corner -
As President of the congregation, Will Salz publishes "Will's Corner". Here is the October 15, 2017, edition.
Shop for your Christmas Gifts and Help Others at the Same Time! -
November brings our annual shopping opportunities to ULC/LCM!
We will have our Fair Trade Fair from SERRV as well as Good Gifts from ELCA and gifts supporting the Lutheran Social Services of the Southwest available in the Campus Center.
This is not a fundraiser. In the SERRV Fair Trade Fair, many countries are represented and the money goes directly back to the artisans and their families. The money goes to help develop schools, jobs and health programs in the various impoverished communities.
Consider supporting others with your Christmas purchases this year. There are plenty of opportunities to obtain unique gifts for those on your list.
Jubilee USA Network, consisting of 75 US organizations and 650 faith communities, over the years has won global financial reforms and more than $130 billion in debt relief for the world's poorest nations, taking its theme from Leviticus, where those enslaved because of debts were freed, lands lost because of debts were returned, and community was restored. International debt has become a new form of slavery. We currently seek signatures on petitions--which you'll find on the round table inside the Campus Center--to ensure Congress provides relief aid in the wake of Hurricanes Irma and Maria that is in the form of grants rather than loans, and that the odious debt owed by affected countries be suspended and reduced. Google to find out more, and we urge you to follow up with suggested actions including prayer and monetary gifts.
Dinner Church -
Looking back at a wonderful Dinner Church..





From The Heart Sunday Morning Forum -
Great attendance for the Sunday morning forum. There are still a few open chairs for you to join the group. Sundays at 9:15am.
There is an easily missed point concerning the Reformation. We rightly celebrate the reform movement begun five hundred years ago in a small, obscure German town called Wittenberg. Most Lutherans, many Christians, and others simply interested in history or religion can high light many of the events of those early Reformation years.
Thanks for the Beautiful Mantel -
Thanks to Paul Zelenski for the beautifully designed mantel along with its installation. Pastor Gary worked with Paul regarding design, placement and code compliance.
It is beautiful and the congregation is very thankful.
Let There Be Light in the Parking Lot -
Although the parkig lot lights are fairly dependable, they sometimes reach their life limit. Thanks to Terry Anderson, all the halogen lights are now working correctly. THANKS!
Baptism -
Baptized into the Christian faith was Millie Wenhwei Tay, daughter of Katie Gorin Tay and Mitchell Tay. Sponsors were Mike and Kelly Robers. Millie was baptized Sunday, September 24 at University Lutheran Church.
Thanks -
to Jim and Dena Trangsrud for the gift of a projector for use in worship, education, etc.
We need someone to enter memorial gifts into our Book of Remembrance and would like someone with the ability to do calligraphy or some similar writing form to enter them. There are not that many entries to be made. If you are interested in doing this, please contact Dottie in the church office (CONTACT PAGE or 480.967.3534)
Lutheran Church of Senegal Synod Secretary -
On Monday, the 25th of September at 7pm, we welcomed the Secretary of our partner synod the Lutheran Church of Senegal, Pascal Sosse Kama.
He shared what it is like to be a Christian in Senegal, and what the church in Senegal is doing.
Martin Luther Exhibit Toured University Lutheran Church in 2005 -
A glimpse into the Martin Luther Exhibit that was shown right here at University Lutheran Church in Tempe. Hundreds of people enjoyed reviewing the exhbit.







Young Adults in Global Mission Visit Wednesday Worship -
Hilda Santiago from Young Adults in Global Mission. San Antonio home town, University of North Carolina alum. Served in Argentina.
Calling Young Adults aged 22-39ish! -
We are having a 500th anniversary of the Reformation party, Sunday October 15th from 6:30-9:30 in the evening, on the lawn outside of University Lutheran Church. We will have a potluck, play lawn games, have a whiteboard where people can write what they would reform in today's church and announce the ideas later in the night. Bring a potluck dish and a small donation. We will pool the money and vote on a charitable/nonprofit organization to give it to.
The Women of the ELCA (WELCA) are having a retreat from Friday, October 20th to Saturday, October 21st at The Franciscan Renewal Center, 5802 E. Lincoln Drive in Scottsdale. The weekend is called, "Transformed: A New Katie" and will hopefully foster spiritual growth and new relationships within the WELCA community. Registration is open until October 4th. Email Julie Gerrish using our CONTACT PAGE for the registration form or if you have any other questions.
Will's Corner -
As President of the congregation, Will Salz publishes "Will's Corner". Here is the September 14, 2017, edition.
October / November Monthly Volunteer Service Events -
October's Service Event:
October 14th
Habitat for Humanity Build
Build begins at 6:30am at 1937 E Don Carlos Tempe, AZ
Please arrive on time
Need a ride? Meet at the church at 6am
Interested? Contact Amy using our CONTACT PAGE
November's Service Event
St. Vincent De Paul's Urban Farm
Date and time are to be determined
Interested? Contact Amy using our CONTACT PAGE
Student of the Month - Matthew Bohr -
Name: Matthew Bohr
Year in School: Sophmore
Hometown: North Phoenix
What is your favorite part of LCM? My favorite part of LCM is meeting new people.
Why would you encourage others to check out LCM? I think it is a good place to meet new people and have good time just hanging out with others. I have something to look forward to every week, either Sunday worship and lunch or Wednesday dinner and worship. It is also a nice break from homework.
What is your best memory at LCM? Well, I have a most interesting memory. One year in San Diego, during the worship on the cliffs, there was a group of para-gliders. It was exciting to see them just sailing around.
What is the one thing you are looking forward to this year? Since the San Diego trip has past, I have to say the Sedona retreat. It is just a different vibe. We get to hang out with the other campus ministries, like from U of A and NAU, more. It is also cool to see snow on the tops of the mountains.
Choir -
Our choir is off to a great start! The new 9am Sunday rehearsal time is working well. There is still room for more! Why not show up for a rehearsal and give it a try? Warning: This group could become addictive and entice you to repeated rehearsals....
Our retreat in San Diego was a hit as always! We hosted worship on Sunday morning on the shores of Mission Bay. Worship was also held on the cliffs of La Jolla as the sun set over the Pacific. Free time saw us scatter to a Padres' game, Balboa Park, and the USS Midway aircraft carrier. This year we spent time with the ASU Presbyterian campus ministry. Ov er a Pizza Fest we had a discussion led by Pastor Gary and University Presbyterian Pastor Eric Ledderman. Students from both groups appreciated the exchange and getting together.
Thanks to all who have signed up to provide meals for students! As always, we had a great response!! There are still a few Wednesday and Sunday times available. There is a brochure "Ministering Through Meals" available with tips on the desk at the church entrance. In addition, "veteran" meal providers are often willing to mentor you through a meal or two. Aren't able to provide a meal but want to help out? Gifts of money to provide food can be used with students or others doing the cooking. Talk to Amy Gauthier or Pastor Gary about this possibility. Thank you!!
Gifts of stock to support the ministry of Christ through University Lutheran Church or Lutheran Campus Ministry are greatly appreciated. You may contact the church office (CONTACT PAGE or 480.967.3543) for further information. Contacting your tax adviser will also let you know the best way to utilize such gifts for tax purposes. Thank you!!
Hurricane Harvey / Irma Relief -
Given along with bulletins this week and last are fliers and envelopes for Lutheran Disaster Relief. You can direct your gifts for Hurricane Harvey relief on the envelope and/or your check. You may also give on line via our web site: www.ulctempe.org or the ELCA website www.elca.org
We have a few personal connections to the Houston area. One of our freshmen is from Houston and has family affected by Harvey. Alumnus Ellen Tollefson Lawrence and husband Daniel live in Houston. Former Campus Ministry Associate Evan Moilan directs Lutheran Social Services in Texas and is involved in relief efforts. Thank you for your help!!
Young Adults in Global Mission Here -
Hilda Santiago, a recruiter for Young Adults in Global Mission (YAGM) will be with us Wednesday, September 20 at our 6:30pm worship service. She will eat with students and talk about YAGM, then preach at worship. Hilda will remain a bit for Q & A regarding the program.
Currently member Berkley Harris is serving with YAGM in Senegal. Two students recently returned from serving YAGM: Julie Gerrish in Senegal, and Annie Skivington in Hungary.
Interim Bishop Lowell Almen Here -
Wednesday, November 1 Bishop for the Interim, Lowell Almen will preach at the 6:30pm worship service. He will also eat dinner with students. Interim Bishop Almen, a former campus pastor, retired as Secretary of the ELCA, a position he held for the first twenty years of the ELCA's existence. Interim Bishop Almen has authored two books and had an audience with Pope Benedict. All are welcome to worship.
Noon-1pm Each Friday beginning September 15
"Reveling in Revelation"
The Rev. Daniel Rift, Director, ELCA World Hunger and Disaster Appeal, Evangelical Lutheran Church in America, writes:
Hurricane Irma is one of the most powerful storms ever recorded in the Atlantic. The Category 5 storm hit the Caribbean and is expected to skirt or pass directly over Florida, causing widespread damage and threatening loss of life.
As a church, we're standing by our neighbors who are already affected, and we are ready to assist in additional locations as disaster strikes. Lutheran Disaster Response's affiliates, companion churches and international partners are collaborating with community leaders and government officials to respond. Please give now to support this response.
Unfortunately, Hurricane Irma was not the first major hurricane with catastrophic effects this season, and it may not be the last. If you've given to support Hurricane Harvey relief, Thank You. To give to the hurricane response where funds are needed most, click here and select "Hurricane response." To give directly to relief efforts for Hurricane Irma, click here and select "Hurricane Irma." Either way, your gifts will be used entirely (100 percent) for direct response efforts.
Thanks -
to Pastor Bennett Henrikson for preaching, presiding and leading worship on September 3, 2017.
Smiling Faces at this Year's San Diego Trip -
A great weekend in San Diego.
PBS Will Air 'Martin Luther: The Idea that Changed the World' -
Tuesday, September 12 at 7pm Mountain Standard Time (Channel 8). Be sure to check your local listings since the time will vary depending on how you receive your PBS station.
Thrivent Financial is pleased to announce that PBS has agreed to air a two-hour documentary on the life and impact of Martin Luther.
Narrated by Hugh Bonneville (Downton Abbey) and starring Padraic Delaney in the title role, the film brings to life the great adventure story of Luther's struggle. Interspersed among the dramatic recreations (shot in Europe), is commentary from theologians and scholars from a variety of Christian traditions.
Thrivent Financial is the exclusive sponsor of the film, which was created to recognize the 500th anniversary of the Reformation.
John Barton Installed as intern Pastor -
A special day for former LCMer, John Barton. John was installed as an intern Pastor in Waltham, MA. Special attendees and former LCMers, Loni and Eric Lehnhardt and children were on hand for the event.
I was a junior in high school. As I stepped outside into the downtown square of Wilkes Barre, Pennsylvania, I wondered, "What will my friends think when they see me now?".
It was the late days of fall and the daytime sky was fast becoming an evening sky. I looked around and was astounded by the brightness of neon signs announcing the retail tenants of the downtown buildings. The colors on the Yellow Cabs and passing cars were both brighter and bolder than I could ever recall seeing. I was not able to see anything I had not seen before; I was just seeing things more vividly and more colorfully. You see, I was stepping out from the office of my optometrist. For the first time ever I glasses. Corrective lenses my driver's license called them. The fresh view made me realize I needed glasses after all.
Young Adults in Global Mission Rep Here -
Hilda Santiago, a recruiter for Young Adults in Global Mission (YAGM), a ministry of the Evangelical Lutheran Church in America, will be with us Wednesday, September 20. She will talk a few minutes during dinner at 5:30pm, preach during our 6:30pm worship and stick around for Q & A following worship. Learn about YAGM and the possibilities available to serve around the world.
Currently we have a bulletin board with YAGM information in the Campus Center. We have member Berkley Harris' photo there. Berkley is now serving in Senegal. In addition to Berkley we have a strong history of support for YAGM. More recently we had Jill Rode, Thailand, Abby Henderson, South Africa, Julie Gerrish, Senegal, and Annie Skivington, Hungary.
Our own Stephen Gerrish performs with the Arizona Wind Symphony and will be performing at the Tempe Center for the Arts.
Although not yet on the box office schedule for purchasing tickets, they should become available soon by logging on to the Tempe Center for the Arts boxoffice.
Rejoice and reflect this Advent season through study, prayer and worship. ELCA World Hunger's 2017 Advent Study is full of new weekly devotions, prayers, blessings and hymn suggestions. Use this resource during weekly worship or adult study, or encourage members to take it home and read each week during Advent.
You can Download this Resource by Clicking Here (PDF)
First Grace, Grub and Grog of the Year -
We are going with option three from the last email for our first outing! Our first Grace, Grub and Grog of the year will be at Four Peaks (The 8th st. one) on Saturday, September 9th from 6:30-9pm-ish.
I am excited to talk about stuff and plan for the year with y'all! Lemme know if you (and your friend or S.O.) can make it (PLEASE RSVP). :)
RSVP on the Facebook event page by Clicking Here.
Let me know if you have questions! It is the first group outing I am planning, hoping all goes well!
Love,
Julie Gerrish
Four peaks address:
1340 E. 8th Street, #104
Tempe, AZ 85281
Four Peaks is socially responsible, and has gluten free and vegetarian food options.
Last Summer Connections for the Summer -
Wednesday 23, 2017 - Looks like everyone had a great time. Folks joined in worship with the praise band after dinner.
Student of the Month - Rachel Knoche -
Name: Rachel Knoche
Year of School: Junior
Hometown: Colorado Springs,CO
What is your favorite part of LCM? The culture. I appreciate that LCM welcomes everybody regardless of background. I think diversity of thought is the most important factor in good conversation and LCM helps foster an environment welcoming of these discussions.
Why would you encourage others to check out LCM? I would encourage others to check out LCM if they are looking for a place to meet kind and welcoming people.
What is your best memory at LCM? My freshman year I was able to go on the San Diego trip and it was an awesome experience! I had great conversation on the drive there where I got to know some amazing people.
What is one thing you are looking forward to this year? I am most looking forward to the San Diego trip this year because I wasn't able to go last year!
to Berkley Harris, ULC member. She is off to Senegal to serve with Young Adults in Global Mission for the next year. Berkley is the daughter of ULC members Scott and Barb Harris.
Campus Ministry Fall Schedules -
Wednesday Worship
6:30pm (all are invited!)
Our theme for the beginning of semester is "Snapshots of God"
Wednesday, September 6:John 4: "Jesus!"
Wednesday, September 13: I John 1: "God is Light"
Wednesday, September 20: Exodus 3: "I Am What I Am"
Wednesday, September 27: I John 7: " God is Love"
Wednesday, October 4: Matthew 18: "God is Forgiving"
Student Bible Study
We will meet during the week. Topics to be announced.
San Diego Student Retreat
We leave 5pm Friday, September 1 and return about 3pm Monday, September 4
The ULC Church Council meets the second Tuesday of every month. They gather in the Campus Center Library beginning at 7:15p.
The next meeting will be:
Tuesday, September 12, 2017 - 7:15p
Thanks -
to Lynn and Shawn Aiken, Darren, Marcie, and Dean Gest, Aiko and Brian Mancini, Lynn and Art Becker, and Dorothy and Dick McCune for hosting Summer Connections.
to Beth Wootten for coordinating and planning Summer Connections.
Bishop for the Interim, Lowell Almen will be with us in worship Wednesday, November 1 at our Wednesday worship service (6:30pm). Interim Bishop Almen served as Secretary of the Lutheran Church in America from 1988-2007. He was the church archivist and historian. Author of two books, Dr. Almen has often served as Parlimentarian for the Grand Canyon Synod. He and wife Sally have a home in Gold Canyon, AZ.
Calling all singers! Choir is starting rehearsals on September 10th and we welcome new singers to join us. The time commitment is minimal--only an hour rehearsal on Sunday mornings at 9:00 am and the worship service at 10:30 am. Please note that this is a change from previous years--we no longer have a Wednesday night rehearsal. For more information, contact Aiko Mancini using our CONTACT PAGE.
New Members - Jim and Katherine Stevens -
Last year Jim and Katherine Stevens moved from Portland, Oregon to the Phoenix area and bought a patio home in south Scottsdale. They were invited to attend University Lutheran by Katherine's parents Dick and Dorothy McCune. Jim is retired and Katherine is a career consultant at Lee Hecht Harrison. They recently celebrated their 35th wedding anniversary.
As a volunteer, I would be glad to help people with job searches and career coaching. If you know of people who need this, feel free to pass along my contact information.
New Members - Barb, Scott, and Berkley Harris -
Scott, Barb and Berkley Harris have lived in the Valley since 1997, moving to Tempe two years later. Barb was a "Lutheran by choice" since the age of 10 when she went to church one Sunday with a friend. Scott and Barb graduated from Purdue, got married in her home church in Valparaiso, Ind. and then lived in St. Louis for nine years. During their church memberships Scott was involved with confirmation and AMOR, and Barb served on councils and ran outreach ministries. Scott is a software engineers, Barb does communications for nonprofits, and Berkley, a graduate of the University of Arizona, is serving in Senegal for a year with the YAGM program. They moved to downtown Tempe in 2015 and are excited to become a part of the University Lutheran community.
New Member - Christine Middaugh -
I was raised in Gillette, Wyoming where she met her husband, Emmett.
We fell in love and moved to Phoenix, AZ for better opportunities. We have twin sons, Emmett IV and Anthony, as well a daughter, Kimberly. Emmett is married to Jenna and they have triplets; Anthony is married to Stephanie and they have a son; Kimberly is married to Ken and they have a son and daughter. I love my family and we try to get together every Sunday for games and food. I had a great childhood looking for birds' nests, arrowheads, and riding horses. I remember watching my Mother painting the most beautiful pieces of art, which is why one of my hobbies is painting. We love to travel, play games, and spend time with friends and family. I work at the Arizona Republic writing reports and at OPES Financial Solutions teaching people about money. I grew up in the Assemblies of God church where my Dad was a deacon. I loved going to church, where we would sing songs with my Dad. I have had various job, but the most important one was taking caring of my husband when he had cancer three times; he is thirteenth year into his remission. When we moved to Tempe I was looking for a church and Mary Ann Salz, who is my cousin, suggested I attend University Lutheran Church and I felt at home right away.
New Members - Jim and Dena Transgrud -
Jim started life on a farm in North Dakota while Dena was an Arizona city dweller. Arizona became our home over 44 years ago, a place to raise our 2 children & carry out our careers. We lead an ordinary retirement life in south Tempe volunteering in the community to make it stronger & leaving it periodically to explore the world visiting its diverse cultures, people & sights.
Our children now live in NY & NC. If asked, we will bore you with how fantastic they & our 4 year & 2 year old Granddaughters are as seen through biased eyes.
We chose ULC as our religious home after a few visits. It is a small friendly unpretentious community with strong links to the University, it is close to where we hope to move in downtown Tempe, plus it seems to have a theological reference we share. Thank you all for welcoming us into your religious home..
By Heart: A Confirmation Review -
Lee and Val Rehrer have agreed to teach "By Heart" a course that explores the Small Catechism of Martin Luther. There will be videos, discussion, and looking at the Small Catechism. Books for this course are provided by Lee and Val. (Thank you!!). This class will meet during the forum time slot Sunday mornings at 9:15am beginning with Sunday, September 17 and ending Sunday, October 29. We are open to making this also available during the week at about noon. If you cannot make Sunday morning, please let us know if you are interested in a weekday time. You can email the Church by using our CONTACT PAGE or simply indicate your interest on the blue sheet in the Sunday bulletin.
Thanks -
to Ruth Wootten for assuming the task of leading our Stewardship Committee and overseeing the Time and Talent sheets.
to Arno Leskinen and Will Salz for installing the door closer on the main door of the sanctuary.
to Arno and Martha Leskinen for donating the door closer.
Will's Corner - A Message from Your Council President -
Your Council President, Will Salz, will be writing a periodic Newsletter/Report about the various items the Council is working on.
These Reports will be available for downloading as a PDF.
DOWNLOAD THE CURRENT WILL's CORNER by CLICKING HERE (PDF)
Stewardship Message from Ruth Wootten -
Cheerful Givers, Thanks!
We are so grateful that so many of you have responded to our request to put in writing your commitment of time and talent to ULC/LCM! Thanks so much! It is so vital to our congregational budget and planning to know that you have pledged your tithe--more or less!--and your time. If you haven't yet sent in your commitment, it's not too late. And if you have misplaced the forms, just ask us and we'll gladly get you another one!
Didja know how much easier it is to share your candy bar when it's just been unwrapped, rather than when you just have one piece left? So it is with our giving: we give first as we have been given to, knowing that our checkbook reveals our priorities.
Just know this: we are so thankful to have YOU as a member of our community!
Ruth Wootten, Stewardship Chair
Thanks to all who provided food last semester. The sign-up for Fall semester is already posted on the moving bulletin board. Some spots have already been subscribed!! Thank you!! Questions? As Pastor Gary if you cannot provide food, but would like to pay for a meal, please indicate that on the sign-up sheet. Thank you!!
Young Adults Are Our Future -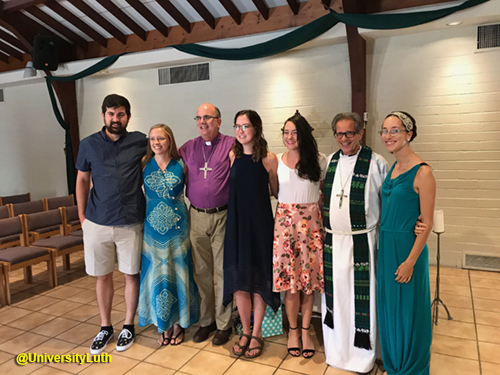 John Barton: ULC member, LCM alum and student pastor (intern) in MA, Julie Gerrish, LCM alum and just returned from a year serving in Young Adults in Global Mission in Senegal, Bishop Talmage, last "official" act as bishop...he now begins a new call as Sr. Pastor of Love of Christ Lutheran Church, Mesa, Berkley Harris, ULC member, U of A LCM alum and Young Adults in Global Mission partner about to leave for a year in Senegal, Amy Gauthier, LCM Campus Ministry Associate and LCM alum, Pastor Gary, ULC/LCM pastor, Cassandra Chavez, Pacific Lutheran Seminary student about to begin her internship at First Lutheran/La Primivera Luterano in Mesa.
Heroin Addicts Anonymous (HAA) 8p - Mondays in the Campus Center
Alcoholics Anonymous (AA) 8p - Tuesdays in the Sanctuary
Alcoholics Anonymous (AA) 8p - Thursdays in the Campus Center
The Page Turner's Book Club is taking the summer off. In the fall the Book Club will meet at noon in the Campus Center on the first Thursday of the month. We would love to have some new members; all are welcome. Please plan to join us and recommend a title for 2017/2018. When we reconvene this fall we will begin with the following:
September 7, 2017: "My Family and Other Animals" by Gerald Durrell (Kim)
A bewitching account of a rare and magical childhood on the island of Corfu, this book was the inspiration for the recent PBS Masterpiece series The Durrells in Corfu. When the unconventional Durrell family can no longer endure the damp, gray English climate, they do what any sensible family would do: sell their house and relocate to the sunny Greek isle of Corfu. My Family and Other Animals was intended to embrace the natural history of the island but ended up as a delightful account of Durrell's family's experiences, from the many eccentric hangers-on to the ceaseless procession of puppies, toads, scorpions, geckoes, ladybugs, glowworms, octopuses, bats, and butterflies into their home.
October 5, 2017: "Small Great Things" by Jodi Picoult (Pat)
Ruth Jefferson is a labor and delivery nurse at a Connecticut hospital with more than twenty years' experience. During her shift, Ruth begins a routine checkup on a newborn, only to be told a few minutes later that she's been reassigned to another patient. The parents are white supremacists and don't want Ruth, who is African American, to touch their child. The hospital complies with their request, but the next day, the baby goes into cardiac distress while Ruth is alone in the nursery. Does she obey orders or does she intervene? With incredible empathy, intelligence, and candor, the author tackles race, privilege, prejudice, justice, and compassion—and doesn't offer easy answers.
We are at that time of year when food pantries become most desperate for food. Demand is higher and fewer are thinking of food needs. In addition many senior snow birds contribute to food pantries and are now back home. We will be collecting non-perishable food items to help offset this need. Toilet paper and water are also great items for donation. Thank you to all who help with this! You may place your items in the food box at the Church entrance or on the pool table in the Campus Center. Thanks!
Our Lutheran publishing house, Augsburg Fortress will be having a Reformation Book Fair here from October 8 through November 9.
There will be displays and samples to browse. Most books will have to be ordered and are to arrive about two weeks after ordering.
There will be books for children, scholarly publications, and books for general reading and learning. This is not a fund-raiser, simply a way of making such things available.
Book Fair: October 8 through November 9
The Campus Center is open from 9a-2p,
Tuesday through Friday
Directions: Google Map
Arizona can be a confusing place to live. Take summer for example. Does summer end when school begins? Here that would be about the first of August. Or does summer end when it cools off? Here that might not be until Thanksgiving! Now I know what the calendar says, but every place I have lived prior to Arizona the summer weather was long gone by September 21st, the last day of summer and leaves were turning colors and beginning to fall.
Bishop Steve and Barb Talmage - Retires as Bishop of the Grand Canyon Synod -
Special Day as we honor Bishop Talmage and Barb, wishing them well as he retires as Bishop and they start their new commission at Love of Christ in Mesa.
Just a side note: In the background sitting with coffee is Ruth Wootten. When this picture appeared on Facebook a comment was made by Alan Field, "Ruth Wootten sitting in the background was my Sunday School teacher back in the days when it was Good Shepherd."
August Printed Newsletter which many of you receive through the regular USPS mail, is available this month also as a PDF Download.
August 2017 Newsletter (PDF)
2017 Grand Canyon Synod Assembly -
Lori Zurcher writes, "I had the honor of being asked to attend the annual assembly held June 9-10 at the Love of Christ Lutheran church in Mesa this year. Thanks to those of you who supported this event. I say it was an honor because I saw a side of the ELCA Lutheran church I have never experienced first-hand. It was also an honor because it was the last session conducted by Bishop Talmage, who exudes exceptional amounts of love for Lutherans, the ministry, and Jesus Christ. He lead the opening on Friday themed, "Called to Lead". What an exemplary man to talk about leadership. ..." Download the entire report in PDF by Clicking Here.
Julie Gerrish Returns from Senegal -
Welcome back Julie Gerrish! Julie graduated from ASU with a degree in education in 2016. Through the ELCA's Young Adults in Global Mission (YAGM) program Julie has been doing mission work in Senegal. She returned Saturday and will be leading Lutheran Campus Ministry/University Lutheran Church's Young Adult program this fall. University Lutheran member Berkley Harris will be traveling to Senegal in August as part of YAGM.