See Categories: Art Fettig |

Baaad Dude

Art Fettig's Monday Morning Memo
November 28, 2016
800-441-7676 or 919-732-6994
artfettig@aol.com

In this Issue
o Baaad Dude
o Say Something Good
o Points To Ponder
o A Little Humor
o Quote
o To Subscribe

Check out my blog, and leave your comments their by Clicking Here.

Baaad Dude
Is that really December coming on up the road right there? Will we so soon be running out of 2016? What were those goals I set last January 1st?

A couple of days ago I went to the back of our front closet in our living room and brought out my old black leather jacket purchased from a street merchant in Istanbul, Turkey in 1999. I say "my old black, etc."

Actually its condition is brand spanking new. It has been tried on annually since I bought it, but never really warn. Never, since I purchased it, has it felt so roomy. Finally I somehow mustered up the discipline to stick with my own exercise-diet plan and twenty pounds has vanished, one ounce at a time.

In the interest of credibility I just went back to that front closet and donned my now precious leather jacket. I zipped it up, snapped the snaps and glided up the steps in my office on up to my music room and stood tall in front of that big full length mirror and there wasn't a bit of bulge in my middle section. There was plenty of room in that jacket in the shoulders and arms. Haughtily I raised my collar and put on my Marlo Brando bad look and sure enough I looked as baaad as I've ever looked and for a while I forgot that I was 87 headed into 2017 and 88.

We have a local poets meeting this coming Saturday at Anna Maria's Pizza and I plan to wear my jacket. Right next door to Anna Maria's is a bar where, on Saturdays, it is filled with people wearing black leather jackets. The parking lot is filled with several dozen motorcycles. Inside they have a heavy metal band blasting out. I just might find the courage to enter that bar after our poetry meeting and model my fit fitting leather jacket. I just might unsnap and unzip my jacket and display my big silver Harley Eagle belt buckle and strike a pose standing at the bar with my diet coke in my hand. I look forward to December and the new year because I have become one baaad dude.

Say Something Good
Being Thankful. As I bowed my head to pray at our wonderful Thanksgiving dinner I started thinking that I should get into the habit of being thankful on a daily basis. For our food, shelter, clothing, freedom, America, my family and its extensions, my wife, my home in the woods, our church and its members...and on and on the list could go. Health and good fortune, the wonderful music playing in each room, my trusty set of drums up the stairs in the corner and yes, for that upstairs room, and as I swing around on my office chair for the wonderful memories and the fall leaves outside. Thank you God, and thanks to everybody. Life is so wonderful. May God continue to bless America and let there be peace throughout this world.

Points To Ponder
The bond that links your true family is not one of blood, but of respect and joy in each other's life. Richard Bach

A Little Humor
High School Conjugator's Lament
I will... You will... He will... She will She will? Yes, she will, but not with I. She will with he. Darn.

Quote
All good is hard. All evil is easy. Dying, losing, cheating, and mediocrity is easy. Stay away from easy. Scott Alexander.

To Subscribe
Subscribe and unsubscribe at www.artfettig.com

Client Reference(s):
---
comments powered by
---
---
John H. Burdakin and the Grand Trunk Western Railroad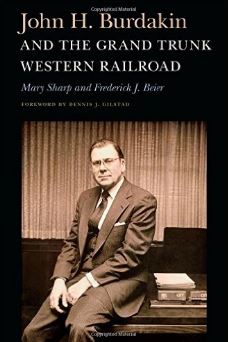 John H. Burdakin and the Grand Trunk Western Railroad provides a look at the principles and personal values that guided John H. Burdakin through a long, successful career as a top manager at three railroads—the Pennsylvania, the Penn Central, and finally the Grand Trunk Western, where he was president of the regional carrier from 1974 to 1986. The book, written from interviews with Burdakin before his death in 2014, gives real-life examples of how Burdakin's management principles and personal qualities helped him solve labor- management problems, update railroad technology, protect worker safety, and improve employee morale while managing a four thousand–person workforce. It introduces colorful characters who were involved in American railroads, as well as the serious, life-threatening issues that confronted railroads in the last half of the twentieth century in America. This book will provide insights for managers of any business as well as for those seeking to balance a successful career and a rewarding home life.
Trapped in Shades of Grey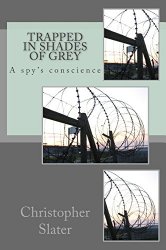 During the trying days of World War II, everyone was called upon to do their patriotic duty. But what if that duty required you to live, eat, sleep, and fight alongside the enemy? Christoph Ernst, the son of German immigrants, is recruited to become a deep cover agent in the German Wermacht. He excels at his assignment as a soldier and a spy. As the war in Europe heats up, he realizes that he has made a huge error- he has made friends and become a part of the army that he is helping to destroy. When the time comes, he is uncertain if he will betray his country or his friends. When treachery is your mission, where do your loyalties lie?
The Greatest Salesman in the World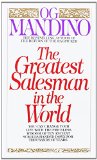 What you are today is not important... for in this runaway bestseller you will learn how to change your life by applying the secrets you are about to discover in the ancient scrolls.
Mandino's main philosophical message is that every person on earth is a miracle and should choose to direct their life with confidence and congruent to the laws that govern abundance.
The Santa Train by Art Fettig [Kindle]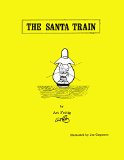 Once upon a time, there was a worn out locomotive that nobody seemed to care about. Except maybe Charlie Weller, who was an old retired railroad engineer. And maybe nobody cared about old Charlie anymore either. At least it often seemed that way to Charlie. He had little to do but sit around and remember the good old days when he would run that ancient train up and down the tracks hauling freight.
The Best Verse of Art Fettig, C.S.P and Friends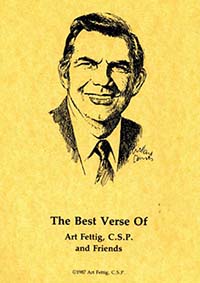 The entire collection of The Best Verse of Art Fettig, C.S.P. and Friends is now available as a PDF download for $2.
You can visit The Shop at Connert Media for full details. You can pay by any major credit or through your PalPal account.