See Categories: Art Fettig |

The Upstairs Room

Art Fettig's Monday Morning Memo
January 30, 2017
800-441-7676 or 919-732-6994
artfettig@aol.com

In this Issue
o The Upstairs Room
o Say Something Good
o Points To Ponder
o A Little Humor
o Quote
o To Subscribe

The Upstairs Room
In our home located just a couple of stone throws outside the quaint and growing town of Hillsborough, NC I have an upstairs room. Until just recently I seldom went upstairs and that was just to get something I have hiding up there or else to play my set of drums. I seldom play more than a couple of songs and I play so poorly I cannot stand listening to myself for long periods of time.

Since I began my new fitness program in October I go up there most days and ride my stationary bicycle for sixteen minutes a day. I have an ancient but good sounding CD player which also plays 33 RPM records and cassette tapes. As I exercise I listen to my old CD's and it has been a wonderful experience. As I ride my bicycle I look around the room and I have been taking time to look at the hundreds of books I have up there. All of the walls are covered with bookcases jammed full of books and other items. I also have a huge collection of educational cassette tape albums, many featuring friends I have made through the National Speakers Association in the past. Occasionally I listen to an old motivational tape and my mind seems to be getting a little sharper with this review of what I once knew.

I am accumulating quite a number of books and tapes which I will soon take to the dump or to a Charity resale store.

Every day I manage to procure just a tiny new space in which to move up there. I have some spaces I've made on the book shelves. I am losing that claustrophobic

feeling I used to get when I went up those stairs. Perhaps if I stick to it for another month there will be some room to breathe.

One might say that my "Stuff Room" was overstuffed. I have half a shelf full of old 33 RPM Vinyl Comedy Records that I hope to get around to listening to. I'm getting eager to find the time to listen to some of that old stuff.

As always, I'd love to hear any of our comments. Click Here to be taken to my blog page.

Say Something Good
Sales at Belks. I don't shop very often but the ad I got online from Belks the other day said buy one pair of pants at regular price and get two pair free. And then before I went offline there was a further offer of 10% my entire purchase. What really cinched my going shopping was the fact that I have taken a couple of inches off my waistline and all of the pants in my wardrobe have this awful baggy look.

I was amazed to find so many things on sale in my size too. I found an amazing outer jacket my size that retailed for $80 and it was on a Red Dot rack and marked down to $20 and there was 10% off that. Let's cut to the quick. I paid $98.87 for my stuff and some stuff for a step-son and the slip says I saved $226.38. When I paid that nice lady at the cash register I was tempted to leave a tip.

May God Bless America and bring us all together as Americans and let there be world peace.

Points To Ponder
It is wise to direct your anger towards problems - not people; to focus your energies on answers - not excuses. William Arthur Ward

A Little Humor
Mini Haiku "Space for just one syl." (c) Art Fettig, 2017

Quote
A life spent making mistakes is not only more honorable, but more useful than a life spent doing nothing. George Bernard Shaw

To Subscribe
Subscribe and unsubscribe at www.artfettig.com




Client Reference(s):
---
comments powered by
---
---
John H. Burdakin and the Grand Trunk Western Railroad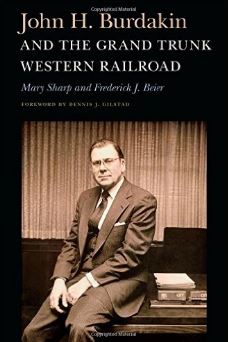 John H. Burdakin and the Grand Trunk Western Railroad provides a look at the principles and personal values that guided John H. Burdakin through a long, successful career as a top manager at three railroads—the Pennsylvania, the Penn Central, and finally the Grand Trunk Western, where he was president of the regional carrier from 1974 to 1986. The book, written from interviews with Burdakin before his death in 2014, gives real-life examples of how Burdakin's management principles and personal qualities helped him solve labor- management problems, update railroad technology, protect worker safety, and improve employee morale while managing a four thousand–person workforce. It introduces colorful characters who were involved in American railroads, as well as the serious, life-threatening issues that confronted railroads in the last half of the twentieth century in America. This book will provide insights for managers of any business as well as for those seeking to balance a successful career and a rewarding home life.
Writing Without Bullshit: Boost Your Career by Saying What You Mean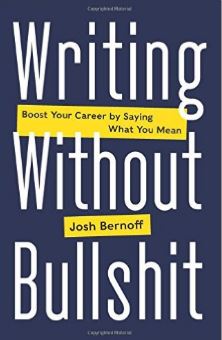 Joining the ranks of classics like The Elements of Style and On Writing Well, Writing Without Bullshit helps professionals get to the point to get ahead.
It's time for Writing Without Bullshit.
Writing Without Bullshit is the first comprehensive guide to writing for today's world: a noisy environment where everyone reads what you write on a screen. The average news story now gets only 36 seconds of attention. Unless you change how you write, your emails, reports, and Web copy don't stand a chance.
In this practical and witty book, you'll learn to front-load your writing with pithy titles, subject lines, and opening sentences. You'll acquire the courage and skill to purge weak and meaningless jargon, wimpy passive voice, and cowardly weasel words. And you'll get used to writing directly to the reader to make every word count.
At the center of it all is the Iron Imperative: treat the reader's time as more valuable than your own. Embrace that, and your customers, your boss, and your colleagues will recognize the power and boldness of your thinking.
Transcend the fear that makes your writing weak. Plan and execute writing projects with confidence. Manage edits and reviews flawlessly. And master every modern format from emails and social media to reports and press releases.
Stop writing to fit in. Start writing to stand out. Boost your career by writing without bullshit.
There Was A Time by George Burlbaugh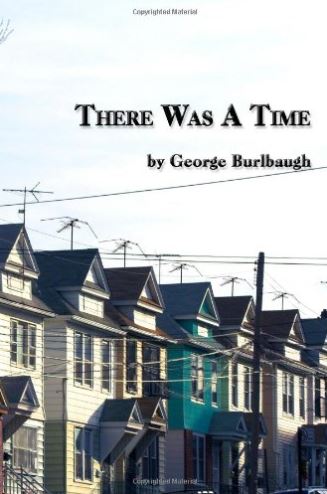 My involvement with television and television news began more than a half century ago, almost by accident. Out of High School, I installed tv antennas, went to Korea in communication intelligence and ended up a tv news director and network news producer. This is a look back at some of the things I remember best.
Trapped in Shades of Grey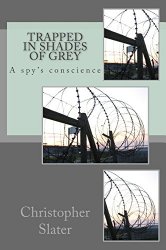 During the trying days of World War II, everyone was called upon to do their patriotic duty. But what if that duty required you to live, eat, sleep, and fight alongside the enemy? Christoph Ernst, the son of German immigrants, is recruited to become a deep cover agent in the German Wermacht. He excels at his assignment as a soldier and a spy. As the war in Europe heats up, he realizes that he has made a huge error- he has made friends and become a part of the army that he is helping to destroy. When the time comes, he is uncertain if he will betray his country or his friends. When treachery is your mission, where do your loyalties lie?
The Greatest Salesman in the World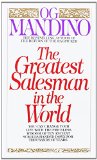 What you are today is not important... for in this runaway bestseller you will learn how to change your life by applying the secrets you are about to discover in the ancient scrolls.
Mandino's main philosophical message is that every person on earth is a miracle and should choose to direct their life with confidence and congruent to the laws that govern abundance.