See Categories: |

Obama Foundation: Pass the Mic

Client Reference(s):
---
comments powered by
---
---
History of Detroit Television, The - DVD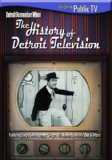 Michael Collins; Actor, Director; Scott Kemp, Director
The History of Detroit Television is more than just a film. It's a living museum, a monument to a time that could easily be forgotten. This program is a salute to a time when TV was as local as Vernors, Sanders Hot Fudge and Hudsons. The stars of the day were Soupy Sales, Van Patrick, Lou Gordon, George Pierrot, Bill Kennedy, Milky The Clown and a host of other colorful characters.
Tales from Michigan Stadium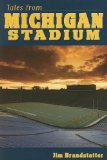 Tales from Michigan Stadium tells the stories of the people who built the tradition of University of Michigan football. These aren't game recaps from the Sunday paper - These stories come from the players who were involved. They come from the practice fields, the locker room, and the inner sanctum of the meeting rooms. The legendary plays - good and bad - are relived by the players who were there and who remember in vivid detail everything that happened - even things fans and coaches don't know.
Porcupine Mountains Wilderness State Park 3rd: A Backcountry Guide for Hikers, Backpackers, Campers and Winter Visitors First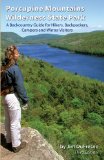 The Porkies, the beloved mountains of the Midwest, are the scenic and rugged heart of the Porcupine Mountains Wilderness State Park in Michigan's Upper Peninsula. This 60,000-acre park features entire rivers, 25 miles of undeveloped Lake Superior shoreline, dozens of waterfalls, wildlife from bald eagles to black bears and the most extensive virgin forest between the Adirondacks and the Rocky Mountains.
Tahquamenon Falls State Park, Michigan - Art Print on Canvas - 40x60 cm, unframed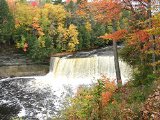 Canvas size 16 x 24 inches, 40 x 60 cm.
Fine Quality Art Print on Canvas - with texture, rich colour and superior materials.
Unframed/ Unstretched. Rolled and shipped in a protective tube.
Dear customers, the posters have varies sizes(40*60cm,50*70cm,60*80cm), Please search the name of product you like in our store and you can get all the sizes of it.
Michigan [America] by Tanya Lloyd Kyi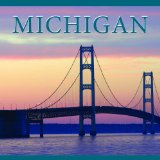 Whether the attraction is historic lighthouses, thriving communities or beautiful parks, Michigan has something to offer any visitor and many surprises for residents.
About the America series:
As expansive as America itself, this outstanding series captures outstanding views of panoramic landscapes, brilliant city skylines, and picturesque communities. Each volume focuses on a city or state and features 96 pages and 70 stunning images by internationally renowned photographers, plus descriptive captions.