See Categories: Art Fettig |

Aunt Jean

Art Fettig's Monday Morning Memo
February 6th , 2017
800-441-7676 or 919-732-6994
artfettig@aol.com

In this Issue
o Aunt Jean
o Say Something Good
o Points To Ponder
o A Little Humor
o Quote
o To Subscribe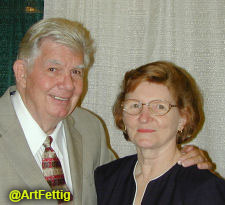 Art and Jean Fettig
Aunt Jean
My wife, Jean, just celebrated her 82nd birthday and the cards and candy and flowers and phone calls and the messages on Facebook - they were inspiring.
Some of those messages written on the cards were so sweet they might make a grown man cry.
I've noticed that some folks without even a hint of kin have takin' to calling her "Aunt Jean." Like, "Aunt Jean sez." No doubt, her sayings will soon start showing up on those Quote sights.
I can just see them now. "Aunt Jean sez take out the garbage." Or maybe, "Aunt Jean says it is time for me to go to the dump." I hear that one a lot lately, especially when I don't go there right away.
In truth Jean can be the sweetest, most caring, patient, attentive, consoling, hardworking, dedicated, generous, kind, soft-spoken, genial, loving woman on this earth.
On the other hand--- Oh, I was just kiddin'. There ain't no other hand. Let's just leave it the way it is and I'll say this.
I sure do love that woman.
My Mama didn't raise no fool.
I'd love to hear your comments or if you want to send a public greating to my wife, Jean, Click Here.
Say Something Good
Toastmasters International. 48 years ago I joined a Toastmasters Club in Battle Creek, Michigan. Fortunately we had a number of older members who did not want to give a 7 minute speech and I would volunteer to do a new one every week. Within six months I had enough material to do a thirty minute after dinner speech. I started getting bookings all over Michigan and thus began my career as a professional speaker. It changed my life. Within a year I got a much better job with the railroad where I worked. I then had the opportunity to use some of my creative talents and I reported directly to the railroad's president. By 1977 I was hired as a professional speaker to do a Keynote Speech at the Toastmaster's International Convention in Toronto, Ontario. The audience was the top 1,000 Toastmasters from all over the world. Today the organization serves over 345,000 members in 142 countries, through its over 15,900 member clubs. There is probably one meeting near you.
Points To Ponder
Times of transition are strenuous, but I love them. They are an opportunity to purge, rethink priorities and be intentional about new habits. We can make our new normal any way we want. Kristin Armstrong
A Little Humor
It is called "middle age" because that is where it shows.
Quote
People need to be reminded far more often than they need to be instructed. Dr. Samuel Johnson
To Subscribe
Subscribe and unsubscribe at www.artfettig.com
Client Reference(s):
---
comments powered by
---
---
John H. Burdakin and the Grand Trunk Western Railroad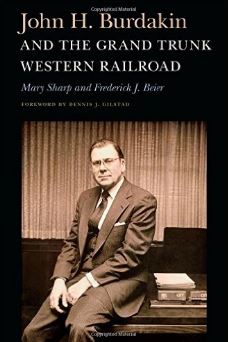 John H. Burdakin and the Grand Trunk Western Railroad provides a look at the principles and personal values that guided John H. Burdakin through a long, successful career as a top manager at three railroads—the Pennsylvania, the Penn Central, and finally the Grand Trunk Western, where he was president of the regional carrier from 1974 to 1986. The book, written from interviews with Burdakin before his death in 2014, gives real-life examples of how Burdakin's management principles and personal qualities helped him solve labor- management problems, update railroad technology, protect worker safety, and improve employee morale while managing a four thousand–person workforce. It introduces colorful characters who were involved in American railroads, as well as the serious, life-threatening issues that confronted railroads in the last half of the twentieth century in America. This book will provide insights for managers of any business as well as for those seeking to balance a successful career and a rewarding home life.
Trapped in Shades of Grey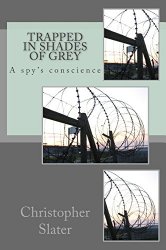 During the trying days of World War II, everyone was called upon to do their patriotic duty. But what if that duty required you to live, eat, sleep, and fight alongside the enemy? Christoph Ernst, the son of German immigrants, is recruited to become a deep cover agent in the German Wermacht. He excels at his assignment as a soldier and a spy. As the war in Europe heats up, he realizes that he has made a huge error- he has made friends and become a part of the army that he is helping to destroy. When the time comes, he is uncertain if he will betray his country or his friends. When treachery is your mission, where do your loyalties lie?
The Greatest Salesman in the World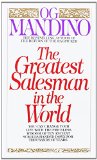 What you are today is not important... for in this runaway bestseller you will learn how to change your life by applying the secrets you are about to discover in the ancient scrolls.
Mandino's main philosophical message is that every person on earth is a miracle and should choose to direct their life with confidence and congruent to the laws that govern abundance.
The Santa Train by Art Fettig [Kindle]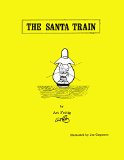 Once upon a time, there was a worn out locomotive that nobody seemed to care about. Except maybe Charlie Weller, who was an old retired railroad engineer. And maybe nobody cared about old Charlie anymore either. At least it often seemed that way to Charlie. He had little to do but sit around and remember the good old days when he would run that ancient train up and down the tracks hauling freight.
Solar Prominences (Astrophysics and Space Science Library)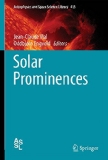 This volume presents the latest research results on solar prominences, including new developments on e.g. chirality, fine structure, magnetism, diagnostic tools and relevant solar plasma physics.
In 1875 solar prominences, as seen out of the solar limb, were described by P.A. Secchi in his book Le Soleil as "gigantic pink or peach-flower coloured flames". The development of spectroscopy, coronagraphy and polarimetry brought tremendous observational advances in the twentieth century. The authors present and discuss exciting new challenges (resulting from observations made by space and ground-based telescopes in the 1990s and the first decade of the 21st century) concerning the diagnostics of prominences, their formation, their life time and their eruption along with their impact in the heliosphere (including the Earth).