See Categories: Art Fettig |

Teaching and Learning

Art Fettig's Monday Morning Memo
March 6, 2017
800-441-7676 or 919-732-6994
artfettig@aol.com

In this Issue
o Teaching and Learning
o Say Something Good
o Points To Ponder
o A Little Humor
o Quote
o To Subscribe

I'd love to stay in touch. Leave your comments on my blog about any thoughts you may have by Clicking Here.

This is an article I wrote back in 2003. I'm often asked what I talked about back then.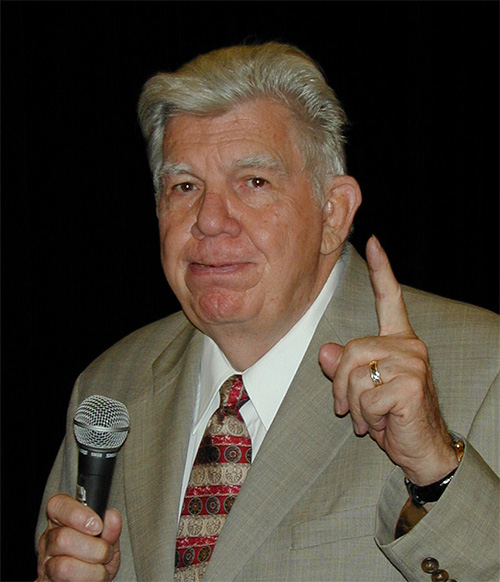 ...I discovered that about half way through a sentence as I was giving a speech...
TEACHING AND LEARNING
I have often heard instructors say that they learn a whole lot more by teaching a subject than the students learn. I gave a three hour presentation in Buffalo recently and as I was speaking I suddenly discovered that I wasn't in the safety field at all. In fact, I guess I never was in the safety field, I just thought I was. I have always been in the people business. For over a half a century now I have been trying to figure out what makes people tick.
Disturbed by our railroad's horrendous safety record I set out to find ways to change behavior and to improve attitudes. I also worked at helping people communicate with one another better. Does any of this sound like safety to you?
What I discovered again and again working with hundreds of safety leaders at national conferences, with major corporations nationwide and worldwide was that if you can help people improve their behavior, their attitudes and their communication skills, then you will suddenly wake up one morning and discover that you have made breakthroughs when it comes to safety.
Now I discovered that about half way through a sentence as I was giving a speech. I had wandered quite a distance from what people generally consider a safety speech. I had nothing on the 5 or 6 or 7 E's of safety. Education, Engineering, Equipment, Enforcement of rules, Ergonomics, Environment, E Gads - you know - the stuff that we all work on in safety. I found myself talking about Mary Poppins and the fact that in any job that's to be done has an element of fun, find it and Zap, the jobs a breeze... That is, finding enjoyment in our work. I work a lot safer when I am enjoying what I am doing.
And I talked about Bloody Mary from the stage play South Pacific. She sang, "You've got to have a dream, if you don't have a dream, how you going to make that dream come true?" And, of course, my dream as always was Zero Injuries. Nobody gets hurt on the job.
I didn't talk about Processes and Audits and I didn't even mention OSHA. So there. And when I shook hands with the audience as they were leaving the hall they all thanked me. They didn't tell me what a great speaker I was or how much they had learned but they said "Thank you," and I knew that they got the message...Work harder because it is required today. Take responsibility for your own safety and that of your fellow worker. You are somebody special.
Everybody but a few engineers in the back row caught on. (Sorry about that.)
Say Something Good
Hillsborough has more Art Galleries in town than Carters has little liver pills. (That is one of my older smilies.) Anyway, we sure do have a lot of them. Art Galleries that is. Margaret Lane Gallery just hosted its opening reception this past weekend with its Butterflies To Train exhibit. I look forward to a visit. Our mayor in town has his own gallery. Most of the old shops downtown are now either restaurants or galleries and creativity in its many forms thrives. Hardly a week passes now that an author resident doesn't release a new novel or such. Some say it is a side effect of our water supply. Personally, since I moved to this area near the turn of the century hardly a day passes that I don't spend hours writing. It is a pure joy for me. My creativity soars. I just hope they don't mess with our water supply. May God Bless America and bring us world peace.
Points To Ponder
The proactive approach to a mistake is to acknowledge it instantly, correct and learn from it. Stephen Covey
A Little Humor
Officer: "Soldier, do you have change for a dollar?"
Soldier: "Sure buddy."
Officer: "That is no way to address an officer? Now let's try it again. "Soldier, do you have change for a dollar?"
Soldier. ""No, Sir!"
Quote
If we had no winter, the spring would not be so pleasant: if we did not sometimes taste of adversity, prosperity would not be so welcome. Anne Bradstreet
To Subscribe
Subscribe and unsubscribe at www.artfettig.com
Client Reference(s):
---
comments powered by
---
---
John H. Burdakin and the Grand Trunk Western Railroad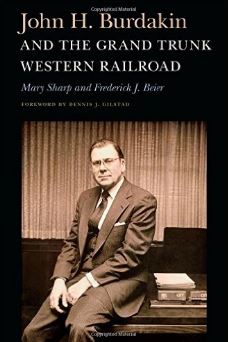 John H. Burdakin and the Grand Trunk Western Railroad provides a look at the principles and personal values that guided John H. Burdakin through a long, successful career as a top manager at three railroads—the Pennsylvania, the Penn Central, and finally the Grand Trunk Western, where he was president of the regional carrier from 1974 to 1986. The book, written from interviews with Burdakin before his death in 2014, gives real-life examples of how Burdakin's management principles and personal qualities helped him solve labor- management problems, update railroad technology, protect worker safety, and improve employee morale while managing a four thousand–person workforce. It introduces colorful characters who were involved in American railroads, as well as the serious, life-threatening issues that confronted railroads in the last half of the twentieth century in America. This book will provide insights for managers of any business as well as for those seeking to balance a successful career and a rewarding home life.
Trapped in Shades of Grey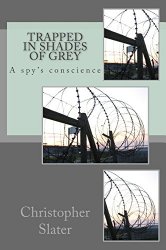 During the trying days of World War II, everyone was called upon to do their patriotic duty. But what if that duty required you to live, eat, sleep, and fight alongside the enemy? Christoph Ernst, the son of German immigrants, is recruited to become a deep cover agent in the German Wermacht. He excels at his assignment as a soldier and a spy. As the war in Europe heats up, he realizes that he has made a huge error- he has made friends and become a part of the army that he is helping to destroy. When the time comes, he is uncertain if he will betray his country or his friends. When treachery is your mission, where do your loyalties lie?
The Greatest Salesman in the World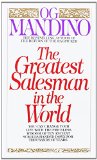 What you are today is not important... for in this runaway bestseller you will learn how to change your life by applying the secrets you are about to discover in the ancient scrolls.
Mandino's main philosophical message is that every person on earth is a miracle and should choose to direct their life with confidence and congruent to the laws that govern abundance.
The Santa Train by Art Fettig [Kindle]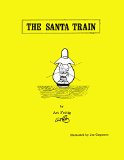 Once upon a time, there was a worn out locomotive that nobody seemed to care about. Except maybe Charlie Weller, who was an old retired railroad engineer. And maybe nobody cared about old Charlie anymore either. At least it often seemed that way to Charlie. He had little to do but sit around and remember the good old days when he would run that ancient train up and down the tracks hauling freight.
The Best Verse of Art Fettig, C.S.P and Friends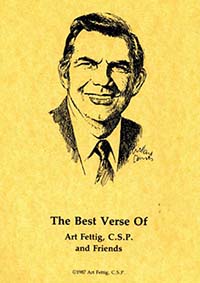 The entire collection of The Best Verse of Art Fettig, C.S.P. and Friends is now available as a PDF download for $2.
You can visit The Shop at Connert Media for full details. You can pay by any major credit or through your PalPal account.