See Categories: Arizona Equality |

This Could Happen in Arizona

Jack and Bob were together for more than 50 years. When Bob died, the funeral home refused to accept his body after learning he was married to Jack. Can you imagine a crueler time to discriminate against a person than when they're grieving the loss of a spouse?

References:
Lambda Legal, May 2, 2017 - Dishonored in Death: Jack's Story (Youtube.com)
Client Reference(s):
---
comments powered by
---
---
Tim on Broadway: Magical Realism Romance, Gay Drama, Gay Romance LGBT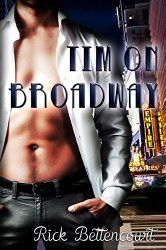 Tim loves drama and plays. Fired from the grocery store because he got caught with a hotter-than-Hades bagger, Tim Benton is down on his luck. While he's obsessed with getting tickets for a once-in-a-lifetime show, he can't keep his mind off Javier, the bad-boy who's straighter than the arrow piercing his heart. TIM ON BROADWAY is a coming of age gay romance, played out in New York City, Maine, and Salem, Massachusetts. It explores ideas about one's place in the world, and will having you laughing, crying, and cheering for Tim. His office antics will entertain and humor you. Magical realism at its best: A diva, psychic happenings, and a real Salem witch help Tim to find himself along the way. This is a stand-alone novel with about 75,000 words and was nominated for a 2014 Lambda Literary Award in gay romance.