See Categories: Art Fettig |

Memorial Day

Art Fettig's Monday Morning Memo
May 29, 2017
800-441-7676 or 919-732-6994
artfettig@aol.com

In this Issue
o Memorial Day
o Say Something Good
o Points To Ponder
o A Little Humor
o Quote
o To Subscribe

Memorial Day
So many years ago in the last 70's just a few days before Memorial Day I received a call from a director at WKZO TV in Kalamazoo. He invited me to be a guest on his TV program and pay tribute to Veterans. At the end of the Viet Nam War it seemed that most people would like to forget all about war and some even felt that way about veterans, it seemed. I struggled with my message for some time but finally came up with A Letter To Max. Later I was honored to speak at the National Convention of the Purple Heart Association and following that this was published in the national Purple Heart Magazine.

I arrived at the TV Station early and found a very creative director and he pulled up a great version of Taps and played it just before I started reading. He"d pulled up a number of shots of Korea and fighting men and even Arlington Cemetary and the crosses on the graves and he did a great job of matching the photos with the reading I did.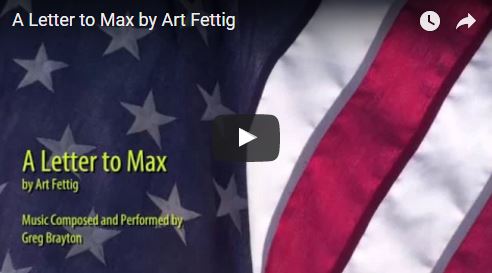 A Letter to Max
© Art Fettig
Dear Max,
It's Memorial Day and I'm thinking about Korea and about you, Max. You and those other G.I's they carried off on liters from that damn, beat-up powder-topped hill we called Old Baldy. We were fighting so that the world would be safe for democracy. Maybe we did a lousy job of it Max, because people are still killing each other for the same reason.
Oh, I remember you Max. You didn't talk much, but we spent every moment together, sitting in that stinkin' bunker, through those long nights. We took turn on watch, putting our lives in each other's hands for a couple of hours sleep.
Max, I remember how we went without food for two days because somebody screwed up in our supply lines. Finally, I got so disgusted that I crawled up to the Command Post. While I was there those rounds came in.
Later, when I went back to our bunker, I found you Max. You and that other guy I'd never known before. I guess he was just passing by when that barrage came in and he jumped into our hole and he met death there for me.
So I'm still here to remember you Max; you and that other guy and that beat up hill where we chose to meet the enemy and say, "Hold it! We've come to make this world safe for democracy." They didn't listen, Max, and they killed you.
Max, I've got the feeling that maybe we made that trip overseas in vain. That the place to make the world safe for democracy is right here and the time is right now. What we've really got to remember today is that war is hell and that death is real and what the world needs right now, Max, is love. Love and a lot more love. Not a lot of men running across oceans to make the world safe for democracy.
You didn't say very much, Max, but I remember what you did say. It seemed pretty corny right then. You said, "Man must learn to love his fellow man."
Max, it is finally beginning to make sense to me. Like you said, Max, Love is the answer.
Signed,
Your buddy


As always, I would love to hear your comments. Please Click Here to leave them on my Blog.
Say Something Good
The Beach. We live about half way from the mountains and the beach. Here are some of the NC mountains.
Here are the top ten NC beaches for 2017 https://www.tripping.com/explore/the-10-best-beaches-in-north-carolina Of course everyone has their favorite beach and many are not on this list.
About noon on Friday's, thousands of North Carolina folks leave work so they might head for the mountains or head for the beach. Like they sing in Fiddler on the Roof, it is a "TRADITION".
My sweet wife Jean and I recently returned from Atlantic Beach and we feel renewed. Ask me what I liked best I would secretly confess to you that I love those Dilly Bars at DQ. I guess I am an ordinary man. A Bo Jangles biscuit in the morning and a Dilly Bar in the afternoon and throw in the beauty and the sound of the Atlantic Ocean and I am content. May God Bless America and let their be world peace.
Points To Ponder
(About combat.) Out of every one hundred men, ten shouldn't even be there, eighty are just targets, nine are the real fighters, and we are lucky to have them, for they make the battle. Ah, but the one, one is a warrior, and he will bring the others back. Heraclitus
A Little Humor
Robber, "Your money or your life." Silence. Robber, "Your money or your life."
Jack Benny. "I'm thinking. I'm thinking."
Quote
Work hard, be kind, and amazing things will happen. Conan O'Brien
To Subscribe
Subscribe and unsubscribe at www.artfettig.com
Client Reference(s):
---
comments powered by