See Categories: Art Fettig |

Bosses

Art Fettig's Monday Morning Memo
June 26, 2017
800-441-7676 or 919-732-6994
artfettig@aol.com

In this Issue
o Bosses
o Say Something Good
o Points To Ponder
o A Little Humor
o Quote
o To Subscribe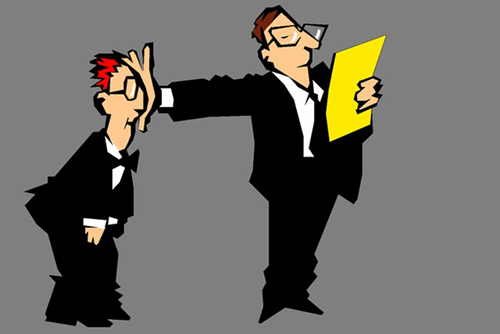 "I told my boss where he could shove it."
Bosses
I was just sitting here thinking of the bosses I have had in my life. I guess you might say that every person I ever worked for was, in a way, a boss. It was my job to keep them happy. Then if you wanted to stretch things you might say it was my job to keep audiences happy too if I wanted recommendations and referrals. With another stretch of the imagination you might say that it was my job during my working career to keep hundreds of thousands of people satisfied.
I can only recall one really dissatisfied client and darned if they didn't call and invite me back two years later. I declined.
The truth without stretching it is that once I and my family moved in 1961 from Detroit to Battle Creek, Michigan I always considered myself sort of a "free agent." My boss was located 112 miles away and I only saw him once or twice a year. Somehow I managed to keep all of my railroad bosses that same 112 miles away from me right up until my retirement in 1983.
When I hear people talking badly about a miserable, inconsiderate, demanding boss they must deal with on a daily basis all I can relate to is a produce manager in the Varsity Market in Detroit who I worked with one summer just before I turned thirteen years of age. In that case after weeks of abuse and being shorted on my actual hours, like the lyrics of that song say, "I told my boss where he could shove it."
Before this moment, I never realized how blessed my life has been without having a boss hanging around my elbow.
Thanks for leaving your comments. If you have a story about a good boss, you can leave it on my blog by Clicking Here.
Say Something Good
Caps: I was dining alone at a local burger haven and as I sat watching the cars go by a little man came in and sat at the next table. He wore one of those veteran's caps with a row of ribbons and a combat rifleman's badge and the cap said "World War II". The man inside the cap looked to be just about four foot nine inches tall to me. Really a small man and he just didn't look old enough or tall enough to have been in World War II. I smiled and said "Hey" to him and asked him how old he was. He smiled back and I swear there was a youthful twinkle in his eye as he said he was 93. His first name was Bryan and he explained to me that he was just five foot tall when he went in the Army in 1944. He smiled and said, "I've been shrinking." Nice guy. We swapped stories for over an hour. We traded some old jokes and had a fine ole time. Sadly, most of the WW ll Vets I've known are gone now. Happily, this guy being about five years older than I am and talking sharp as a tack and full of life and all really gave me a boost. I will be just 88 in a few days and this guy is 93. He's still driving his pick-up and taking care of himself and he was in pretty good spirits, God bless him. And may God bless America too and bring us world peace.
Points To Ponder
Leadership is not about a title or a designation. It's about impact, influence and inspiration. Impact involves getting results, influence is about spreading the passion you have for your work, and you have to inspire team-mates and customers. - Robin S. Sharma
A Little Humor
Cowboy wisdom. Lettin' the cat outta the bag is a whole lot easier than puttin' it back in.
Quote
Let us be grateful to people who make us happy, they are the charming gardeners who make our souls blossom. Marcel Proust
To Subscribe
Subscribe and unsubscribe at www.artfettig.com
Client Reference(s):
---
comments powered by
---
---
John H. Burdakin and the Grand Trunk Western Railroad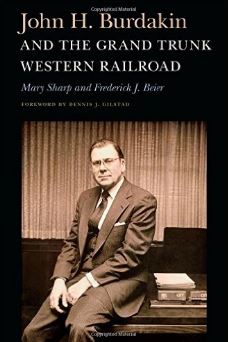 John H. Burdakin and the Grand Trunk Western Railroad provides a look at the principles and personal values that guided John H. Burdakin through a long, successful career as a top manager at three railroads—the Pennsylvania, the Penn Central, and finally the Grand Trunk Western, where he was president of the regional carrier from 1974 to 1986. The book, written from interviews with Burdakin before his death in 2014, gives real-life examples of how Burdakin's management principles and personal qualities helped him solve labor- management problems, update railroad technology, protect worker safety, and improve employee morale while managing a four thousand–person workforce. It introduces colorful characters who were involved in American railroads, as well as the serious, life-threatening issues that confronted railroads in the last half of the twentieth century in America. This book will provide insights for managers of any business as well as for those seeking to balance a successful career and a rewarding home life.
Trapped in Shades of Grey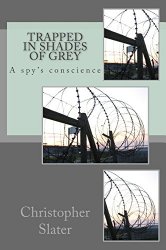 During the trying days of World War II, everyone was called upon to do their patriotic duty. But what if that duty required you to live, eat, sleep, and fight alongside the enemy? Christoph Ernst, the son of German immigrants, is recruited to become a deep cover agent in the German Wermacht. He excels at his assignment as a soldier and a spy. As the war in Europe heats up, he realizes that he has made a huge error- he has made friends and become a part of the army that he is helping to destroy. When the time comes, he is uncertain if he will betray his country or his friends. When treachery is your mission, where do your loyalties lie?
The Greatest Salesman in the World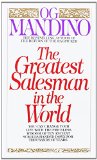 What you are today is not important... for in this runaway bestseller you will learn how to change your life by applying the secrets you are about to discover in the ancient scrolls.
Mandino's main philosophical message is that every person on earth is a miracle and should choose to direct their life with confidence and congruent to the laws that govern abundance.
The Santa Train by Art Fettig [Kindle]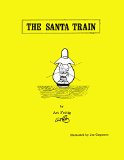 Once upon a time, there was a worn out locomotive that nobody seemed to care about. Except maybe Charlie Weller, who was an old retired railroad engineer. And maybe nobody cared about old Charlie anymore either. At least it often seemed that way to Charlie. He had little to do but sit around and remember the good old days when he would run that ancient train up and down the tracks hauling freight.
The Best Verse of Art Fettig, C.S.P and Friends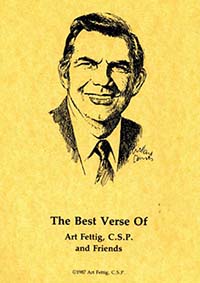 The entire collection of The Best Verse of Art Fettig, C.S.P. and Friends is now available as a PDF download for $2.
You can visit The Shop at Connert Media for full details. You can pay by any major credit or through your PalPal account.