See Categories: Art Fettig |

My First Published Book

Art Fettig's Monday Morning Memo
July 24th, 2017
800-441-7676 or 919-732-6994
artfettig@aol.com

In this Issue
o My First Published Book
o Say Something Good
o Points To Ponder
o A Little Humor
o Quote
o To Subscribe

My First Published Book
In 1973 I had my first book published. I went to church one morning and they had a guest speaker who was endeavoring to sell us subscriptions to Liguorian Magazine. He was introduced by our pastor as the Editor of Liguorian Press. As I listened, the wheels in my head started spinning around and right after mass I walked back the adjoining pastor's home and asked to meet the visitor.

I cut right to the quick, "Father, how would you like to publish a humor book about raising kids today? About being an usher, a Dad, and such." I watched him closely and saw his eyes light up.

"How soon could you deliver it?" He asked. "I had another guy who was working on a similar theme and I've been waiting for three years and he hasn't delivered it yet."

"What time are you leaving?" I asked. He said "Three o'clock." I said, "I'll bring it to you by then."

I rushed home. I didn't have such a book but I had an idea where I could get one. I went up in our attic where I had my office. I pulled out a stack of articles I'd written and sold to other magazines and then I had a bigger stack of humor articles I'd written which had been rejected thus far, 29 articles in all. I headed for my office at the railroad depot where I worked. I arrived in my office and went straight to my typewriter. I typed out the title sheet for the book. It read "It Only Hurts When I Frown. A Funny, Happy, Loving Look at Life." Art Fettig

Then I wrote the material for the back cover. That done, I took the whole mess into the Train Dispatcher's Office where they had a big Xerox Machine I could use. Almost two hours later I had made two copies of nearly 200 typed pages of manuscript. I rushed back into my office, typed out a page with my address, phone numbers and such and then headed out to my car for a quick trip to the Pastor's house. I believe it was twelve minutes to three when I delivered my finished manuscript to that Editor, Father Farrell. He looked at me and said, "I was just getting ready to leave."

I handed him the box containing my book. He sat down patiently and read the title. He smiled. Then he read the first article and laughed twice. He flipped through a number of articles and he was smiling all the way. Then he got up, shook my hand and said, "I will contact you later in the week."

He did, and said "I will send you a contract." They published 3,000 copies and sold them all. Then I took over publishing the book myself and we went through three more editions.

When people ask me how long it took me to put together my first book I tell them, "Oh, once I got the idea I did it in about two hours."

Say Something Good
Conversation. With cell phones, texting, and so many other tech possibilities for communication saturating our lives today it really is a treat for me to sit down with a live person and have a good two way conversation. I've had some really great laughing sessions these past few days just sitting down with an acquaintance for a while and then signing off live with a warm handshake. May God Bless America and keep our troops safe from harm.

Points To Ponder
Life is not easy for any of us. But what of that? We must have perseverance and above all confidence in ourselves. We must believe that we are gifted for something and that this thing must be attained. Marie Curie

A Little Humor
GOD'S SENSE OF HUMOR. While creating wives, God promised men that obedient wives would be found in all corners of the world. And then He made the earth round.

Quote
Those who can make you believe absurdities can make you commit atrocities. Voltaire

To Subscribe
Subscribe and unsubscribe at www.artfettig.com

Client Reference(s):
---
comments powered by
---
---
Being-In, Being-For, Being-With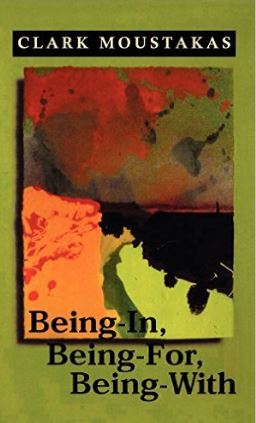 This text examines a series of pervasive themes of human existence and the challenges of being and relating. Areas investigated include: the nature and meaning of being different; possessiveness and being possessed; and dimensions of loneliness, mystery and self-disclosure.
John H. Burdakin and the Grand Trunk Western Railroad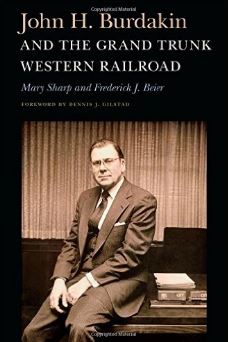 John H. Burdakin and the Grand Trunk Western Railroad provides a look at the principles and personal values that guided John H. Burdakin through a long, successful career as a top manager at three railroads—the Pennsylvania, the Penn Central, and finally the Grand Trunk Western, where he was president of the regional carrier from 1974 to 1986. The book, written from interviews with Burdakin before his death in 2014, gives real-life examples of how Burdakin's management principles and personal qualities helped him solve labor- management problems, update railroad technology, protect worker safety, and improve employee morale while managing a four thousand–person workforce. It introduces colorful characters who were involved in American railroads, as well as the serious, life-threatening issues that confronted railroads in the last half of the twentieth century in America. This book will provide insights for managers of any business as well as for those seeking to balance a successful career and a rewarding home life.
Writing Without Bullshit: Boost Your Career by Saying What You Mean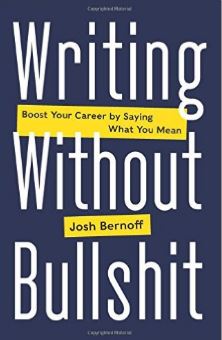 Joining the ranks of classics like The Elements of Style and On Writing Well, Writing Without Bullshit helps professionals get to the point to get ahead.
It's time for Writing Without Bullshit.
Writing Without Bullshit is the first comprehensive guide to writing for today's world: a noisy environment where everyone reads what you write on a screen. The average news story now gets only 36 seconds of attention. Unless you change how you write, your emails, reports, and Web copy don't stand a chance.
In this practical and witty book, you'll learn to front-load your writing with pithy titles, subject lines, and opening sentences. You'll acquire the courage and skill to purge weak and meaningless jargon, wimpy passive voice, and cowardly weasel words. And you'll get used to writing directly to the reader to make every word count.
At the center of it all is the Iron Imperative: treat the reader's time as more valuable than your own. Embrace that, and your customers, your boss, and your colleagues will recognize the power and boldness of your thinking.
Transcend the fear that makes your writing weak. Plan and execute writing projects with confidence. Manage edits and reviews flawlessly. And master every modern format from emails and social media to reports and press releases.
Stop writing to fit in. Start writing to stand out. Boost your career by writing without bullshit.
100% Employee Engagement Guaranteed! (Revised Edition): Introducing a New Management Model [Kindle Edition]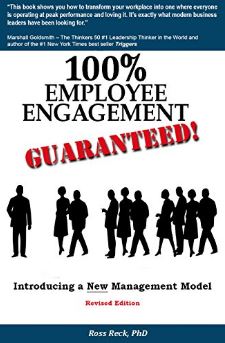 Imagine a workplace where every employee is engaged with their work ... where every employee shows up each day excited about giving every bit of energy, creativity and passion to performing their job. These employees don't need to be motivated because they already are and they channel their motivation toward creating a competitive edge for their company that can't be easily copied. They're constantly making innovative changes to products, services and customer experiences while providing superior levels of customer service which results in loyal customers. This means higher levels of repeat and referral business which, in turn, translates into significant increases in market share. In addition, absenteeism and turnover rates for these fully engaged employees are far below industry averages because they absolutely love what they do. This book presents a new management model that guarantees an employee engagement level of 100%. If you implement this model in your organization, every one of your employees will become engaged with their work; all working at their full potential. Think of what it would mean to the success of your business or organization if you could get all of your employees engaged with their work.
The Secret Life of Pets Little Golden Book (Secret Life of Pets)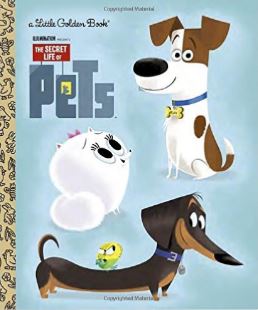 This Little Golden Book peeks into Illumination Entertainment and Universal Pictures' The Secret Life of Pets, a comedy about the lives our pets lead after we leave for work or school each day. It's perfect for boys and girls ages 2 to 5!