See Categories: Art Fettig |

My Songs and Memories

My Monday Morning Memo
February 12, 2018
919-732-6994
artfettig@aol.com

In This Issue
o My Songs and Memories
o Say Something Good
o Points to Ponder
o A Little Humor
o Quote
o To Subscribe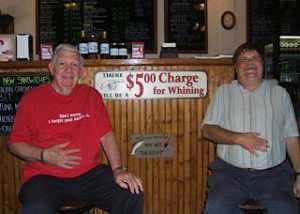 My Songs and Memories
I've been using CD's with the songs I have written in the past in live presentations with Senior groups recently. . Most of these songs were taped by a musical genius named Greg Brayton. I wrote them and we recorded them from 1997 to 2001. I also use a few songs for children I'd recorded earlier. Recently I was reading the chronological list of the my recorded songs and trying to recall where I was when I wrote the songs or where I was when we first introduced them to an audience. It turned into a real adventure for me.
First Alaska popped into my head. I wrote Boo Coo Caribou in Prudhoe Bay up near the Arctic Circle. Latino Lover popped into my head in the airport at Mexico City. Greg introduced our song Garage Sailin' at the Opera House in Clearwater, Michigan. There was Have a Good Life I wrote in Panama City, Florida and And It Rained and it Rained at Ocean Beach on the Atlantic Ocean in North Carolina. One of my very first songs was written on a troop ship bringing us back from Korea. It was titled Goodbye Yokahama Hello Frisco and I sang it on deck with our group called The Happiness Boys in 1953 ( I sang quietly because I never could carry a tune.) The troops had us do encores at each show. I have tapes of over 60 songs to choose from still All America is So Beautiful is my favorite and I guess I researched that song for many years visiting all of our 50 States but it came together in June 1999 as I traveled between Battle Creek, Michigan and Hillsborough, North Carolina courting Jean. Last week, right here in Hillsborough I played my song titled Don't Wait Too Long To Make Your Dreams Come True and every toe in that room was tappin' to that blues rhythm and every voice was chantin' back to me "Don't wait too long." And yes, all was right with the world and all of the worries I had carried into that room, for a while at least, vanished from my mind.
Click Here to listen to Don't Wait Too Long. I'd love to hear what you think. Please leave your comments on my blog.
Say Something Good
Bein' Alive! Bein' Alive! When I signed up for Social Security in 1943 I asked the question "When can I start collecting on this?" And they replied, "When you are 65." And then I asked "What is my life expectancy?" And they said "65." I said, "This sounds like a government thing." And t was and so, at 88, every day I wake up singing that Bee Gees song "Stayin' Alive! Stayin' Alive!" I never expected much in the way of longevity. Every day is a blessing. May God bless America and help us find world peace.
Points to Ponder
Life is a process of becoming, a combination of states we have to go through. Where people fail is that they wish to elect a state and remain in it. This is a kind of death.Anais Nin
A Little Humor
After 12 years of therapy my psychiatrist said something that brought tears to my eyes. He said, "No hablo Ingles." Ronnie Shakes
Quote
You have not lived today until you have done something for someone who can never repay you John Bunyan
Subscribe
Subscribe and unsubscribe at www.artfettig.com
Client Reference(s):
---
comments powered by
---
---
John H. Burdakin and the Grand Trunk Western Railroad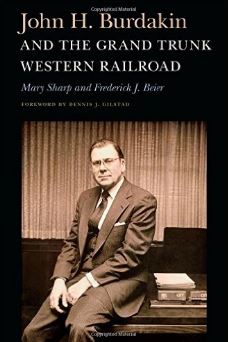 John H. Burdakin and the Grand Trunk Western Railroad provides a look at the principles and personal values that guided John H. Burdakin through a long, successful career as a top manager at three railroads—the Pennsylvania, the Penn Central, and finally the Grand Trunk Western, where he was president of the regional carrier from 1974 to 1986. The book, written from interviews with Burdakin before his death in 2014, gives real-life examples of how Burdakin's management principles and personal qualities helped him solve labor- management problems, update railroad technology, protect worker safety, and improve employee morale while managing a four thousand–person workforce. It introduces colorful characters who were involved in American railroads, as well as the serious, life-threatening issues that confronted railroads in the last half of the twentieth century in America. This book will provide insights for managers of any business as well as for those seeking to balance a successful career and a rewarding home life.
Trapped in Shades of Grey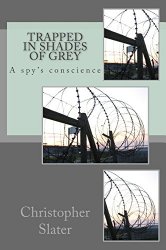 During the trying days of World War II, everyone was called upon to do their patriotic duty. But what if that duty required you to live, eat, sleep, and fight alongside the enemy? Christoph Ernst, the son of German immigrants, is recruited to become a deep cover agent in the German Wermacht. He excels at his assignment as a soldier and a spy. As the war in Europe heats up, he realizes that he has made a huge error- he has made friends and become a part of the army that he is helping to destroy. When the time comes, he is uncertain if he will betray his country or his friends. When treachery is your mission, where do your loyalties lie?
The Greatest Salesman in the World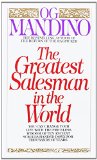 What you are today is not important... for in this runaway bestseller you will learn how to change your life by applying the secrets you are about to discover in the ancient scrolls.
Mandino's main philosophical message is that every person on earth is a miracle and should choose to direct their life with confidence and congruent to the laws that govern abundance.
The Santa Train by Art Fettig [Kindle]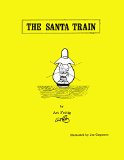 Once upon a time, there was a worn out locomotive that nobody seemed to care about. Except maybe Charlie Weller, who was an old retired railroad engineer. And maybe nobody cared about old Charlie anymore either. At least it often seemed that way to Charlie. He had little to do but sit around and remember the good old days when he would run that ancient train up and down the tracks hauling freight.
The Best Verse of Art Fettig, C.S.P and Friends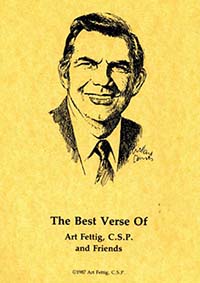 The entire collection of The Best Verse of Art Fettig, C.S.P. and Friends is now available as a PDF download for $2.
You can visit The Shop at Connert Media for full details. You can pay by any major credit or through your PalPal account.