See Categories: WXYZ | Terry Pochert | Media Staff/Alumni |

Pochert, Terrel L 'Terry'

AM/FM/TV Engineering, News editing supervisor.

Before joining WXYZ in 1972, Terry worked with the American Forces Radio and Television Network (American Forces Thailand Network).

News:

Sightings:

Client Reference(s):
---
Bill Bonds with Mina Schultz-Pochert
Bill Bonds speaking at a conference of senior citizens in Macomb County on September 10, 1991. While there, Bill met Mina Schultz-Pochert, mother of WXYZ Editing Supervisor, Terry Pochert.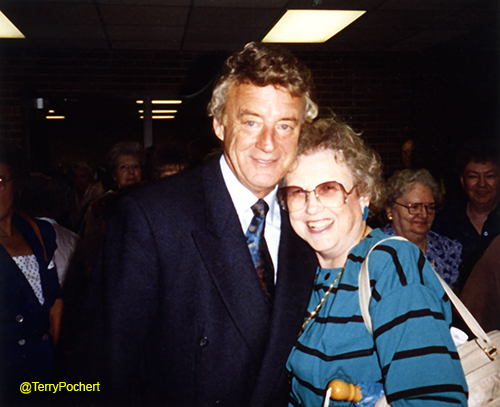 Bill Bonds with Mina Schultz-Pochert, mother of WXYZ Editing Supervisor, Terry Pochert
---
Terry Pochert Testing New Editing Equipment
We really shouldn't use the word "new" editing equipment since this picture was taken in 1992. This shows Terry Pochert checking out new equipment for possible purchase.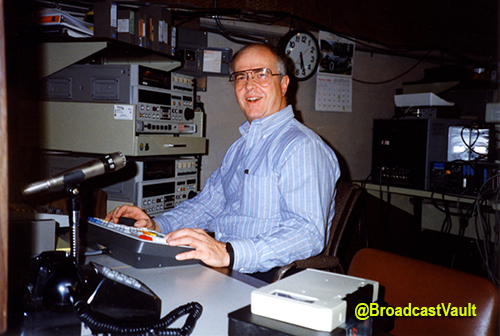 Terry Pochert - From the Terry Pochert retirement collection
---
Sgt. Terry Pochert - Korat RTAFB, Thailand
Stationed at Korat RTAFB, Thailand, Terry Pochert worked the American Forces Radio and Television Service with the Air Force Thailand Network. This picture is taken outside the Network and Local Station Buildings. in the upper right corner is the trailer which housed the TV Projection and Control Equipment.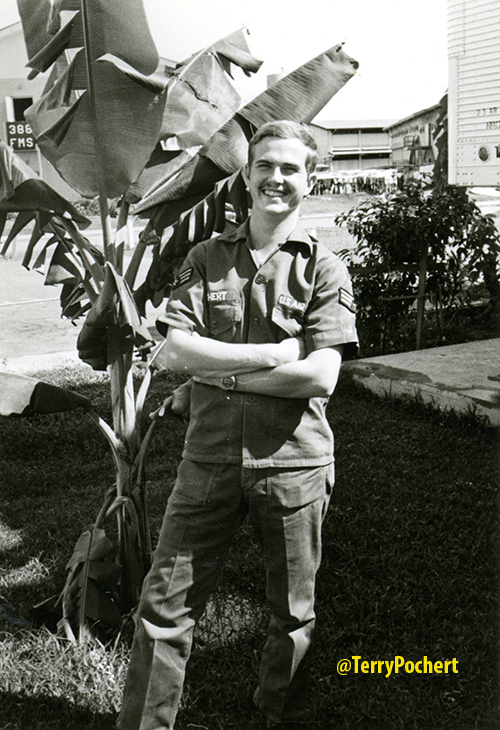 Terry Pochert - Korat RTAFB, Thailand, 1970
---
Terry Pochert Working the with 'New' Convergence Editor in 1978
During the first years of linear editing with U-Matic 3/4" tape, WXYZ used equipment made by Convergence. Very basic, but it worked making WXYZ-TV a pioneer in ENG (Electronic New Gathering) in the Detroit market.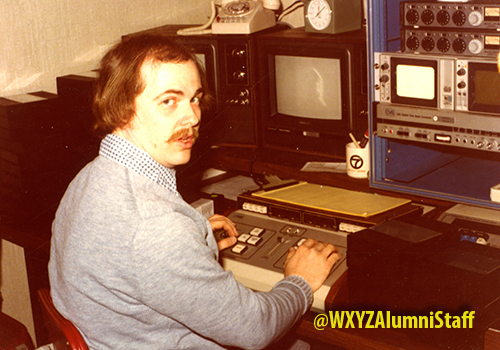 Terry Pochert
---
WXYZ Staff Ski Trip to Lower Northern Michigan
One of the many staff outings that the staff of WXYZ went on during the 1970s and 1980s. There was a strong sense of "family" and cooperation as they not only worked together, but played together.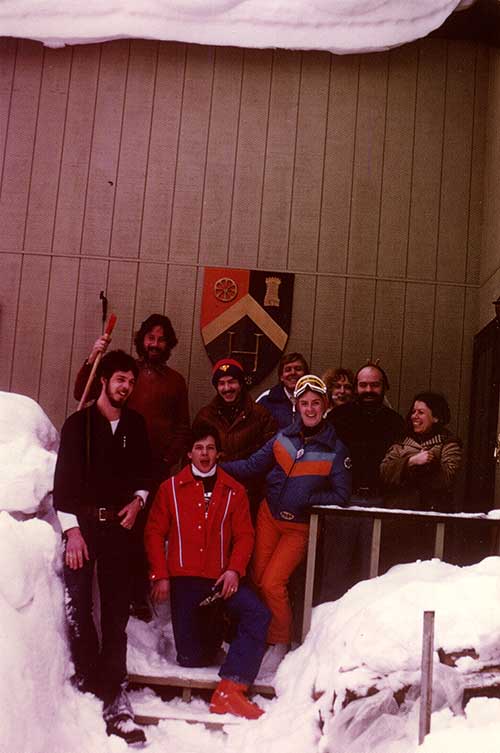 ?????, Jeff Pekarek, Curt Briggs, Bill Becker, Steve Lawrence, ?????, ?????, Joe Wexler, Debbie Wexler - Photo by Terry Pochert
---
Terry Pochert while Working at the 1984 Olympics
A few great shots while working at the 1984 Summer Olympics in Los Angeles, California.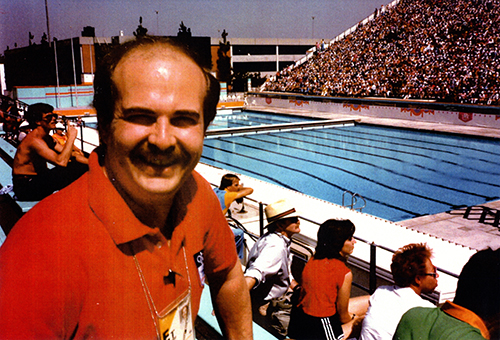 Terry Pochert working at the 1984 Summer Olympics in Los Angeles, California. Photo by John Gross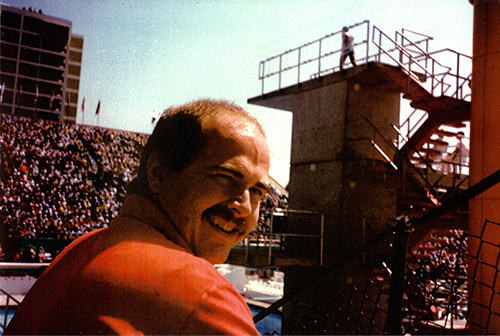 Terry Pochert at the1984 Summer Olympics watching Greg Louganis. Photo by John Gross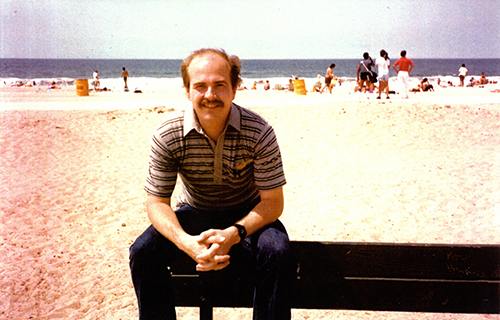 Terry Pochert taking a break at the beach during the 1984 Summer Olympics. Photo by John Gross.
---
New Year's Eve at the WXYZ Newsroom - Circa 1990s
Durig the 1980s and 1990, the WXYZ was always a buzz with activity. The most amazing thing during this period was the family atmosphere that was held by all the employees. There were many potlucks, employee gatherings and get togethers after the newscasts. This particular evening was after the 11pm newscast and just before midnight when a few of the employees gathered around for some cheer. And, no, it wasn't alcohol... it was a bit of apple cider that one of the producers brought in to help celebrate.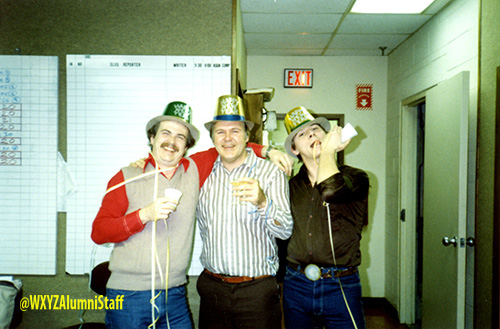 Terry Pochert, John Gross and John Armand
---
Happy New Year 1981 - WXYZ Studios
Celebrating the coming of the new near just before midnight on December 31, 1981, after the 11pm news. Yes, those are real typewriters in the foreground.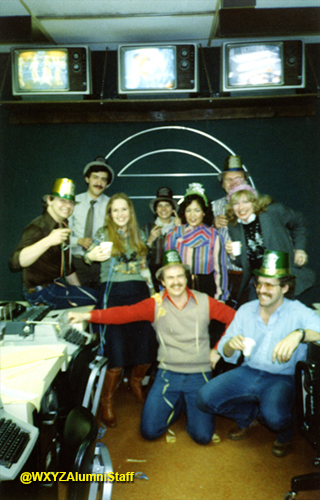 John Armand, Steve Kremer, Wanda Doerner, Barbara Horner, Dayna Eubanks, John Gross, Diana Charles
Terry Pochert, Rick Eyler

---
Vince Wade Remembers and Comments on the Legacy of Bill Bonds
Vince Wade, a long-time investigated reporter with WXYZ-TV and friend of Bill Bonds, writes a very heart-felt commentary on Bill Bonds. Thousands of comments have been posted about Bill, but not hit home as hard as Vince's message. Vince Wade writes...
I had the unique and memorable experience of working with Bill Bonds for many years. In the 70s at the height of Bill's ratings success a Channel 7 news producer made a savvy observation; if you buy his act, the producer said, Bill is the best in the business at what he does. Indeed he was. Detroit bought Bill's act for a long time. My theory is thousands of Detroit factory rats, as many auto workers described themselves, identified with Bill's on-air antics. They knew if they had a bully pulpit like Bill that they, too, would wear expensive but often garish clothes, that they, too, would spout off about the news just as they heard Bill doing. In his ad-libbed comments Bonds was doing what they did so many nights at some watering hole where they were having an end-of-shift shot and a shell (liquor with a beer chaser) while watching the news on the TV screen above the bar. Bill was one of them.

Bombastic Billy was smart and well-read. He knew what he was talking about. One night in the 70s during a national political convention ABC News decided to cut away for local news an hour early. Channel 7's late-news producer didn't get the message. Suddenly, with three minutes' warning, ABC anchor Howard K. Smith said they would be cutting away for local news. The Channel 7 newsroom was in total panic. The anchors raced to the studio. The newscast elements were not ready. As Bill put his mic on he said, "I have no scripts. I have no rundown (of the sequence of stories)." The floor director signaled he was now live. Bill said good evening and ad-libbed for two or three minutes while the staff scrambled to get scripts to the anchors and film clips in the projectors. At home, the audience probably thought Bill was ad-libbing just a little more than usual. Bonds was so keen on the business of news that he could tell the audience the news without a script. Very few news anchors then or now could do what Bill did that night.

Bill fought the demons of alcoholism his entire life. He lived his own private hell over the death of his daughter in a collision with a drunk driver. One time we shared a camera crew in Europe for separate assignments and late at night I would hear Bill in the next room loudly chastising himself over his daughter's death while he paced the room in drunken agony.

There will be many stories told this week about Bill Bonds. But none of them will capture his uniqueness as a communicator. None of the tales will capture his magnetism, his ability to reach through the camera and grab you by your lapels and say, 'Listen to me. This is news you need to know.' - Vince Wade
---
---
1988 Democratic National Convention - WXYZ Team - July 20, 1988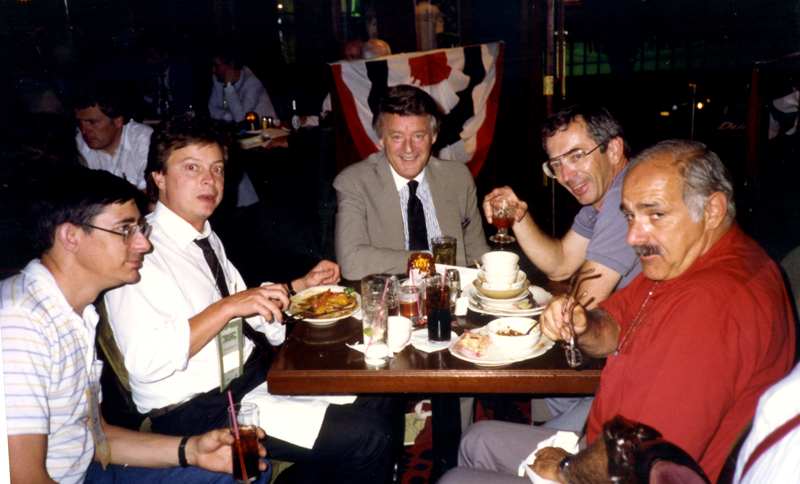 Greg Karrer, Walter Kraft, Bill Bonds, John Fuller and Mike Kalush - Enjoying a break from a hectic day. - Photo by Terry Pochert
1988 Democratic National Convention - WXYZ Team - July 20, 1988
---
1988 Democratic National Convention Editing Area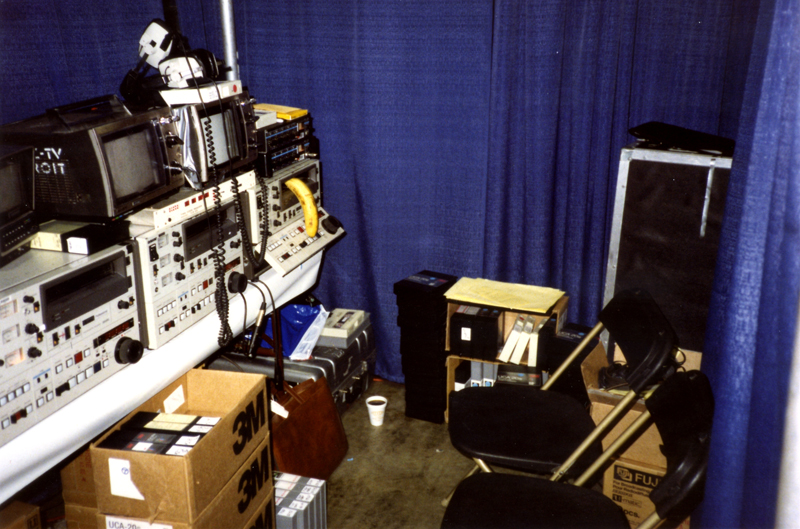 1988 Democratic National Convention WXYZ Editing Area - July 20, 1988 - The now famous "Banana in the BVU incident". - Photo by Terry Pochert
---
AFTN - Terry Pochert, engineering, filling in during emergencies.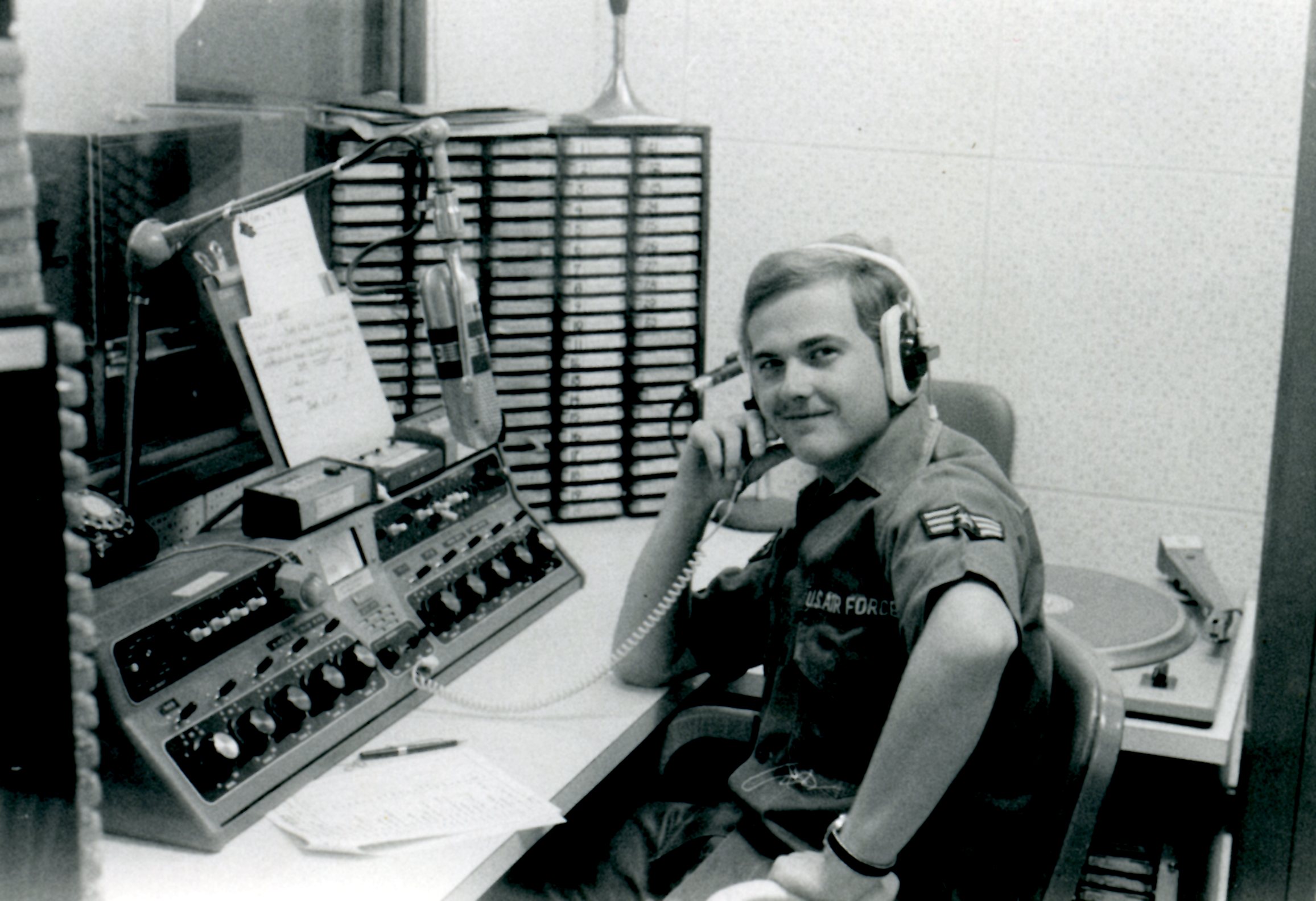 Terry Pochert, engineering, filling in during several emergencies.
Fun, but probably better off not behind the microphone.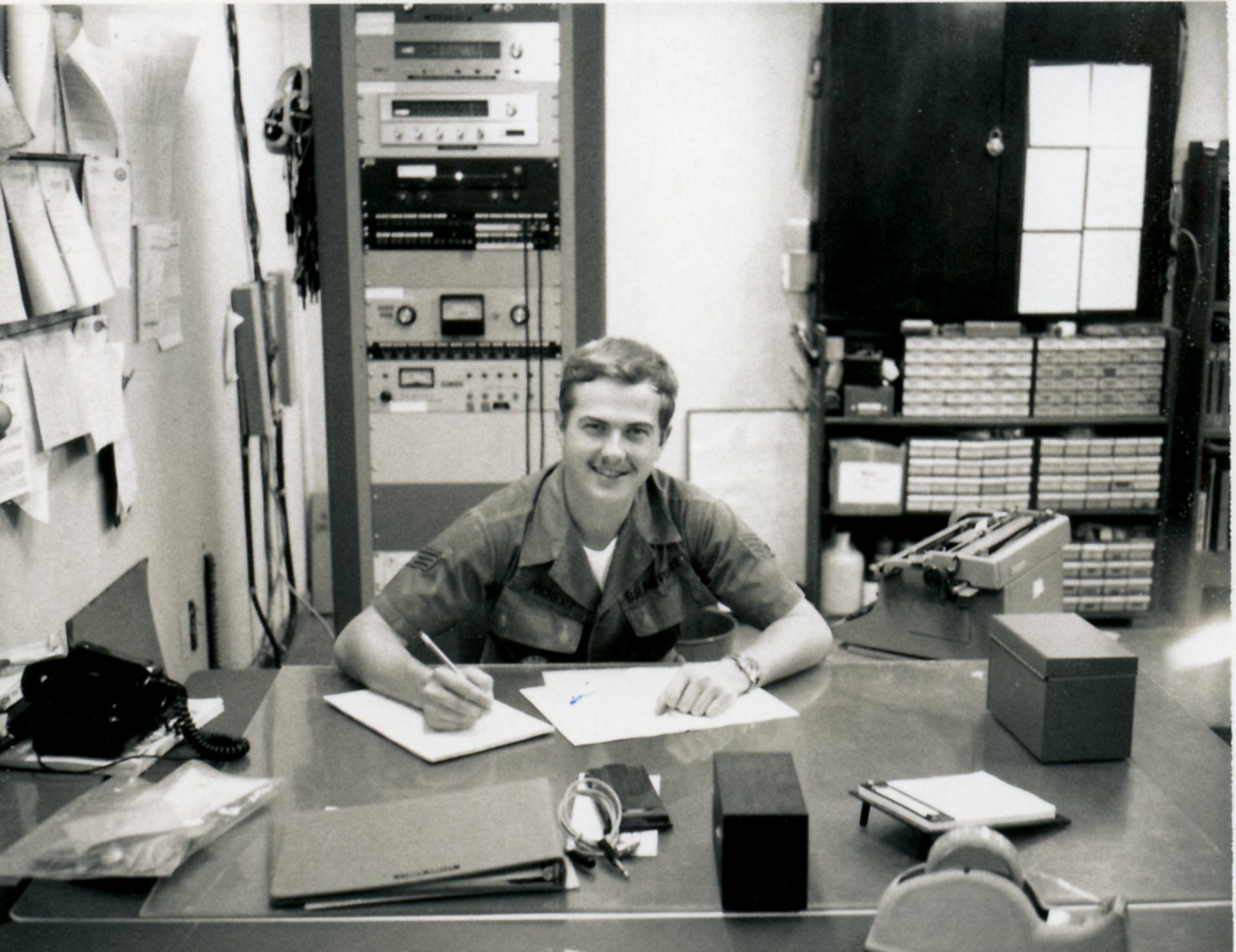 Terry Pochert - Korat Royal Thai Air Force Base - AFTN Local Station, 1970.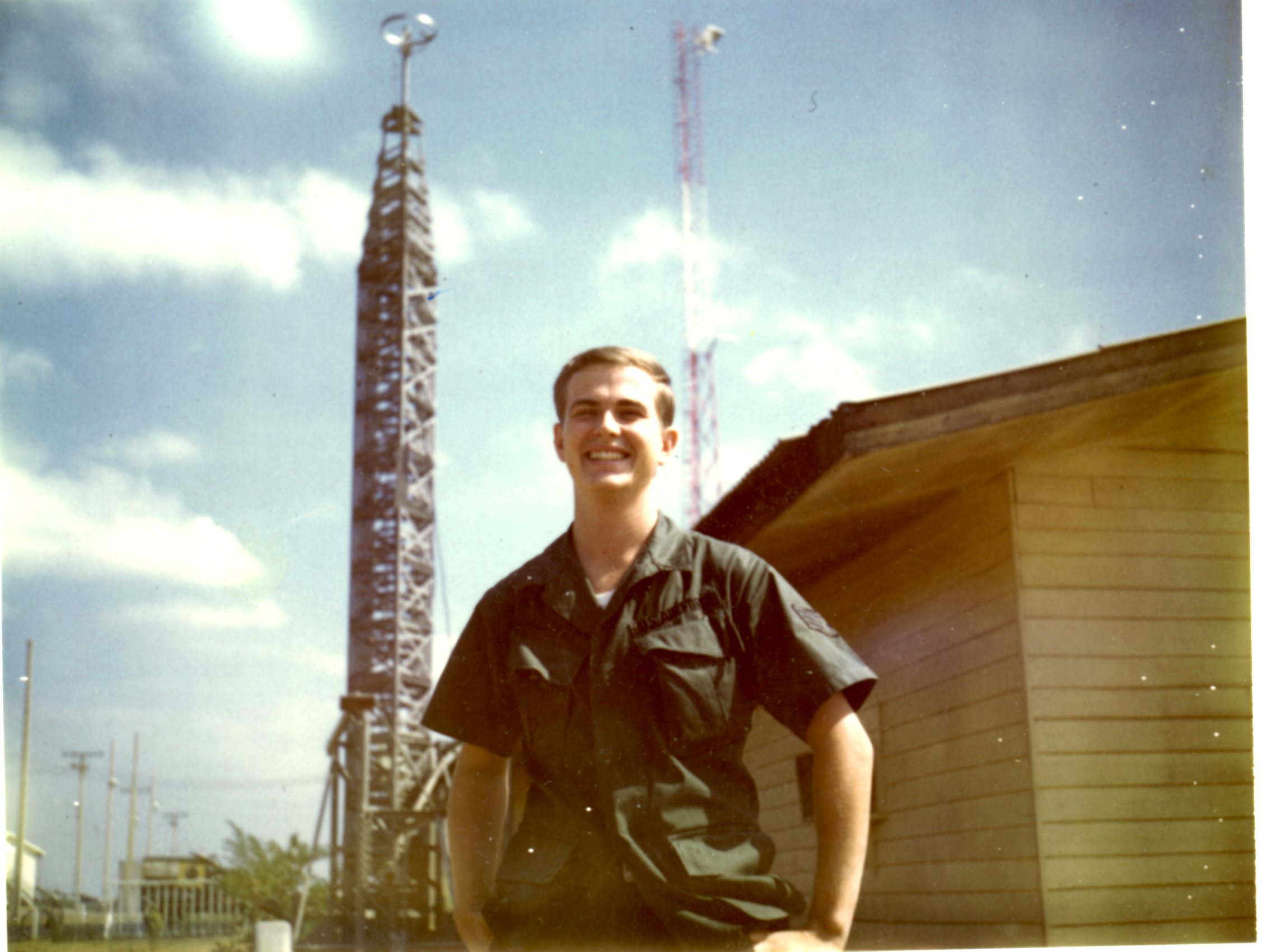 Terry Pochert with Mobile Antenna
---
comments powered by
---
---
Dying To Be Happy: Discovering the Truth About Life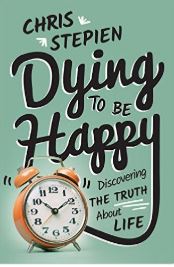 A few days before Thanksgiving 2014, author Chris Stepien found himself in an oncologist s office. But he wasn't the patient. Stepien's wife, Ellen, was just beginning her battle with aggressive breast cancer. That day, while listening to the oncologist's treatment strategy, Stepien began writing Dying to Be Happy: Discovering the Truth About Life.
In the pages of this book, a brush with a life-threatening disease sparks a frank discussion on mortality. The author explores the prospects of embracing death on a daily basis versus denying it. He encourages readers to follow the advice of Jesus Christ: always be ready for the end of life. Along the way, Stepien highlights a spectrum of short, true stories where people rise above the fear of death, including the harrowing account of a child who survived the Holocaust -- Stepien's own mother.
But Dying to Be Happy is more than an anthology of grim tales and close calls. It beckons readers to admit the inescapability of death in order to find true joy in this life and the next.
Good Morning Detroit - The Kelly & Company Story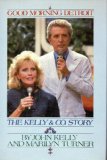 John Kelly and Marilyn Turner, Detroit's first couple of television, give us a rare glimpse into their private lives. Here you'll peek beneath the facade of the local celebrities and read their personal account, a story that is sometimes shocking, sometimes poignant, always honest and revealing. They speak of their early lives, their broken marriages, the ratings battles of the 60s and early 70s , the inside story of one of the most talked about Detroit romances as it blossomed between one of the city's hottest news anchors and its well-known weather girl.
History of Detroit Television, The - DVD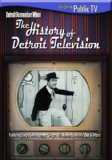 Michael Collins; Actor, Director; Scott Kemp, Director
The History of Detroit Television is more than just a film. It's a living museum, a monument to a time that could easily be forgotten. This program is a salute to a time when TV was as local as Vernors, Sanders Hot Fudge and Hudsons. The stars of the day were Soupy Sales, Van Patrick, Lou Gordon, George Pierrot, Bill Kennedy, Milky The Clown and a host of other colorful characters.
Horn Man: The Polish-American Musician in Twentieth-Century Detroit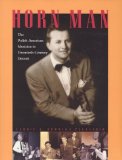 Detroit and its strong Polish community share in America's rich history of Polish music and customs. This work documents that history and details the development of the Polish-American musicians in Detroit who became known as polka musicians, even though their music was very diversified.
There Was A Time by George Burlbaugh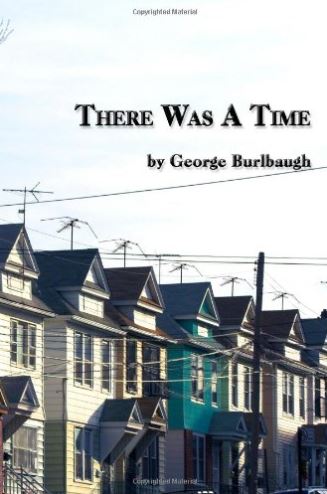 My involvement with television and television news began more than a half century ago, almost by accident. Out of High School, I installed tv antennas, went to Korea in communication intelligence and ended up a tv news director and network news producer. This is a look back at some of the things I remember best.