See Categories: WXYZ | Media Staff/Alumni |

Bonds, Bill

Anchor - early 1960s-1968, 1971-1975 and 1976-1995.

Died from a heart attack on December 13, 2014.

References: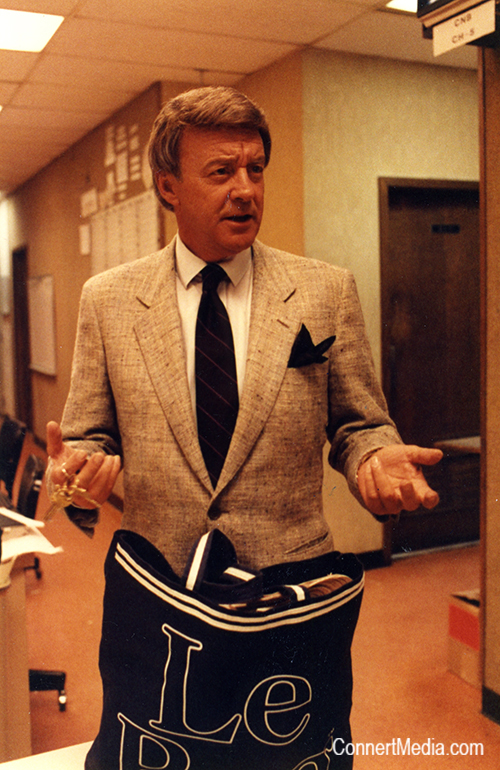 Bill Bonds
- Original From the
Terry Pochert
Media Collection
Client Reference(s):
Wkipedia; WXYZ Alumni and Staff
---
Bill Bonds Pondering The World
Bill Bonds, one of the most influential broadcasters in the Detroit metropolitan area.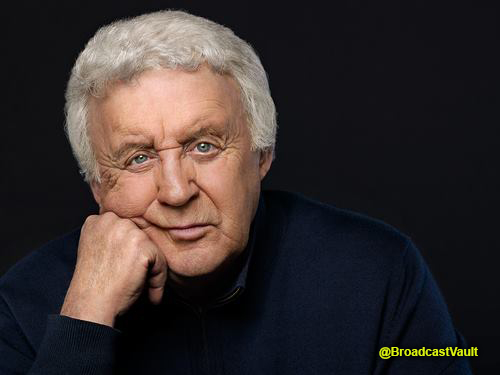 Bill Bonds
---
Bill Bonds with Mina Schultz-Pochert
Bill Bonds speaking at a conference of senior citizens in Macomb County on September 10, 1991. While there, Bill met Mina Schultz-Pochert, mother of WXYZ Editing Supervisor, Terry Pochert.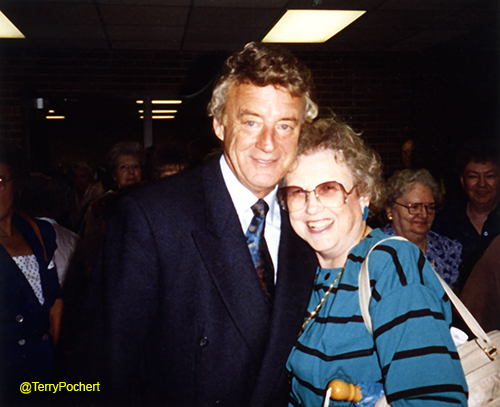 Bill Bonds with Mina Schultz-Pochert, mother of WXYZ Editing Supervisor, Terry Pochert
---
Bob Berg Reacts to Bill Bonds Death
Bob Berg Reacts to Bill Bonds Death

Bob Berg Reacts to Bill Bonds Death - Interview with Dave LewAllen
---
Bill Bonds and Corinne Aguilar
Posting from Facebook on December 27, 2015, by Corinne Aguilar.

Found one of my favorite pictures of Bill Bonds and me. Remembering Bill this month. It's been a year already since his passing .
This was at a Ch. 7 friend raiser when I had breast cancer, I was in the middle of radiation with third degree burns. He made me laugh . I needed that night with my channel 7 family surrounding me. It was held on the day before my birthday, May 15th, 2009 at Mr. JOES .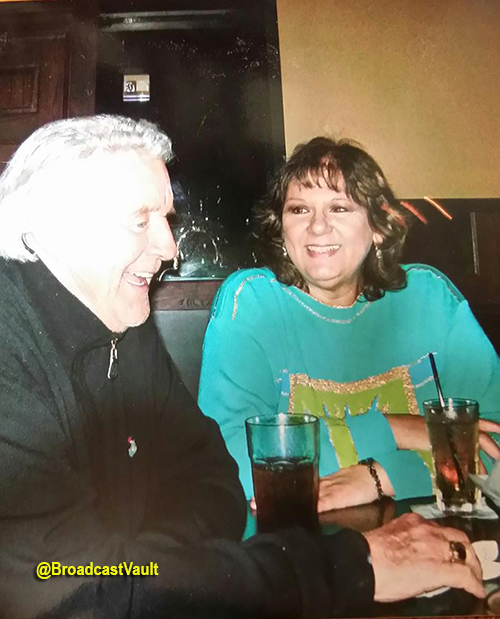 Bill Bonds and Corinne Aguilar - Photo owned by Corinne Aguilar shot by Pat Shaw and used with permission.
---
Detroit's Favorite Home Team - WXYZ TV Baseball Card Magazine Ad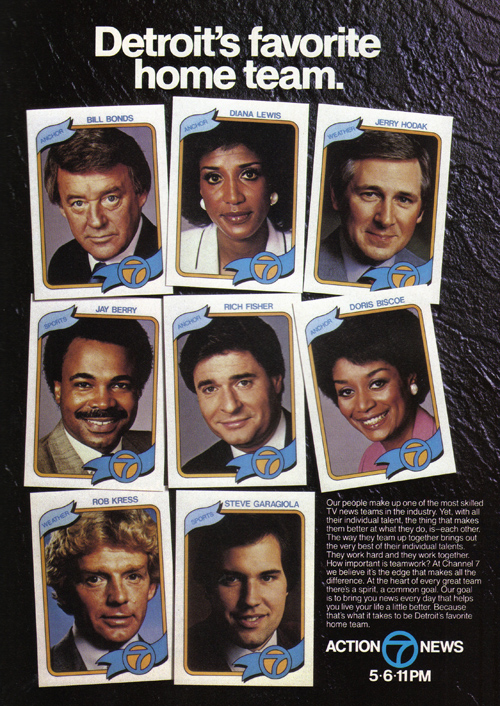 Bill Bonds,Diana Lewis,Jerry Hodak,Jay Berry,Rich Fisher,Doris Biscoe,Rob Kress,Steve Garagiola
WXYZ Magazine Ad

---
Bill Bonds at Harrison High School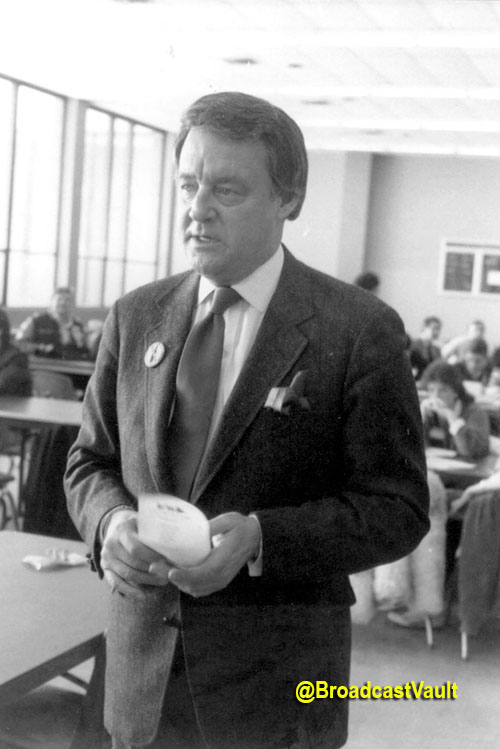 Bill Bonds prepares to interview students at Harrison High School, Farmington Hills, Michigan in 1985 - Photo from Walter Kraft / Bill Bonds Collection
---
Walter Kraft Remembers Bill Bonds
12/19/2014 - Patrick Campion writers and interviews Walter Kraft, "I had an opportunity to sit down with a longtime coworker of Mr. Bonds, Eastern Michigan University's VP for Communications Walter Kraft, to talk about his life and legacy."
References:
MP3 Download - Walter Kraft shares his memories of Bill Bonds with Patrick Campion on WEMU
---
Bill Bonds in WXYZ-TV's Original First Floor Newsroom
After the original second floor newsroom at the Southfield, Michigan, location, the newsroom was re-built in a new wing of the main building on the first floor. This is a shot of Bill Bonds during the 1980s.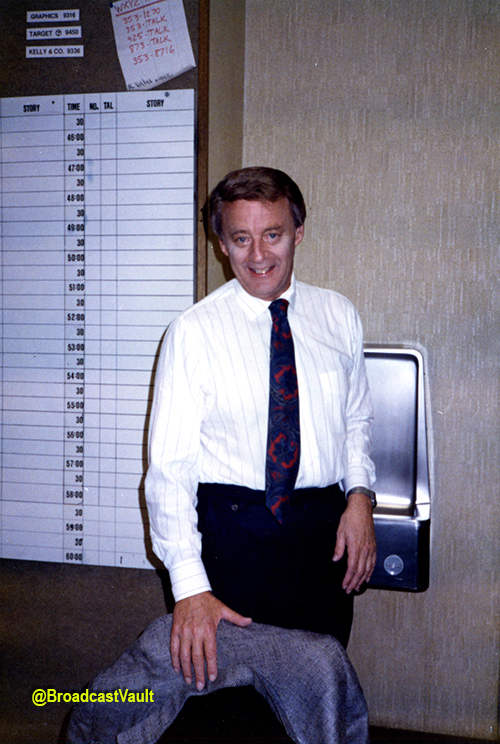 Bill Bonds circa 1980s - From the Terry Pochert retirement collection
---
​Stand Up and Tell 'em You're From Detroit
Stand Up and Tell 'em You're From Detroit

Doris Biscoe, Rob Kress, Diana Lewis, Steve Garagiola, John Kelly, Marilyn Turner, Jay Berry, Bill Bonds, Jerry Hodak, Rich Fisher
---
More Parties
There always seem to be times for get togethers and parties. Here's couple with Chris Huebner. Perhaps some folks could add a few comments comments of where, etc.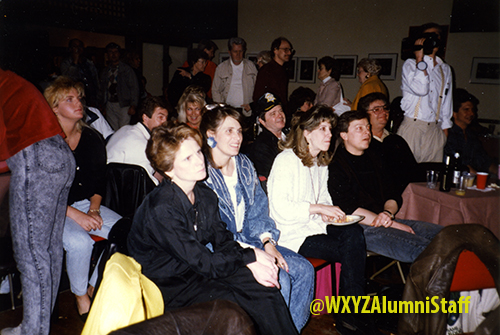 Karen Bonds, Patty Upchurch, Shelly Kraft, Walter Kraft, Chris Huebner (far right sitting at table)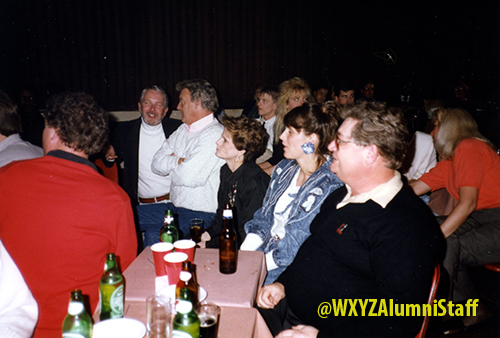 Erik Smith, Bill Bonds, Karen Bonds, Chris Huebner
If you can help identify the function, date and a few more people, please leave your comments below.
---
Dave Gilbert and Bill Bonds - circa early 1980s
Busy at work reviewing the day's news.
---
Coleman Young and Bill bonds at Lafayette Coney Island
Publicity shot of Coleman Young and Bill Bonds visiting one of Detroit's favorite landmarks.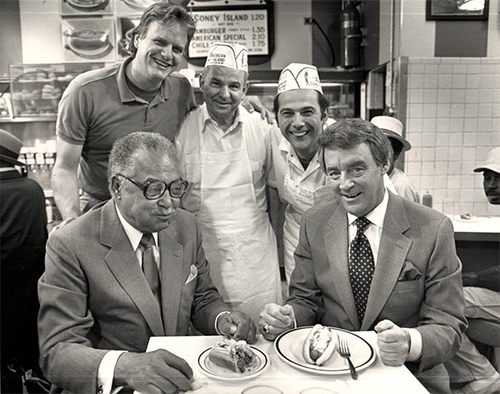 Coleman Young and Bill Bonds at Lafayette Coney Island - Photo Source: Pure Detroit and the Detroit Free Press
---
Fermi II Nuclear Plant News Coverage by Channel Seven
WXYZ-TV Special Reports.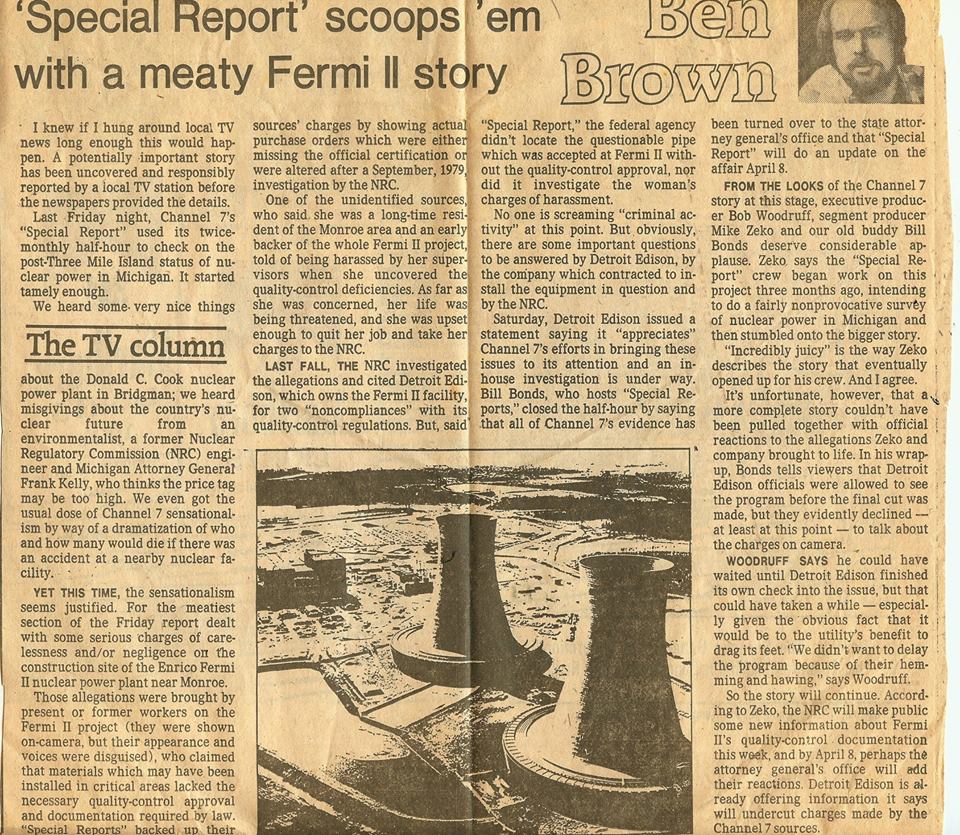 "Bill Bonds, who hosts 'Special Reports,' closed the half-hour by say that all of Channel 7's evidence has been turned over to the state..."; "From the looks of the Channel 7 story at this state, executive producer Bob Woodruff, segment producer Mike Zeko and our old buddy Bill Bonds deserve considerable applause. ..." - Newspaper Detroit Free Press, 1980 - Clipping furnished by Mike Zeko
---
Bill Bonds and Diana Lewis at the 2013 WXYZ Alumni Reunion

Bill Bonds and Diana Lewis - Video Courtesy of Bob Giles
---
Jackie Fitzloff and Jeanne Findlater
Jackie Fitzloff and Jeanne Findlater. Oakland Hills Country Club funeral luncheon for Bill Bonds. Jeanne was WXYZ's Vice President and General Manager. Jackie Fitzloff was Jeanne's administrative assistant. The luncheon was held after the Memorial Service for Bill Bonds, long time WXYZ news anchor, who died on December 20, 2014.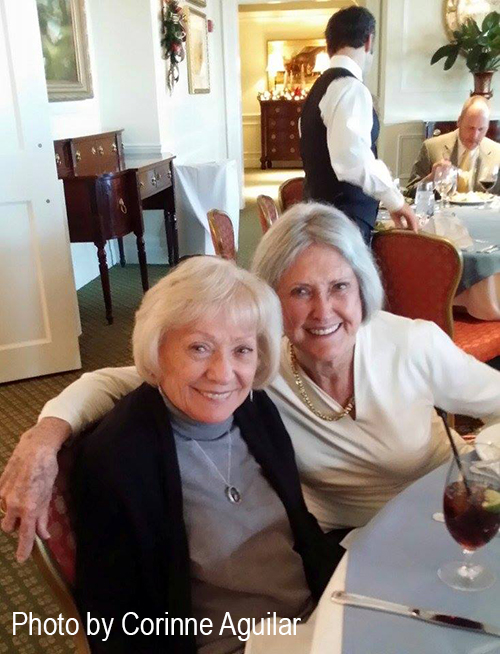 Jackie Fitzloff and Jeanne Findlater.
Photo by Corinne Aguilar
---
Just Friends and Family at WXYZ
There were many times that the crews gathered at the "Farm House". The Farm House was one of the original buildings on the land which WXYZ-TV now occupies in Southfield, Michigan. The Farm House has now been converted into a dining area and a few meeting rooms on the second story. It once also provide a sleeping area during the early days of the station.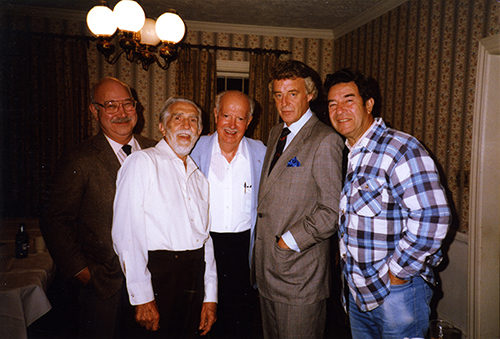 Clyde Adler, Chris Montross, Lyle Reese, Bill Bonds and Jerry Zuckerman
---
Remembering Bill Bonds by Dave LewAllen

Dave LewAllen remembers Bill Bonds by Talking with Robbie Timmons, a long time co-anchor of the evening news. - With JoAnn Purtan and Jeff Vaughn
---
Vince Wade Remembers and Comments on the Legacy of Bill Bonds
Vince Wade, a long-time investigated reporter with WXYZ-TV and friend of Bill Bonds, writes a very heart-felt commentary on Bill Bonds. Thousands of comments have been posted about Bill, but not hit home as hard as Vince's message. Vince Wade writes...
I had the unique and memorable experience of working with Bill Bonds for many years. In the 70s at the height of Bill's ratings success a Channel 7 news producer made a savvy observation; if you buy his act, the producer said, Bill is the best in the business at what he does. Indeed he was. Detroit bought Bill's act for a long time. My theory is thousands of Detroit factory rats, as many auto workers described themselves, identified with Bill's on-air antics. They knew if they had a bully pulpit like Bill that they, too, would wear expensive but often garish clothes, that they, too, would spout off about the news just as they heard Bill doing. In his ad-libbed comments Bonds was doing what they did so many nights at some watering hole where they were having an end-of-shift shot and a shell (liquor with a beer chaser) while watching the news on the TV screen above the bar. Bill was one of them.

Bombastic Billy was smart and well-read. He knew what he was talking about. One night in the 70s during a national political convention ABC News decided to cut away for local news an hour early. Channel 7's late-news producer didn't get the message. Suddenly, with three minutes' warning, ABC anchor Howard K. Smith said they would be cutting away for local news. The Channel 7 newsroom was in total panic. The anchors raced to the studio. The newscast elements were not ready. As Bill put his mic on he said, "I have no scripts. I have no rundown (of the sequence of stories)." The floor director signaled he was now live. Bill said good evening and ad-libbed for two or three minutes while the staff scrambled to get scripts to the anchors and film clips in the projectors. At home, the audience probably thought Bill was ad-libbing just a little more than usual. Bonds was so keen on the business of news that he could tell the audience the news without a script. Very few news anchors then or now could do what Bill did that night.

Bill fought the demons of alcoholism his entire life. He lived his own private hell over the death of his daughter in a collision with a drunk driver. One time we shared a camera crew in Europe for separate assignments and late at night I would hear Bill in the next room loudly chastising himself over his daughter's death while he paced the room in drunken agony.

There will be many stories told this week about Bill Bonds. But none of them will capture his uniqueness as a communicator. None of the tales will capture his magnetism, his ability to reach through the camera and grab you by your lapels and say, 'Listen to me. This is news you need to know.' - Vince Wade
---
Former co-anchor and reporter Mary Conway reacts to death of Bill Bonds
x
Mary Conway reacts to the death of Bill Bonds.
---
Wanda, Shelly, Bill and Tom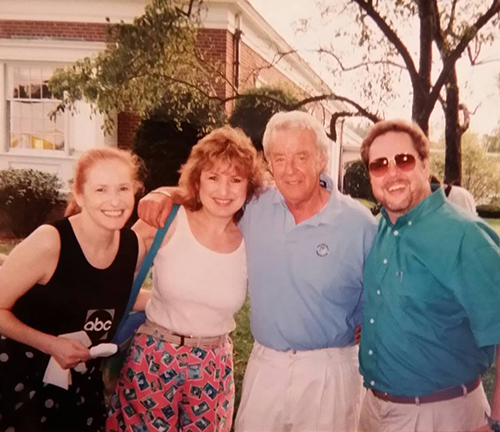 Wanda Doerner, Shelly Greenberg, Bill Bonds and Tom Cleeves
Photo by Corrine Aguilar
---
Bill Bonds Receives Governor's Life Achievement Awards
The legend, Bill Bonds, receives the Governor's Lifetime Achievement Award from the Nat'l Academy of TV Arts & Sciences. Erik honored to do the formal presentation.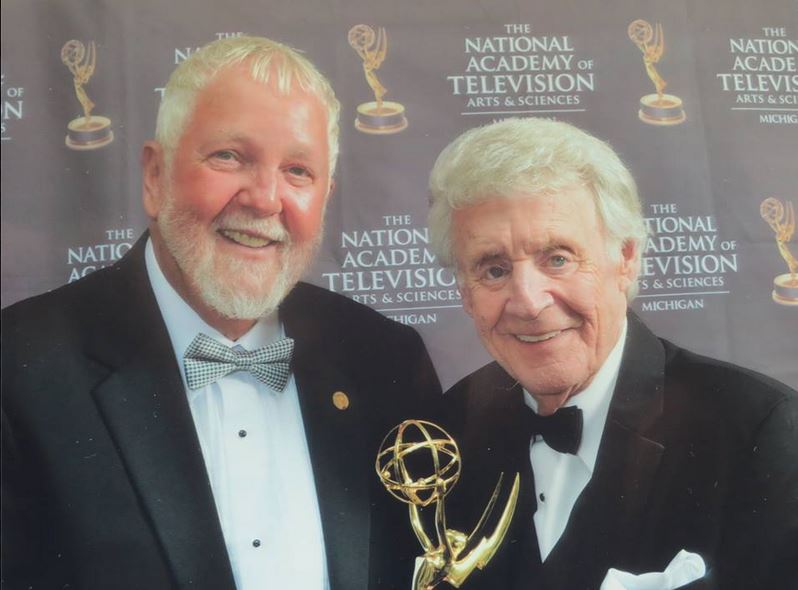 ---
Mike Zeko, Producer - Michigan At War with Bill Bonds
---
---
1988 Democratic Convention - Atlanta Georgia

Bill Bonds, Jim Herrington, Mike Kalush - Photo by Terry Pochert
WXYZ media folks and fellow journalist covering the 1988 Democratic Convention in Atlanta, Georgia.
---
1988 Democratic National Convention - WXYZ Team - July 20, 1988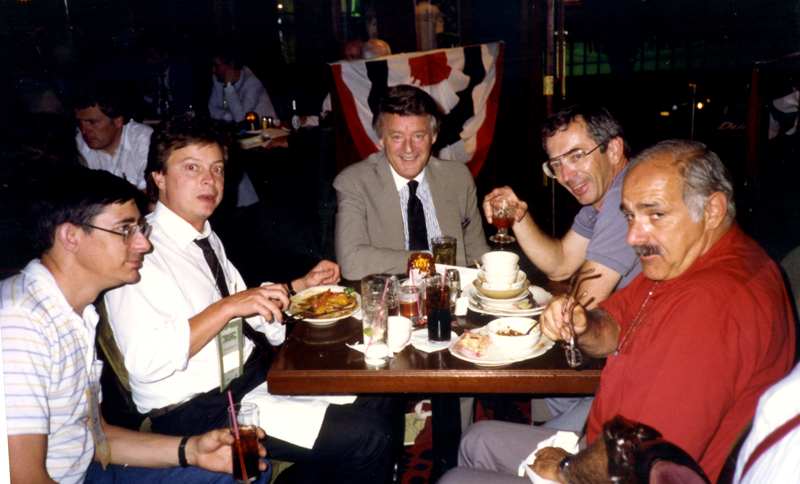 Greg Karrer, Walter Kraft, Bill Bonds, John Fuller and Mike Kalush - Enjoying a break from a hectic day. - Photo by Terry Pochert
1988 Democratic National Convention - WXYZ Team - July 20, 1988
---
WCAR-AM to add Bill Bonds and Rich Fisher to their Schedule
According to the Detroit News, WCAR-AM (Garden City) will be adding Bill Bonds and Rich Fisher to their schedule. The small AM radio station just may add a few more to their audience as these former WXYZ-TV news anchors banter over current topics.
Read More:
---
comments powered by