See Categories: WXYZ | Media Staff/Alumni |

Cleeves, Thomas A.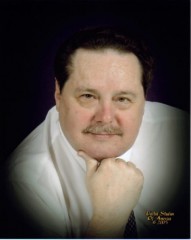 Thomas Cleeves
TV engineering and video editor.
Eaton Rapids, Michigan - Thomas Allen Cleeves, born on April 14, 1949 passed away on June 27th 2011 in Phoenix, Arizona at age 62. Son of Kenneth and Geraldine (Finch) Cleeves, Tom was born and raised in Eaton Rapids and Graduated from Eaton Rapids High School in 1967. He then attended Bob Jones University. He loved Photography and Videography and sought a career in Television. After University, he worked locally for Channels 6 & 10, then landed his dream job for the ABC News affiliate, Channel 7 in Detroit. He worked as a Cameraman and Video Editor for 25 years. During his career, he worked on Stage shows with big name stars, documentaries and Local and National News. He was a talented artist and was even given an Emmy Award for his work at Channel 7 in 1979 and was also able to film an African Safari which was another of his lifelong dreams. An avid Outdoorsman, Tom loved to hunt and fish and also worked for many years doing onsite camera work with Jerry Chiapetta on "Michigan Outdoors".
Tom was a Believer in Christ and enjoyed sharing God's love with others. He had a big and loving heart and loved his family very much. He always made an effort to visit and bring together even his extended family and friends for reunions and gatherings. Those memories will stay with us all.
Tom is survived and dearly missed by his 3 children, Kevin (Brandi) Cleeves of Waynesboro, Pennsylvania, Lisa (Pawel) Piotrowski of Eaton Rapids, Michigan and Laura Cleeves Schroeder of Chandler, Arizona. Also his Parents, Kenneth and Gerry Cleeves, Sister Cathy (Tad) Cook, Brother Jim (Brenda) Cleeves, 2 beautiful Granddaughters, Leia (Kevin) and Hannah (Lisa), Nephews, Nieces, Aunts, Uncles, Cousins and many friends.
Memorial Services for Tom are to be held on Saturday, September 10th at 2pm at The First Baptist Church of Eaton Rapids. In Lieu of Flowers, gifts made be given to the church in memory of Thomas Cleeves.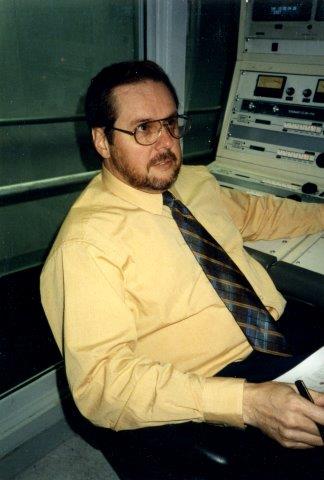 Client Reference(s):
---
GAD - Good Afternoon Detroit Anniversary Show 1984
Help us name the people we are missing from the caption.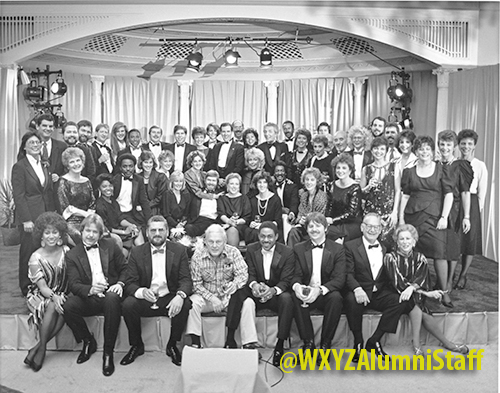 Back Row: Dex Sieger, Chris Stepien, Pete, Jim Ochs, ?????, Junie Bond, Tom Cleeves, Randy Silverman, Harriet Rotter, Jillayne Pautsch, Gene Taylor, ?????, Synka Curtis, John Kelly, Glenn Pearson, Gail Parker, Shirley Eder, Geoff Brock, Doug Kole, Bob Dear, Sioux DeOrlow Goodman, Tom McKinnon, Yanni
Middle Row: Cathy Alfafara, Jackie (Astrologer), Angela Addison, Nate Penn, ?????, Laurie Leinonen, Cheryl Ross, Suzanne Timma, Don Carter, Claire Carmichael, Marilyn Turner, Barbara Koster, Keith Booth, Kathy Linwood, Lisa Fisco, Colleen Burcar, Debbie Avery Canter, Lynda Hirsch, ?????, TJ Elliot
Front Row: Dayna Eubanks, Jim Johnson, Al Segar, Sid Day, Tony Tillman, Dave Riley, Vic Hill, Del Warner

Leave Your Comments At The Bottom of the Page
---
WXYZ Newsroom circa 1980s
An amazing group of people making WXYZ News number one in the market during the 1980s.

Nelson Burg, Fran Victor, Marv Rockford, Audio: Greg Karrer, Val Clark, Cheryl Choden, Bill Miller, Jeff Rundell, Bill Becker, Garrett Glaser, Terry Frisco, Mark Zahnow, Denny Shleifer, Andrea Parquet-Taylor, Gary Kelly, Dean Erskin, Al Volker, Jim Powers, Pat Elnicky, Phyllis Eliasberg, John Gross, Charles Munro, Judy Miller, Tom Cleeves

---
Wanda, Shelly, Bill and Tom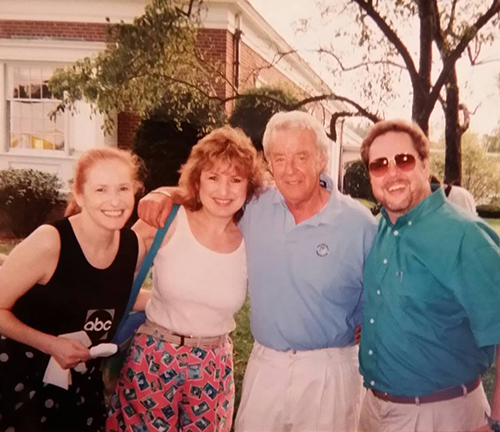 Wanda Doerner, Shelly Greenberg, Bill Bonds and Tom Cleeves
Photo by Corrine Aguilar
---
comments powered by
---
---
Dying To Be Happy: Discovering the Truth About Life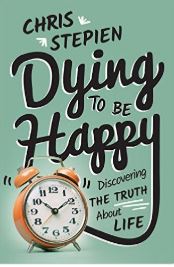 A few days before Thanksgiving 2014, author Chris Stepien found himself in an oncologist s office. But he wasn't the patient. Stepien's wife, Ellen, was just beginning her battle with aggressive breast cancer. That day, while listening to the oncologist's treatment strategy, Stepien began writing Dying to Be Happy: Discovering the Truth About Life.
In the pages of this book, a brush with a life-threatening disease sparks a frank discussion on mortality. The author explores the prospects of embracing death on a daily basis versus denying it. He encourages readers to follow the advice of Jesus Christ: always be ready for the end of life. Along the way, Stepien highlights a spectrum of short, true stories where people rise above the fear of death, including the harrowing account of a child who survived the Holocaust -- Stepien's own mother.
But Dying to Be Happy is more than an anthology of grim tales and close calls. It beckons readers to admit the inescapability of death in order to find true joy in this life and the next.
Good Morning Detroit - The Kelly & Company Story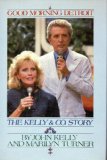 John Kelly and Marilyn Turner, Detroit's first couple of television, give us a rare glimpse into their private lives. Here you'll peek beneath the facade of the local celebrities and read their personal account, a story that is sometimes shocking, sometimes poignant, always honest and revealing. They speak of their early lives, their broken marriages, the ratings battles of the 60s and early 70s , the inside story of one of the most talked about Detroit romances as it blossomed between one of the city's hottest news anchors and its well-known weather girl.
History of Detroit Television, The - DVD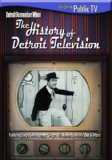 Michael Collins; Actor, Director; Scott Kemp, Director
The History of Detroit Television is more than just a film. It's a living museum, a monument to a time that could easily be forgotten. This program is a salute to a time when TV was as local as Vernors, Sanders Hot Fudge and Hudsons. The stars of the day were Soupy Sales, Van Patrick, Lou Gordon, George Pierrot, Bill Kennedy, Milky The Clown and a host of other colorful characters.
Horn Man: The Polish-American Musician in Twentieth-Century Detroit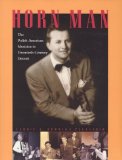 Detroit and its strong Polish community share in America's rich history of Polish music and customs. This work documents that history and details the development of the Polish-American musicians in Detroit who became known as polka musicians, even though their music was very diversified.
There Was A Time by George Burlbaugh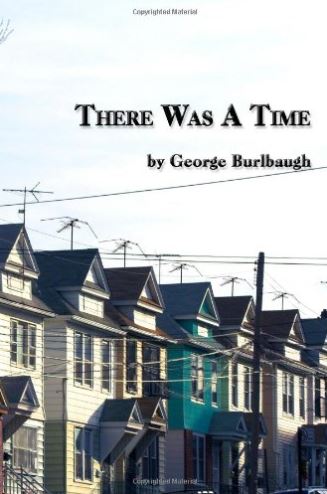 My involvement with television and television news began more than a half century ago, almost by accident. Out of High School, I installed tv antennas, went to Korea in communication intelligence and ended up a tv news director and network news producer. This is a look back at some of the things I remember best.