See Categories: WXYZ | Media Staff/Alumni |

Smith, Bryan

Bryan was the videographer that flew with the helicopter pilot, Dennis Neubacher.

Client Reference(s):
---
The guy with the eye in the sky
The Detroit Free Press writer, Joel Thurtell, on June 3, 2007, writes, "A helicopter pilot with acrophobia? A flyboy who can't stand at the edge of a tall building without panicking?
This is Dennis Neubacher, helicopter pilot extraordinaire, former traffic reporter for WJR-AM who now does the morning drive-time report for Channel 7.
Despite his fear of heights, he's never been afraid to go up in an airplane or helicopter. And he's been known to cure at least one person of his fear of falling. ...."
References:
The Detroit Free Press - June 3, 2007 (PDF)
---
WXYZ-TV News Helicopter
Piloted by Dennis Neubacher, videographer was Bryan Smith.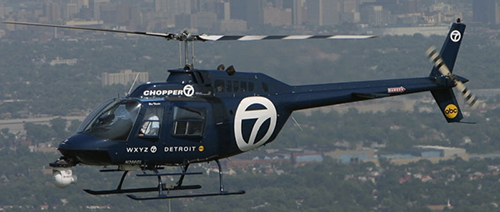 Piloted by Dennis Neubacher, videographer was Bryan Smith
Courtesy of National E-N-G Helicopter Association
---
comments powered by