Of the thousands of News "Nuggets" that are added to our databases each day, we try to select weekly a few that we feel challenge and inform our viewers/readers the most.
Recent postings from our clients....
Friendships Are Very Good for Us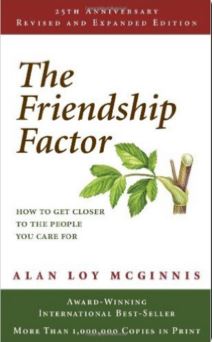 An article by Elizabeth Bernstein which recently appeared in The Wall Street Journal, points out that people who have solid friendships live longer and healthier lives. She goes on to say, "Friendship decreases blood pressure and stress, reduces the risk of depression and increases longevity, in large part because someone is looking out for us. Ms. Bernstein further points out that a recent study by the British Journal of Psychology "looked at 15,000 respondents and found that people who had more social interactions with close friends reported being happier…." The lesson here is that the quality of our lives will be a great deal better if we intentionally spend some time not only nurturing our current friendships, but cultivating new ones as well.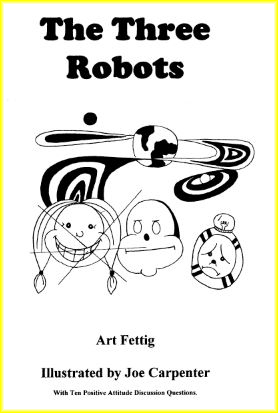 In 1981 we came out with my first children's book titled The Three Robots. My goal was to teach children positive living concepts. My vision was of parents reading my books to their children while they hugged them and thus learning these concepts themselves. The following are the lyrics of a song that my Positive thinking robot Pos sings to her friends.
I'm Somebody
Art Fettig
I'm happy, I'm healthy, I'm somebody
Not a sad nobody, I'm somebody.
And I wear a smile just to let the whole world know
That this somebody's happy inside.
I'm somebody special just one of a kind.
I'm unique with a greatness I'm seeking to find.
I'm happy, I'm healthy, and I'm somebody, true,
Yes, I'm sure glad to tell you, "You're somebody too."
Throughout my career I have used poems in my live presentations. I had the honor of making presentations in schools throughout the U.S. and Canada and it was with real joy that I would sing this song to the children. So many children had never been told "You're Somebody!"
Just in case you might have missed this in your lifetime, I'm telling you right here, right now. You are somebody special!
The Power of Handwritten Note Taking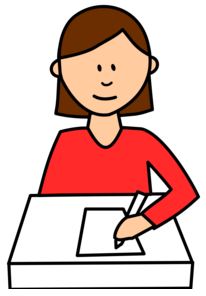 According to an article by Robert Lee Hotz which recently appeared in The Wall Street Journal, students who take handwritten notes outperform those who type them on a keyboard. While handwritten note takers take fewer notes than those who type them (22 words per minute vs.33), they learn better, retain information longer and more readily grasp new concepts. The primary reason cited for the differences is that when people take hand written notes, they actually process the information in their mind as they write it down. On the other hand, people who type their notes, take verbatim notes which are not processed nearly as much in their mind. Thus, while key board note takers are better able to keep up with the pace of the lecturer, they don't learn as much during the process. The article went on to say that these findings are likely to apply to any situation where "…we try to collect our thoughts in writing, whether in a classroom, a business meeting or a doctor's office…." I found this article both fascinating and enlightening.
Foster Care & Adoption Orientation for the LGBTQ Community
Join Child Crisis Arizona for a FREE Foster Care and Adoption orientation for the LGBTQ community.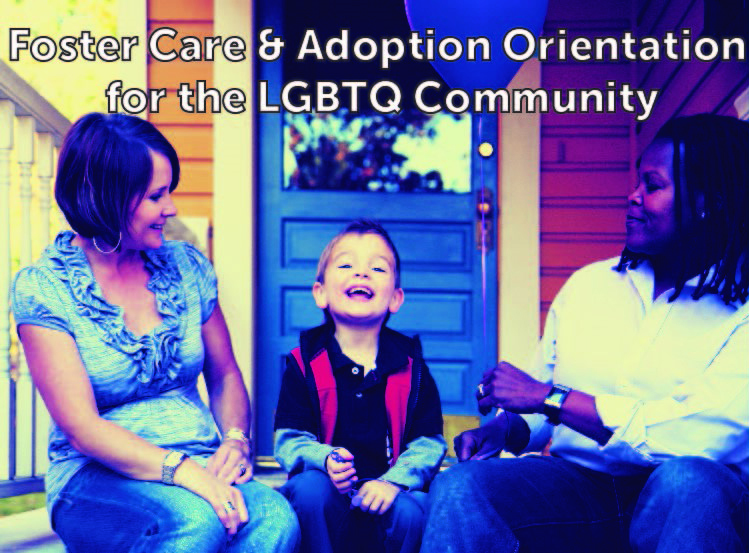 The orientation is an informational session that discuss the needs of children in care, what your role in meeting those needs will be, the process of licensing/certification and support/resources offered to foster and adoptive families. A licensed LGBTQ couple will be in attendance to share their experience and answer any questions.
Date: Saturday, April 30
Time:10 a.m. to 12 p.m.
Location: 817 N. Country Club Drive, Mesa, AZ 85201
Registration: No registration is required, all you have to do is show up!
Contact adoption.foster@childcrisisaz.org with questions.
I-347 Three Killed on Arizona 347 between Riggs and I-10
Three people killed on Ariona Route 347 Sunday morning, April 24, 2016. The closure of the road for over nine hours left many Maricopa residents taking alternate routes to drive into Phoenix.
The accident occured just before 5 a.m. and appeared on many traffic websites as occuring at 5:40 a.m. Although both DPS and Gila River Police Department were both on scene, the accident is being investing by the Gila River Police.
Competitive Arizona - A coalition of businesses, organizations and individuals working to promote economic development in Arizona through equality and inclusion for all people, including gay and transgender individuals, in employment, housing, and public accommodations.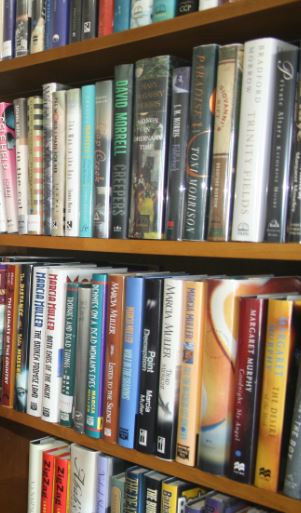 For most of my life I have been a book nut. When I go to a yard sale I'm a real sucker for a stack of used books. I've got seven book cases in my office and music room combined and they don't come anywhere near holding the books I have around here. There is always another stack accumulating. It's like they are breeding. I keep threatening a major purge but every time I go on a clean up kick, I find that instead it had turned into a reading binge instead. For months I have been trying to get rid of my Ultimate Visual Dictionary of Science. It weighs a ton. 448 pages of illustrated knowledge that would be a real gem to someone interested in that stuff. I picked it up for a dollar at a yard sale and I buy books like that now and then just thinking I might run into someone who would treasure it and I'd make a gift of it. Of course, now, most of the stuff in that book can be found at your fingertips online. There is that big Picasso art book over there in the corner just drawing dust. Another dollar investment. I've tried four times to give that sucker away.
Some days I get so desperate for space that I tell myself that I'm going to purge every book that is more than an inch thick. I've got some thick joke books here and I can search through hundreds of pages and not find one joke I think is funny any longer. Maybe it's me? Well, I've got to get on with it. Lookout Goodwill, I will be headed your way with a load of books to contribute. I hope I will anyway. My intentions are firm.
Happiness During Retirement isn't just about Money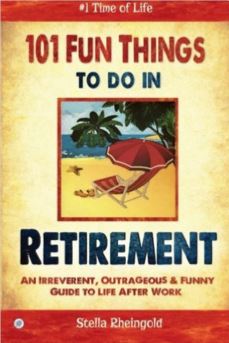 Most of the advice about preparing for retirement centers around making sure that you've put enough money aside in order to live comfortably. However, an article written by Brian Stoffel which appeared in a recent issue of USA Today points out that it takes more than money to have an enjoyable retirement." Mr. Stoffel cited a survey conducted by Merrill Lynch and Age Wave which points out that in addition to having a reliable paycheck, the other things that retirees missed most about not working were social connections, having a purpose and work goals and mental stimulation. So if you want to have an enjoyable retirement, in addition to making sure you have enough money set aside, also make sure that you cultivate plenty of friendships outside of work and identify a number of worthwhile activities (at least four) that will replace the sense of meaning and the mental stimulation you'll lose when you leave your job. If you would like to read Mr. Stoffel's complete article, here's the link.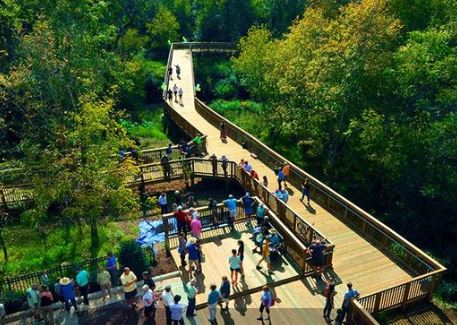 For most of my life now I have been watching people. I remember doing it in Chicago in the mid-fifties,backed up against a building so I didn't get knocked down and trampled. I'd be standing on a really busy street downtown during the rush hour and just watching the people rushing to get somewhere. Now I go into town here in Hillsborough and watch both locals and tourists and sometimes wonder what their lives are all about. If I sit outside at Cup A Joe's, across from the old hardware store for an hour or more there is just no limit to the assortment of unique characters I might encounter. Sometimes I try to listen too but if I plan to use anything in my writing from what I might hear or see, hell, by the time I get done interweaving a couple or more of their looks or sounds or characteristics there just ain't no way anyone might recognize themselves. I might sit near the steps to our Riverwalk and fill my head with images sometimes, and underneath my breath I'm humming a wild solo in a 1950 jazz rendition of How High the Moon. Music flowing through my mind helps me enjoy my people watching all the more. Gosh, Hillsborough is a treasure with all of these absolutely unique folks to keep a watch on and every now and then I get the feeling that some of them are keeping an eye on me.
The Five Top Regrets of Dying People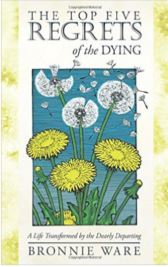 Bronnie Ware is an Australian author, songwriter and an international speaker. Prior to that, she worked many years as a palliative care specialist dealing with patients who had gone home to die. She was with them during the last three to twelve weeks of their lives. When she questioned them about any regrets they had or anything they wished they had done differently, here are the five most common things she found:
I wish I'd had the courage to live a life true to myself, not the life others expected of me.
I wish I didn't work so hard.
I wish I'd had the courage to express my feelings.
I wish I had stayed in touch with my friends.
I wish that I had let myself be happier.
She ended her article with the following: "When you are on your deathbed, what others think of you is a long way from your mind. How wonderful to be able to let go and smile again, long before you are dying. Life is a choice. It is YOUR life. Choose consciously, choose wisely, choose honestly. Choose happiness." If you would like to read this wonderful article in its entirety, here's the link to click on.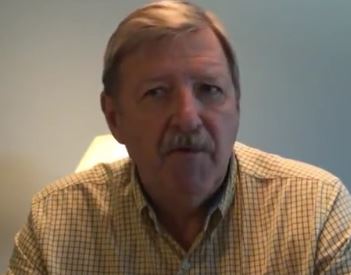 Ross is the author of The Engagement Formula, Turning Your Customers into Your Sales Force, The X-Factor and his very popular newsletter: Ross Reck's Weekly Reminder. He is also coauthor of Instant Turnaround!, REVVED! and the best selling The Win-Win Negotiator.
A compelling and dynamic speaker, Dr. Reck has been featured at hundreds of meetings, conferences and conventions throughout the United States, Canada, Latin America, Europe and Asia. His consulting clients include Hewlett-Packard, John Deere, American Express, Janssen-Ortho, Inc., Shire Pharmaceuticals, Philip Morris International, the Chicago Cubs, Rolls-Royce and Xerox.
Dr. Reck received his Ph.D. from Michigan State University in 1977. From 1975 to 1985 he served a Professor of Management at Arizona State University. During his career at ASU he was the only two-time recipient of the prestigious "Teaching Excellence in Continuing Education" award and was identified by the university as an "Outstanding Teacher." Since 1985 he has dedicated his full time efforts to improving the way that the world conducts business.
Winbag 15730 Air Wedge Alignment Tool, Inflatable Shim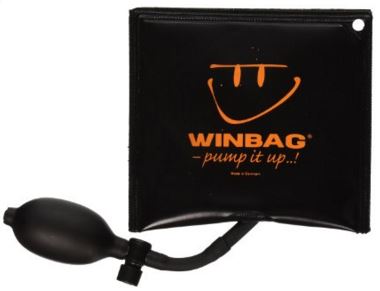 WINBAG-pump it up..! The WINBAG inflatable air cushion is an innovative alignment tool that can replace shims and wedges when leveling and installing windows, doors, kitchen cabinets, and household appliances. Unlike wooden shims and plastic wedges that can mar surfaces, the WINBAG air wedge doesn't leave marks and is gentle on its surroundings. The WINBAG's inflatable air cushion is made of fiber reinforced material that is durable enough to be used time and time again. Its very powerful, hand operated pump gives the WINBAG a maximum load of 220 pounds per bag. Accomplish larger jobs by adding another WINBAG to increase capacity. The WINBAG spans gaps from 3/32 to 2 inches with infinite adjusting possibilities and deflates at the touch of a button. The WINBAG can even be used to level furniture around the house or as an effective door stopper. With the WINBAG, a single professional installer can position, adjust, align, level, and hold work materials in place, saving time and reducing costs.
Parting the Waters : America in the King Years 1954-63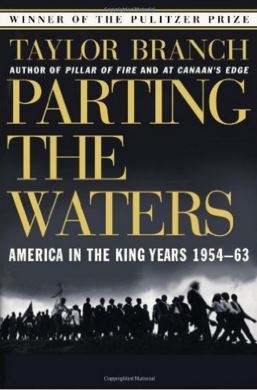 In volume one of his America in the King Years, Pulitzer Prize winner Taylor Branch gives a masterly account of the American civil rights movement.
Hailed as the most masterful story ever told of the American civil rights movement, Parting the Waters is destined to endure for generations.
Moving from the fiery political baptism of Martin Luther King, Jr., to the corridors of Camelot where the Kennedy brothers weighed demands for justice against the deceptions of J. Edgar Hoover, here is a vivid tapestry of America, torn and finally transformed by a revolutionary struggle unequaled since the Civil War.
Taylor Branch provides an unsurpassed portrait of King's rise to greatness and illuminates the stunning courage and private conflict, the deals, maneuvers, betrayals, and rivalries that determined history behind closed doors, at boycotts and sit-ins, on bloody freedom rides, and through siege and murder.
Epic in scope and impact, Branch's chronicle definitively captures one of the nation's most crucial passages.
Wordpress is a very popular website development tool. As a result, it continually is attacked by criminals using all sorts of automated tools generally called spambots and hackerbots.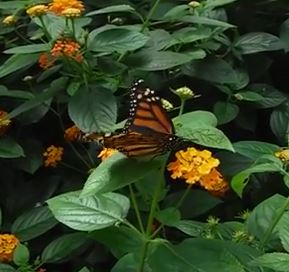 We have, in our garden, three healthy Coral Bell Azaleas that came into full bloom last weekend and as we drove up our driveway Jean and I both noticed a mass of gorgeous yellow butterflies fluttering all around the area of the bushes. I just sat there sopping up that joy those butterflies brought along with them, storing it up. You know, I think that often God, along with burdens, sends along special moments like that for us when He feels we need them. Sometimes we just need propping up and, through nature, He provides us with uplifting moments like that to help balance the sorrow that invades our lives. Maybe it is a dove landing on our porch rail or out back sighting an oriole or a bluebird. I'm certain that we won't be sent anything that we can't handle, together.
Literally Taking the Time to Stop and Smell the Roses is a Good Thing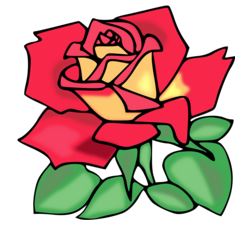 I have always appreciated the phrase "stop and smell the roses" metaphorically which means to take time out of one's busy schedule to appreciate or enjoy the beauty of life. On the other hand, I have only recently begun to appreciate it from a literal standpoint. The other day, I was out for a morning walk when I saw a gentleman approaching from the opposite direction. He was about 50 yards away when he stopped by a rose bush, bent over and took several deep smells from one of its blooms. When he finished smelling, he took a step back and saluted the bush with a "thumbs up." As we passed, he smiled at me and said, "That's a really fragrant rose bush, you should take the time to smell it." Out of sheer curiosity, I did and wow, what an experience! I bent over one of the blooms and inhaled deeply through my nose several times as the fragrance seemed to make its way through my entire body. I found the experience so rewarding that I too stepped back and gave the rose bush a thumbs up. The next time you come to a blooming rose bush, take the time to stop and smell one or more of its blossoms. You'll find that doing so will set the tone for the rest of your day.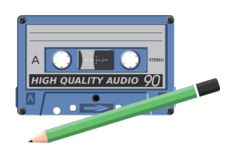 I visited Battle Creek, Michigan the other day and an old friend and his wife approached me and said, "You might not remember me Art, but I will never forget you because you changed my life many, many years ago. I was trying to get started in the real estate business and I knew nothing about real estate. You gave me some audio tapes and showed me how I could turn my car into a traveling classroom. I listened to those tapes again and again and in the first year I sold a million dollars worth of real estate. I bought new tapes and listened to them and I did what they told me to and the second year I sold two million dollars worth."
He is one of the most successful men in town. It was around 1975 when I gave him those tapes.
When I first began speaking I discovered the process of spaced repetition for learning. I put tape players in my car, in my life. I carried tapes around with me and whenever I had a few free moments I listened to motivational and educational cassette tapes. I would select tapes that I felt were most helpful and listen to them about five times. In this way I could absorb a concept to its fullest. I'd listen to the way the speaker spoke. Check out the vocal varieties, manners of repetition, different speeds in which the message was delivered. I would experiment with talking in the manner of the speaker. After five times I understood a great deal more than from a single exposure. It sort of amazes me how our universities do not provide recordings of their great professors doing their most important messages. Spaced repetition could double or triple what a student might absorb. I'd like to invite you to a magic place, perhaps you have already visited it or maybe you have the Ted.com habit already. It is a web site you can visit that provides the opportunity to listen to a twenty minute presentation by some of the best speakers and the best teachers in the whole world. This is how I got my education by listening to the very best on audio tape. I turned my car into a traveling classroom and it changed my life. I was invited to speak throughout the U.S. and Canada. I began writing books triggered in my imagination by the marvelous ideas I listened to. My mind was opened and it keeps producing new ideas even though on July 5th I will be 87 years old. Please, check out Ted.com for me and then check it again for yourself. Get in the habit of daily personal growth.
Open your mind up to the awesome wisdom that is all around you free for the taking. Don't let your cell phone or your computer dim your wit and your mind. Use them to learn, to improve your mind, to tune in on life.
Ketalog, Inc., City of Maricopa, Arizona
In this episode of Business Beat they visit Maricopa Center for Entrepreneurship (MCE) clients Kehinde and Brandee Ogunjobi owners of Ketalog, Inc. Ketalog is an audience engagement firm that helps businesses not only get online but grow online. Kehinde and Brandee are focused on local businesses and offer a wide variety of services including marketing, website construction and business listings. Ketalog's offices are located in the MCE space at 20800 John Wayne Parkway, Suite 108.
Discrimination is not a Religious Value
As people of faith and religious leaders, we urge you to reject anti-LGBTQ and, specifically, anti-transgender legislation and to commit to creating loving, just communities that embody justice for people of all gender identities and sexual orientations.
Go for it while You Still Have the Chance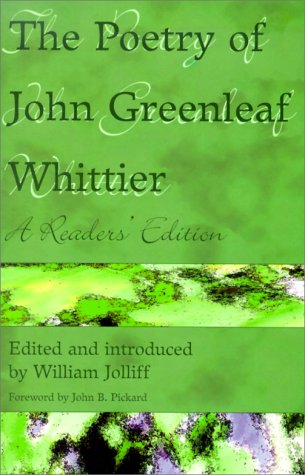 It's not uncommon to hear people making excuses about why they didn't take advantage of the opportunities that life sent their way. You'll hear them say things like, "I could have done this or that...." Then come the excuses: "...but at the time my kids were little," or "but we had just bought a new house," or "but it seemed like too big of a risk" Unfortunately, many of these people continue this pattern of making excuses right into their old age. Then all they have to reflect on during their "golden years" are regrets about all those opportunities they let pass by and now it is too late to take advantage of them. As John Greenleaf Whittier put it, "Of all sad words of tongue and pen, the saddest are these, what might have been?" On the other hand, those who took advantage of the opportunities that life threw at them have many fond and exciting memories of look back on. So, if you don't want to torture yourself later in life with, "What might have been," go for it while you still have the chance!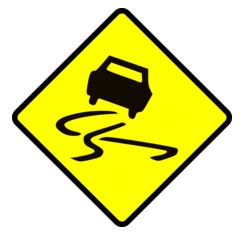 Sunday evening, March 13th, Jean and I were returning home from Raleigh westbound on Interstate 40 and as we approached highway 15-501 an Information sign warned us of a delay ahead at I-40 and I-85. Jean was driving and she immediately turned off I-40 and took an alternate route. We were home safely in no time. Now here's what happened ahead.
The first incident, which involved about 25 vehicles, happened on eastbound I-40 near the Jimmie Kerr Road overpass, in Alamance County, at about 3:30 p.m., according to the North Carolina State Highway Patrol.
As emergency crews worked to clear eastbound lanes, drivers headed west began to reduce speed, leading to several other collisions over a four-mile portion of I-40 West, troopers said.
"All four lanes were running into the back of cars," said driver Mary Holmes, who was driving from South Carolina to Raleigh. "It was like something you see out of a movie."
Robert Turner, a tow truck driver who responded to the wrecks, said he had never seen a pileup so large.
"We get 3- 6- 8-car pile-ups all the time, but we have never had one of this magnitude," he said. "Every time I went out to get another car...I would be like, 'I am going to get called again because there is a lot of cars.'"
A Highway Patrol spokesman said wet roads, fog and speed were all factors in the collisions on eastbound I-40.
In total, 134 vehicles were damaged and 25 people were taken to Alamance Regional Medical Center.
"I am thankful no one was seriously injured," Holmes said. "Everyone got out of their cars, and this was the first time people were helping each other."
Troopers from Alamance, Guilford and Orange counties, along with the Alamance County Sheriff's Department, Graham Police Department and Mebane Police Department all responded to the area following the crashes.
Westbound travel lanes of I-40 were reopened at about 10:30 p.m."
Thank God us old coots can still read a sign and that Jean is as agile a driver as she is, to make a quick turn safely. Times like these I realize how sweet and sharp she is.
Republican National Committee Scamming Elderly Citizens
RNC (Republican National Committee) frightening voting citizens into thinking their credit will be harmed by sending PAST DUE NOTICES to un-suspecting people including many senior citizens. How stupid do the Republicans think most voters are? Preying on the un-suspecting should be a criminal act.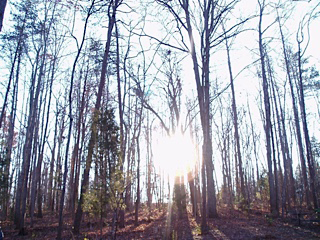 We have a stand of trees out back of our house running up hill some and another out front and we have been experiencing some awesome dawns and sunsets that shine on through those leafless trees. Soon fresh leaves will blossom blocking our view of these glorious color shows. Of course the trees themselves have beauty to enjoy all summer. I wonder how long this has been going on? I've never set down and become so aware of this before. In writing some poetry I find I take a closer or a broader view of things around me. Sometimes it takes my breath away.
The Simple Truth about Happiness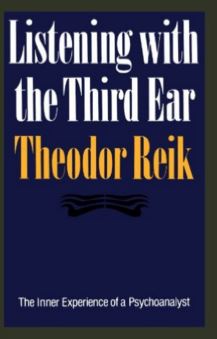 I came across an interesting quote made by a psychologist named Theodor Reik more than 50 years ago. "In order to be happy oneself, it is necessary to make at least one other person happy." He went on to say, "The secret to human happiness is not in self-seeking, but in self-forgetting." What Dr. Reik is saying that we humans do not have the capacity within our individual selves to make us happy. Rather, we have to reach out to others and touch them in ways that make them happy before we can be happy. This means that if we focus on making others happy, our own happiness will take care of itself. And, the more people we make happy, the happier we'll be. So, take the time to reach out to those around you and touch them in ways that make them happy--smile, say something that brightens their day, hand them a flower, give them a hug, shake their hand or pat them on the back. I challenge each of you to do this for just one day and at the end of that day, take stock of how you feel about yourself. You'll find that Dr. Reik is dead on!
---
---
100% Employee Engagement--Guaranteed!: A Three Step Formula for Getting More Done and Generating Way More Profit [Kindle Edition]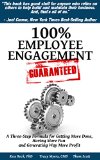 This book presents a new leadership model that guarantees an employee engagement level of 100%. Putting this simple, three-step formula to work in your business—profit or nonprofit—will ensure that 100% of your employees will become engaged with their work—all working to their full potential. As a result, your employees will get more done, have more fun and generate way more profit.
Ross Reck's Selling Made Incredibily Easy [Kindle Edition]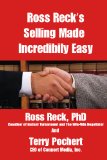 If you want to be an incredibly successful salesperson without killing yourself in the process, there's only one way to go - it's called repeat and referral business. In other words, get your customers to do all the hard work for you. This 70 page book will show you how to work smarter instead of harder as a salesperson. The payoff for using this method of selling is simple: You'll be far more successful with far less effort and stress, but most important, you'll feel really good about yourself.