Headlines from and for our Clients
---
Ernie Banks: A Lesson on how to be remembered
A Wonderful Place To Explore
DiBartolomeo, Lori
5th Street Books - Tour of the Store
Step-Adoption as an Alternative for Gay Couples in Arizona
Words of Inspiration from a Man Dying of Cancer
David, Robert - 'Rob'
No News Is Good News
Arizona House Bill 2188
Some Christian Churches Say 'Stay Away, We Don't Want You'
News Director Walter Kraft Celebrating the Ratings
Volunteering Benefits the Volunteer in a number of Important Ways
Candid Shot of Vince Wade
Being Happy
Motorola Surfboard SB6141 Cable Modem
New Year's Eve at the WXYZ Newsroom - Circa 1990s
Al Upchurch and Megan Saunders - 2014 Silver Circle Luncheon
Shelly Greenberg in the Editing Booth
Bill Bonds in the Newsroom Just Prior to the Evening Newscast
Dog Patch, Kentucky
Teleprompter Software
Carter, Sue
Campbell, Timothy
Cooper, John
Ikan PT-ELITE-U Elite Universal Tablet Teleprompter Kit (Black)
Carr, Beverly
Davison, Mark
Trying New Things: A New Year's Resolution everyone can keep
Bill Bonds and Diana Lewis at the 2013 WXYZ Alumni Reunion
Burdette, LaVere
Berry, Edward
Calvert, Ken
Brown, Evelyn
We are No. 2 in the top Twenty Stories
Auld Lang Syne
Terry Pochert at Lackland Air Force Base, 1967
Brown, Evelyn
Anderson, Carole
Sharing Lists Between Spouses and Family Members - Shopping, To-Do
Sharing Photos
Scanning from your Cell Phone or Tablet
Creager, Paula
Chung, Lai Ha
Gertz, Laura
Coddington, Lynn
Thomas, Michael J.
Must Have Been a Successful Production Shoot
Wine, Janelle
Another WXYZ Party with the Gang
Johnston, Robert - 'Bob'
Coffey, Carl
Cohen, Meryl
Upchurch is Among the Staff at the WXYZ Newsroom
Sue Giannotta and Don Carter Accepting Emmy Award
Saunders, Megan
Sortor, Tammy
Bar, Glenn
Madaus, Jim
Coleman, Shelby Sanders
McConneha, Richard - 'Dick'
Slavin, Marlene (nee Corsaut)
The Playback Room with Eddie Dorfman
Curt Briggs on Assignment
Briggs, Curtis D.
Corwin, Donna
Moragne, Linda
Lori Garbin and Mike Murrie
Atkinson Hudson, Dianne
Doby, Mary
Duerson, Richard - 'Rick'
Rose, Carolyn
Brovont, Susan
Thank God for Nurses
Chicken Soup for the Nurse's Soul: Stories to Celebrate, Honor and Inspire the Nursing Profession (Chicken Soup for the Soul) Paperback
Newscast for the Masses - WDIV Public Affairs
Happy New Year 1981 - WXYZ Studios
Springer, Dan
Bankey, Ken
Baier, George
Nassar, Barbara
Johnson, Jim
Johnson, Jim
Barber, Luayne
Biviano, Mark S.
Blumer, Diana
Korn, Lawrence
Bow, Florence
Krieger, Joan
Israel, Joan
Eyler, Rick
Boyles, Joseph - 'Joe'
Gilbert, John O.
Hensley-MacLeod, Patty
Cooper, Gary
Brants, Debbie
Heller, Peter
Broderick, Patrick
Lowell, Jon
It's A Wrap!
Here's how WXYZ-TV uses film to keep on top of the news and the rating.
Auwers, Linda
Arter, Jayme
Leonhard, Douglas
John Pival and James Riddell at Planning and Operations Meeting
Woods, Mark
Kamins, Len
Linger, Dean
Sanchez, Ed
Hallman, Don
Batson, Aune
Will, Bob
Dale, Stan
Mitchell, Lester
Locicero, Tom
Manion, Jean
Video Camera Lights
Lawrence, Chris
Mantras for Success Haven't Changed over the Years
Truttling, Brandon
Robins, Wendy
Roulston, Scott
Rosenfield, Michael
Rider, Pamela
Budgen, Paul
Talking Christmas Tree
WW1 Memorial at Kansas City
Agar, Peggy
Look, Jerry
Elliot, Larry
Perry, Autumm
Hodak, Jayne
Alexander, Corey
Hendershot, Angie
Kirtek, J.R.
Booth, James
McMurray, John
Hildreth, Bree'Ann
Bodenmiller, Casey
Rice, Brock
Veto, Pete
Jackie Fitzloff and Jeanne Findlater
Fitzloff, Jackie
Price, William - 'Bill'
Qualtriere, Jan
Doback, Michael - 'Mike'
The Greatest Salesman in the World
Zuckerman, Jerome - 'Jerry'
The Santa Train by Art Fettig [Kindle]
Hobby Lobby DOES NOT Represent My Religious Freedom
Crozier, Robert - 'Bob'
News Clips from and for our Clients
---
Ernie Banks: A Lesson on how to be remembered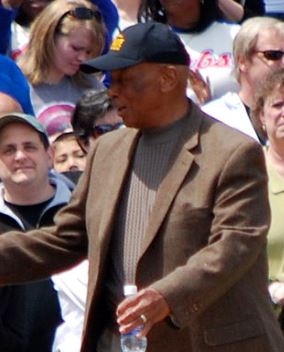 Ernie Banks, known around the world as "Mr. Cub," died this past week. Mr. Banks was the first African-American to play for the Chicago Cubs and went on to become a baseball superstar. He was an 11 time all-star, two-time National League Most Valuable Player and hit a career total of 512 home runs. Ironically, this is not what he is most remembered for. Rather, he is remembered for his infectious smile and for being approachable, optimistic, kind-hearted, warm, sincere and genuine. In other words, "Mr. Cub" will be forever remembered as "Mr. Class." Think of what the world would be like if more celebrities chose to handle their celebrity like Ernie Banks.
---
A Wonderful Place To Explore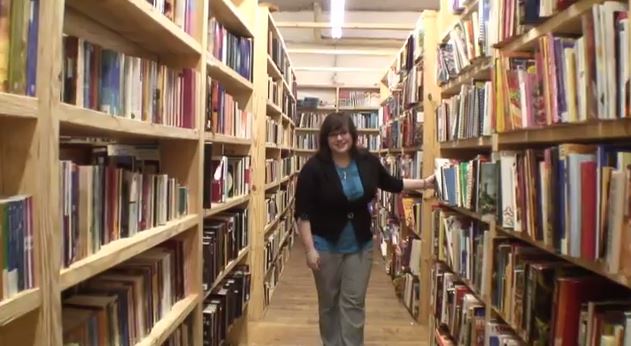 We'd just had a wonderful fish dinner in Mebane, North Carolina and were driving through town on our way West when I saw the small sign in front of this huge warehouse. "5th Street Books." at 202 N. 5th Street .Just 2 miles from Interstate 40.

My wife Jean was driving and I called out, "Turn around. Let's take a look at that bookstore. Somebody told me about a year ago I should visit it." Jean was eager to get to the big mall down the road but she patiently turned around. We parked near the door and she said, "I'll just wait for you in the car." I figured I'd just run in, take a quick look and if it was interesting I could return at my leisure. I read a sign that said, "All books 99 cents." Fifteen minutes later I was back to our car and I had purchased just one book. They had a sign up that listed some dates for each month. For instance, February 19th, 20th and 21st. All books 25 cents. And another "Every Wednesday, Senior Citizens, 5 free books." They had thousands and thousands and more thousands of books, over 25,000 and growing daily. Paperbacks. Hard Covers. Shelf after shelf of cookbooks. A huge children's section. I wrote February 19th on my calendar. Take a five minute online tour.

Oh yes, Free coffee. Maybe I will see you there.
---
DiBartolomeo, Lori


AM sales.
---
5th Street Books - Tour of the Store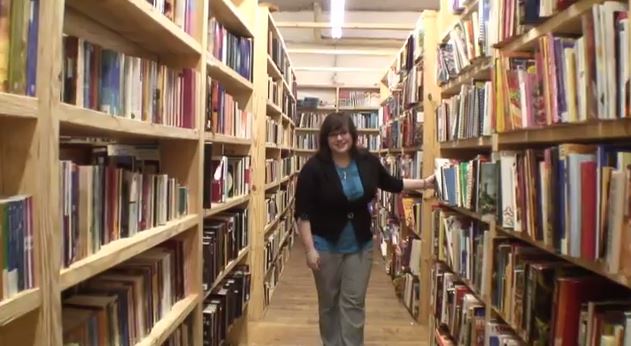 This is a tour of the 5th Street Books store created by Life In Motion Video. This a used bookstore located at 2267 US Hwy 70 W, Building 1, Mebane, NC. They have soft cover and hard cover used books at only 99 cents each and a great trade-in policy. You can see them on the web at www.fifthstreetbooks.com
---
Step-Adoption as an Alternative for Gay Couples in Arizona


The Arizona Daily Star on January 25, 2015 writes, '...If one marriage partner is already the legal parent of a child, their spouse can undertake a second adoption proceeding — the step-parent adoption — to get equal custodial rights. For these families, now either parent can make medical decisions for their children, or enroll them in school, and be guaranteed visitation rights if their child was hospitalized. ..."
---
Words of Inspiration from a Man Dying of Cancer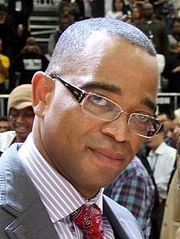 Stuart Scott, a very popular ESPN anchor and reporter, recently died of cancer. He was first diagnosed in 2007. The cancer reappeared in 2012 and again in 2013. In July of 2014, he received the Jimmy V Award for Perseverance at the ESPY Awards. At that time, he provided these following words of inspiration: "When you die, it does not mean that you lose to cancer. You beat cancer by how you live, why you live, and in the manner in which you live." These are powerful words spoken by a very courageous man.
---
David, Robert - 'Rob'

AM Sales.
---
No News Is Good News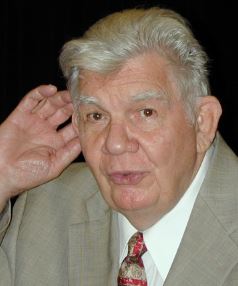 There is a saying in the news business that good news is not news. It won't sell. That just might explain the barrage of bad news stories that have dominated our newscasts these days. Some days it seems the whole world is out of tune. And then I put on a CD of George Gershwin music and his Rhapsody in Blue chases my blues away and then after days of rain and heavy clouds the sunshine comes pouring into my office and once more for a while all seems right with the world. My wife, Jean and I feel so blessed. We are so fortunate to live here in America. Our home is so comfortable. We feel so blessed to have one another. A nap is such an added blessing. When my work on a book progresses the way I hoped it would, I consider it a gift. There is the possibility to discover joy in everything we do but we must seek it out and sometimes that is such a challenge. Counting my blessings is a habit I am working on daily. Tomorrow will be another wonderful day.
---
Arizona House Bill 2188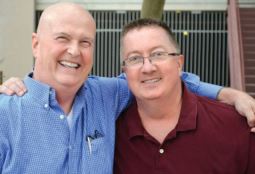 Under federal law, it's illegal for an employer to discriminate against an individual through acts such as hiring and firing based on race, religion disability, sex and so on. This does not affect gay rights in Arizona despite roughly 20 states that have passed legislation that does so.

Arizona is one state that still does not provide this equality.

Arizona House Bill 2188 should change that.
---
Some Christian Churches Say 'Stay Away, We Don't Want You'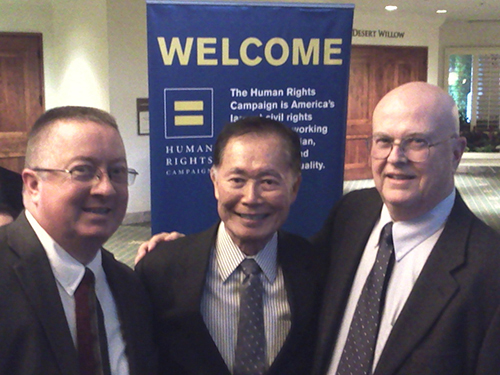 Saying no to a couple has consequences beyond forcing them to look for another church. It can cause conflict within a couple who wants to be part of a faith community or house of worship. It may ultimately may result in them leaving, noted Terry Pochert, who married his husband, Joe Connolly, in California in 2008.

"When a church says 'we don't want you here,' what you're finding is mothers, fathers, sisters and brothers are no longer attending that church. In churches that are affirming (of same-sex couples), not just gay people are being welcomed but extended families are starting to come back to church," Pochert said.

Pochert and Connelly filed suit, Connolly v. Roche, to have their out-of-state wedding recognized by Arizona. Their case, along with Majors v. Jeanes, led to U.S. District Court judge John Sedwick to rule against the state's ban in October. The defendants in the Connolly case filed an appeal to the United States Court of Appeals for the Ninth Circuit in November 2014.
---
News Director Walter Kraft Celebrating the Ratings

It's always time to celbrate when the ratings document the success of WXYZ's news. News Director Walter Kraft is celebrating with the staff.
---
Volunteering Benefits the Volunteer in a number of Important Ways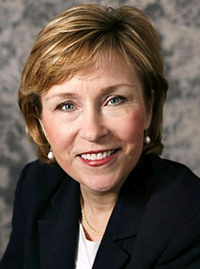 Opportunities abound for us to volunteer our time at churches, non-profit social service agencies, hospitals and schools. Volunteers derive a great deal of satisfaction from their efforts because those efforts are usually directed at making someone's day a little bit happier, brighter or easier. This, in turn, provides volunteers with a sense of purpose and the opportunity to be appreciated. A recent article written by Nanci Hellmich which appeared in USA Today, states that volunteering has enormous health benefits associated with it as well. According to the article, people who volunteer live longer and report lower rates of depression, fewer physical limitations and lower levels of stress than those who don't volunteer. If you would like to read the rest of Ms. Hellmich's article, here's the link.
---
Candid Shot of Vince Wade

Candid shot of Vince Wade, investigative reporter for WXYZ-TV, Southfield, Michigan. Vince was a major asset to the station covering the many crime stories in the area.
---
Being Happy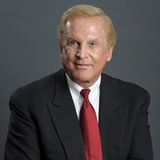 "Happiness cannot be traveled to, owned, earned, worn or consumed. Happiness is the spiritual experience of living every minute with love, grace, and gratitude." - Dennis Waitley.

"Happy New Year" Just think, a million New Yorker's gathered together at Times Square this year just to wish one another a "Happy New Year" and that message went out on TV to many, many millions more. I opened this column with a quote by Denis Waitley that I recently discovered and as I reread it again and again I came to the conclusion that Denis had hit the nail right on the head this time. Many of the happiest moments of my life were those times where I caught myself acting as a loving person. When I found I was truly giving for the sheer joy of giving and with no ulterior motive present. Too often, our Give to Get philosophy is based on giving with the hope of getting something better back and as that wonderful speaker, philosopher Charlie "Tremendous" Jones once taught me, "Giving to get is not giving at all. That is trading. But when we learn to give for the sheer joy of giving then we are often blessed as a result." I figure this, that whatever part of this coming year I am still around or any future years here on earth for me are purely a gift. At 85 I have absolutely exceeded my life expectancy and so from here on my life is truly a gift. A very precious gift at that and I must be grateful for every second, every moment and every hour. I want to fill those hours or days with as much happiness as I possibly can and that means happiness for not just me but all those I encounter in my remaining lifetime. Reading that quote of Denis' helps me to realize that I cannot travel to that happiness nor own it, earn it, wear it or consume it. As the quote says, "Happiness is the spiritual experience of living every minute with love, grace and gratitude." That will take some real doing for me. "...every minute with love, grace and gratitude." Whew!

Definitely I will have to change some of my attitudes and absolutely watch my big mouth. There is an old, old song I remember that goes this way:

I want to be happy. But I won't be happy. Till I make you happy too.

Life's really worth living, When we are mirth giving. Why can't I give some to you?

When skies are gray and you say you are blue, I'll send the sun smiling through. I want to be happy, but I won't be happy Till I make you happy too.

I hope we all have a happy, "HAPPY NEW YEAR!"
---
Motorola Surfboard SB6141 Cable Modem


Motorola's easy-to-use SB6141 SURFboard DOCSIS 3.0 Cable Modem unlocks the power of high-speed data. Utilizing the power of DOCSIS 3.0, the SB6141 enables channel bonding of up to eight downstream channels and four upstream channels, which enables advanced multimedia services with data rates of over 300 Mbps for received data and over 100 Mbps when sending data.

With Motorola's cable modems, high-speed Internet access is always at your fingertips – always on and always connected. The SB6141 is the ideal solution for the high-end residential user, the small home office owner, and the medium to large business enterprise.
---
New Year's Eve at the WXYZ Newsroom - Circa 1990s

Durig the 1980s and 1990, the WXYZ was always a buzz with activity. The most amazing thing during this period was the family atmosphere that was held by all the employees. There were many potlucks, employee gatherings and get togethers after the newscasts. This particular evening was after the 11pm newscast and just before midnight when a few of the employees gathered around for some cheer. And, no, it wasn't alcohol... it was a bit of apple cider that one of the producers brought in to help celebrate.
---
Al Upchurch and Megan Saunders - 2014 Silver Circle Luncheon

A great honor for Al Upchurch and Megan Saunders at the 2014 Silver Circle Luncheon. Two great journalists whose impact on the Detroit broadcast market is remarkable.
---
Shelly Greenberg in the Editing Booth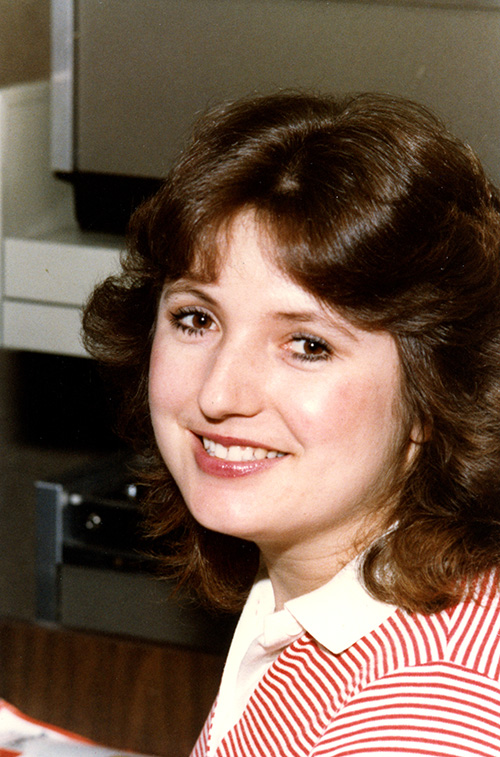 Shelly Greenberg, WXYZ's Senior Production Editor. Shelly is responsible for all the major editing for Creative Services, production and many feature news segments.
---
Bill Bonds in the Newsroom Just Prior to the Evening Newscast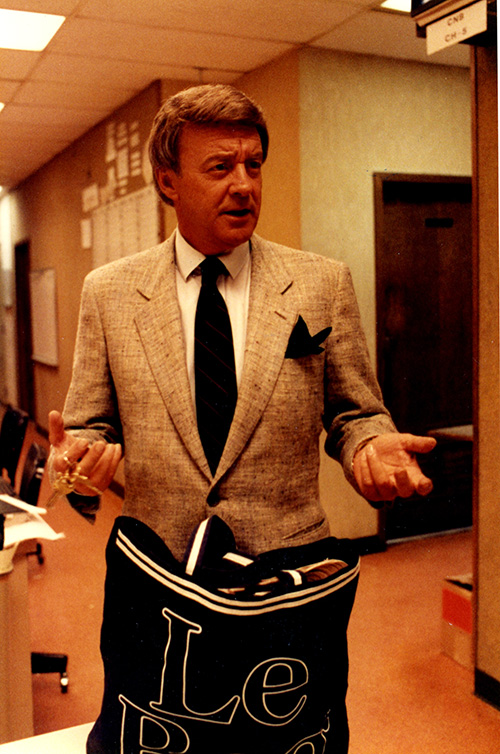 Bill Bonds interacting with the newsroom staff. Bill is standing in one of the first floor newsroom's at WXYZ-TV in Southfield, Michigan. The photo is circa 1990's prior to major remobeling of the newsroom. Bill could often be seen typing, laughing and interacting with the staff and producers.
---
Dog Patch, Kentucky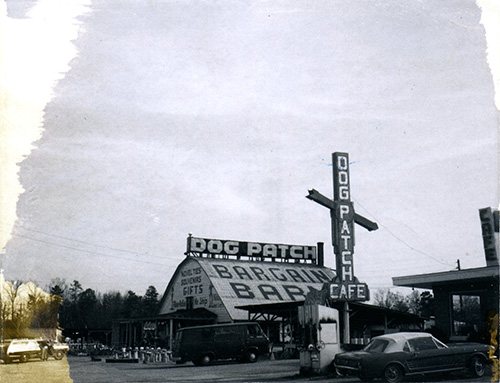 A little tourist stop by the side of the road named for the fictional town in the Al Capp comic strip, Li'l Abner. This photo was taken by Mina Belle Pochert on their travels to several of their vacations from Michigan to Florida.
---