Of the thousands of News "Nuggets" that are added to our databases each day, we try to select weekly a few that we feel challenge and inform our viewers/readers the most.
Recent postings from our clients....
What do You Say to Someone Who is Grieving?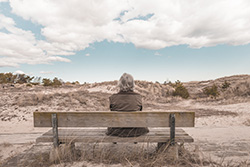 Many of us have a hard time of figuring out what to say when we run into a friend or acquaintance who has recently lost a loved one. A friend of mine lost his wife to suicide a few months ago. At the urging of an old friend, he started attending the meetings of an organization called Survivors of Suicide. In a recent blog post, he listed some of the things he had observed at these meetings. "Occasionally people have spoken about how hard it is to talk about their loved ones with friends and acquaintances. Folks are uncomfortable talking about suicide or death and many don't know what to say. Some will even advise survivors to 'just get over it' or 'stop dwelling on the past.' There's definitely a reluctance to hear the continued expressions of grief, guilt, and anger and a wondering about 'just how long are you going to keep on feeling this way.'" He then goes on to say, "How good it would be if all of us could learn that listening and affirmation are the most important gifts we can give to those who have suffered such devastating losses. It is so good to be able to talk about our loved ones and share our deepest feelings." The message here is that when people are grieving, they're not looking for advice, they're looking to tell their story and share their feelings with someone who cares. This is what helps them through the grieving process. So the next time you run into someone who has recently lost a loved one, open the conversation with something like, "It's so good to see you. How are you doing?" Then back off and let them tell you.
USA Today writes, "Less than a year after same-sex marriage became legal in every state, half of the first gay couple to be married here died, according to a message posted on his church's Facebook page.
Jack Evans, 86, died at Thursday at Baylor University Medical Center here after "battling lung issues for some weeks," according to Northaven United Methodist Church in Dallas.
Evans and his partner, George Harris, now 83, exchanged vows in a church commitment ceremony March 1, 2014, the same week a federal judge struck down Texas' law banning same-sex marriage. On June 26, 2015, the day of the U.S. Supreme Court ruling, they made their union legally binding."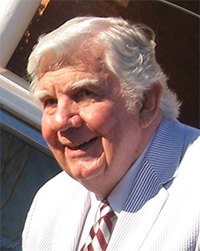 My 87th birthday is coming up and my driver's license was about to expire. When I got it five years ago, I figured that I would expire long before that license did but such was not the case. I have been having trouble with my eyes recently. I have one of those "ism" conditions that comes and goes every now and then. Well this time it wanted to stick around. The air conditioning seems to dry my eyes out a bit too and I have been reading and writing on my computer and watching old movies way too much. Anyhow I had some anxiety about taking that eye test for my new license. I went in to our DOT License Renewal office arriving at five minutes to ten and the computer in the outer lobby printed out a ticket so we'd be called in order, sort of. Then I waited to be called. It was twenty minutes before they called anybody and then just one and five minutes later another. And there were over twenty of us waiting to be called. It was not encouraging.
One hour and thirty five minutes in, my left eye started cloudin' over. Between that crowd and an air conditioner which had been blowing on me, my eye had plumb dried out. It did. I tried every manner of blinking I know of and it stayed dry. I'd forgot and left my eye drops on the kitchen table so then I tried spittin' on my finger and trying to work a little spit up into my eye. It didn't work. Well, there was this here African American young man I had talked to some sittin' there and we seemed to get along well and so I felt comfortable asking him. I explained my dry eye and I asked him plum out if he'd mind a spittin' into my eye. He looked kind of funny and then he turned away from me and looked all around the room. About 80% of the folks were Afro-American too and I was the old white guy in the crowd. He smiled at me real friendly like but then he explained that this just wasn't a good time in our community for him to be spittin' in my eye and he hoped I would understand.
Just then this big ole white woman with a cane came a limping into the room and she took a ticket and looked around and I was about to stand up and give her my seat when she asked a fellow near her if it was possible to make an appointment. I had just read a card they had there and I spoke up and told her about the card and appointments and she picked one up and smiled and thanked me and left.
Well, that encounter had took my mind off my dry eye and darned if the eye hadn't wetted up by itself and my number came up and I was called in. It wasn't more than seven minutes or so and I had gone through the whole test and I had all the right answers and I sailed right through that eye test and sure enough, they gave me a temporary license and this lady promised me that I'd have my new license sent by mail and it would be good for five more years. So there it is. Just more proof that when you figure out a way to do something nice for somebody then sure enough you will soon be blessed back. You will. (Andy Griffith might have given the account of this true story in just this way. He joined Barney and the others in the next life four years ago - July 3, 2012.)
Excellent Example of Why CNN and Fox News Have Trump In their Back Pocket
CNN (Certainly Not News) shameful "journalism" now filled with biased spin doctors.
Judd Legum writes for Think Progress, "CNN has been criticized for featuring the commentary of Jeffery Lord, a Trump loyalist and paid contributor, who seems willing to defend Trump in all circumstances."
Eric Hananoki writes for Media Matters, "CNN hired former Trump campaign manager Corey Lewandowski despite his non-disclosure agreement with Trump and history of anti-press behavior. CNN hardly needs to pay for another pro-Trump voice given it already hosts a wide number of Trump supporters."
On June 24, 2016, President Obama designated a new national monument at the historic site of the Stonewall Uprising in New York City to honor the broad LGBT equality movement.
The new 'Stonewall National Monument' will protect the area where, on June 28, 1969, a community's uprising in response to a police raid sparked the modern LGBT civil rights movement in the United States.
Inspiration Can Come from Unexpected Sources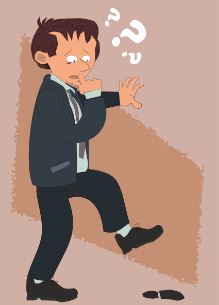 Not long ago, I was in a huge funk wondering if I had bit off more than I could chew. I mulled giving up on my current direction which I have been on for a long time, shifting gears and trying something new. At this point, for whatever reason, I decided to look at the Horoscope section of The Arizona Republic. This was an "out of character" move for me, because I hadn't looked at my Horoscope in more than three years. Here's what it said: "Stand behind your decisions. There is no room for doubt, no reason to change things up, no reason to quickly come up with something new. Hold your head up high and deliver what you created." Well, that provided me with the shot in the arm that I needed to snap me out of my funk and put me back on track. So, the next time you're in need of some inspiration, understand that it will come, but don't be surprised if it comes from an unexpected source.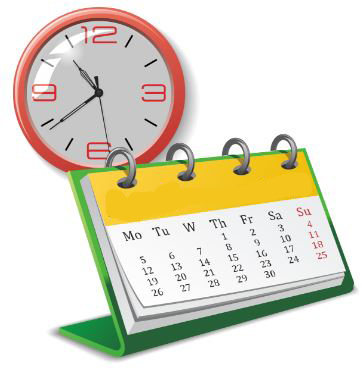 In 1999 I wrote a children's song which Greg Brayton and I recorded. Here are some of the lyrics.
Punctuality, punctuality, That rare quality Of being where you oughta when you oughta be. Being where you oughta, when you oughta be
I once knew a fellow named Clay. Clay was late for school, he was late for play. Clay got home so late one day, he discovered that his family had moved away.
He soon learned Punctuality, punctuality, that rare quality of being where you oughta when you oughta be. Bein where you oughta when you oughta be.
We've just heard a silly old rhyme about being there and being on time.
Yes it's important to learn you see, because winners always practice punctuality. Now all my life I have been a nut for punctuality. When anyone hired me for a speech they could bet on the fact that I would be there and be there on time for a performance. Isn't it strange how it sometimes takes many decades just to figure some things out? For instance the need in my life for punctuality. Not just for speeches but being on time for most everything. Just this morning I was thinking about that need and I tracked it all the way back to Gesu Elementary School in Detroit. I got recruited by one of my teachers to become an altar boy. I learned to recite the Latin, ring dem bells and all of the other duties involved but most of all I learned the importance of being on time. Gesu Church was located right across the street from the University of Detroit and so at 6 a.m. a parade of Jesuit Fathers would come across the street and our five altars were busy until 8 a.m. when just one altar continued on.
Why, being on time was like a sacred duty and I guess I got that value implanted in my mind and it never escaped. It has served me well in my business and in my life but it sure can be a pain in the rear end when others are running late.
Chad Griffin, HRC President, Speaks About Donald Trump
Chad Griffin, president of the Human Resources Campaign (HRC) said, "He is no friend to the LGBT community. He is no friend. And at a moment like this when a leader should put their personal ambitions and their partisan differences aside, or just shut up, but if they choose to speak out, they should be speaking from a place of unity and a place of sympathy and talking about building bridges. And I would tell you, Wolf, I bet there is not a single family member or friend or brother or sister or girlfriend or boyfriend that is suffering from this great loss that found any comfort in what Donald Trump had to say today. Instead, he was up there bragging about the fact that he claims he predicted this. And let me say one other thing LGBTQ people, we are Muslims, we are women, we are Latinos. We are as diverse as the fabric of this nation. And, Wolf, any attack on any one of us is an attack on all of us. And it's shameful and disgusting what Donald Trump did today and what he said today. And I hope he says not another word about it."
The Three Components of how Other People See Us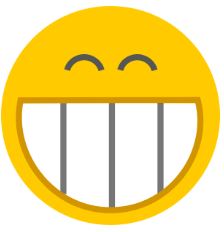 I came across a powerful quote by motivational speaker Jay Danzie that sums up how other people see us: "Your smile is your logo, your personality is your business card, how you leave others feeling after having an experience with you becomes your trademark." According to Mr. Danzie, our smile is a non-verbal symbol that identifies us. Our personality is always on display as a walking personal billboard of who we are. And, the way we make others feel is the distinguishing characteristic of how we become known. The good news is that all three of these components are under our control. So, if you want people to see you as a pleasant, upbeat person who cares, then you need to smile, exhibit a little enthusiasm and leave people feeling better after they've interact with you than before. If you would like to see Mr. Danzie's short video about this quote, here's the link.
NRA Has Bought These Senators Through Large Campaign Donations
Nine Senators Alone Received Over $22 Million From The NRA.
Direct and indirect contributions from the NRA - a total of $22,596,399 - went to just nine senators.
Mitch McConnell (R-KY): $1,262,189
Roy Blunt (R-MO): $1,433,952
Pat Roberts (R-KS): $1,584,153
Tom Cotton (R-AR): $1,968,714
David Perdue (R-GA): $1,997,512
Bill Cassidy (R-LA): $2,867,074
Joni Ernst (R-IA): $3,124,773
Cory Gardner (R-CO): $3,939,199
Thom Tillis (R-NC): $4,418,833
Data from :
When Cassius Clay was interviewed before his first world championship boxing fight he announced to the world "I am the greatest!". Now, Muhammad Ali has died and all over the world reporters and news people are writing stories about the former Cassius Clay that begin,"World''s greatest heavyweight boxing champion Muhammad Ali..." During the Olympics held in Beijing he was cited as "the best known person in the world". Truly he became the greatest, especially in the way he fought his long battle with Parkinson's disease. The world mourns.
GOP Republican Officials Rejected Bill
The GOP Republicans reject a bill in 2015 that would have prevented the shooter at the Orlander nightclub from purchasing weapon that killed 50 people.
Religious Institute Statement on Shooting at Pulse Nightclub in Orlando, Florida
June 12, 2016—Our hearts break for the victims of the shooting at "Latin Night" at the Pulse gay nightclub in Orlando, Florida on the morning of June 12, 2016, and for their families and friends. We stand in solidarity with the lesbian, gay, bisexual, transgender, and queer community in Orlando and with all who are affected by this horrific act of violence. Sadly, this act is part of a larger culture of hostility toward lesbian, gay, bisexual, transgender, and queer people whose lives are under attack every day in this country and throughout the world.
The Trump Bible: Why No Christian Should Vote for Donald Trump - Kindle Edition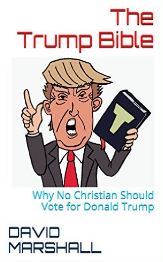 Presidential candidate Donald Trump has lately been spotted waving a Bible and telling America, "I've read this book more than anyone!" While this claim amused journalists and baffled theologians around the world, given Trump's relentless trash-talking, libertine lifestyle, apparent ignorance of what is in the Christian Scriptures, and self-glorification, it turns out Trump was (for once) telling the truth! Trump really has read the Bible more than anyone! And here, lately emerging from the sands of Western Egypt, is the "Bible" our would-be president has been reading.
Half satire, half roast, and 100% timely warning to the American Church, The Trump Bible presents the case against voting for Donald Trump, by one of America's most original Christian thinkers.
A Message of Tolerance and Lesson for the Citizens of the United States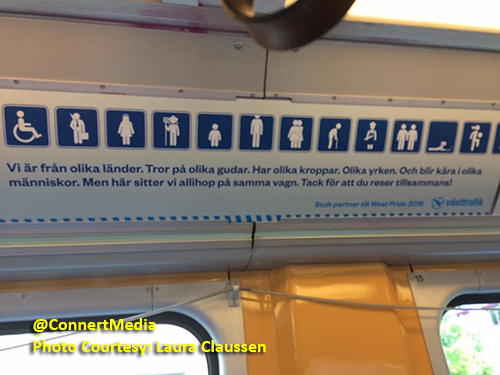 A great message of tolerance in the City of Gothenburg, Sweden. This message is posted on many of the trams within the city and can serve as a good lesson from us in the United States and the rest of the world.
English translation, "We are from different countries. Believe in different Gods . Have different bodies. Different professions. And fall in love with different people. But here we are all of us in the same tram. Thank you for traveling together!"
GOP Senator David Perdue Jokes About Praying for Obama's Death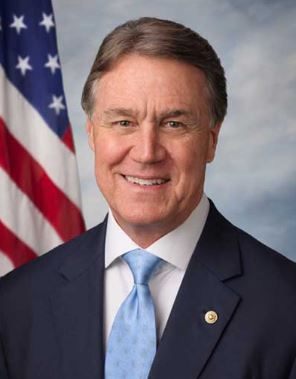 A terrible joke gets giggles from the crowd at the Faith and Freedom Coalition's Road to Majority conference on June 10, 2016.
GOP Senator David Perdue (R-Georgia) said in a joking tone, they need to pray for him in a very specific way: "We should pray for him like Psalms 109:8 says: Let his days be few, and let another have his office," the senator said, smiling wryly.
The crowd chuckled and he moved on with his address.
As "so called Christians", they knew exactly what the text said in it's completeness which called for his death:
Piety & Politics: The Right-Wing Assault on Religious Freedom - Kindle Edition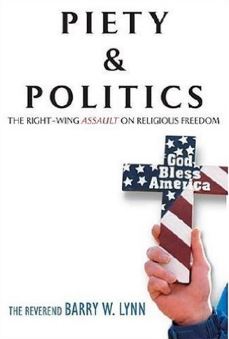 The Reverend Barry Lynn explains why the Religious Right has it all wrong.
In the wake of the 2004 presidential election, the Religious Right insisted that George Bush had been handed a mandate for an ideology-based social agenda, including the passage of a "marriage amendment" to ban same-sex unions, diversion of tax money to religious groups through "faith-based initiatives," the teaching of creationism in public schools, and restrictions on abortion. Led by an aggressive band of television preachers and extremist radio personalities, the Religious Right set its sights on demolishing the wall of separation between church and state.
CNN No Longer a Source for News
For years now, CNN has moved away from covering actual news to simply bring "spin doctors" to the stage to comment on various news items that are being covered by other networks.
Even with all the resources that CNN has, almost 35% of their air time is devoted to commentary and "so called" CNN experts many who simply try to create a "Jerry Springer" atmosphere.
It's too bad that the CNN exeuctives are trying to kill their own network.
Al Ackerman - Sketch by Bob Cox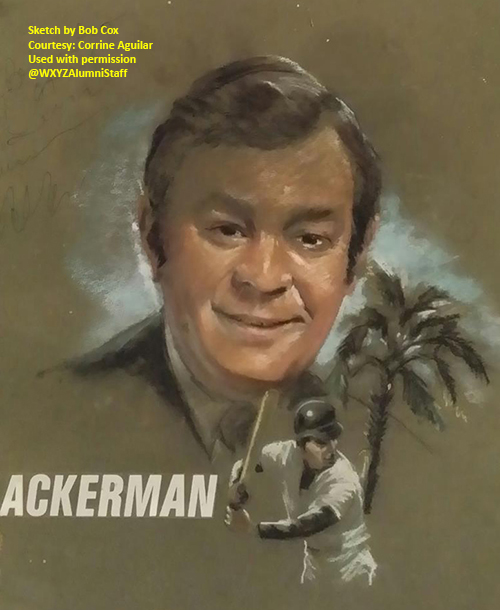 Artist Bob Cox at WXYZ made many "over the shoulder" graphics during his lifetime. This one captures a great image of Al Ackerman. This sketch was retrieved from circular file and now remains with Corinne Aguilar.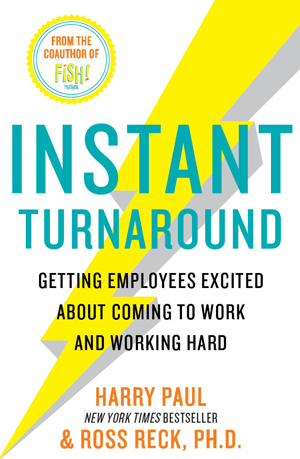 Pundits, politicians and even President Obama are all saying that getting the economy back on track is going to take a long, long time. This is very depressing and it's not what the American people want to hear. They want to hear about a quick fix for the current situation—an instant turnaround that will put the economy on a fast track toward recovery today. That's the kind of news that will get the American people excited about their future.
Four Questions for Keeping Your Foot Out of Your Mouth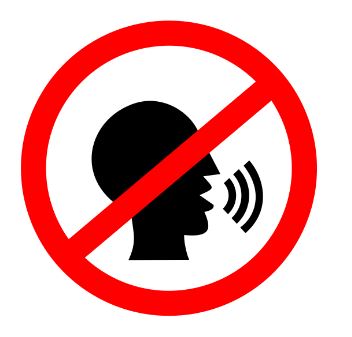 A subscriber shared with me a fascinating quote in response to last week's about how tongues are made for praising. The quote is from an Indian spiritual master named Sai Baba who passed away in 1918. The quote is: "Before you speak ask yourself, is it kind, is it necessary, is it true and does it improve on the silence?" If you answer no to any one of these four questions you should probably keep what you are about to say to yourself because there's a good chance that it's going to offend, upset or embarrass someone. Asking yourself these four questions before you speak will keep you from missing out on many wonderful opportunities for keeping your mouth shut.
Reducing Prescription Drug Costs
Worried about high prescription drug costs? Because of our "do nothing congress", it might be years before the drug companies put patients ahead of profits.
In the meantime, checkout the below websites.
GoodRX.com - A US company offering unbiased coupons and discount information for legitimate, licensed pharmacies that most people already visit regularly.
BlinkHealth.com - They are the first company to allow patients to purchase (prepay) their medications online and pick them up at their local pharmacy.
WeRx.com - A "must check" website if you are required to purchase prescriptions.
---
---
100% Employee Engagement--Guaranteed!: A Three Step Formula for Getting More Done and Generating Way More Profit [Kindle Edition]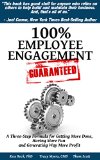 This book presents a new leadership model that guarantees an employee engagement level of 100%. Putting this simple, three-step formula to work in your business—profit or nonprofit—will ensure that 100% of your employees will become engaged with their work—all working to their full potential. As a result, your employees will get more done, have more fun and generate way more profit.
Ross Reck's Selling Made Incredibily Easy [Kindle Edition]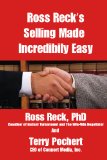 If you want to be an incredibly successful salesperson without killing yourself in the process, there's only one way to go - it's called repeat and referral business. In other words, get your customers to do all the hard work for you. This 70 page book will show you how to work smarter instead of harder as a salesperson. The payoff for using this method of selling is simple: You'll be far more successful with far less effort and stress, but most important, you'll feel really good about yourself.